Get the best and most useful tips on how to give your thin hair volume. Thin hair be gone! Bring on the volume….
If you were a child of the 80's, then you're all too familiar with the hours we spent getting our hair as big as possible. The bigger the bangs, the better right?! I would sleep in those pink soft curlers to make sure I had massive amounts of curls. Needless to say, how to give my thin hair volume was not a problem.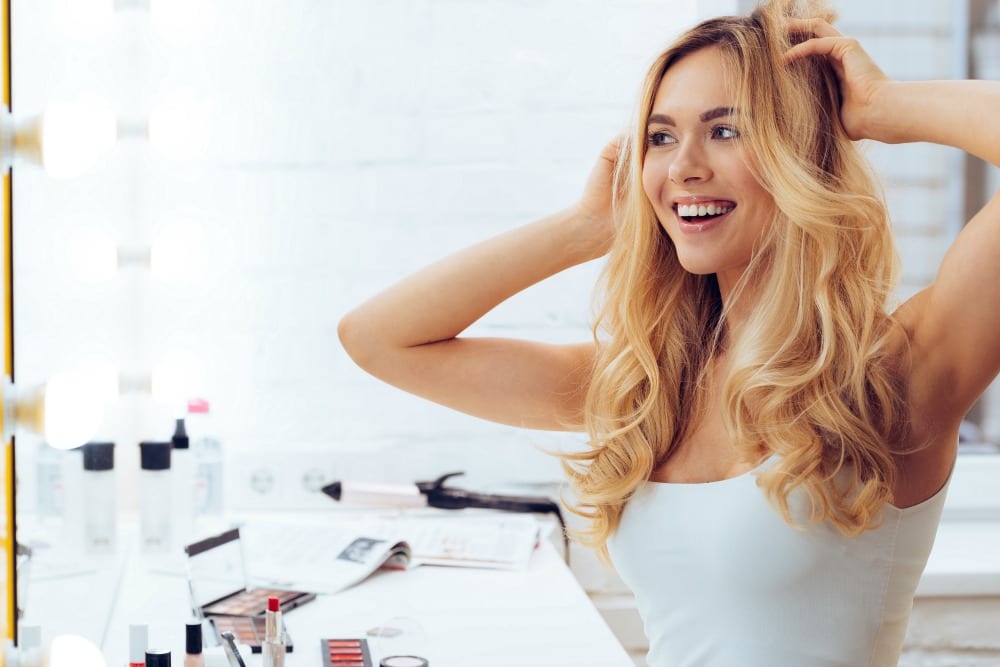 Whether you were born with fine, thin hair or aging has caused your hair to lose its fullness, getting your hair to do much of anything when it's like this can be very frustrating. You might spend quite a while in the morning fighting with it to get that style you want, only to walk outside and have it fall flat. Or maybe you've just given up completely and find yourself pulling it back into a ponytail every morning.
If you're ready to say enough is enough and you're sick and tired of your thin hair winning every morning, here are a few ways to give your thin hair volume. Thin hair is not a life sentence of bad hair days my friends.
How to Give Your Thin Hair Volume
Get the Right Haircut
Let's start out with the most obvious tip — the right haircut makes all the difference when it comes to any kind of hair. Plus, this is one of the best ways to get volume in your hair naturally. We have to work with what we've got and who better to go to for examples than the ladies of Hollywood. They pay big bucks for someone to give them the perfect style for their hair and there just so happens to be quite a few celebs with fine hair who look quite incredible.
Here are a few hair cut ideas that work great with thin hair.
The Lob with Layers
This is a fabulous cut for women with thin hair. Why? Well, for one it's incredibly flattering. When Rosie Huntington-Whiteley debuted this look on the red carpet it was a definite favorite. The length is good because it doesn't weigh your hair down and the layers add some movement, making your hair appear fuller than it really is.
She also added a side part, which is another trick to making thin hair appear fuller.
Everything about this look, from the color to the cut and style, is perfect for thin hair.
Be sure to check out some of the best celebrity hairstyles, which show just how much volume a lob can give your hair.
The Bob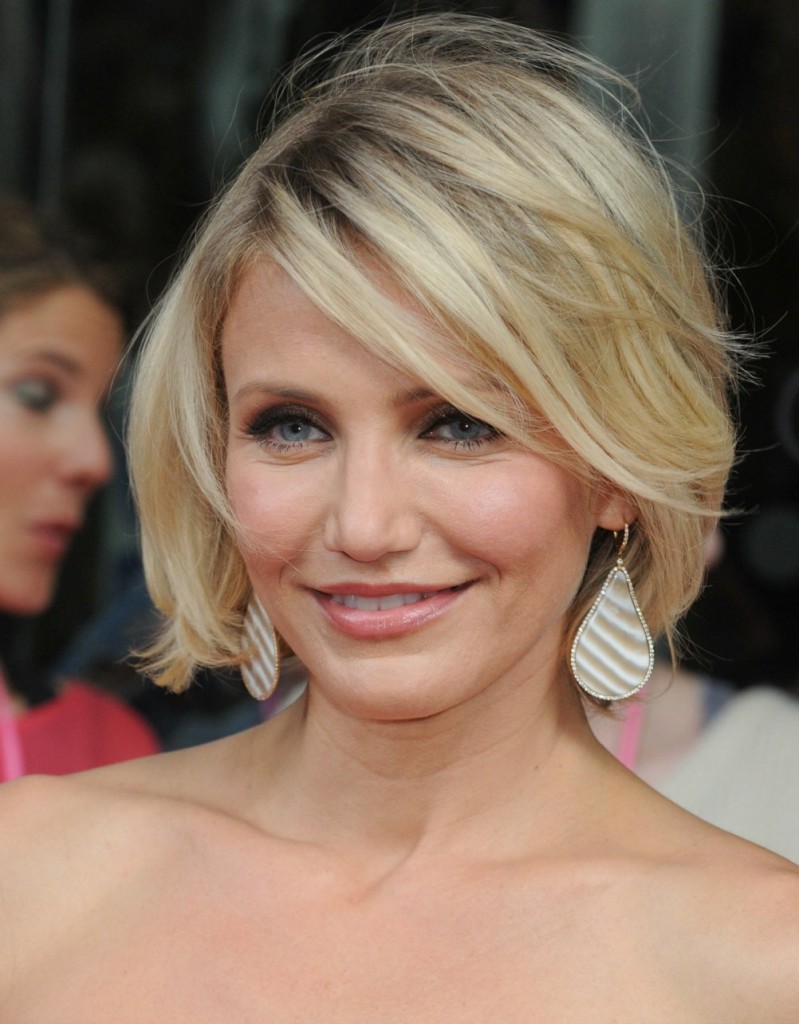 The bob hairstyle is a common choice for thin hair and for good reason. It's a very versatile hairstyle that can be worn sleek and straight or wavy, and it usually doesn't require a lot of work. This is a really good haircut idea if you're just wanting to add volume to your hair naturally, without having to use a lot of fine hair products.
This is one of my favorite looks on Cameron Diaz, who has fine hair. It gives her face such a glow and makes her look younger. Have you seen her in The Holiday? She's sporting her blonde bob for that movie and it suits her perfectly.
I love these tips on how to style a bob.
The Pixie Cut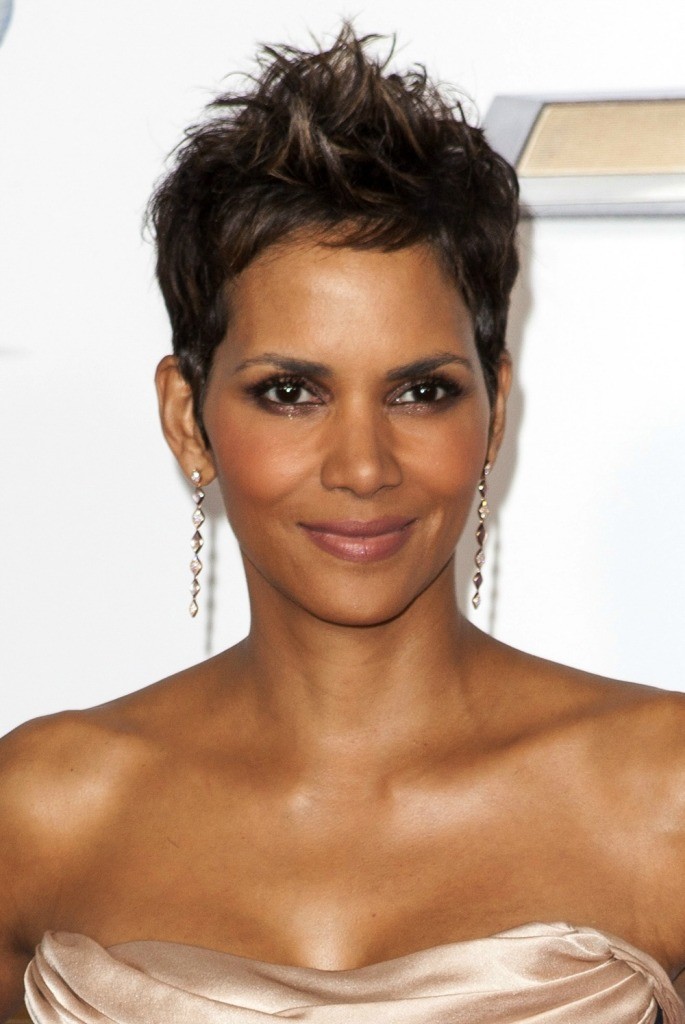 This cut just screams confidence, doesn't it? My daughter has a pixie cut and we can't go anywhere without at least one person saying how much they love her hair and how they wish they could pull it off. It does take some bravery and commitment.
Halle Berry is who I always think of when I hear the two words 'pixie cut'.
Very fine hair is the perfect candidate for a pixie cut because short strands are stronger than long strands. I know personally, I'm dealing with a lot of breakage with my hair and am having to be extremely careful with it. It's a low maintenance cut that helps make thin, fine hair appear thicker than it really is.
Full Bangs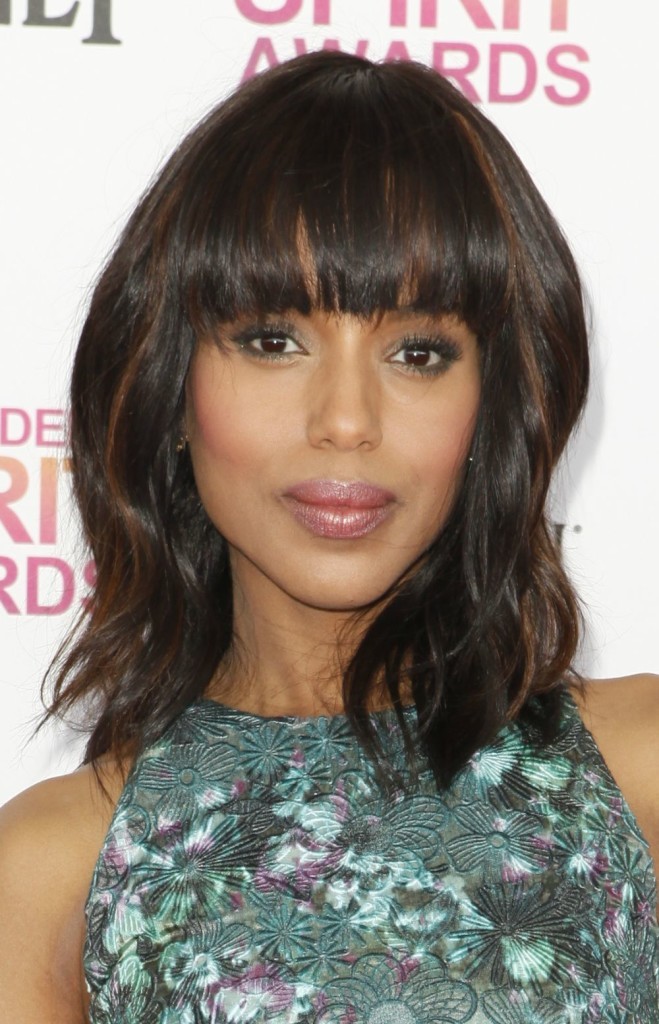 Bangs are a magical hairstyle trick and one I have worn for years. They can help make you look younger and they can help your hair appear thicker. The trick is to make them a bit thicker and blunt, like Kerry Washington's look pictured above. Her bangs start quite a ways back and are fairly full. Add the fact that she's sporting a shoulder-length 'do with some highlights and she has one great look to give thin hair some much-needed oomph.
Use the Right Fine Hair Products
One of the easiest ways to weigh down your hair causing it to look dull, lifeless, oily or super dry is by using the wrong type of product on it. You know the look I'm talking about? The stick to your head look. The I-haven't-washed-my-hair-in-weeks-look. Or the I-just-competed-on-the-reality-show-Survivor look. I could go on, but I'll stop.
Here is a list of tried and true products to add volume to fine hair:
Lush Cosmetics Roots Hair Treatment — Give dull, fine and thin hair volume and shine by treating it with Roots.
Lush Big Shampoo — Over half the base of Big shampoo is made with sea salt to help give massive volume to hair in need of a boost.
Paul Mitchell Extra Body Daily Boost — This keeps the roots of your hair volumized all day long when used with a round brush for styling.
Living Proof Full Dry Volume Blast — Section off your hair and spray from roots to end. Flip hair upside down and tousle to set the product. Voila! Hair with lots of volume. This product lasts all day long.
Batiste Dry Shampoo — Washing hair too much causes your hair to become weighed down and heavy. That's why dry shampoo can become your best friend. This dry shampoo helps give it some volume in between washings and makes it smell incredible.
Sexy Hair Big Sexy Hair Powder Play — If you're in need of some instant volume boost, sprinkle some of this powder into your roots and you're good to go.
Bumble and bumble Thickening Hairspray — This spray lifts and holds all hair types—thin, thick, straight, or curly. Use it for blow-drying, setting, protecting from heat, adding volume, lifting, controlling, and finishing any style.
Not Your Mother's She's A Tease Volumizing Hairspray — This hairspray gives your hair the hold you need without making it sticky and weighing it down. It's perfect for bobs and lobs or hairstyles you want to keep volumized and need hairspray to help.
Nioxin System 2 Cleanser and Scalp Therapy Conditioner — 

Gently cleanses and removes toxins like dht. Bioamp adds thickness and strengthens the hair shaft. The unique scalp-access delivery system helps protect nutrients as they nourish the scalp and hair.

Aveda Thickening Tonic — If you're looking for a natural option that thickens hair, this is the product for you. It's proven to thicken hair instantly with just one use. Powered by botanicals including certified-organic amla fruit, the tonic expands strands from roots to ends.
OGX Thick and Full Biotin and Collagen Shampoo & Conditioner — Thick & Full Biotin & Collagen Shampoo by OGX is a high-performance blend of powerful ProVitamin B7 that infuses into every strand while plumping collagen adds volume and dimension, and hydrolyzed wheat proteins strengthen, for thicker, fuller, healthier looking hair.
Eva NYC Up All Night Volumizing Spray — For added volume and texture, apply Eva NYC's Up All Night Volumizing Spray to wet or dry hair. Works best on damp hair before blow drying for added texture and lift plus extra protection. Its lightweight formula adds volume and texture to hair with no extra buildup.
Test Out Some Styling Tips & Tricks
When it all comes down to it, the best way to find out how to give your thin hair volume is to play around and experiment with different styling tips and tricks. Because what works for my hair, might not work for yours.
So here's a round-up of some of the best styling tips and tricks for we could find that will help add volume to fine hair:
Are you ready for a new 'do, to try out some new products or to experiment with a new styling trick or two in order to give your thin hair volume? Thin hair doesn't have to be a pain or a curse or a major frustration. Learn to work with what ya got and fall in love with your hair! 😉
Did you find this post useful? If so, share it or pin it on Pinterest to save for later!