'Tis the season of parties and wondering what party outfit to wear. This is part one of what to wear to that next Holiday gathering. Today it's about cocktail parties, black tie affairs, that hard to get into after-party and ringing in the New Year in style. This is one of my favorite topics around this time of the year and I hope you get an outfit idea or two!
Holiday Party Outfit Ideas
Black Tie Event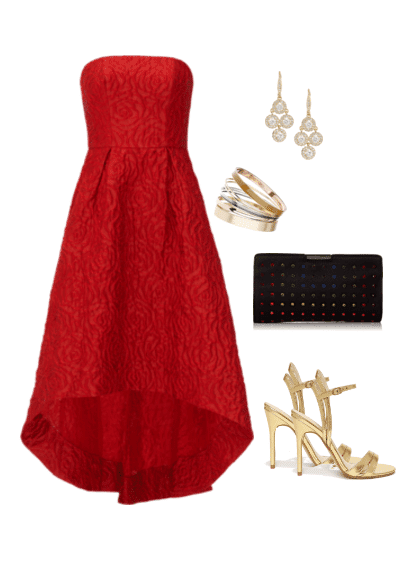 Outfit details: ML Monique Lhuillier crimson rose gown | Chinese Laundry Heels | MILLY Crystal Small Frame Clutch Evening Bag (lower priced clutches here and here) | Gold Bangles | Multi-circle Dangle Earrings
This dress retails for $700. Wow right? If you love the idea of wearing a designer gown to that special black tie event, but you don't like the idea of paying designer dress prices, then Rent the Runway is for you. You can rent this gorgeous ML Monique Lhuillier crimson rose gown for only $100. Add a pair of gold heels, a beautiful clutch and some bling and you're good to go. Try wearing your hair in a sleek ponytail for a no-fuss classic look.
Cocktail Party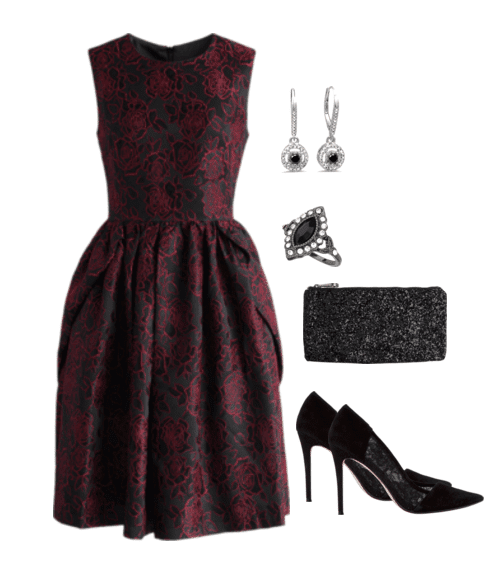 Outfit details: Wine Rose Jacquard Dress | BAELEY Lace Panel High Heel | Volcom Glitter Party Clutch | Vintage ring (similar here and here) | Dangling Drop Earrings (similar here and here)
For the dressy cocktail party, break out that dress you already know and love, or purchase an affordable one from ChicWish.com. They have a number of affordable and beautiful party dresses that I have my eye on. The Wine Rose dress pictured above could become a staple item in your closet. It would work for numerous dressy occasions and the color and pattern is stunning!
New Year's Eve Party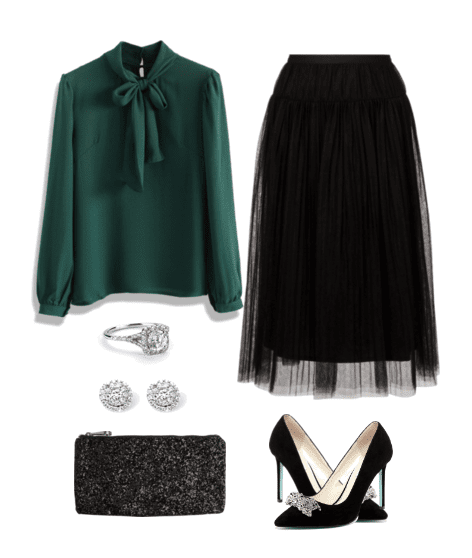 Outfit details: Black Tulle Skirt (the one I purchased here)| Evergreen Bow Shirt (similar here) | Betsey Johnson Pump | Glitter Party Clutch | 18K White Gold Ring (similar here and here) | Diamond Earrings (lower priced options here and here)
New Year's Eve is one night I'm not afraid to break out that black tulle skirt that's been hanging in my closet. I purchased one last season and my daughter and I have gone back and forth wearing it for different occasions. They have a ton of different colors and as of now, the skirt is only $18.99! If you're older than a teenage girl, like myself 😉 , wear a classic bow shirt like the evergreen one pictured above. This is a great shirt to have in your closet since it can be dressed up or down. Tuck it in with the black tulle skirt for a dressy party look, or wear it over a pair of leggings with boots.
The After Party Outfit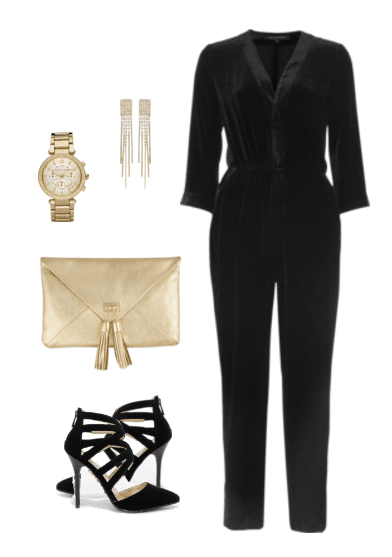 Outfit details: Velvet Black Jumpsuit | Caged High Heels (similar here and here) | Gold Clutch | Michael Kors Gold Watch | Gold Embellished Earrings
A couple of years ago I wrote about Maria Menounos and her stunning black jumpsuit she wore at a movie premiere. At the time I said I wasn't a fan of jumpsuits, but that she might have converted me. She just looked so stunning and classy! Well, I finally purchased my first one this summer at Burlington and I absolutely love it. In fact, I just wore it to a black and white fashion event with my daughter. I won't say it's replaced some of my favorite LDBs hanging in my closet, but it has definitely been chosen over them a time or two. I would encourage you to try several different styles of one on and see what you think. You just might be surprised (like I was) at how much you like it!
My daughter and I at Blanc.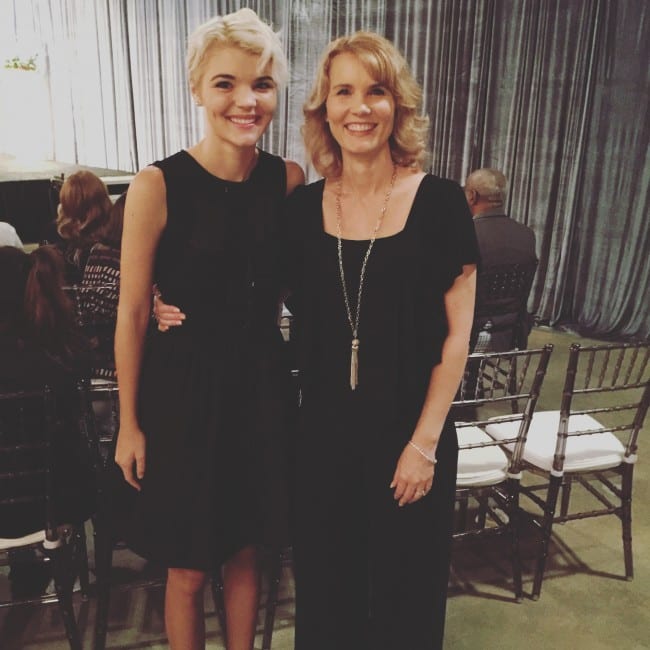 Stay tuned for part two of my party outfit ideas feature! Next week I'll share outfit ideas for a dressy office party, charity ball and a holiday brunch.