Do you love tech gifts as much as I do? I remember the Christmas my husband gave me my first tablet. I remember the time I treated myself to a new iPhone. I also remember the time I received this. (Just kidding…haven't received that YET.)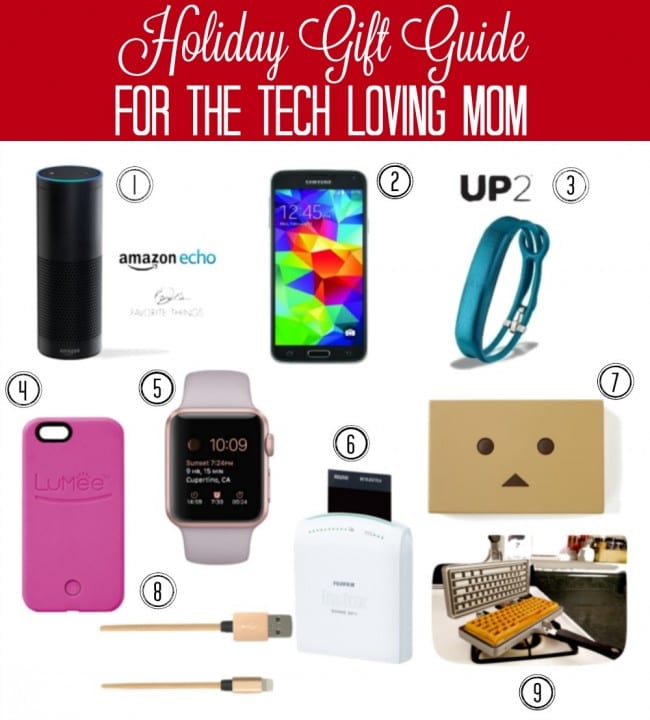 Enjoy this Holiday Gift Guide round-up of ideas for the Tech Loving Mom.
Amazon Echo – This little device does everything from playing all your music, answers questions, reads you audiobooks, controls light switches, reports traffic and weather and more. Plus, they're always adding more features. Oh, and you control of all these features with your voice! The more you use it, the more it gets to know you. Brilliant.
TextNow Wireless – We've been using this service for about a month and a half now and are very pleased with it. We wanted my younger son to have a phone, but we didn't want to add him to our contract for a number of reasons. We received an LG Tribute, which you can get for only $4.99 when signing up for their service. They have a number of fantastic phone options including the LG Nexus 5 and Samsung Galaxy S5. TextNow provides unlimited talk, text and 2G data on every one of their plans, which means no overage charges ever again! Plans start as low as $18.99 for (500MB of high speed data) and move up to $26.99 (1GB), $39.99 (2GB) and $59.99 (4GB). It's a great deal and the service has been phenomenal!
UP2 – An activity and sleep tracker, all in one handy lightweight thin strap. It features a battery life of up to 10 days and a vibration motor for alarms, alerts and notifications.
iPhone 6 Lumee Illuminated Cell Phone Case – This case has some great features including a d

immer switch to control light output and let you control the light, a rechargeable battery and charging cord, and provides great protection. Plus the hot pink is just pretty! They have several color choices.

Apple Watch in Rose Gold – My son saved his money for quite sometime and recently purchased an Apple Watch. He is so pleased with it and is using it for tracking work outs, waking him up in the morning, telling the time, texting and I could go on and on. This is a great idea for a busy mom on the go.
Fujifilm Instax Share Smartphone Printer – This gadget provides e

asy and quick Wi-Fi printing from smartphones and tablets. All those adorable pictures we have stuck on our phones or in the cloud…can now be printed and put in a scrapbook. (Or a box…because, reality.)

Power Plus Charger – Meet Danboard, the cardboard "robot" from the hit manga Yotsuba&!. (Who's technically a girl named Miura dressed in disguise, but that's a whole other story.) The Japanese company cheero has brought this curious creature to electronic life in the form of a high-capacity mobile battery charger. With the ability to generate enough juice to recharge your iPhone up to five times, the Power Plus DANBOARD is your trusted companion for vacations, emergency situations, or whenever you're on the go and need to power up.
Style Cordz – Charge & sync your favorite Apple products in style.
The Keyboard Waffle Iron – Because why not right? You will soon have the power to make the most awesome looking waffles in existence! As an added bonus, they're including a digital download of their KWI recipe book which included 20 amazing recipes tailored for the KWI's unique pattern. How fun!
Did any of these gifts catch your eye? Do you already have any of these? Speak to me friends!
*Disclosure: Mom Fabulous received product to facilitate this post. All opinions are my own.