I'm back with another feature as part of the Burlington Style Squad™ and this time it's all about that Holiday office party outfit. I love dressing for this season, because it's the perfect time to sparkle and shine, add a few more curls in my hair, and rock that red lip!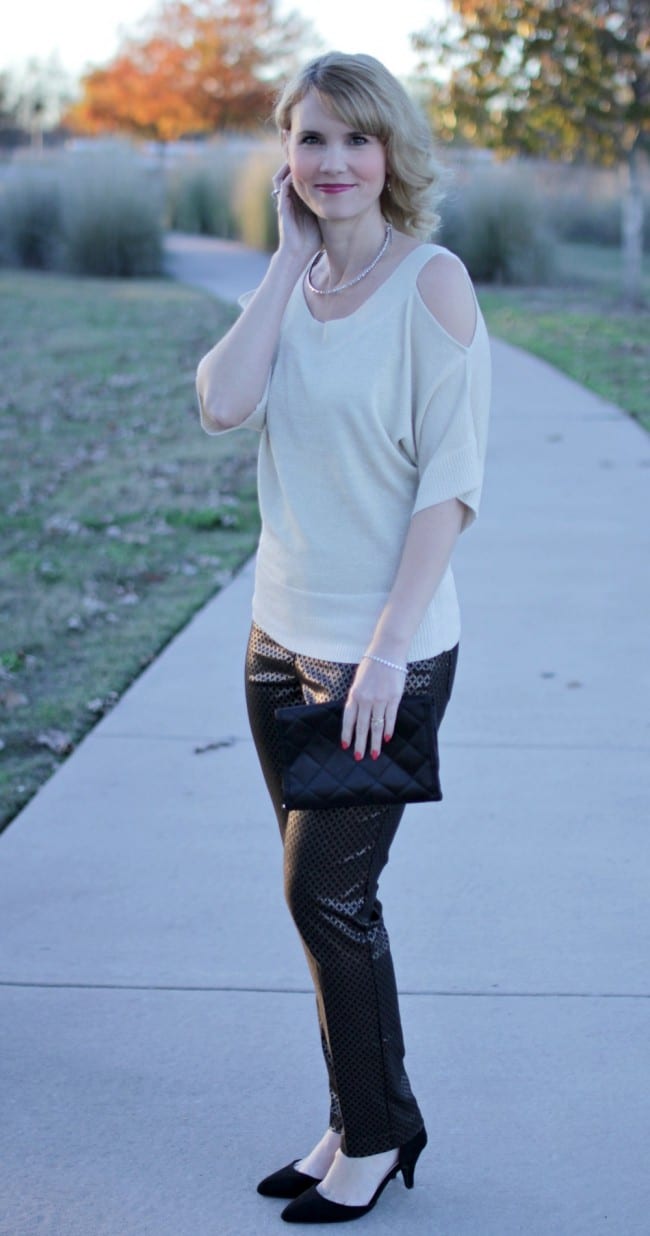 I had every intention when shopping for a holiday outfit at Burlington to purchase a dress. But when I first laid eyes on these black pants with gold detailing, I knew I had to find the perfect top and shoe to go with it. Which I did!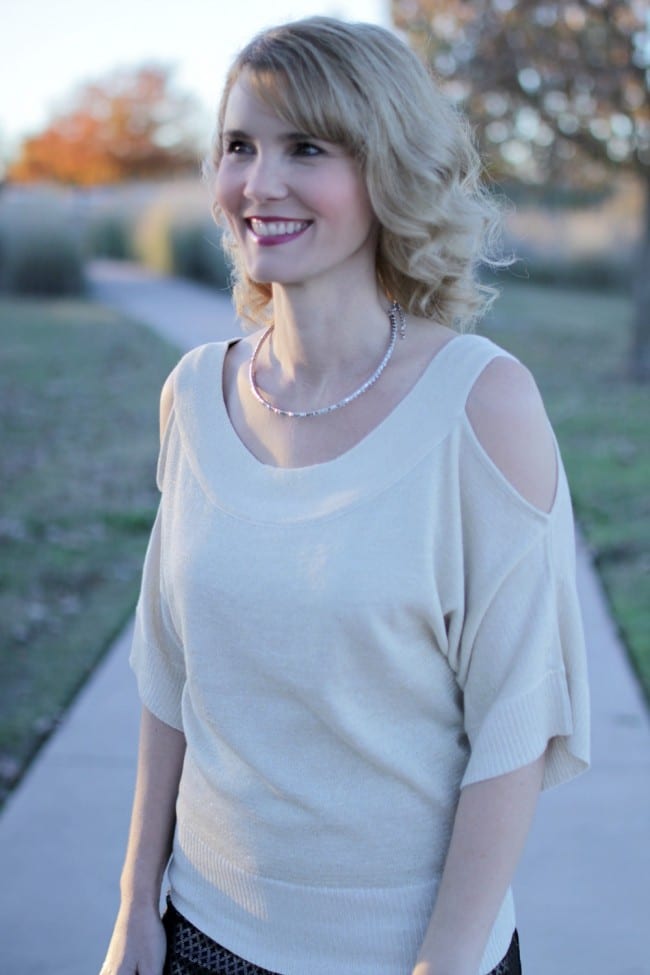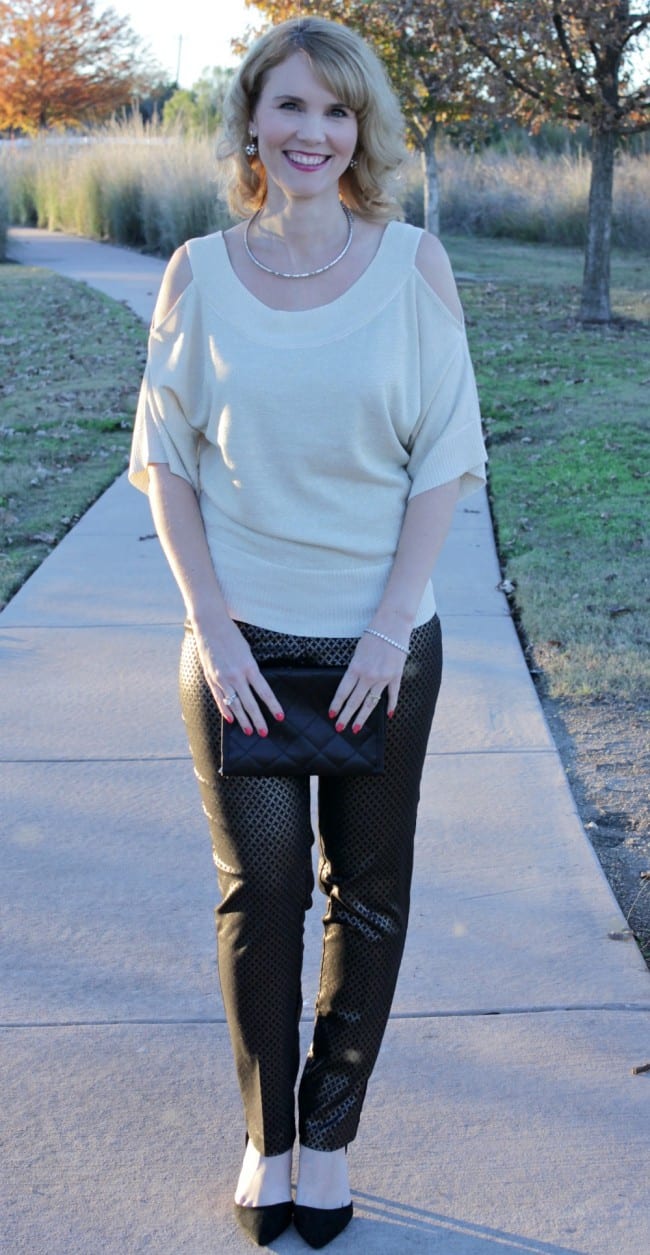 If you're trying to choose an outfit for a Holiday party that's no too formal, you can get by with pants and a dressy top. These pants are the perfect amount of glitz for me, without being too over the top. The sweater is a soft gold tone and the cut out sleeves give it some fabulous character, making it extra festive. I'm still on the look out for a gold clutch but until then, a black one will do.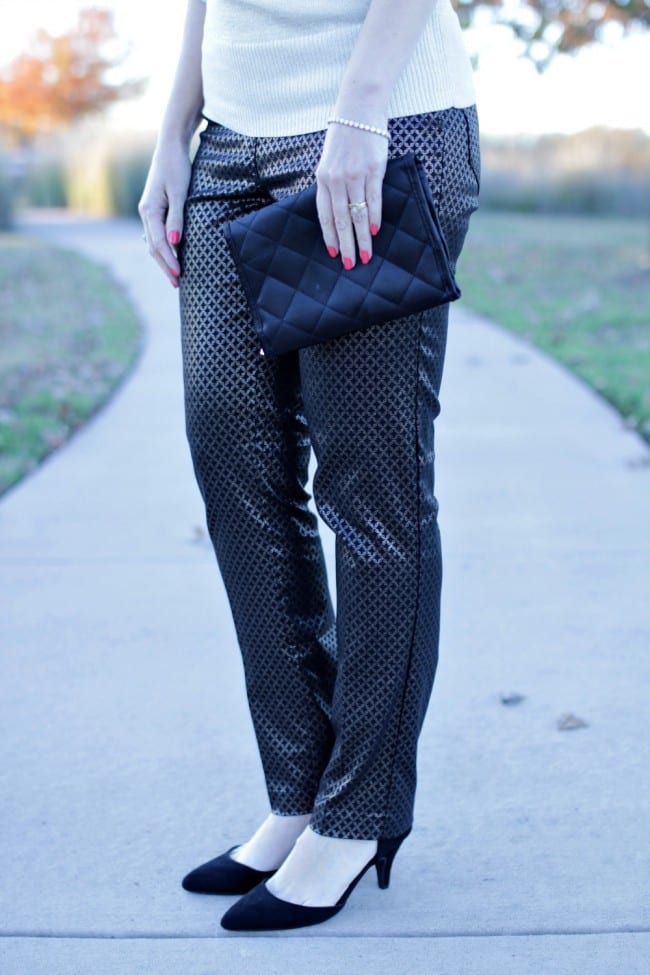 I found these strappy heels while shopping at Burlington and I absolutely love them. I'm not a fan of really tall heels because they're usually not very comfortable. And at most Holiday parties, there's a lot of standing and mingling going on, so comfort is a plus!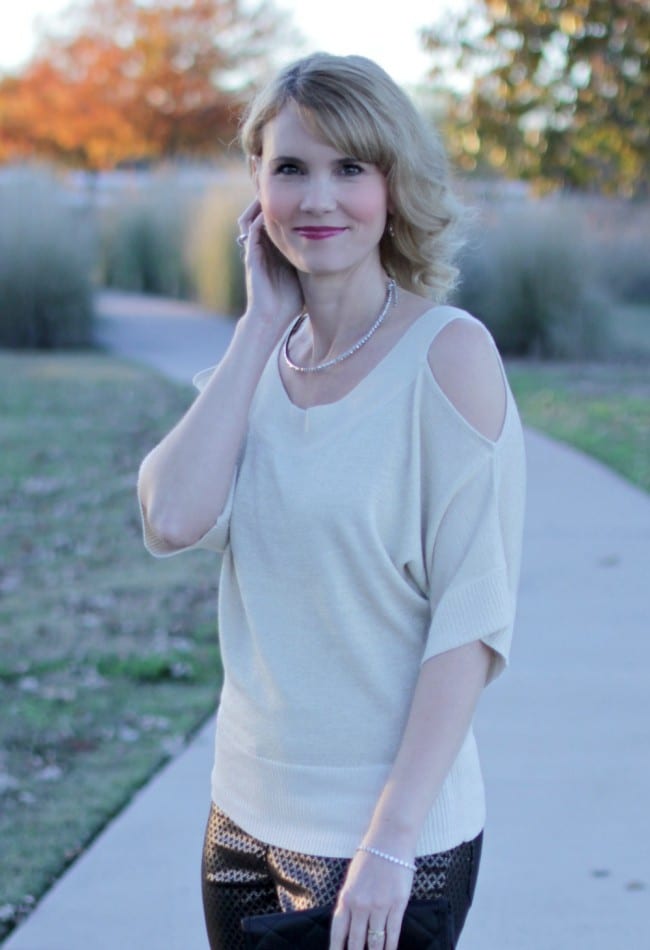 To add a little more sparkle and shine, I wore my diamond tennis bracelet and matching necklace. These pieces of jewelry don't get out much when it comes to my casual lifestyle, so any chance I can get to wear some bling, I am all for it!
I am so thrilled with how this outfit turned out, but beyond that, I am thrilled with the price! The pants were $16.99, top was $19.99 and the shoes were $16.99. So by purchasing smart at Burlington, and using a few items I already had, I put together a holiday office party outfit I love for around $55.
Which meant, I had some leftover money to spend on toys while we were there! My husband volunteers for a local refugee services organization, taking refugees to clinic appointments and any other needs they have. Many of them have kids, and given everything they've been through, any holiday cheer we can bring is so appreciated.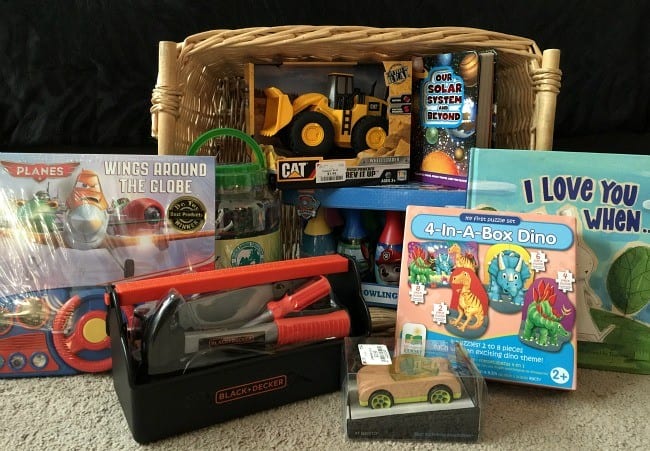 We had fun browsing Burlington's toy collection and piling items in the cart. They had remote control cars and scooters, plus toys from well know shows and movie like Disney's Frozen, Sophia the First and PAW Patrol. Here's a look at the items we purchased, as well as more on my holiday outfit.
Do you have any holiday office parties to attend this year? If so, do you opt for a dress or pants? Before I leave you, here are a few tips for dressing for a holiday office party:
Stay away from low cut tops. I think it's a given why this is the case. Whether it's your office party or your significant others, you want them c to look at your face while you're chatting and not be, um, distracted.
Avoid super short dresses or skirt. While there's nothing wrong what so ever with wearing something above the knee, make sure it's not so short you're having to keep tugging on it to keep it down. You'll be uncomfortable and distracted all night long and no one needs that. The mingling part of the night can be hard enough, am I right? Just make sure your hemline is office appropriate.
When in doubt, go with black. There's nothing boring about an LBD, especially when you can add on to it with jewelry. Depending on your office environment, a red or green dress might not be the best way to go. Sometimes you can look too festive, when an  LBD is just perfect.
Check your sheer fabrics. Have someone walk outside with you, as well as in a well lit room to make sure your sheers aren't too sheer. The last thing you want it for the office party pictures to come back and you notice YOU CAN SEE THROUGH YOUR SKIRT. No fun at all.
Opt for comfortable shoes. Like I mentioned already, most of these shindigs involve a lot of standing. The more comfortable you are in your outfit, the more relaxed you'll be.
For your holiday needs, from party outfits to toys, be sure to hop on in your local Burlington store or check out their selection online at Burlington.com.
Burlington Stores sponsored this blog post. The opinions and text are all mine.