*This is a sponsored post written by me on behalf of Godiva. All opinions are 100% mine.
One of my favorite gifts to give and shop for are gift baskets. It probably has something to do with the fact that I love receiving them as gifts! The whole process of shopping for each item and then putting it all together, plus watching the recipient open it and pull out each item, is so much fun.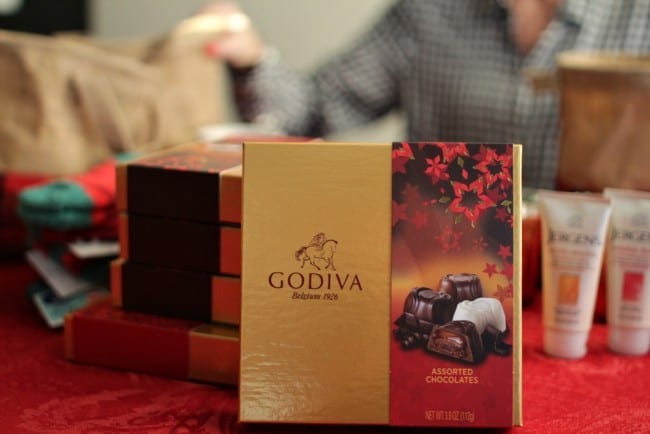 This holiday season I chose five special people to receive a Godiva gift basket. I did my shopping at Target, where you can find fantastic Godiva gift boxes. Here are my tips, tricks and ideas when it comes to shopping at Target, specifically for putting together a holiday gift basket.
Start with a main item that is the show piece of the gift basket.
My show piece was a box of Godiva chocolates. Target has 9 piece assorted chocolates and chocolate caramel gift boxes, as well as a 15 piece assorted box that is exclusive to Target. Not only were their prices for the gift boxes a fantastic deal, but from now until December 19th, there is a Cartwheel offer for 20% off Godiva Gold Boxes. I'm a dedicated Cartwheel app user and go through the offers before I leave the house, as well as in store. If you're a Target shopper and  you're not using this app, you're leaving money on the table!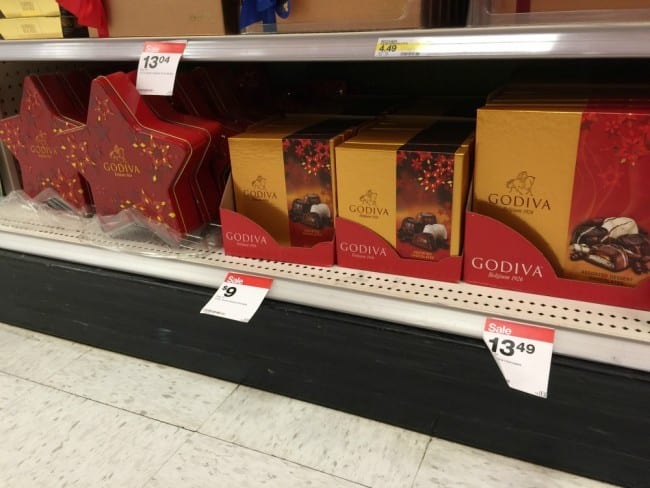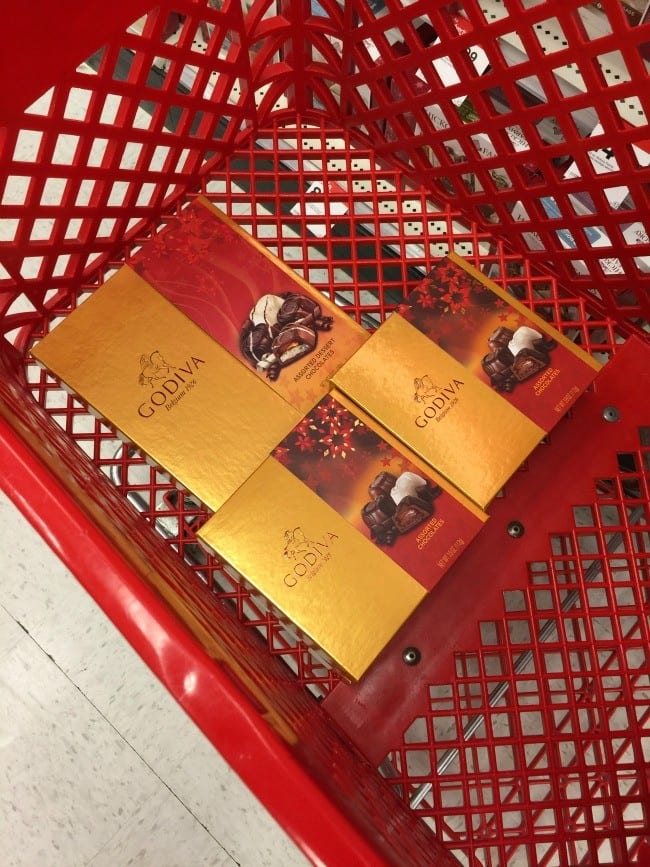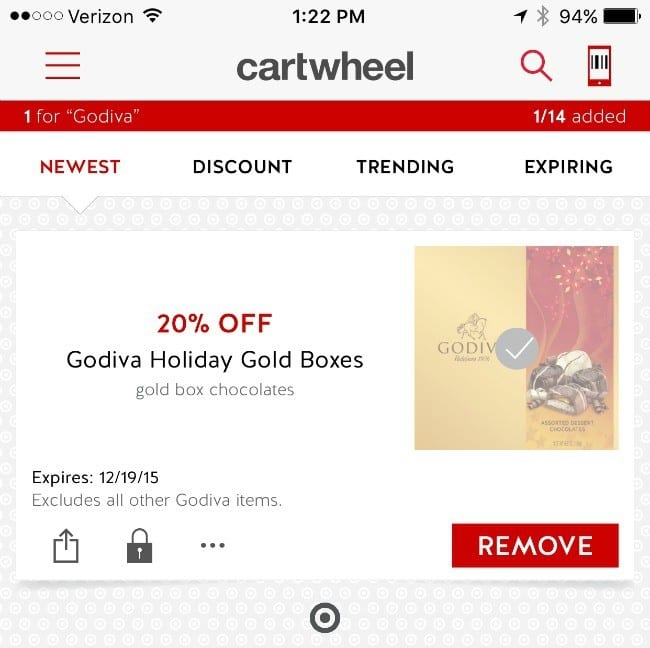 Shop the $1 spot for gift containers and fillers.
Oh the $1 spot! It's mine and my daughter's favorite section in Target. This is the first place I look for containers, holiday decor (for any holiday!), stocking stuffers and fillers for gift baskets. One time I even found a phone case that I absolutely love. Score!
For my Godiva gift baskets, I wanted them to be all about pampering yourself. So I set the scene in my mind…I pictured my well deserving recipients eating their chocolates by candlelight, with comfy fuzzy socks. Sounds pretty amazing right? So in my cart went these adorable baskets I found, fuzzy socks, candles, plus some super cute gift tags.
Stop by the toiletry travel section for great beauty finds.
This is my other not so secret trick I use for stocking stuffers and gifts. The travel toiletry section! This section just makes me happy because a) I love to travel and b) I love small things. I always check here first for small lotions, soaps and lip balm. They're affordable and fun!
I added lip balm and lotion for their gift baskets, continuing with my pampering theme. Now they can eat chocolate by candlelight, with their fuzzy socks on and after they're done indulging in chocolate, they can lotion up their hands and feet, and moisturize those lips. I have their night all figured out!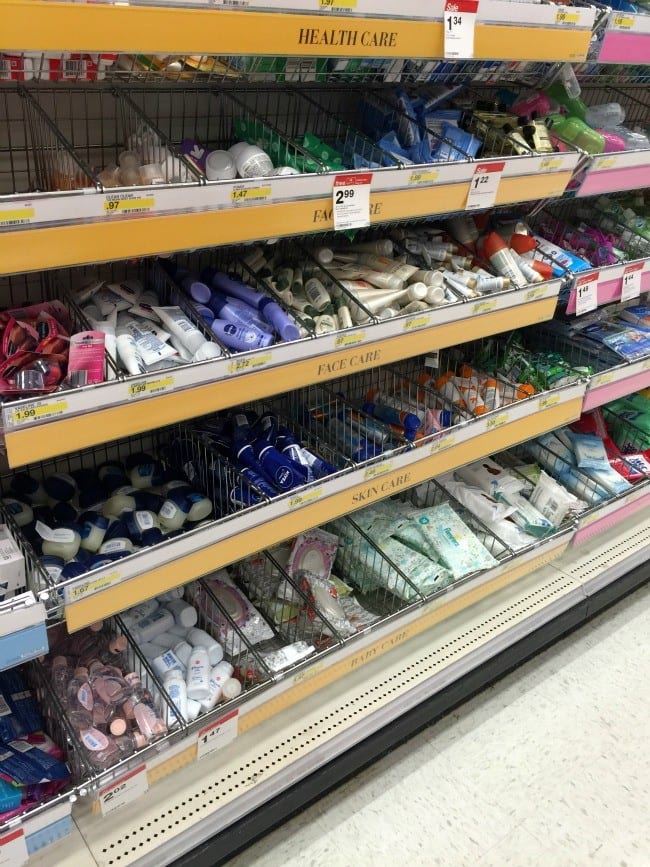 Now the really fun part…putting the Godiva gift baskets together. With hot cocoa by my side and the gift basket making essentials all laid out, I was ready to start assembling. I assembled their baskets, added a note and gift tag and now they're ready to be delivered.
Who are the five people I believe deserve some luxury throughout the Holiday season?
My High School friend – I have a friend who is going through an unbelievably hard time right now. She was that friend in high school who was always there to help you pick up the pieces. She's never lived an easy life and has always had to work harder than anyone I know to achieve her goals. From having to live on her own in high school (she held a job, did her school work and supported herself through everything) to having unfortunate circumstances recently happen, she is by far one of the most deserving people I know.
My youngest son's 6th grade teacher – You know that teacher you had that just made learning fun? Yep, that's Mrs. L! This year started off a little rough for our son, starting with online school and then having to transition to another school. She welcomed him into her classroom and has helped make this year one of his best ones yet. And 6th grade is hard, am I right?!
My neighbor and friend – With a husband who's traveling a lot for his job and her holding down the fort with three kids, she absolutely amazes me. On top of all of this, she has a full time job as a teacher! She definitely needs some luxury, not to mention alone time to just chill and eat chocolate 'till her heart's content.
My daughter's teacher –  I'm all about letting teachers know what they mean to you! My daughter's theater teacher puts in more hours than just about anyone I know. She's not just on the clock during the regular school hours. Nope. There are trips on the weekends, practices after school going long until after it's dark, plus the countless hours I'm sure she puts in at home preparing for the next day or next play. She's fun. I always see a smile on her face and she is so good to my daughter, helping  make her senior year as memorable as possible.
My mom – Speaking of hard working women…my mom has always worked hard whether it was helping with a class party when we were little, or at her full time job she's had for as long as I can remember. She recently had pretty major surgery, only to have to bounce back and head back to work a week later. She's tired. She has no energy, but she still keeps chugging along. When she comes home in the evening, luxury is well-deserved.
Who do you know that deserves and needs a little luxury in their life? Put together a gift basket or buy them a gift, and let them know that you care and are thinking of them. When you're down and out, exhausted and frustrated – sometimes all it takes is one person letting you know they care to give you that extra boost you need.
Are you ready to #GiftGodiva?
Happy Holidays from my family to yours!