This blog post was sponsored by KING'S HAWAIIAN® but the opinions are all my own.
These Aloha Dogs are the perfect Game Day food. Gather up the football fans, turn on the TV and get ready for everyone to inhale these mouthwatering and super easy to prepare Hawaiian hot dogs. #GameTimeGrilling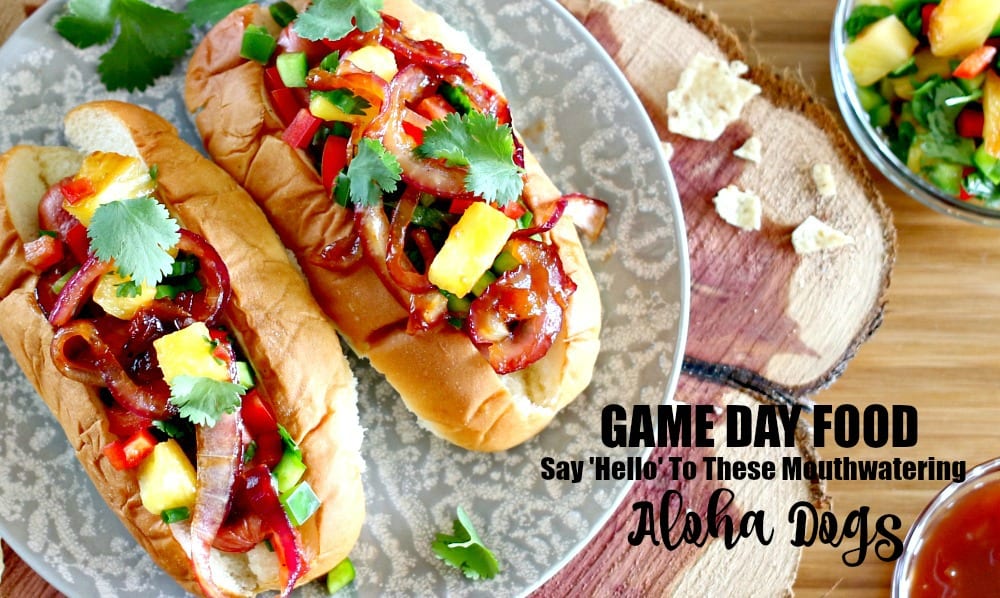 When I think of football, a few things come to mind: friends, fall, fun, and FOOD. Definitely food. There's something very special about Game Day food isn't there? Usually, when we have people over I'll fix a crock pot of pulled pork and serve pulled pork sliders on KING'S HAWAIIAN® Original Hawaiian Sweet Dinner Rolls. These are my go-to rolls for entertaining. I've even been known to make mini-sandwiches with them for my kids' lunches. #MomWin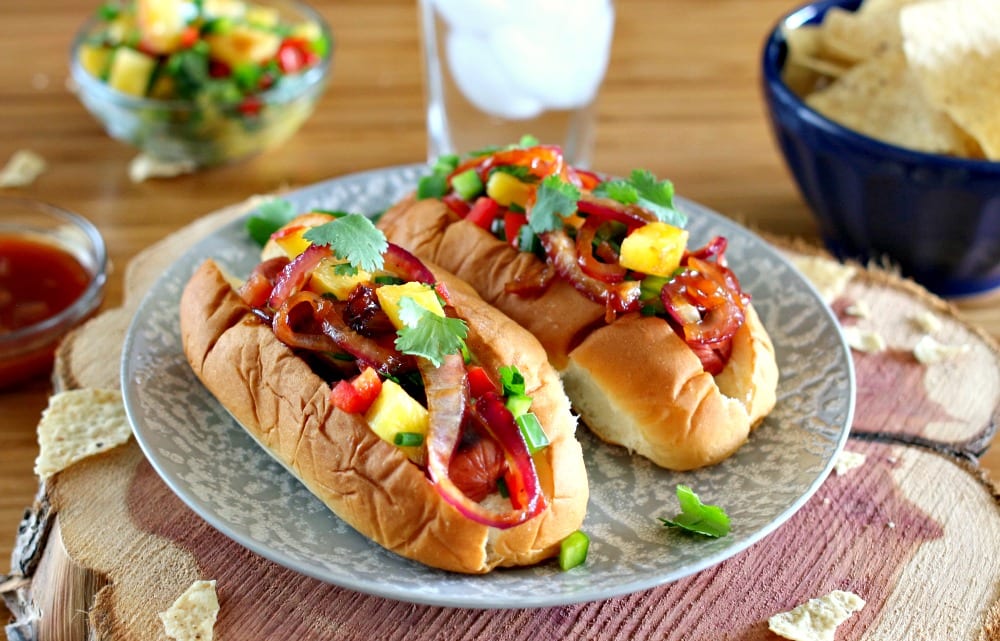 But this year I thought I'd mix things up a bit. Instead of sliders, I headed to my local HEB and picked up KING'S HAWAIIAN® Hot Dog buns in the bakery section for the base of my little creation – Aloha Dogs.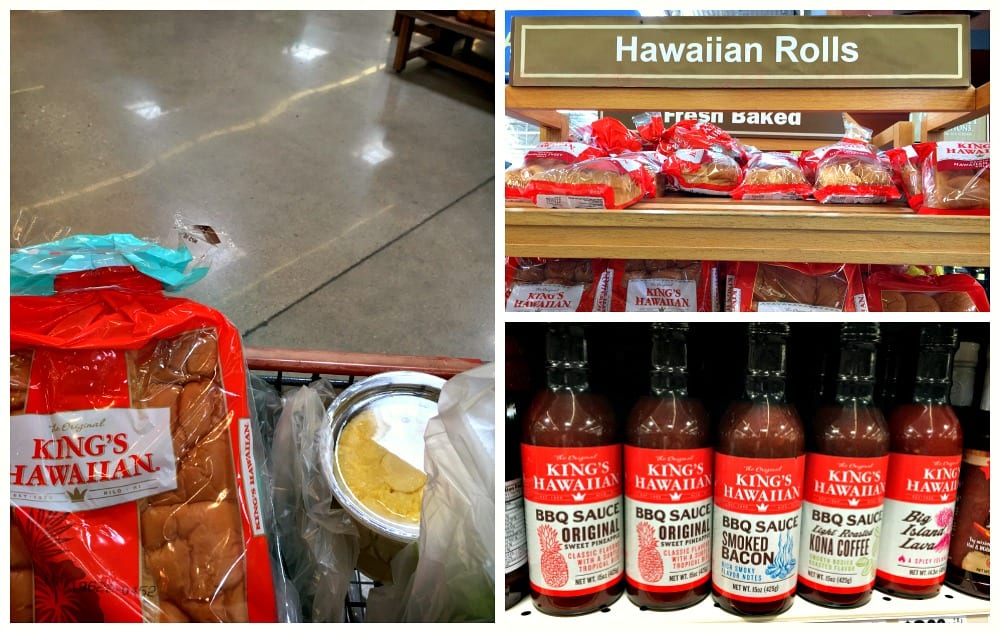 With my shopping cart in hand, I loaded it up with all of the ingredients for these delicious Hawaiian Hot Dogs:
KING'S HAWAIIAN® Hot Dogs Buns
Red onion
Red Pepper
Green Pepper
Pineapple
Cilantro
Green onions
Hot Dogs
Plus my secret special ingredients that send these over the top –> KING'S HAWAIIAN® Original Sweet Pineapple BBQ Sauce
Did you know KING'S HAWAIIAN® has BBQ sauces? They do and they're incredible. The Original Sweet Pineapple BBQ sauce has a bold BBQ flavor with a sweet bite from the pineapple. It was exactly what these hot dogs needed.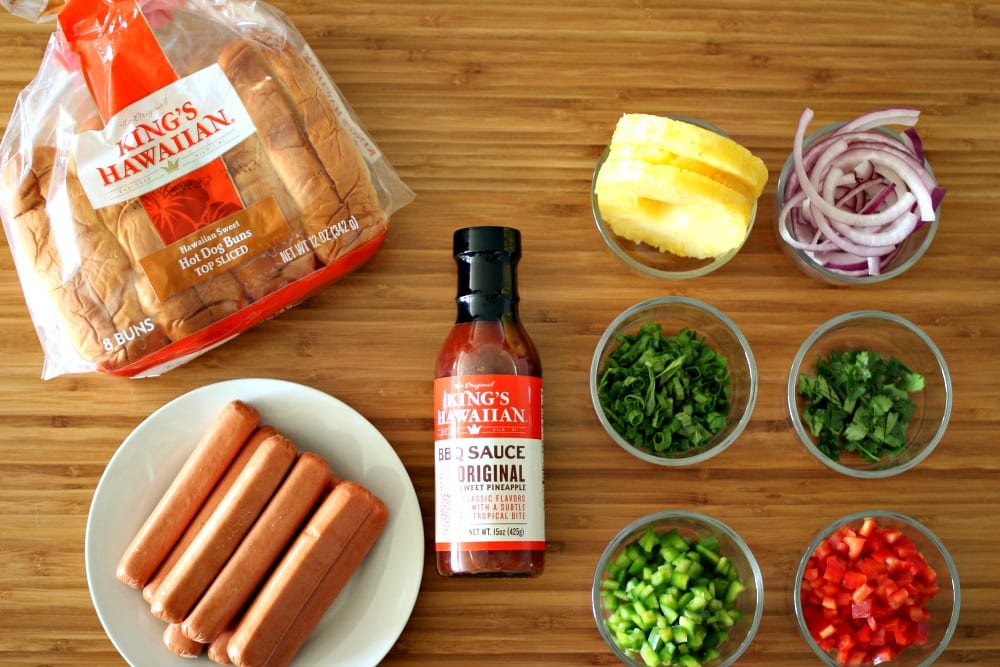 Here's how I made them:
Mix slices of red onion with the KING'S HAWAIIAN® Original Sweet Pineapple BBQ Sauce.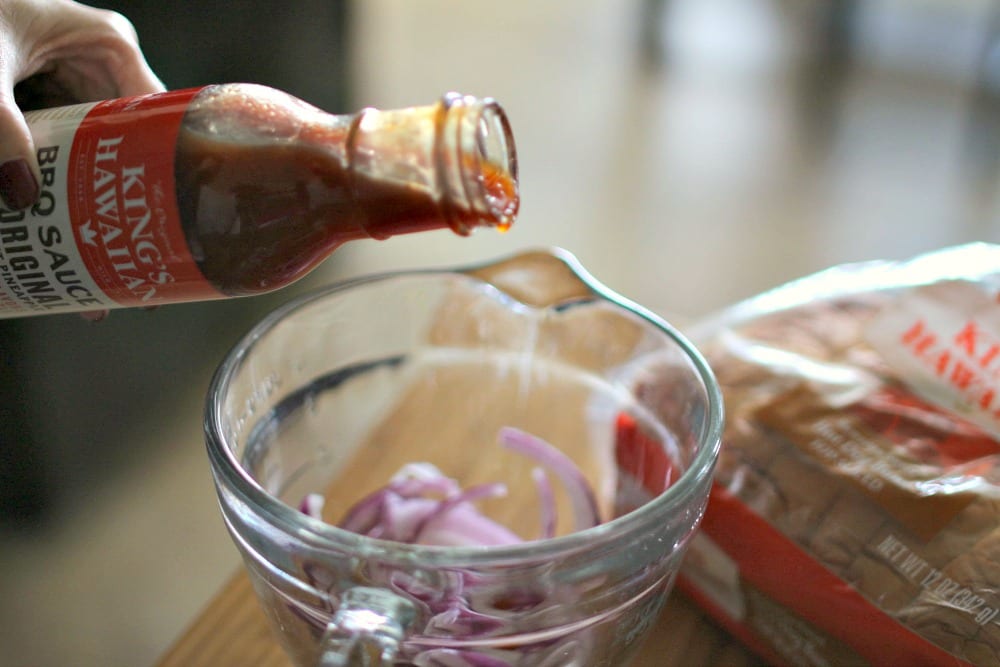 Cook the red onions in a cast iron skillet, which will give them a little bit of char. After the onions have cooked for 2 to 3 minutes, push them to the side and add the pineapple rounds (I used fresh, not canned). Cook them for about 2 minutes per side until they get nice and brown.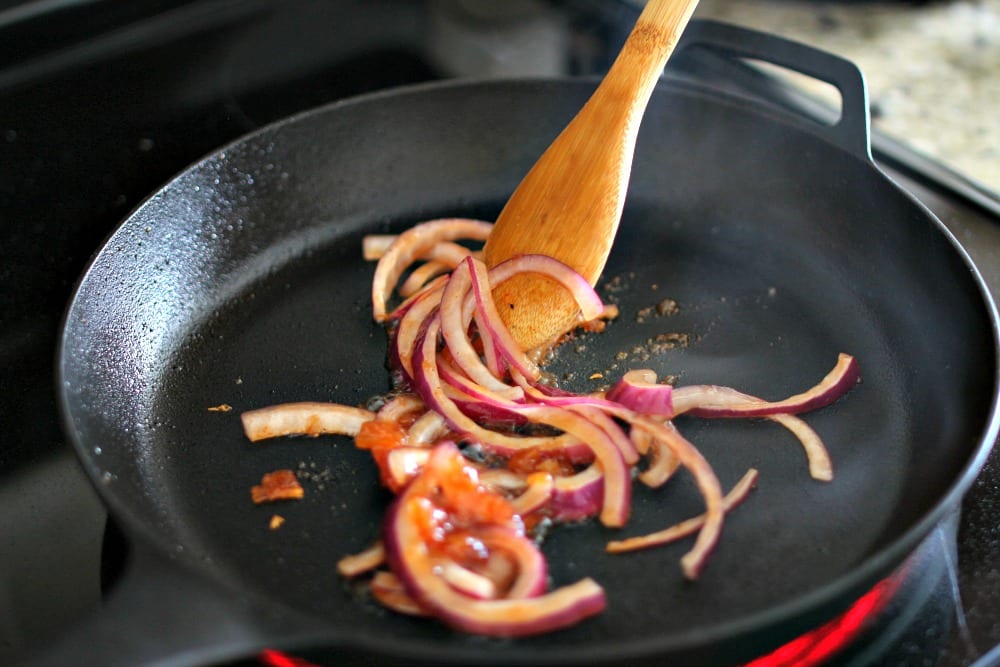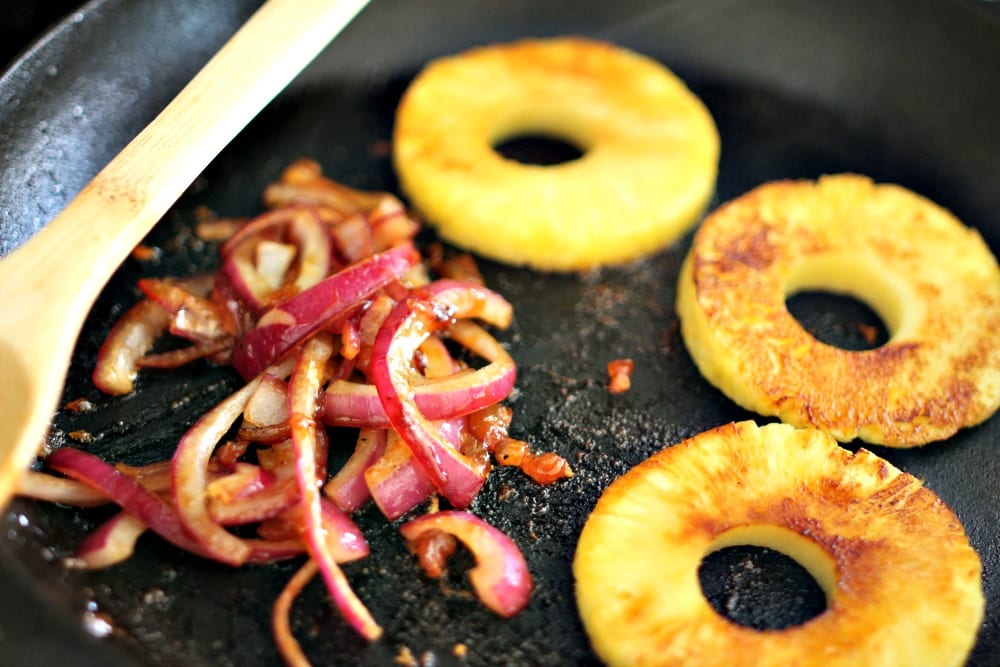 Set the red onions aside. Cut the pineapple rounds into small chunks and mix with the chopped green onions, green pepper, red pepper and cilantro. This is your pineapple salsa and let me tell you, it's incredible and full of flavor.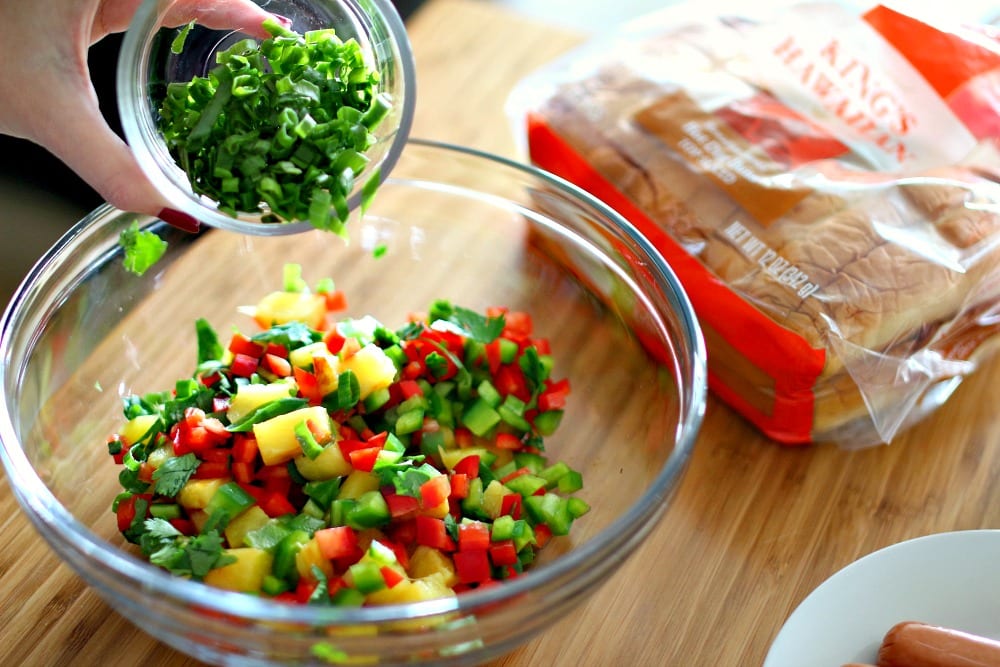 Grill the hot dogs.
To assemble the Aloha Dogs, place a hot dog in a hot dog bun. Then scoop on top some of the pineapple salsa and the red onions you mixed with the BBQ sauce.
Get ready for a flavor explosion! The sweetness of the red onion/BBQ mixture plus the crunch from the pineapple salsa plus the softness of the KING'S HAWAIIAN® Hot Dog Buns make this one amazing meal. You can also add a little bit more BBQ sauce on top of the hot dogs, which is what my husband did.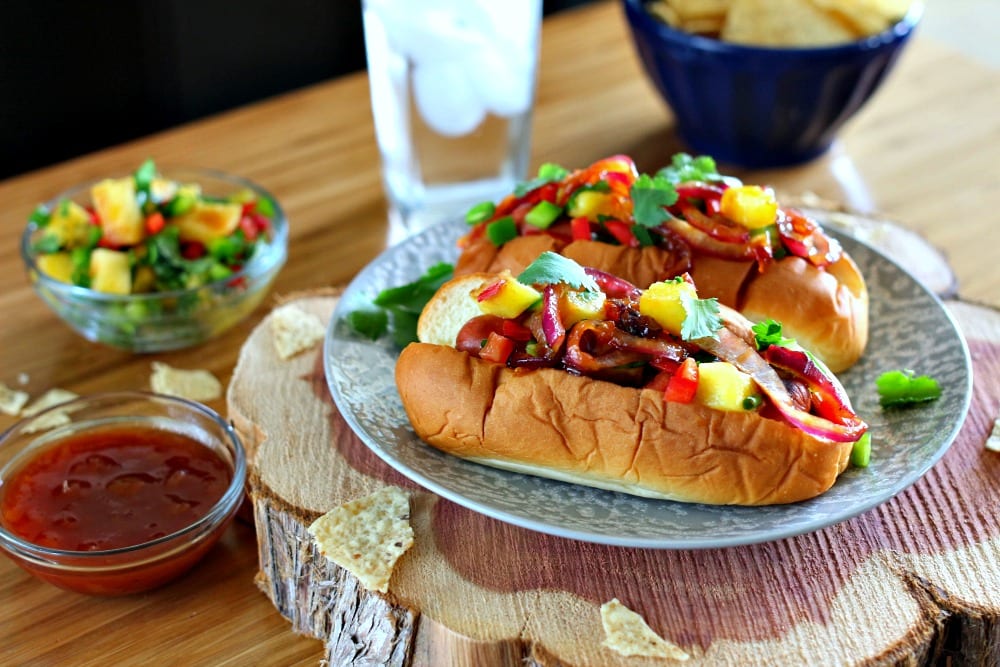 Are you ready to grab an Aloha Dog and cheer on your favorite team? I know I am! I also know I'll be making these again and sharing with family & friends.
Here's your printable recipe. Enjoy!