Last fall the skinny scarf trend starting catching on and we were seeing those little pieces of fabric on style mavens everywhere. It carried over into the summer months for some, and I'm happy to say I've seen the trend continuing. While I didn't try the tied neck scarf style that became super popular last year, I am all about the skinny scarf this fall.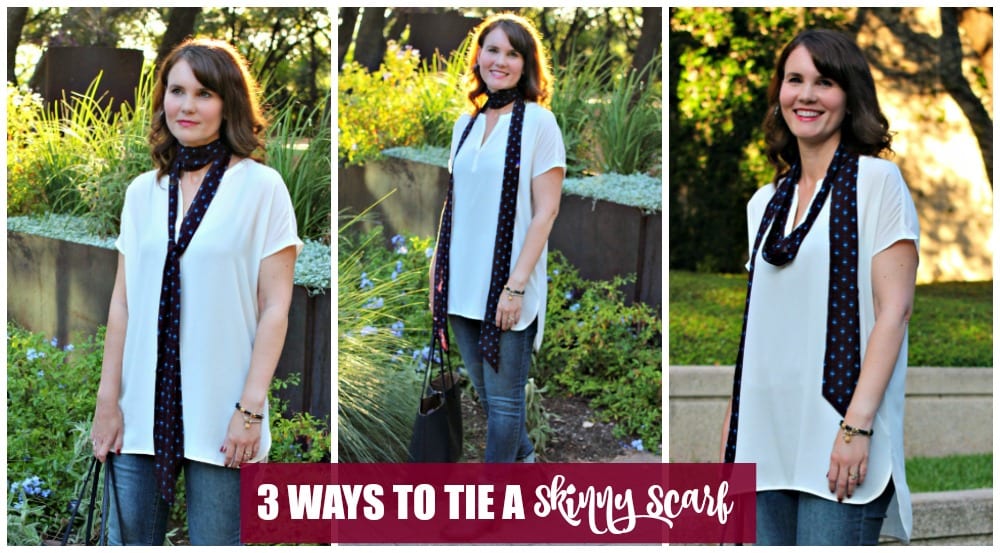 I've teamed up with Take Time for Style for Moms Do Fall Fashion. Each day these lovely ladies are sharing how they do fall fashion and linking to other stylish moms who are giving their take on it as well. Plus, they're giving away a $250 Nordstrom gift card, so you don't want to miss out on that! Head over here to enter.
(Side note: For those of you who love fashion, don't miss Amazon's Style Code Live Rewind today, September 23rd! They'll be rewinding the week and reviewing their favorites at 9 pm EST/6 pm PST.)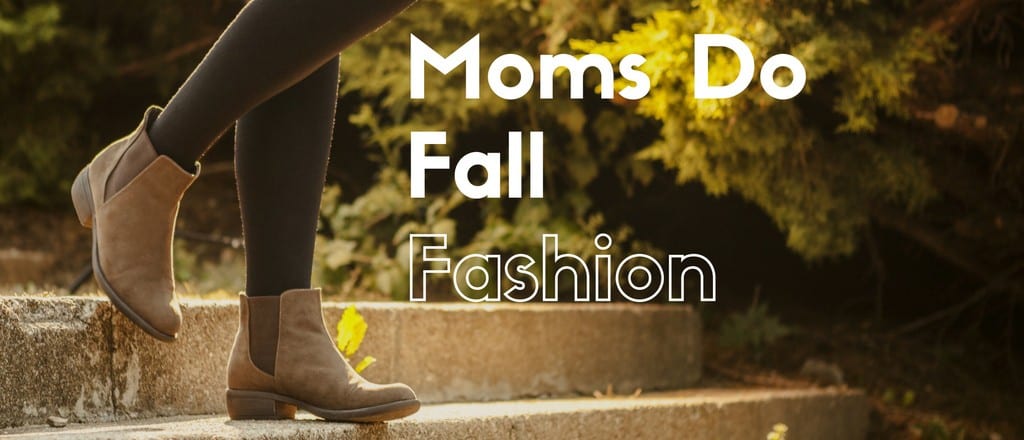 3 Ways to Tie a Skinny Scarf
Since the Texas heat continues long after the calendar has announced fall's arrival, tall boots, sweaters and blanket scarves are saved for deep into winter. But by mid-September, I am so done with summer fashion and ready to break out fall's wonderful styles. So in order to beat the heat, but still celebrate fall, wearing a skinny scarf is the way to go.
Last September I shared 3 blanket scarf outfit ideas and how to tie one. And just like there are several different ways to tie one of those, there are several different ways to tie a skinny scarf.
When I went shopping for a skinny scarf, I still had this post in mind, where I shared how to pair navy and burgundy together for fall. I am still absolutely loving this color combo and most likely you'll see it pop up a time or two in the coming months. Since I had those colors on my mind, this skinny scarf from Target jumped out at me.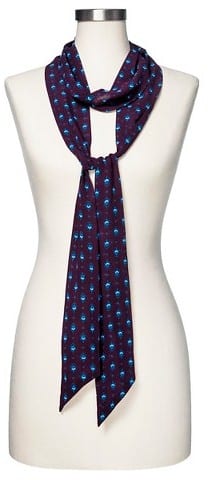 In all three pictures, I'm wearing the skinny scarf with my J. Jill cap sleeve tunic I've worn countless times (see it styled here), Max Jeans from last season and a pair of ankle boots I'll be sharing about in a couple of weeks.
Here are three different ways to tie a skinny scarf.
Once around the neck
This is the most popular way to tie a skinny scarf and one I'm sure you've seen in fashion magazines and on street style blogs. I thought to have it that close around my neck would bother me, but because the scarf is so lightweight, I almost forgot I was wearing it after awhile.
One plus of a skinny scarf is you can easily wear it with a cardigan or blazer. It doesn't add any bulkiness to your outfit and it's a really nice compliment to your fall wardrobe.
Once around the neck and tied loosely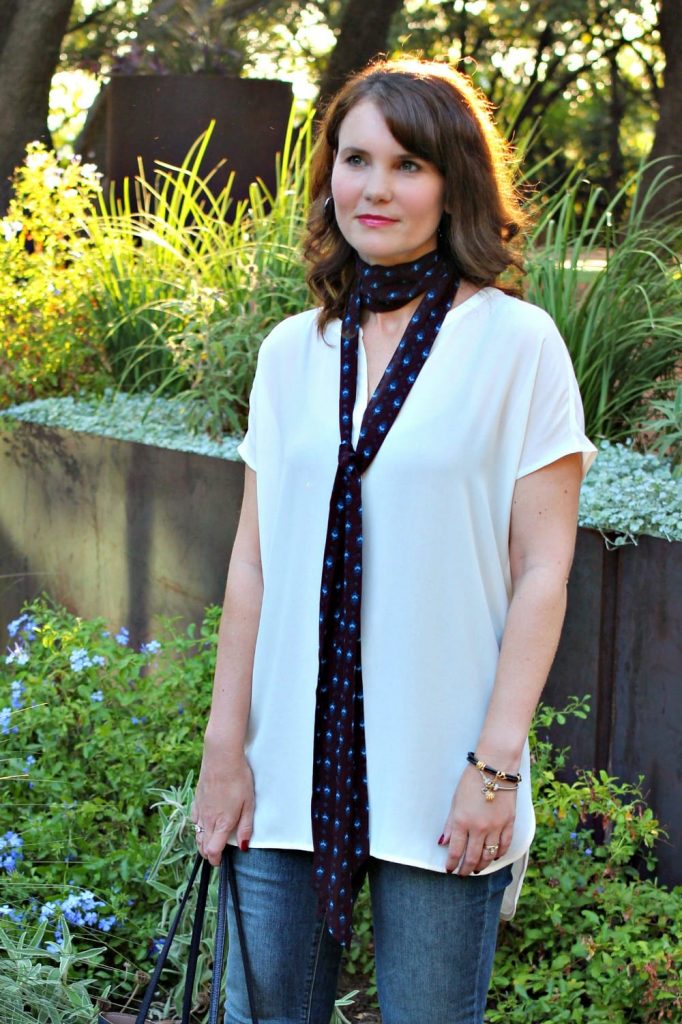 I think this ended up being my favorite way to wear a skinny scarf. It gives your outfit a polished look, with a menswear feel to it. You could wear it this way with a white button up and fitted black blazer.
Model Rosie Huntington-Whiteley was spotted last fall in the LAX airport sporting this look. This means her and I are basically twins. 😉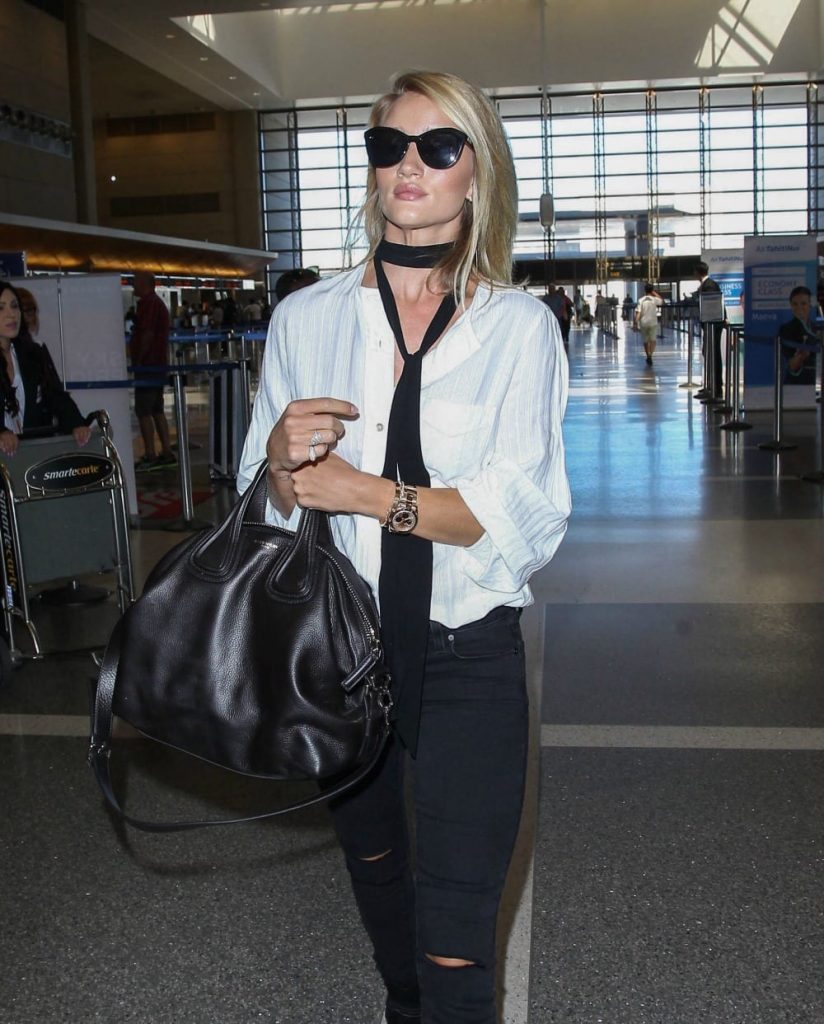 Wrapped loosely around neck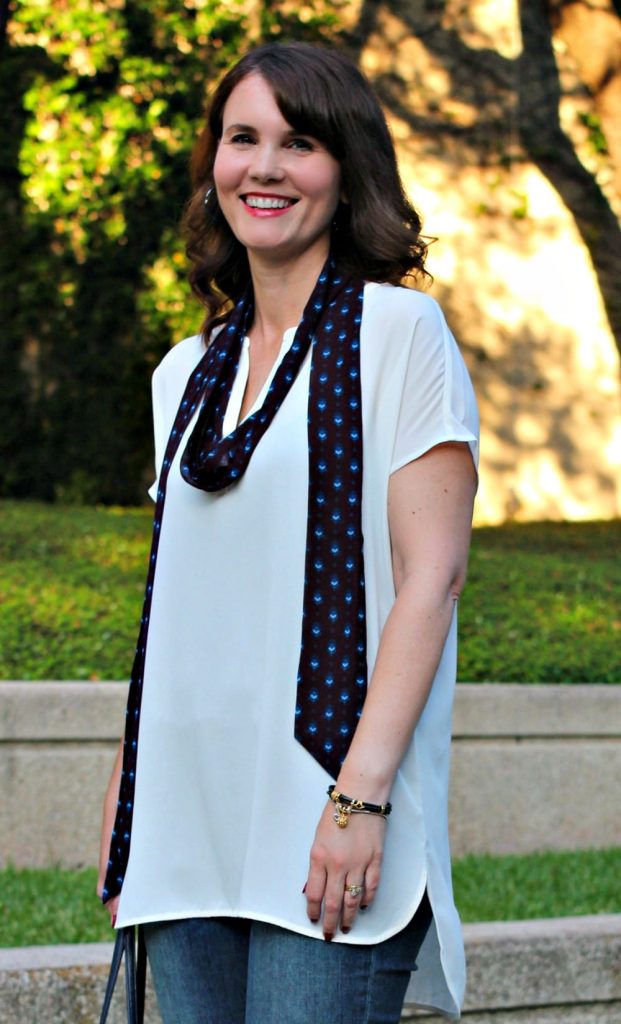 If having the scarf wrapped so closely around your neck makes you start hyperventilating, you can wrap it once very loosely for an easy breezy casual look.
Do you like the look? Shop some skinny scarves below.