What's better than a great smelling man who is groomed, well dressed and just makes you say 'Dang!'? (Don't you dare say chocolate!) How about a cologne that makes him smell phenomenal AND is affordable too? Let me introduce, or reintroduce you, to British Sterling, a cologne from the 70s that's making a comeback my friends.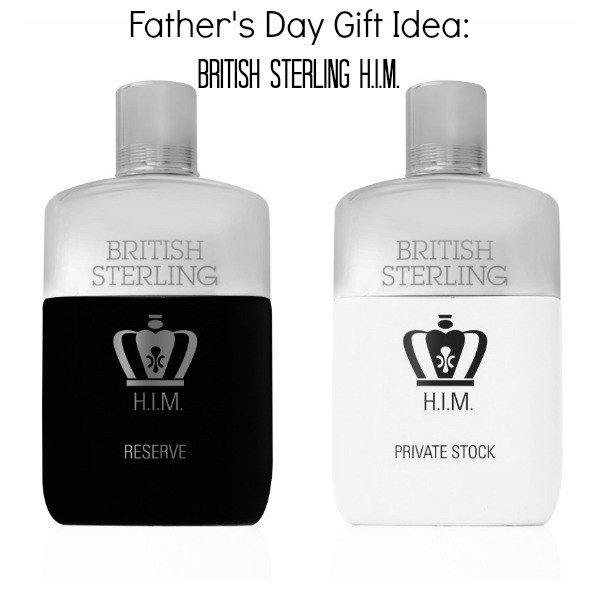 British Sterling is making a comeback, after selling over 50 million, with two fantastic new blends: H.I.M. Reserve and H.I.M. Private Stock. Priced at only $24.99, these make a fantastic and affordable gift for Father's Day. How do they smell you ask? Oooh la la.
British Sterling H.I.M. 'Reserve' — a provocative oriental blend of fresh citruses, bold spices and sensual woods
British Sterling H.I.M. 'Private Stock' — which showcases fresh citruses combined with crisp woods, aromatic spices and rich undertones
I just so happen to be surrounded by three dudes in my home who love to smell good (yes, I consider myself extremely lucky) and who are also quite picky when it comes to their colognes. What did they think? Let's just say deciding who gets which one is going to be an issue. I say we all just share!
For those of you who like the back story on things and you're wondering what H.I.M. stands for, it's short for 'His Imperial Majesty', which is a subtle nod to King George VI. Classy. I love it.
The Future of British Sterling Products
What else can you expect from British Sterling?
"British Sterling is the ideal brand for men who want something new and innovative. It's masculine, stylish, and has a timeless design," said Terrence Moorehead, CEO of Dana. "We are excited to transform this highly successful fragrance into a full line of men's grooming products that will give an entirely new generation of men products they can be proud to call their own."
So be on the lookout for products including body sprays, body washes, antiperspirants, an innovative 3-in-1 bar soap, and an advanced three-piece shave system. Prices will start at $4.99 for a 3-in-1 Body Wash and go to $24.99 for the fragrances.
A British Sterling Giveaway
Alright , who's up for a giveaway?! I am giving away not one, but both of these new British Sterling fragrances to one lucky Mom Fabulous reader! That's right. You'll win a bottle of H.I.M. Reserve and H.I.M. Private Stock, both full sizes. You can give these away as a gift to that special man in your life and he will love you and smell great. Win/Win.
*Open to U.S. residents only.
Keep up with British Sterling on social media:
Facebook: https://www.facebook.com/BritishSterlingCologne
Twitter: https://twitter.com/sterlingchoices
Disclosure: MomFabulous received samples for this feature. No other compensation was received.