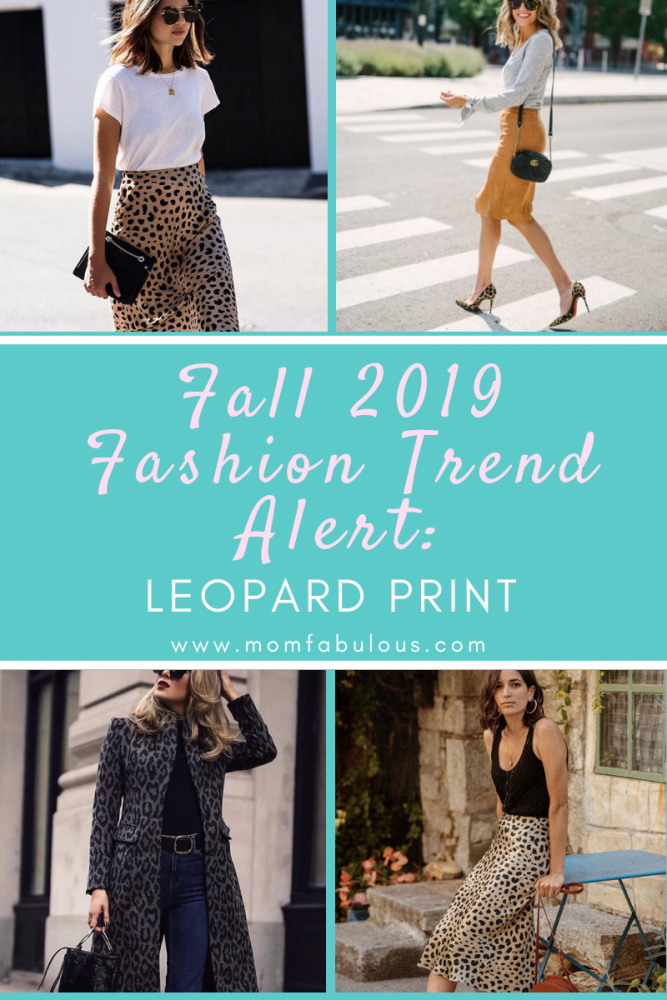 Fall is upon us! Welcome that Pumpkin Spice Latte in style…literally! This Fall you'll notice one fashion trend that's more popular than the rest: leopard print.
Leopard print anything is this season's trend. Pants and leggings, shirts and jackets, even shoes and purses. As a busy Mama, you may think that you don't have time to be fashion savvy or up on the latest trends. However, we're here to help you look like a Fabulous Mama! 
In Fall 2019 you dress in line with the popular fashion trends by incorporating only a few simple leopard print pieces. Here's everything you need to know about the Fall 2019 leopard print trend!
Intro to leopard print 
Leopard print was once in style, and then went away. It came back again and didn't stay long. Out, in, out, in. That's the lifestyle of fashion. 
However, leopard print makes its debut into the fashion world repeatedly. Which means if you invest in leopard print items now, you will certainly wear them more than once in the future. Not to mention that one day your daughter will beg to borrow your fashionable leopard print handbag or jacket. 
Leopard Print Bottoms
Image: Leopard pants Harper's Bazaar. Leopard skirt Be.Daze.Live.
Spice up your wardrobe with leopard print pants or a leopard print skirt. If you prefer the pants, go for a trim and slim look. Skirts can be any cut: skinny, flowy, short, mid-length, or long. But for Fall, the professional cut or longer length work well. (However, black leggings would Winter-ize a shorter length leopard skirt.)
The hues of brown pair perfectly with a classic white tee or a classy black top. Not to mention that Fall boots or strappy heels are both a great match with leopard print clothing.
Looking for more of a casual look? Leopard print leggings or jeans are on the market and will be just as trendy for everyday wear. 
Leopard Print Tops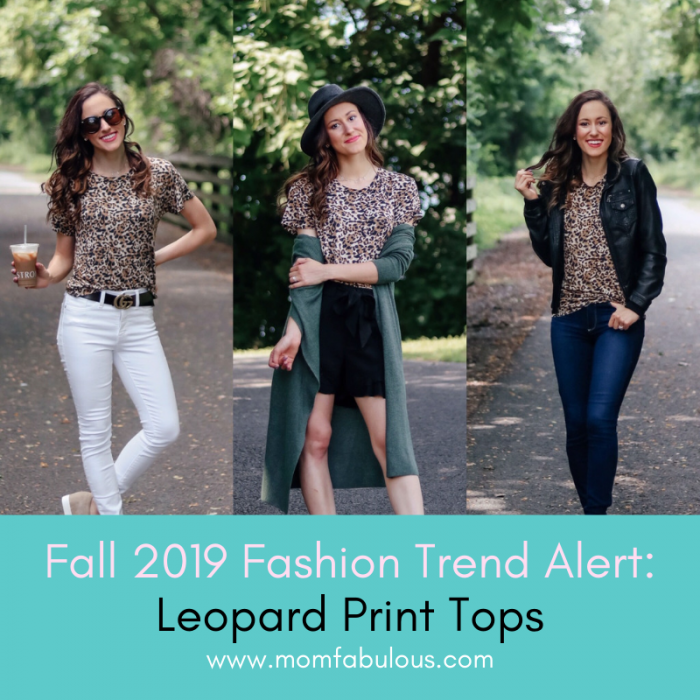 Image: Leopard t-shirts Coming Up Roses
If vibrant leopard bottoms are too dramatic for your taste, opt for a shirt instead. Short sleeve allows you to wear it year round, especially since it looks stunning in the Autumn under a dark jean jacket or loose cardigan.
However, long sleeve can be more comfortable and warm, especially if the fabric is cozy or velvet-like. Can you picture a long-sleeved leopard print shirt under overalls! That's adorable, and fits into the top trends of the Fall 2019 Fall season.
Leopard Print Jackets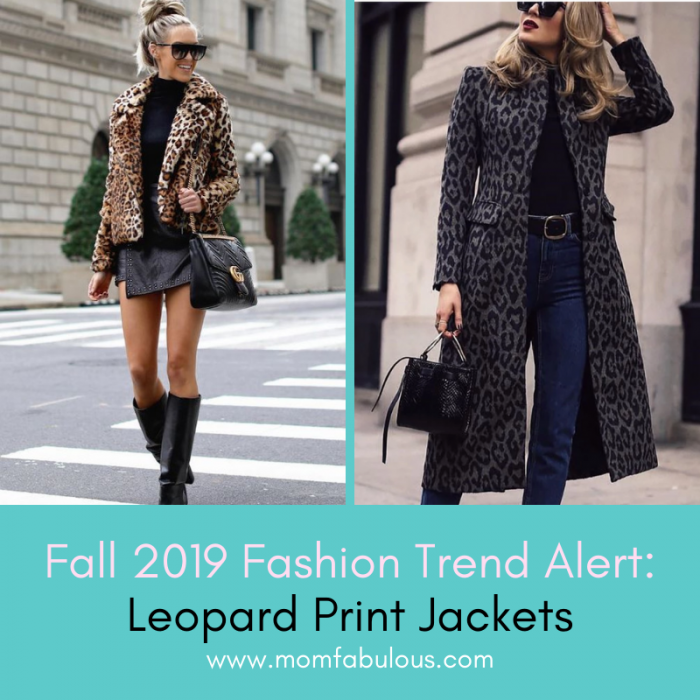 Image: Short leopard jacket List Inspire. Long leopard jacket Arclady
Statement pieces aren't meant to be worn daily, or even weekly. But a leopard print jacket is your ticket to buying a unique clothing item that you can actually wear frequently. You can pull off a fabulous leopard print jacket, either short or long, the entire Autumn season. If you live in a warmer climate, a leopard print vest would be a similar item for your wardrobe. 
Some leopard print fabrics bear a distinct contrast between the colors (like the one short jacket in the photo above), while others have a more neutral pattern (like the long jacket in the photo above). Either option work for Fall, while the muted one could even last you into the Winter season.
Leopard Print Shoes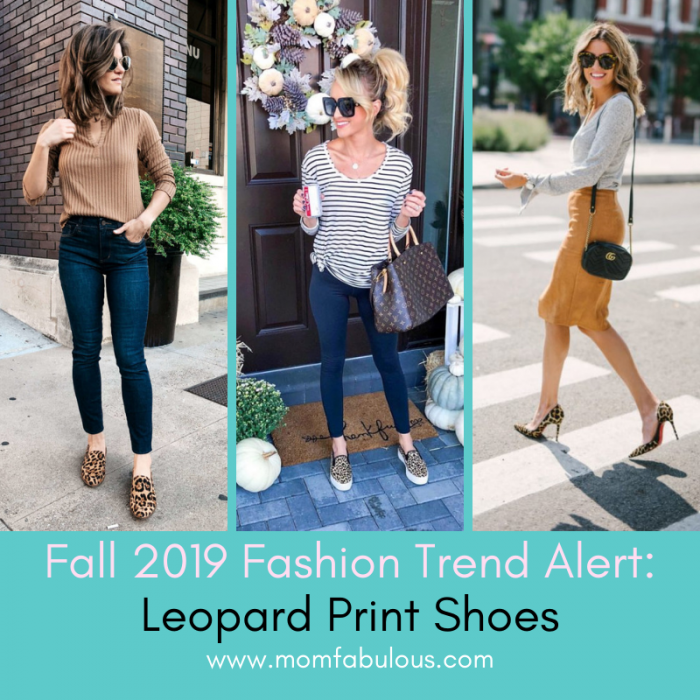 Image: Leopard loafers Bright on the Day. Leopard sneakers A Spoonful of Style. Leopard heels Hello Fashion Blog
Who says that shoes have to be boring? As a fabulous Mama, you can be comfortable and fashionable. Try the everyday leopard sneakers when you're shuttling your kids around. Wear the loafers when you meet your girlfriends for lunch. And those leopard print heels are sexy for date night with your hubby. (And may even cause your husband to growl at your good looks!)
Leopard Print Bags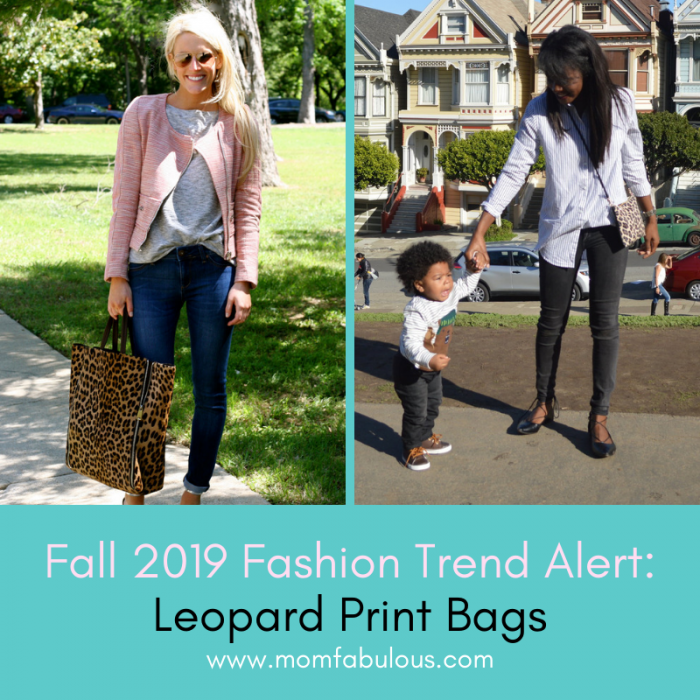 Image: Leopard tote: Luella & June. Leopard crossbody Second Star on the Wright.
What fashion item do you carry every single day? Your purse! If you want to be ahead of the trends this Fall, start carrying a leopard print bag. Large totes can double as diaper bags, while crossbody purses are light and simple for running around town.
Leopard Print Mama
It's easy to look fabulous in leopard print, especially as a Mama! And Fall 2019 is the best season to wear your leopard print:
Buy a basic leopard print shirt to pair with your favorite leggings or jeans.
Pair your basic shirts and sweaters with leopard print pants this Fall.
Invest in a quality Winter coat with leopard print fabric.
Snag a fun pair of shoes, like loafers or sneakers, in the fashionable leopard print fabric.
Carry a leopard print purse (or diaper bag) that's practical and trendy.
Carry on, you stylish Mama!
MomFabulous loves leopard print! Check out our Hint of Leopard outfit idea or How to wear leopard flats.