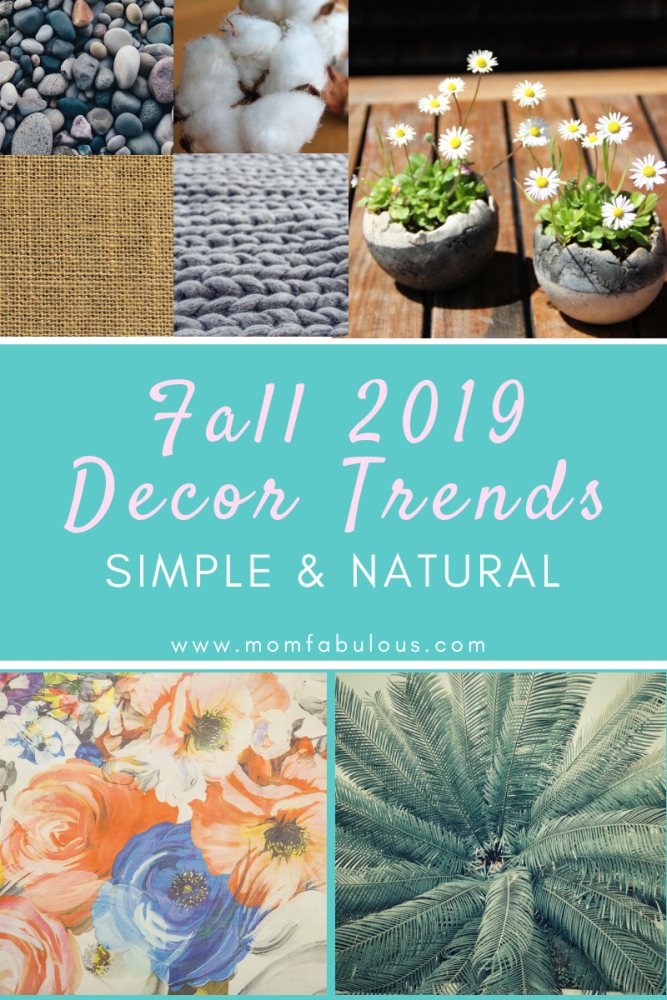 The weather is progressing from hot sunny days to crisp temperatures, and home decor is switching from colorful summer to quintessential Fall. 
Pumpkins and leaves – in all shades of the rainbow – are still in style. So keep your Autumn wreaths, candles, and wall art in your home this year. But if you want to stay up with the latest decor trends, add in some of these 2019 Fall decor elements:
Fall 2019 Decor Theme:
Natural yet minimal
This year, Autumn decor is all about being organic and simple. Which is refreshing after the jumbled decorations of the past few years. 
Bring the elements of nature into your home with a variety of colors and textures. But don't go overboard; this season aims to bring the outdoors inside without the clutter.
Bring in real sticks and twigs. Collect leaves in deep browns, burnt oranges, cool yellows, and faded greens. Snip some sprigs of flowers growing in your garden. Clip branches from the trees in bloom. 
Take advantage of the natural textures and organic elements right outside your home. Just keep it simple by only incorporating a few pieces to keep things minimal. 

Fall 2019 Decor Colors
: peachy orange, burnt yellow, deep blue and nature green
Fall always screams the color orange. It can be pumpkin orange or neon orange or muted orange or burnt orange. But orange will always be a part of the Autumn season. 
However, this year you can expand your Fall palette. Stray closer to the peachy shades of orange when you're picking out new decorations. And don't be afraid of burnt yellow either, which is complementary to every shade of orange.
Prefer brighter accent colors? This year nature green is hugely popular. By nature green, we mean the color of evergreen trees, or the teal tint of grass as it fades from green to brown, or the bright green of palm fronds. (Side note: we will mention palm leaves again…scroll down to the Fall 2019 Patterns to read more!)
Although blue isn't typically associated with this season, deep blue is making a comeback this Fall. It's blue like the depth of the ocean, or the blue of the sky on a traditional Autumn day, or the deep shade of blue that remind you Winter is just around the corner. This makes a great accent color, especially since it lies opposite of orange on the color wheel. 

Fall 2019 Decor Textures
:
organic materials
Why do we decorate with pumpkins, gourds, leaves, and wheat in the fall? Because those are the things blooming right outside of our home during the season. And this year, all organic materials are in style. This includes burlap, cotton, linen, wool, stone, clay, jute, and even concrete.
These organic materials make great decorations. You can toss them in a vase, arrange them as a centerpiece, craft wall hangings, or even utilize them for front porch decor.
Try out rice paper lamp shades, knitted tablecloths, decorative concrete bowls, a jar of various stones, or a vase of freshly picked cotton. Why not incorporate ferns or palm fronds too? (Side note: Read more about plants and palms in the next section!)
Bonus if you find a collection of pumpkins carved from wood or stone, crafted with burlap or jute, or even formed with concrete! 

Fall 2019 Decor Patterns:
Floral and Palm Patterns
Leaves, pumpkins, and gourds are still the icons of fall. But the design trend is shifting slightly toward floral and palm patterns this year. Floral patterns with dark colored backgrounds, like black or deep blue, and brightly colored flowers are no longer reserved for Spring. In fact, they can be quite complementary to the hues of Autumn.
While you'll notice floral patterns creeping into style, you won't be able to miss the trend of palm leaves. They're popping up everywhere from wallpaper to potted plants, from pillows to lamp shades, from curtains to centerpieces. And why not? These shockingly green leaves are one of the best ways to bring nature into your home. 
The next time you go shopping for Autumn decor, don't overlook the flowers or palm leaves. In fact pick up something with palm leaves to try in your home this season! (In fact, we're loving the trend of palm frond wallpaper on an accent wall!)

Fall 2019 Decor Style
: Anything artisan and handmade
This trend we're so happy to see continuing – artisan goods! Handmade products will blend well with this season's decoration trends of organic elements and minimalism. 
Time to go to your local shops or farmer's market! Find handcrafted pottery, homemade wall signs, or wreaths made from natural elements. Experiment with creating your own items based off what you can discover outside your front door. And don't be afraid to decorate with imperfect pieces crafted by human hands.
Make your home a simple and natural environment this Fall
Toss out those tacky plastic pumpkins. Get rid of mass produced Fall items. Transform your home this season by bringing nature inside. Use organic materials and natural textures for everything, from fabrics to centerpieces to wall hangings. And if you're unsure, remember that less is best. 
Allow the true elements of Autumn to shine bright in your home this year!
Check out more Fall ideas: