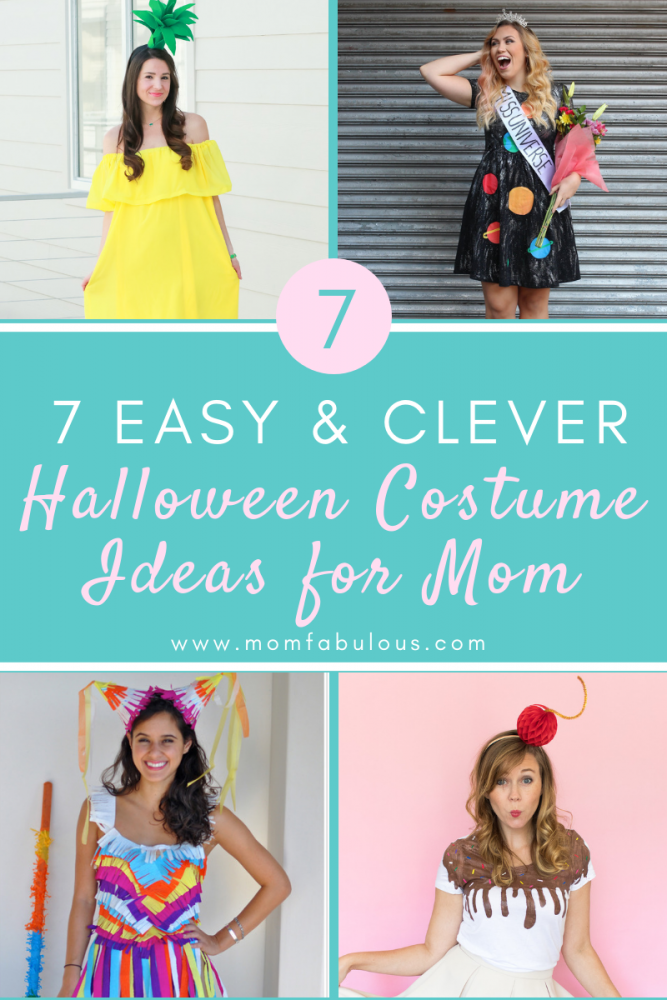 Halloween is all about dressing your daughters up as their favorite Disney princesses while your sons parade around like superheroes. Older kids find costumes of their beloved book or movie characters. Babies are lucky enough to be dressed in whatever costume looks adorable on them…which is pretty much everything. But what about Mom?
If Halloween has snuck up on you, and you're still searching for a simple yet clever Halloween costume, try one of these!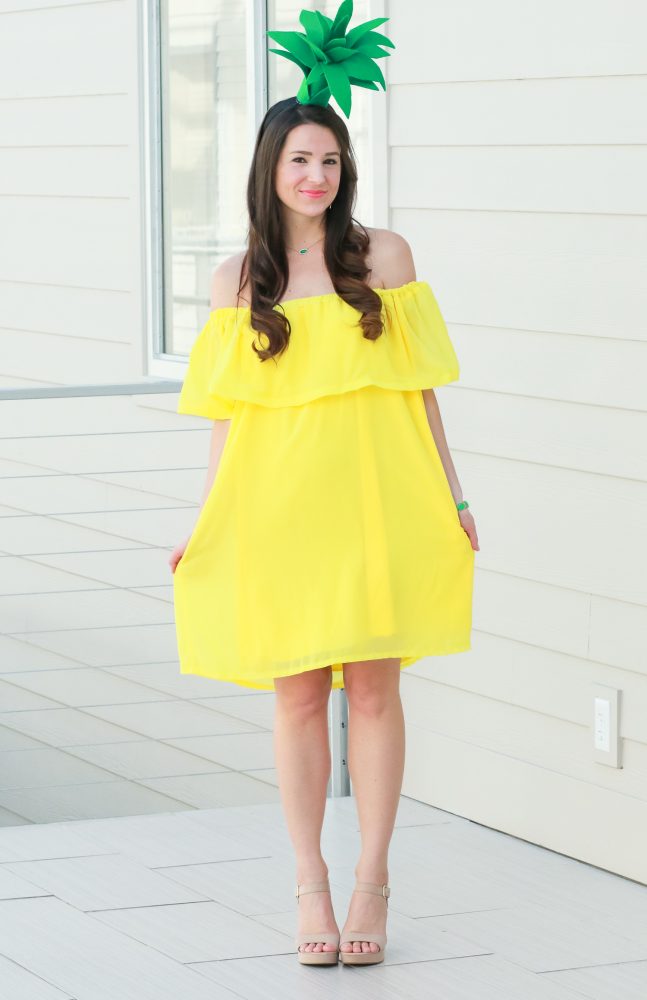 Need a last-minute costume idea? What's easier than a yellow shirt or dress, and a few sheets of green felt or construction paper? 
Transform yourself into a pineapple for halloween in a few easy steps. Start by wearing a yellow shirt or dress. The brightest yellow you can find will work best.
Next, cut leaves into your felt or construction paper (tutorial here) and attach them to a headband or barrette. 
Now you can bring along a little bit of sunshine to your dark Halloween night!
MomFabulous tip: Don't have a yellow shirt or dress? Try to find an inexpensive one at Walmart, or buy a yellow pillowcase and cut an opening for your neck and arms.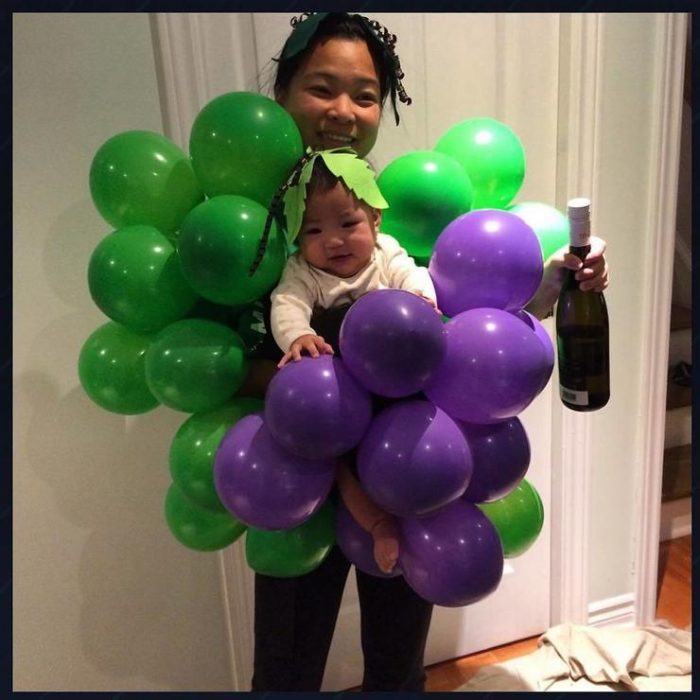 Speaking of pineapple, you can also be another fruit for Halloween. It only takes a handful of balloons to dress up as a bunch of grapes!
Simply blow up a handful of deep purple or light green balloons. Attach them to your clothing with safety pins (being careful to only poke through the knot and your clothing).
This costume is also great if you and your spouse want to both dress up together. One of you could be purple grapes and the other could be green grapes! 
MomFabulous tip: Mama, do you love wine? Want to go the extra mile with your costume? Hang a sign from the front of your grape cluster that reads, "Do not eat! These grapes will be used to make wine."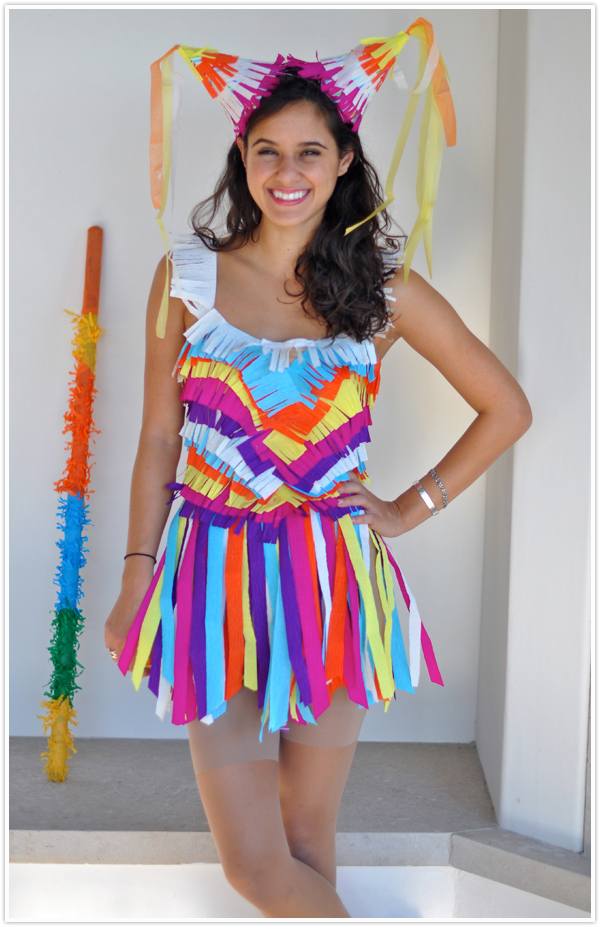 Let's keep rolling with this tropical theme. First pineapples, then grapes, and now a pinata! This fun and colorful idea is super cheap and not time intensive.
Start with a basic leotard or a tank top dress. Using either hot glue or painters tape, attach strands of crepe paper to your clothing. Change up the pattern to fall long at the bottom, and to go horizontal around your waist, and perhaps braid together a few strands for the straps of your outfit.
But your pinata costume is not complete without a headband! Take 2 paper party hats, cover them in crepe paper, and attach them to your head like ears. 
MomFabulous tip: Buy crepe paper at the Dollar Store for a budget costume!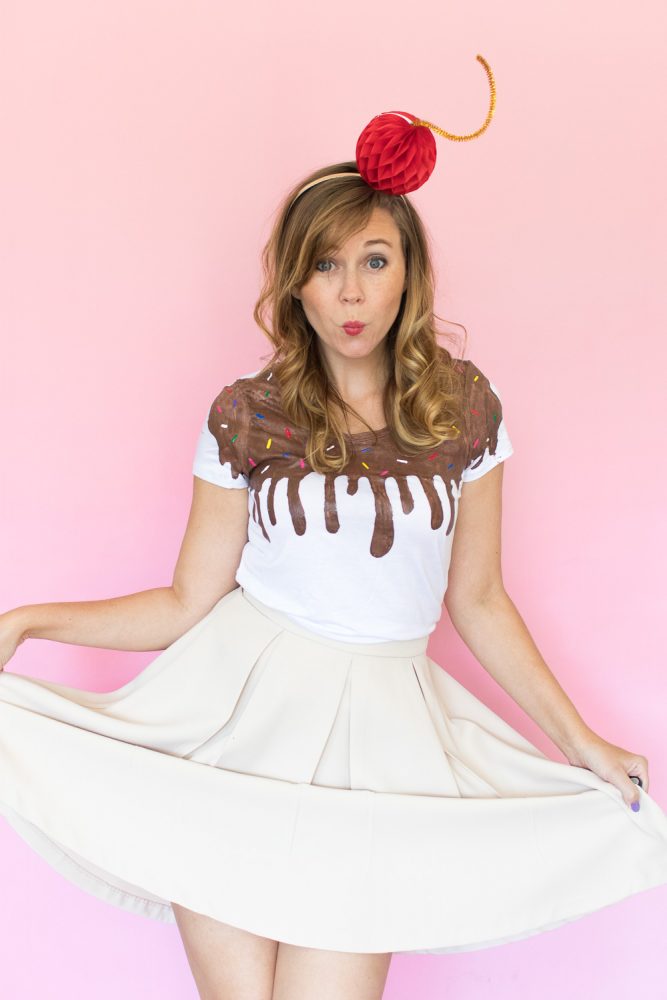 Most Mamas like ice cream. Nonetheless, nearly every child enjoys ice cream too! If you're tight on cash or want to make your own costume, this ice cream sundae outfit requires a white shirt, paint, and a small red ball (of any kind).
First, paint the shoulders and bust of your shirt brown – to resemble dripping chocolate sauce. (MomFabulous tip: place a piece of cardboard in the middle of your shirt so that the paint will not soak through. Hang your shirt on a hanger so that you can paint both sides at the same time.)
Next, once the brown paint dries, add little lines of various colors for the sprinkles.
Lastly, attach a small red ball to a headband to be the cherry on top. MomFabulous tip: You can use a small stress ball, tennis ball, foam ball, or party decoration for the cherry. Don't forget that a coat of paint can make any ball red!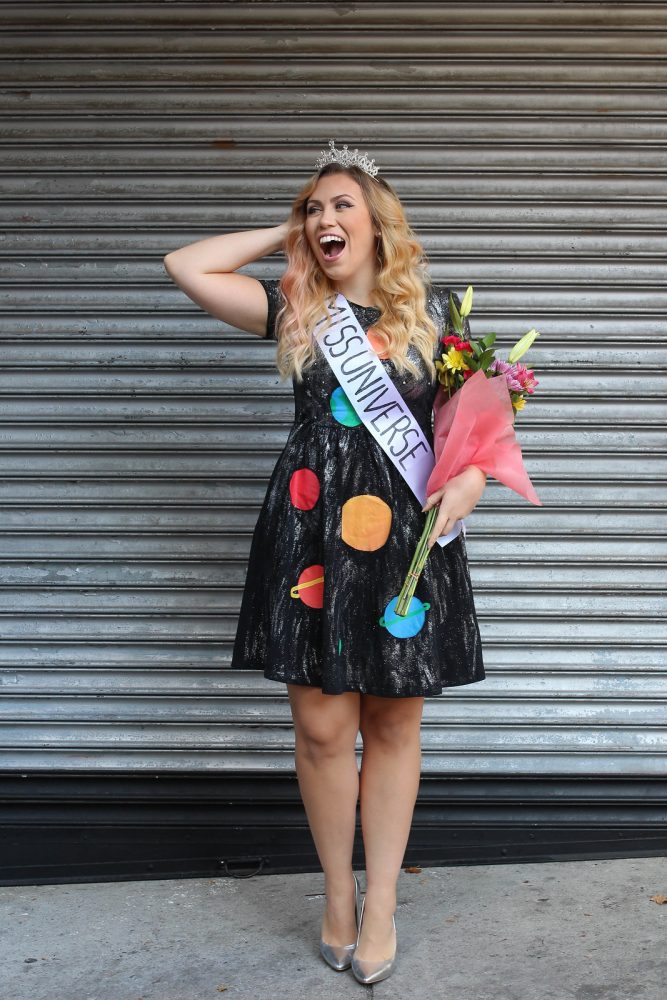 This creative costume idea is out of this world! (Pun intended!) Dress yourself up like Miss Universe by printing off photos of planets and attaching them to a dress. Then make a sash that reads "Miss Universe." Don't forget to go over the top with your hair and makeup to be a true beauty queen! A bouquet of flowers would be a nice touch as well.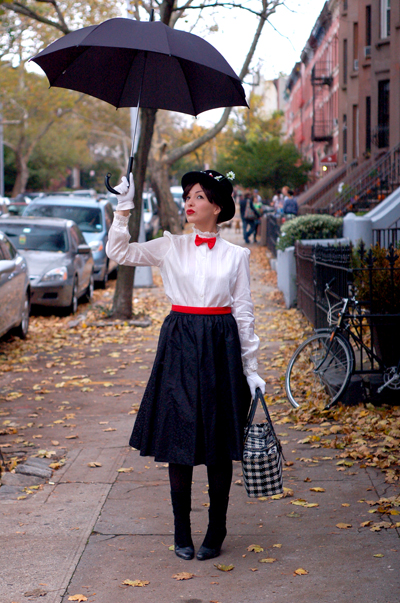 Struggling to find a Halloween costume? Raid your closet for the following items: a black skirt, black tights, a white shirt, a red bow tie, a black hat, an umbrella, and a carpet bag or duffle bag. Did you find most of those items? (If not, try your husband's or best friend's closet!) Pull together those items to make an epic Mary Poppins outfit!
Audrey Hepburn
When in doubt, there's always Audrey Hepburn! Toss on a little black dress with white pearls and you're good to go. Bonus if you have a black straw or pipe cleaner to use as an old-fashioned cigarette!
Mom Fashion for Halloween
What's your favorite Mom costume for Halloween? Here at Mom Fabulous, we want to help you look your best all year round. Check out our store for cute fashion items, and try out one of the clever Halloween costume ideas above!
You may also like: