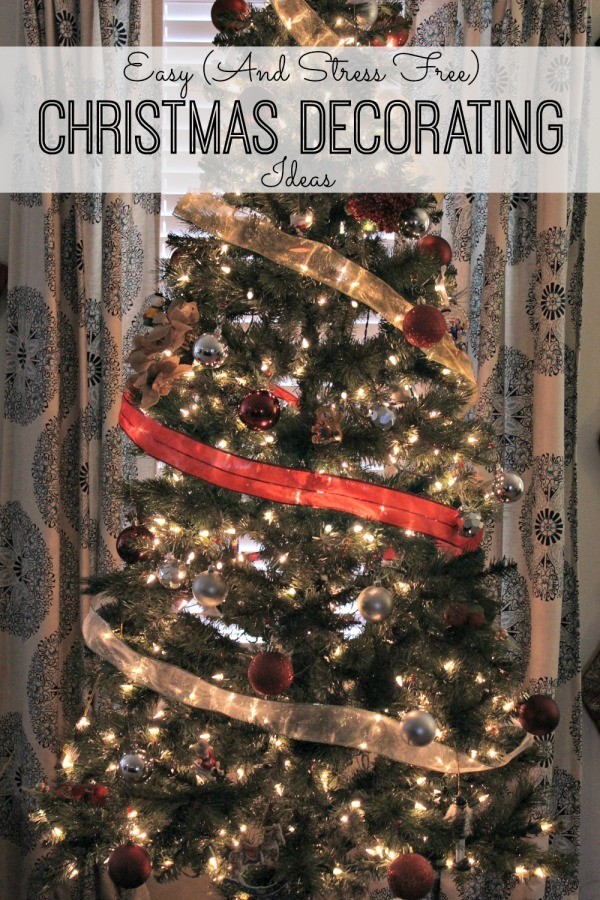 Decorating our home for Christmas used to completely stress me out. This is how it went down every year: I would go through my magazines and get a picture in my head of exactly what our home would look like all decked out and decorated for the Holidays. Then we would get out the decorations, put a few up here and there and then discouragement set in. My home never looked like the magazines and I seemed to never have enough money to go out and buy everything I wanted. I was trying to pinch pennies to purchase Christmas presents for crying out loud! How would I ever be able to afford new, gorgeous, magazine-worthy Christmas decorations?
And then this year I realized a few things 1) my home is beautiful and I am blessed to have a roof over my head 2) Those magazines have teams of people and hundreds, if not thousands, of dollars as a budget 3) my family loves how our home looks during the Holidays 4) I can purchase new Christmas decorations somewhere affordable like the Dollar Tree and still have money for gifts 5) I was making a big deal out of something so trivial and squashing the true meaning of the season.
So this year I approached decorating for Christmas entirely different. Part of the reason I had a shift in my thinking was signing up for the Living Well, Spending Less 12 Days to a Stress Free Christmas video series. It's helping me stay organized, all while keeping my priorities in check. You also receive an instant download of Ruth's 2014 Holiday Planning Workbook. If you're feeling stressed and you need a guide for the Holidays, let Ruth's videos land in your inbox with bits of tips and encouragement. It's worth it.
Decking the Halls (Or Decorating the House)
Armed with a box full of goodies from the Dollar Tree, and a determination to use what I already had, I'm quite pleased with how our home is turning out this Holiday season. Here's a peek at a couple of the areas I've decorated already and what items came from the Dollar Tree. Isn't it amazing that you can purchase new Christmas decorations for only $1? As they say…"Everything's $1….So Everybody Leaves Happy."
The Entry Way
The entry way is what greets all of our guests, so this is one of my favorite places to decorate. Here's what I added from the Dollar Tree:
Silver and gold ornaments in the sleigh
Silver and Gold stars hung on the wall
Candle holder and battery operated tea light
The mason jar candle I made using reindeer moss and a battery operated candle from the Dollar Tree. I think it took me 1 minute to make. I love real candles and use them in my home, but I have really come to like these battery operated tea light candles. I have one in the bathroom, which is nice just in case I forget to blow it out!
The Christmas Tree
Our tree has been a royal pain this year! It's a pre-lit tree and several strings of the lights have gone out. Since a new tree is not happening this year, we made do and added strings of white lights from the Dollar Tree. Guess what? You can't even tell! Here's what I added to the Christmas tree with items from  the Dollar Tree:
Ribbon
Disco looking ornaments that we all love
Sprigs of berries, apples and burlap flower
Gold and Silver ornaments
White lights
Table Centerpiece
I covered our table with a red table cloth, which looks so festive against our black chairs. I also have a black tray that holds napkins, salt and pepper and straws for every day use. But for the Holidays, it's out with the everyday and in with the new! Here's what I added from the Dollar Tree:
Candle Holder with battery operated tea light
Sparkly gold and silver ornaments in a vase
Miscellaneous Christmas Decor
We added a string of garland to the bar area, and clipped on poinsettias and bows – all from the Dollar Tree. Since we don't do Elf on the Shelf, this adorable little Santa Claus is his stand in. But he doesn't leave. Or do anything naughty. That we know of….
—
I'm  still working on our front porch and adding some Christmas decor to the bathroom, but overall I'm just about done with our Christmas decorating. If you would like more Christmas Decorating Ideas, visit Dollar Tree's ILeaveHappy.com for some inspiration.
*Mom Fabulous received samples in order to facilitate this post. Presented by Dollar Tree.