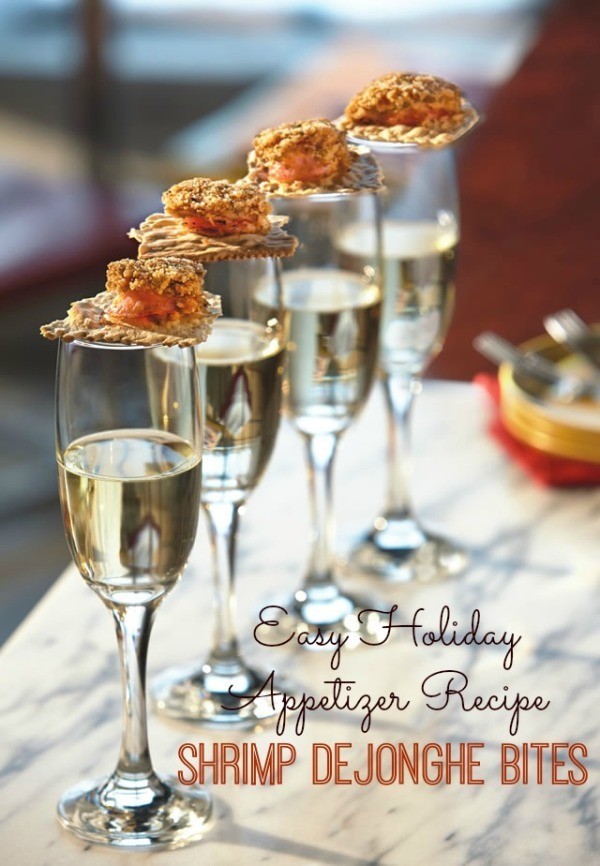 I love Holiday traditions, but there are times when I want to change them up a bit or find something better suited to my budget. I chatted with Cooking Channel star Brigitte Nguyen and she gave Mom Fabulous readers some fantastic ideas on how to dress up our Holiday parties on a budget, how we can make our parties stand out and some ways to put our own spin on Holiday menu classics.
Keep reading for a recipe for these Shrimp DeJonghe Bites pictured above. These are an easy, elegant appetizer for your Holiday parties.
1. How can we dress up our parties on a budget?
We all end up spending so much money on gifts and entertaining, so Bridget loves to dress up her parties, but she does it on a budget. How? By being a smart shopper. She shops at Aldi and has found that her grocery budget is half what it used to be. It's also about smart buys and trying not to buy too much in one place, but getting a big variety.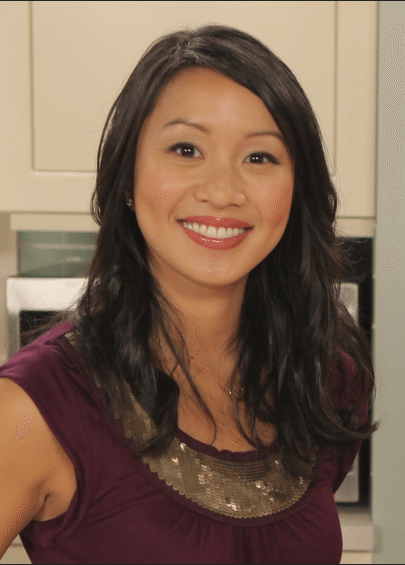 Cooking Channel Star Brigitte Nguyen
2. What are some other ways we can save money?
Brigitte recommends instead of spending $50 on a cheese platter and wine like you're used to, to switch it up a little and look at other brands. You can find the same quality in other brands, as the ones you always purchase and sometimes even better.
3. How can we make our parties stand out?
It's all about setting the tone at the beginning of the party and by preparing appetizers, such as Shrimp Dejonghe Bites, that really tell your guests this is a special get together. The shrimp bites are shrimp that have been cooked in wine and butter, with a buttery bread crumb topping (recipe below), placed on a cracker and resting on a glass of champagne. As soon as your guests walk in, if you hand them one of these, they have something to nibble on, something to sip on and it feels really elegant and luxurious. This is an appetizer that is effortless and low cost, but it helps set the tone from the beginning.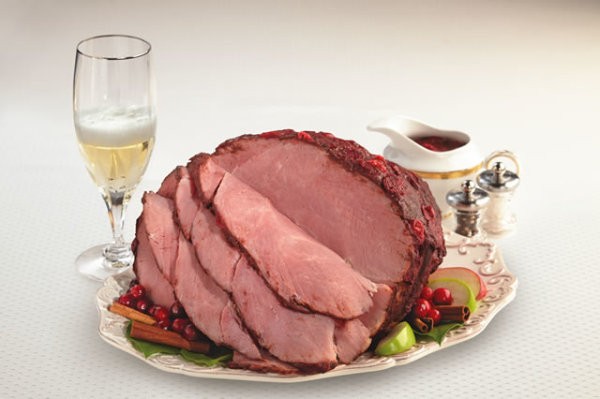 Double Glazed Champagne Cranberry Ham
4. How can we take traditional Holiday food and put our own spin on it?
You can easily take a turkey or a ham and create your own special glaze or marinade. Something Brigitte loves to buy at Aldi is dried fruit. She recommends cooking that dried fruit with a little wine or broth, which re-hydrates it. This can make some amazing sauces, which you can then puree the sauce for something really sweet and tangy. You can find a recipe for a Jalapeno Cherry and Apricot glaze for your turkey on Aldi.us. You still have your traditional turkey, but with a different spin on it.
We can also put our own spin on classic side dishes, such as a Butternut Squash Bake. It's fresher and lighter compared to the typical sweet potato dish. This dish is sweetened with honey and covered with a cranberry oatmeal crumble.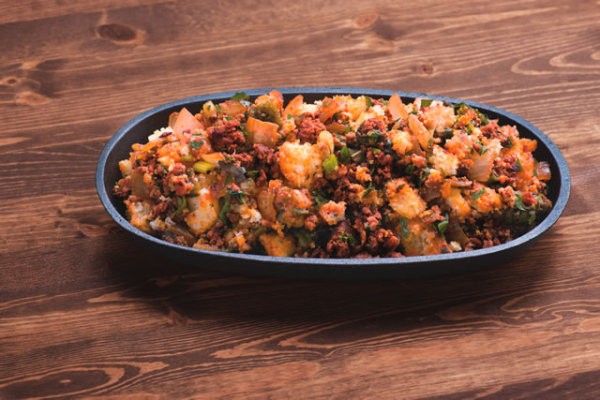 Roasted Pepper Chorizo Cornbread Stuffing Recipe
5. Where can we get more information to freshen up our Holiday menus?
Brigitte loves to follow Aldi on Facebook because they're always posting recipes, seasonal updates and fun ideas. The recipes she mentioned are also on Aldi.us and come from their test kitchen. You can even find gluten free recipes, like a flourless hazelnut chocolate cake.
I hope you got some great ideas for your Holiday menu and parties. Enjoy this recipe for the Shrimp DeJonghe Bites and find more Holiday menu recipes on Aldi.us.
Shrimp DeJonghe Bites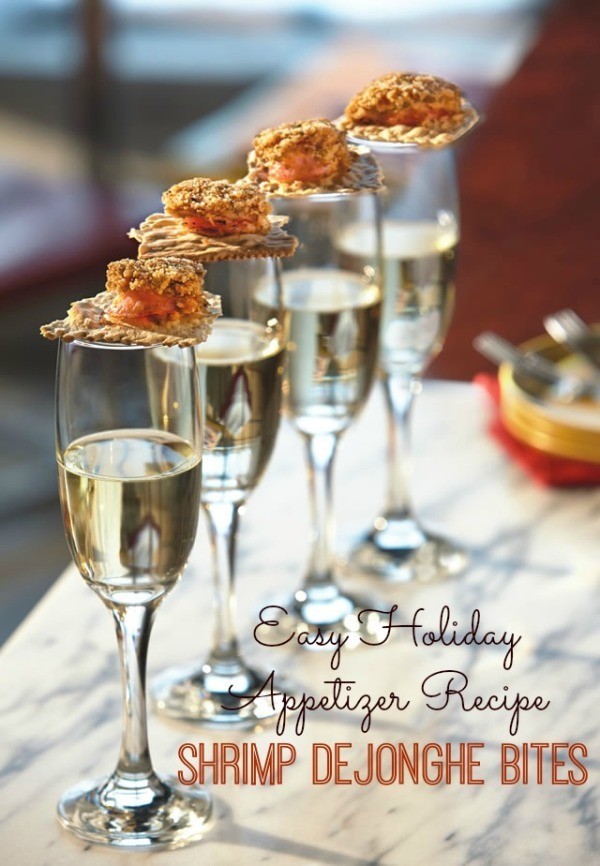 Individual shrimp atop rosemary flatbread paired with Brüt Sparkling.
Directions:
Preheat oven to 350°.
In a small saucepan, combine wine, ½ cup butter, garlic, salt and pepper; simmer 5 minutes.
In a 13×9-inch pan, lay shrimp in a single layer. Pour wine sauce over top.
Melt remaining butter and mix together with breadcrumbs. Press over shrimp and bake for 15 minutes or until shrimp is pink and breadcrumbs are lightly browned.
Pour glasses of Brüt Sparkling.
Carefully place shrimp atop a bite-size cracker and balance on top of champagne flute. Serve.
Recipe Courtesy of Chef Alyssa, ALDI Test Kitchen