I love watching Debra Messing on the hit show SMASH. I've missed seeing her on the little screen in the main role since her 'Will & Grace' days. The star is gracing the cover of the June issue of 'More' magazine, as well as opening up about failure in show business, divorce and the role that made her famous.
Debra Messing in MORE Magazine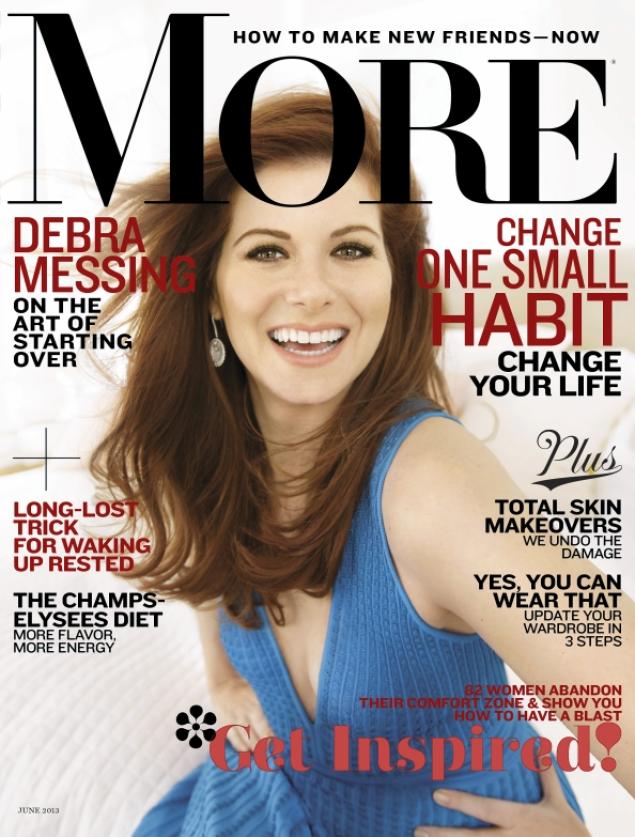 On not winning a Golden Globe for Will & Grace:
"I would just start shoveling chocolate in my face because I'd been eating brown rice and salmon for weeks trying to fit into a dress that was a sample size and now it didn't matter if the zipper popped because, hey, I didn't win."
On refusing her role on Will & Grace several times before taking the part:
"I didn't want to be, for lack of a better word, a fag hag. And I didn't want to be just the pretty, straight girl in the corner while the guys did all the funny stuff."
On her Divorce from Daniel Zelman:
"Part of me will always contend with guilt that I wasn't able to give my son the fantasy that my parents were able to give me."
On Being 40 in Hollywood:
"…The media has a different interest in me than I was 30. It's more about the journey, lessons, and perspective, and that's something I'm much more comfortable sharing."
On Failing in Show Business:
"It was all about taking big risks and learning how to embrace failing big because the only way you were going to get better was by failing."
On One of Her First Roles in Theatre:
"I wanted to know what it was like to feel blind, so I rehearsed with my eyes closed—and fell into the orchestra pit."
—
Pick up your June issue of More magazine May 28th!