The warm weather has arrived and so has the Memorial Day Weekend, which usually kicks off camping season! If you're new to camping, you might ask yourself 'What the heck do I need to pack?' Here are some items to consider adding to your camping essentials checklist.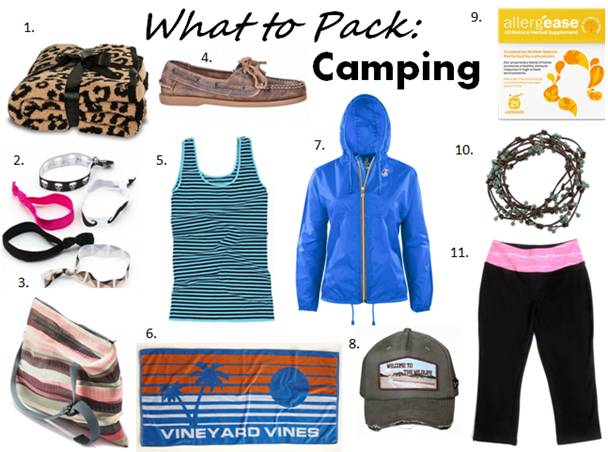 1.       Barefoot Dreams (www.barefootdreams.com): Barefoot In the Wild Leopard Throw, $165
2.       Kitsch (www.mykitsch.com): The Roxy Hair Ties, $13.99
3.       Kao Pao Shu (www.kaopaoshu.com): Paula Bag, $250
4.       Bed|Stü (www.bedstu.com): Betsy, $75
5.       Tees by Tina (www.teesbytina.com): Microstripe Tank, $50
6.       vineyard vines (www.vineyardvines.com): Sunset Beach Towel, $95
7.       K-Way (http://k-way.ca): Claudette Klassic, $54
8.       AllergEase (www.aedrops.com): Allergease 3 pack, $17.97
9.   Liz James (www.lizjames.com): Jan, $265
10.   The Girls Apparel (www.thegirlsapparel.com): Carly's Capri, $32.99
—
With these items, you'll look good, feel good, and sleep well!