It's time for another Cute Outfit Ideas of the Week! Number sixty is dedicated to swimsuits and kimonos. I know I already put together an outfit ideas feature on kimonos, but not one with cute bathing suits, sandals, and beach bags!
Cute Outfit Ideas of the Week – Swim Suits and Kimonos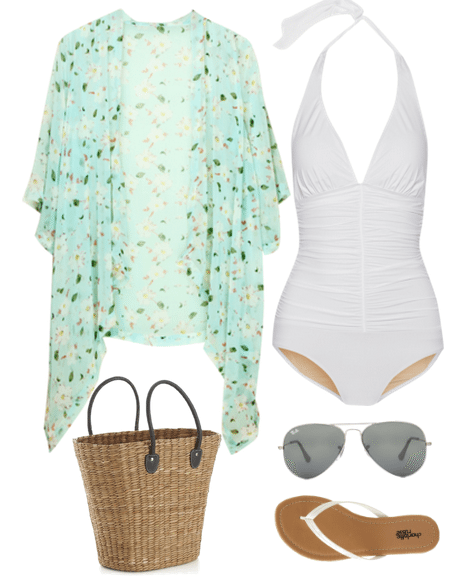 Outfit details: Floral Kimono | Halter-neck Swim Suit | Woven Market Tote | Aviators | White Sandals
Mint and white are so pretty together aren't they? A white bathing suit is so classic, especially with the halter-neck style. Throw in your beach essentials in a woven tote and you're ready for a fun and fashionable day at the beach or poolside.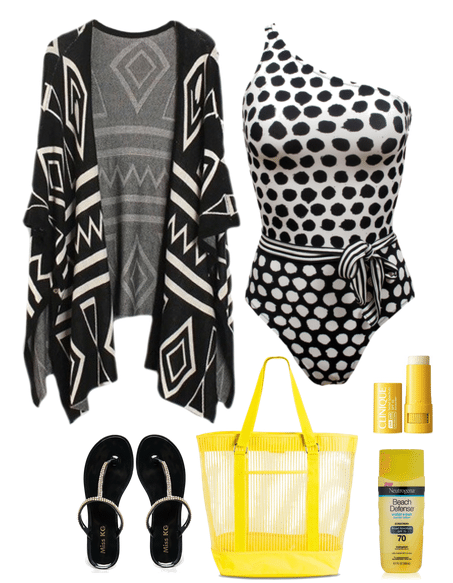 Outfit details: Kimono Jacket | One Shoulder Belted One-Piece | Black Jelly Sandals | Mesh Tote Bag | Clinique Protection Stick | Neutrogena Beach Defense
Black and yellow together make quite the statement. And so does some pattern mixing with a tribal print and polka dots. This one shoulder belted one-piece bathing suit just oozes classiness. Don't forget your sun protection!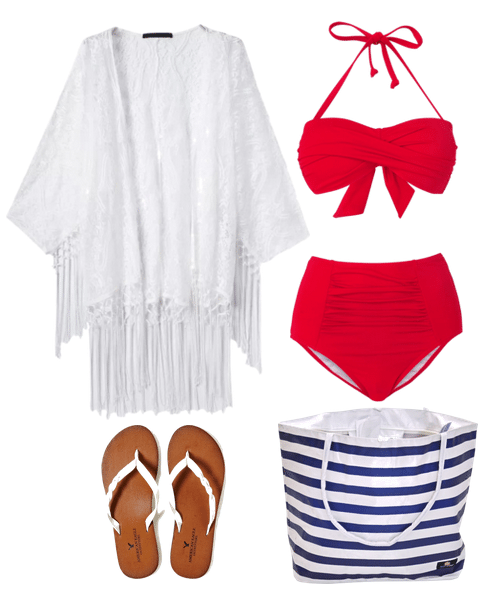 Outfit details: White Lace Kimono | Bandeau Bikini (similar) | Braided Leather Flip Flops | Oversized Pool Tote
Red, white and blue is perfect for a July 4th Holiday look or a classic nautical vibe. There's something so perfect about a red bathing suit and this one is a gorgeous bandeau style with a high waisted bottom. Retro and perfect for a day at the beach.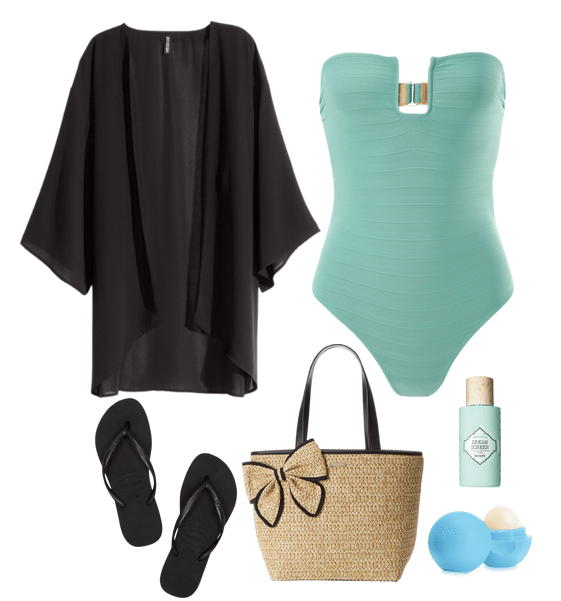 Outfit details: H&M Black Kimono | Blue Prism Swimsuit | Havaianas Flip Flops | Kate Spade Tote | Dream Screen Sunscreen | eos Blueberry Acai Lip Balm
Prism make retro style modern with chic 60s silhouettes and textured fabrics. Add fresh appeal to your swimwear collection with this aqua one-piece crafted from soft textured fabric with a silicone-lined strapless neckline for a no-slip effect. It looks so pretty paired with a solid black kimono, black flip flops and a straw tote bag.
Shop more kimono and swimsuit selections below.