*Mom Fabulous received samples to facilitate this post. All opinions are 100% mine.
Let's add some color to what can typically be a drab weather season with a pink sweater outfit, shall we?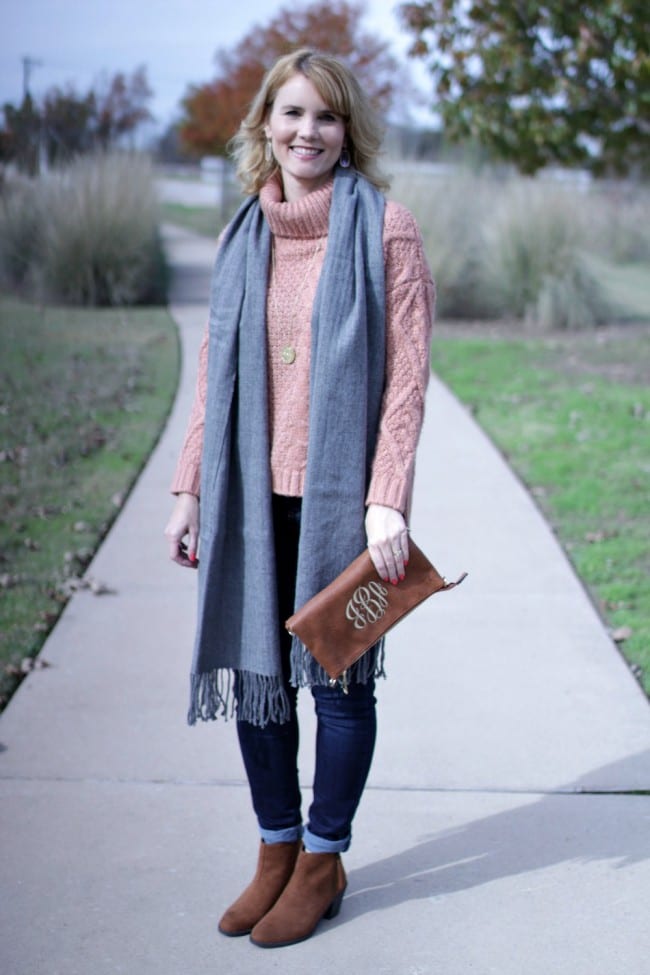 During the fall and winter, I usually find myself in what I call a neutral rut. I love wearing black and white, and that tends to be my go-to color combination when choosing my outfits. If you find yourself in the same rut as me, whether it's with black and white, brown or even some other color you find yourself wearing over and over again; it's good to experiment with other colors. Like…how about pink?!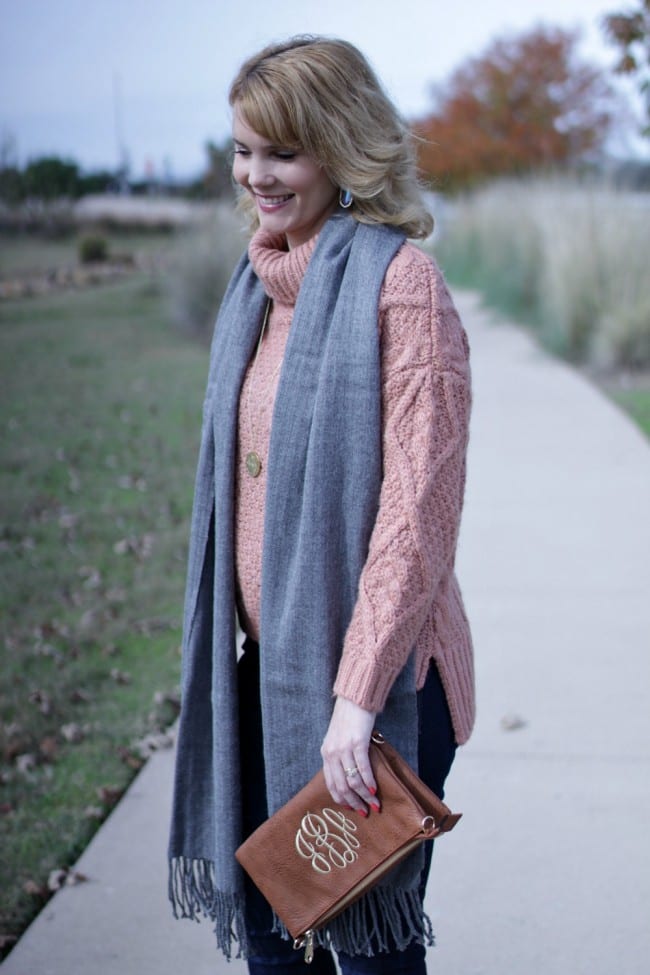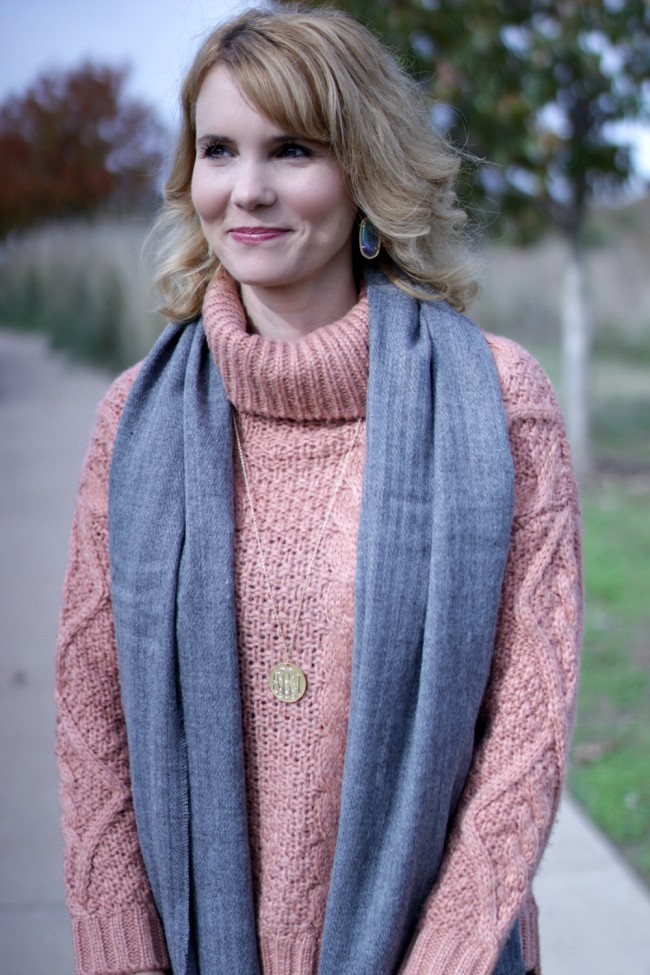 I love wearing gray and pink together. Both colors compliment each other so well. So when I saw this mauve cable knit turtleneck sweater on Forever 21, I knew that a) I had to have it and b) I needed a gray scarf to wear with it!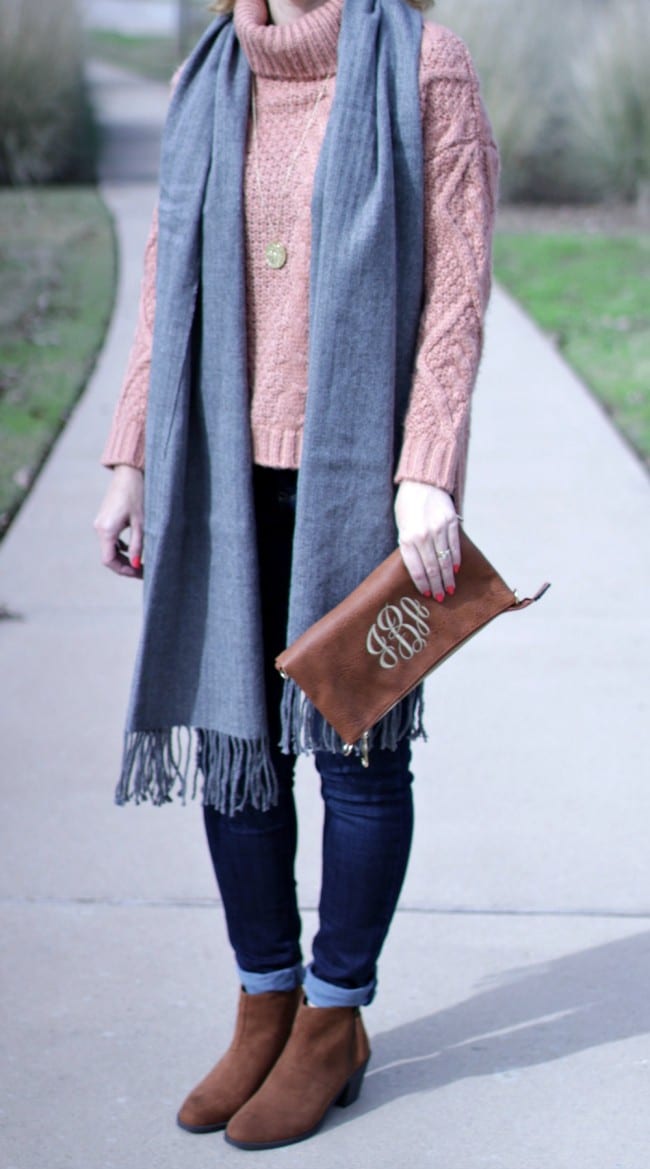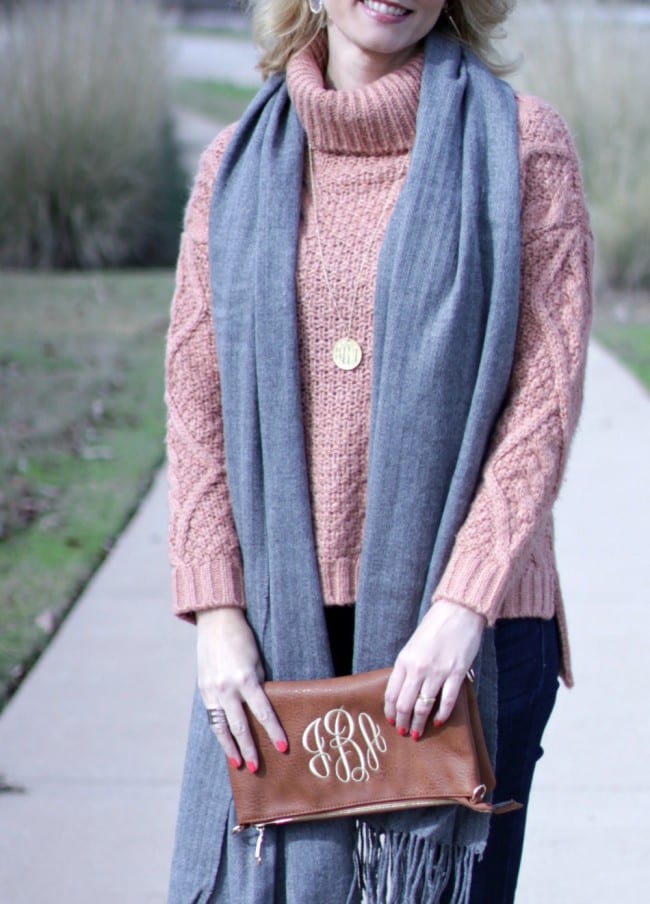 While I was on Forver21.com browsing, the brown boots I'm wearing also caught my eye. I realized the other day as I was trying to figure out what shoes to wear, that I have a really nice selection of black boots, but am seriously lacking in the brown boot category. I knew I wanted some that were suede and had a heel. The ones I chose are currently sold out, but here is a similar pair.
I really like matching my shoes and purse together, so this fold-over monogrammed clutch from Handpicked was the perfect match. I am so in love with the clutch, I just can't tell you! Because it folds over, it holds more than your average clutch. The monogram is such a nice added touch and I'll definitely be using this quite a bit. This would make a really nice gift for your handbag loving friend, mom, co-worker, sister or daughter.
I also received this Monogrammed necklace from Handpicked and have been wearing it like crazy lately. I've really come to enjoy long necklaces better than short ones. They seem to be most comfortable and work best with my outfits. Be sure to check out the selections on Handpicked and don't miss their monogrammed section!
Before I leave you, I've had a few of you mention how overwhelming it can be to shop in Forever 21 because they have such a large inventory. The one I shop at is HUGE and my daughter and I spend a good hour in there browsing sometimes. My keys to finding the items I want in Forever 21 are:
To know what I'm looking for before going in. If I just walk in with no idea what I want to add to my wardrobe, it can be overwhelming. Last time I was there, I knew I was looking for classic sweaters in basic colors. After shopping for a few minutes, I found a black and a cream one that was perfect.
Pick a section of the store and browse, browse, and browse some more. Like I said, the one I shop in is huge, so I start with one small section of the store and look through the racks; rack by rack. I do this instead of bouncing all over the store like I used to. It helps me, so maybe it'll help you too. 🙂
Shop online. When shopping for the outfit featured in this post, I shopped online and started with their 'new arrivals' section. I honestly wasn't quite sure what I was looking for until I saw this mauve sweater. Then I just built on my outfit from there, adding the gray scarf and brown boots.
So, there are my Forever 21 shopping tips for you!
When it comes to getting in a color rut, what is the color you seem to wear over and over again? What color do you try to stay away from? I stay away from yellow for some reason. 🙂