I don't know how many times on a Friday or Saturday night one of our kids has said 'so, what are we doing tonight?!' My husband and I shrug our shoulders and try to come up with some place to take them, where everyone can have a good time. When you have an 18, 16 and 11 year old – finding a place or activity you all enjoy can be quite challenging.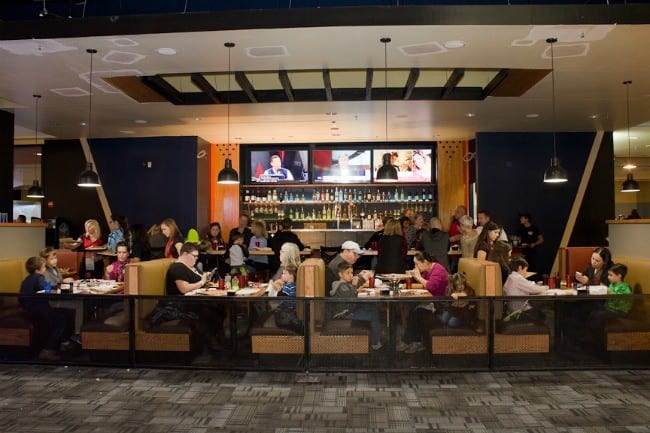 A wide shot of the new Bar & Grill
I was so excited when Austin's Park invited a handful of bloggers to come check out their brand new restaurant, bowling alley – as well as play some games. Their new Bar & Grill offers a chef-inspired menu, full service bar and a nice atmosphere for families. (Or a date night!) I ordered their hamburger and was extremely pleased with its flavor, juiciness and size. My daughter ordered the same thing and we were in burger heaven.
The fries come in a cool wire basket and were equally as delicious.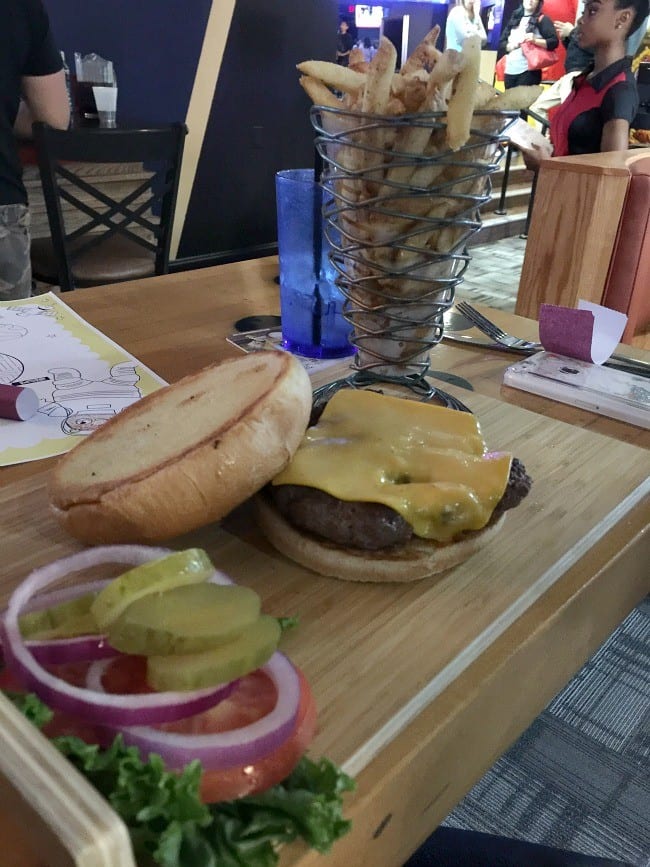 I was very glad to hear they offer organic, locally-sourced ingredients. Their goal is to pump money back into the Austin economy. Austin's Park and Pizza gets great tasting, quality food for their money, while local farmers get their business. It's a win-win.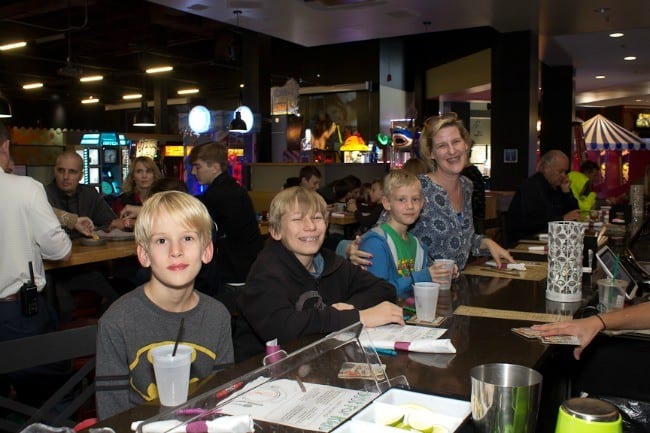 Here's Heidi from Free Fun In Austin and her kids (minus the little one who is the cutest little girl ever). My family is in the background. You can see I'm giving someone the side eye. 😀
My sons had a cheese quesadilla and salad, while my husband ordered their street tacos.
We finished off the meal with…drum roll please…New York Style Cheesecake and Chocolate Bundt cake.
After eating a few bites of both, my 11 year old said "This is the best dessert I've ever had in my life." I think he enjoyed it. 😉 The chocolate bundt cake comes with a chocolate ganache and dark chocolate sauce that is so rich and flavorful. The New York Cheesecake was creamy and absolutely delicious.
Some of the sweet Austin's Park staff.
Next it was time to play!
We didn't bowl, but we definitely plan on going back so I can beat everyone…I mean have a fun family night of bowling. (I'm actually a TERRIBLE bowler.) The new bowling alley features 10 lanes, complimented with their Bar & Grill. It's a fun place to gather with friends, family and co-workers. You can find out pricing and times here.
The boys went and did their thing, like the rock wall and laser tag, while my daughter and I went to play games and yell "NO DEAL!" to the game screen. We finished off our time with a friendly family go-cart race. Guess who won? Yep, the youngest member of our family who doesn't even have a permit or driver's license!! Go figure.
It was such a fun day and in our world of constant busyness, deadlines and sometimes so much negativity, it was nice to just have fun. We spent a few hours not thinking about anything stressful and just had fun playing. There is something to be said about racing your kids around a go-cart track and laughing so hard you can barely stand it. It's moments like these that they'll remember. And so will I.
We plan on going back soon! I can't wait.
*Thank you to Austin's Park for the complimentary meal and games.