This is a sponsored post written by me on behalf of The Hershey Company for IZEA. All opinions are 100% mine.
Peppermint Kisses Present Bites – These little bites are fun to make, delicious to eat and are a peppermint party for your taste-buds.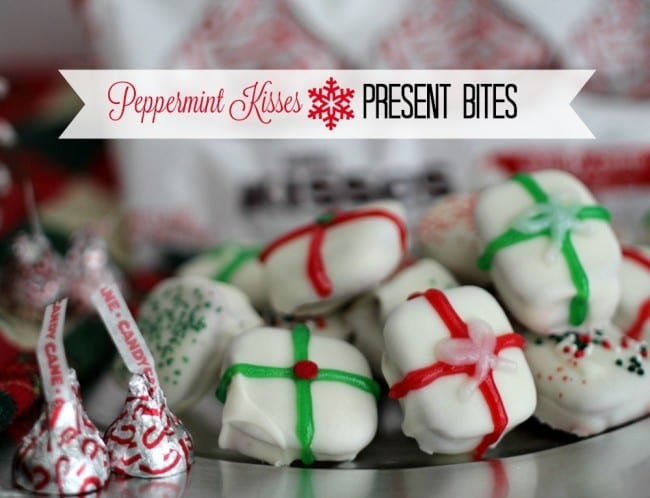 Every holiday season, my family and I look forward to covering anything and everything in chocolate. From peanut butter balls to a holiday tradition for my husband's family – chocolate dipped chips. Yum! This year I wanted to come up with something that my youngest son and I could make together. He loves salty and sweet together, so these Peppermint Kisses Present Bites were the perfect creation for him to help me make and eat.
With only four ingredients, they're incredibly easy to whip up!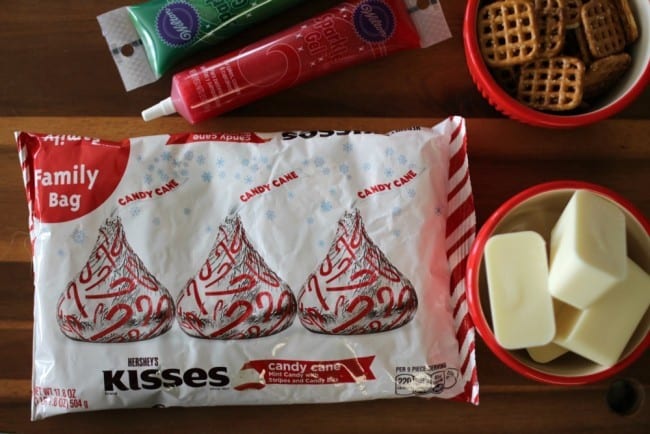 Step one: Place the waffle pretzels on a parchment paper lined baking sheet. Top with a Hershey's Kisses Candy Cane candy and bake for 4 minutes at 350 degrees F.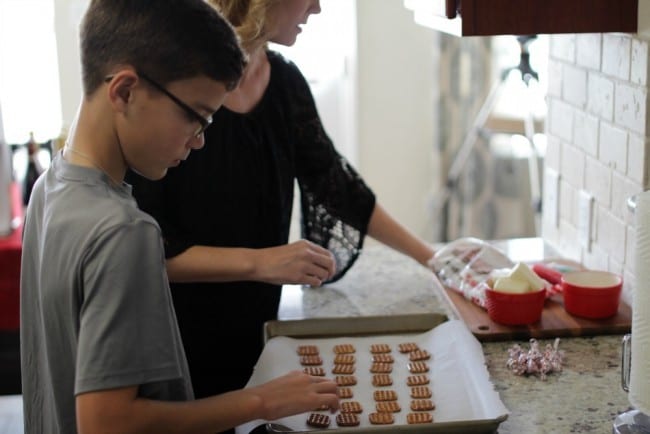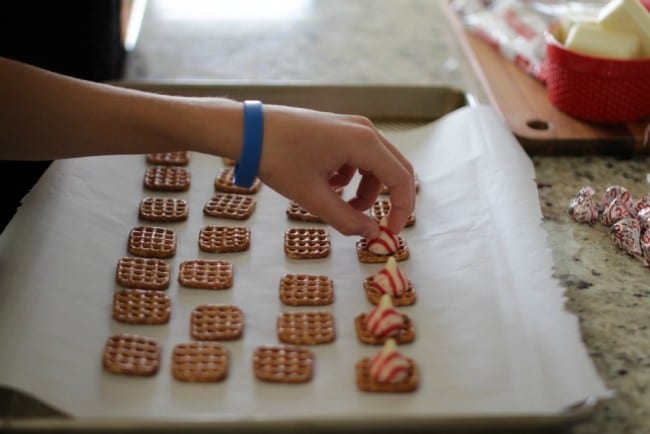 While you're at it…enjoy a few Hershey's Kisses or two.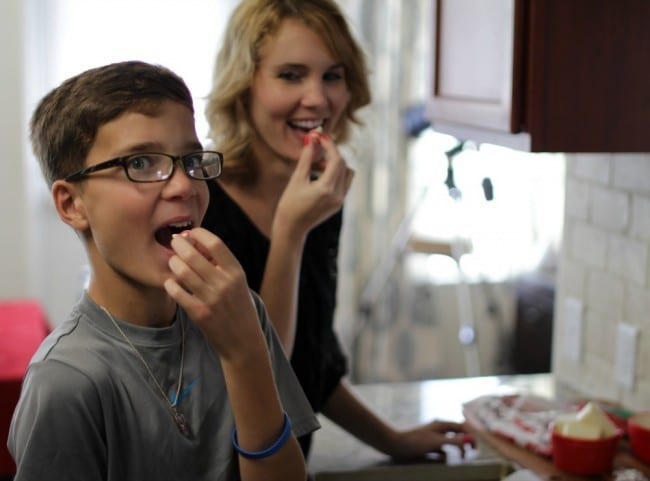 Watch the Hershey's Kisses closely in the oven, making sure you don't burn the tips. (Let the family dog join too of course.) The Hershey's Kisses are perfect and ready to take out of the oven when they start to get glossy.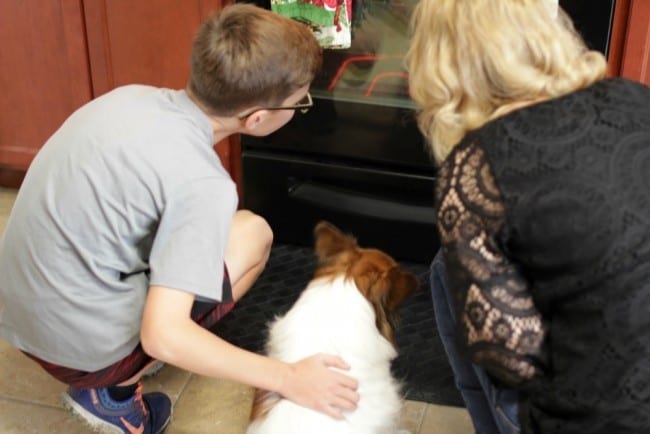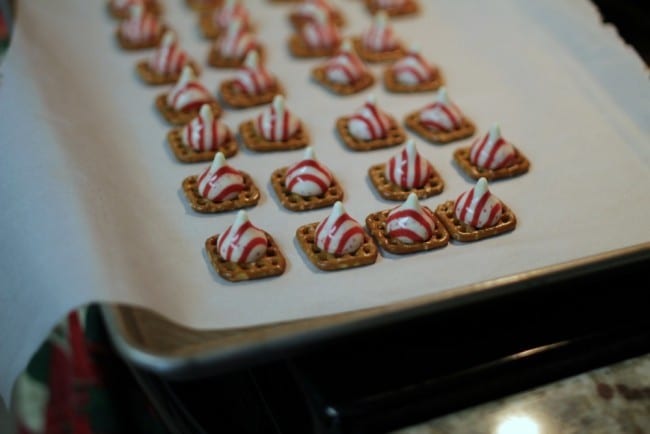 Step two: Place another waffle pretzel on top and press it down a bit, squishing the hot Hershey's Kisses.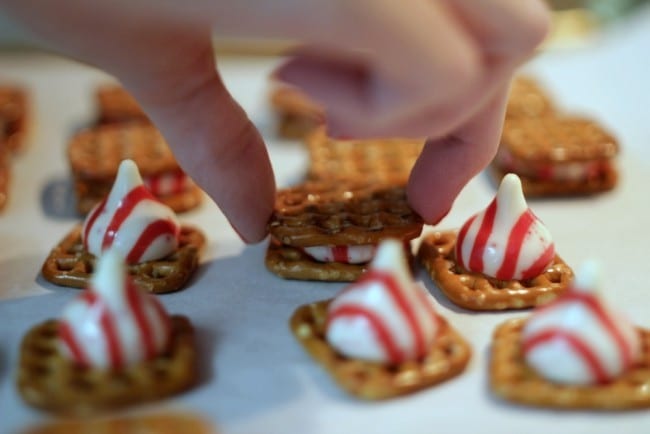 Step three: Place them in the freezer to set and harden for about five minutes.
Step four: While the pretzel bites are setting in the freezer, melt the white chocolate bark or white chocolate chips, according to the packages directions. Take the bites out of the freezer and dip them in the chocolate.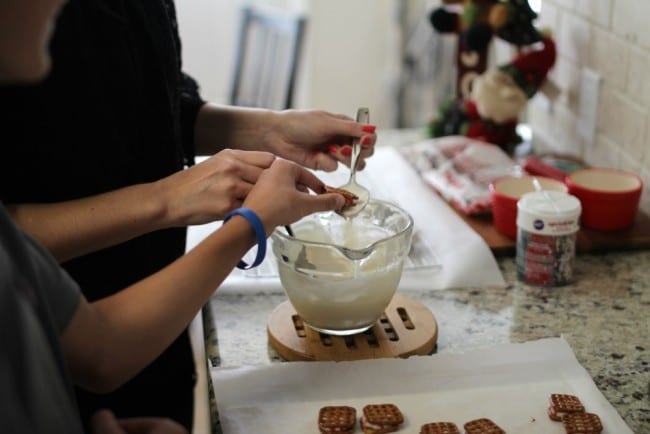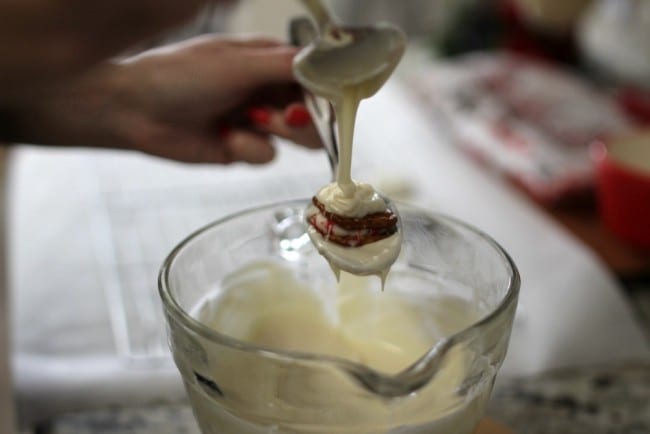 I found that placing one on a spoon and pouring the chocolate over it with another spoon seems to work best, and gives you a smooth top. You want these to keep their square shape so they look like little presents under the tree.
Step five: Place the chocolate covered pretzel bites on a wire rack, with parchment paper underneath. The parchment paper will catch the chocolate drips. If you're using sprinkles, now is the time to sprinkle the bites, before the chocolate hardens.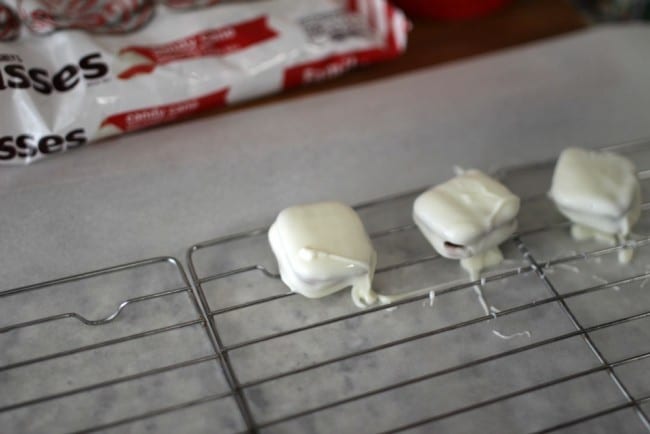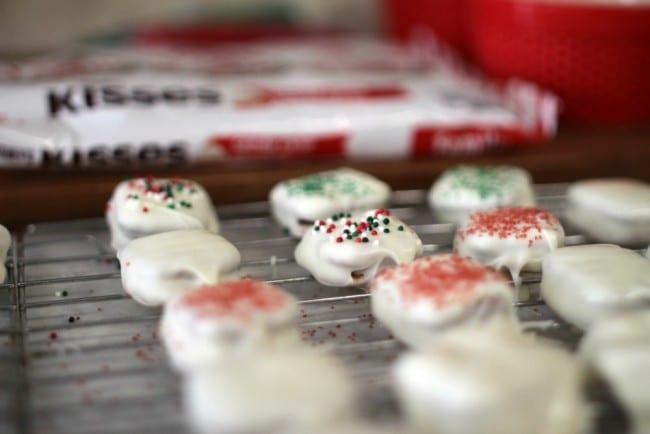 Step six: Use icing in the little tubes to pipe on the ribbon for the little presents. Voila! Peppermint Kisses Present Bites.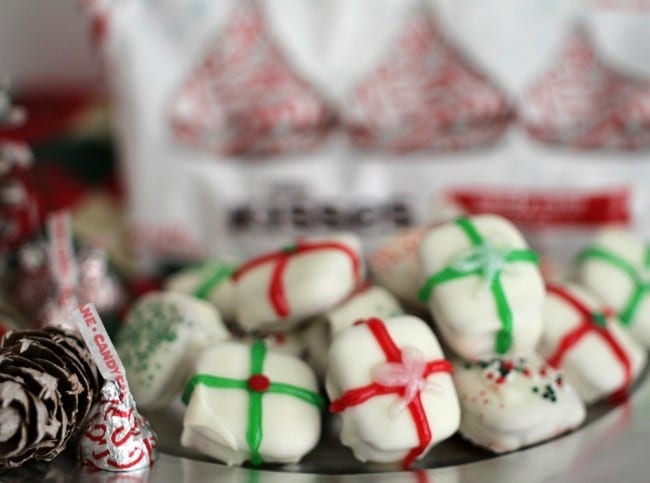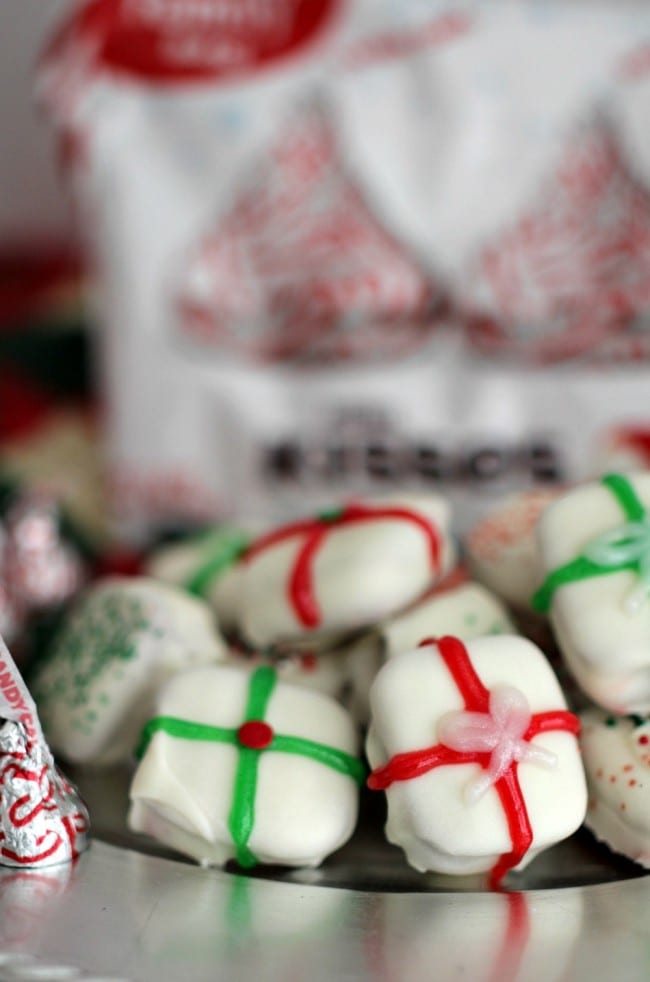 We really enjoyed eating these! It's the perfect balance of salt and sweet. This is what they look like on the inside. I love how you can see both layers of the pretzels and the color from the peppermint Hershey's Kisses.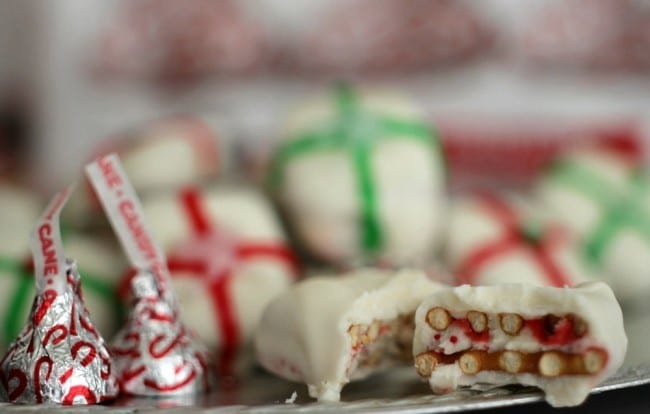 These would look so festive packaged up in a little tin. You could put some of these and add some Candy Cane kisses in there as well, for a tasty gift to give teachers, neighbors or whomever you'd like.
Over the years I've gotten so busy with work and day to day life, that I haven't gotten my youngest son in the kitchen with me near enough. And he loves to help! I am so excited to have another chocolate covered treat idea to add to our Holiday tradition. I think these will be the treats my son and I make together every year. The Holiday season is all about looking forward to the old traditions, as well as making #NewTraditions.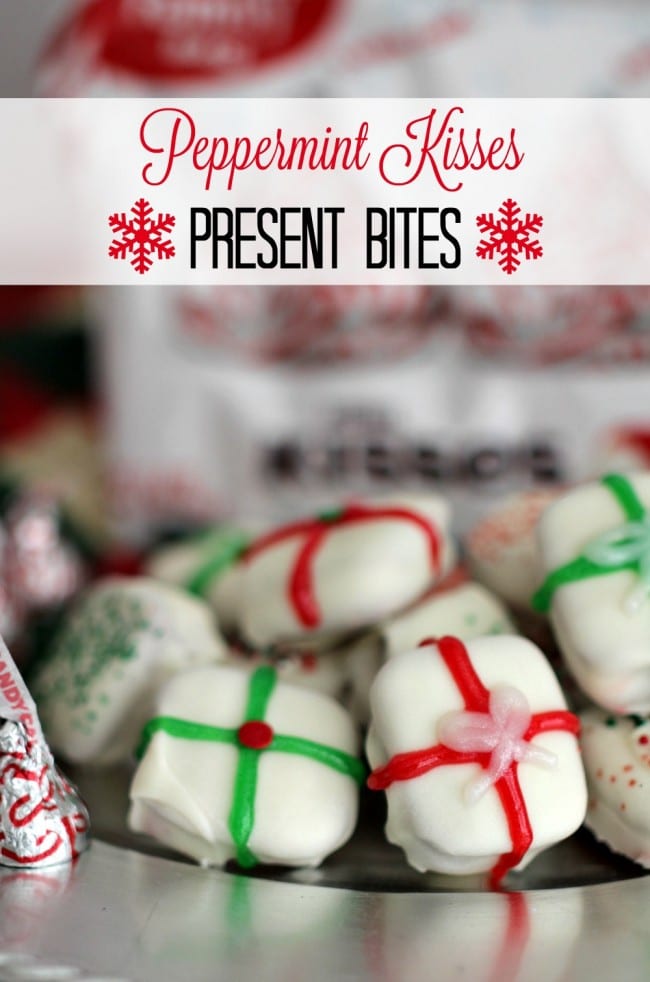 What are some yummy treats your family looks forward to making together every year? If you end up making these present bites, let me know!
For more great recipe ideas, visit The Hershey Company.