*This blog post was sponsored by Starbucks but the opinions are completely my own based on my experience.
After a long week at work, probably the last thing on your mind this Holiday season is DIYing goodie bags with fancy chalkboard lettered gift tags, making complicated appetizers and setting a tablescape that could rival Martha's. But yet, you still want to get the girls together right? My guess is your girlfriends would be over the moon happy with chocolate, coffee, movies and some Holiday jingle action with a twist. Keep reading to see what I'm talking about.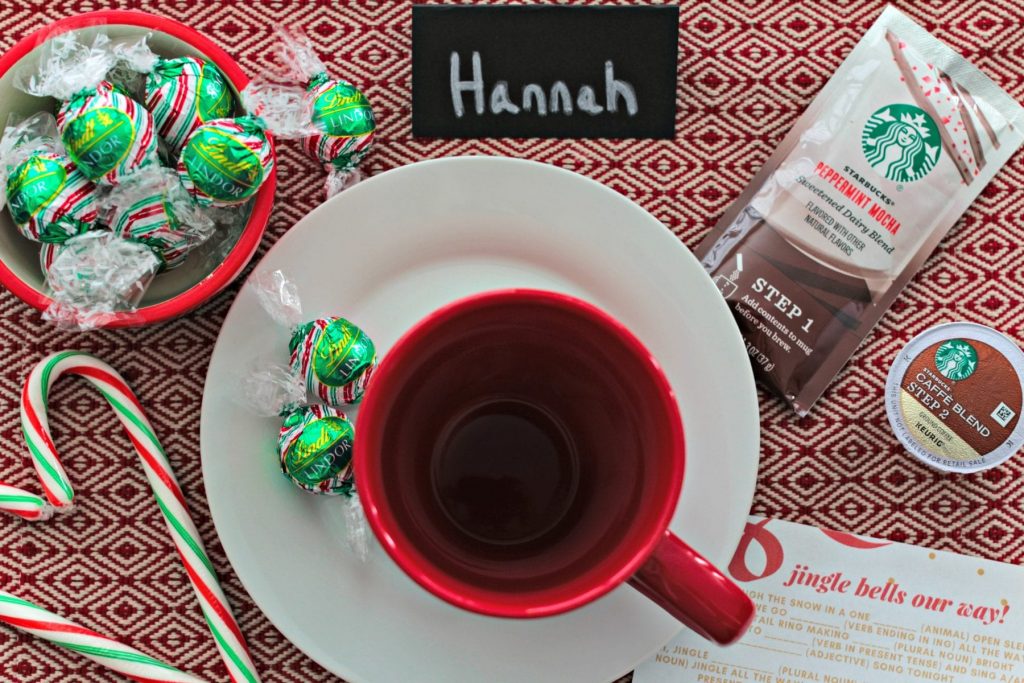 After a recent trip to Target, I picked up the perfect pairings for a no-fuss girls night in coffee and chocolate get together. I'm talking about Starbucks Peppermint Mocha Caffe Latte K-Cups and Lindt LINDOR Peppermint Cookie Milk Chocolate Truffles. Is your mouth watering yet?
I thought it would be fun to set a festive Holiday table for everyone to sit at, catch up with each other and just enjoy relaxing with some good coffee, chocolate, and conversation.
Here's what I set the table with:
A Holiday colored place mat
A simple place card made with black paper and a chalkboard pen (no fancy lettering needed)
Candy Canes shaped in a heart (of course)
Saucer for mug
Holiday mug
Small container filled with LINDOR Truffles
Starbucks Peppermint Mocha Latte K-Cup packs
Jingle Bells our way print out
I had never heard of the Peppermint Mocha Caffe Latte K-Cups before. It's a 2-step process that is oh so worth it. Your guests can make their own and then either sit back down at the table for some girl talk, Jingle Bells our way laughs or take their mug to the living room for movie time.
Here's how to make the coffee.
Step one: Pour the sweetened dairy blend in your mug.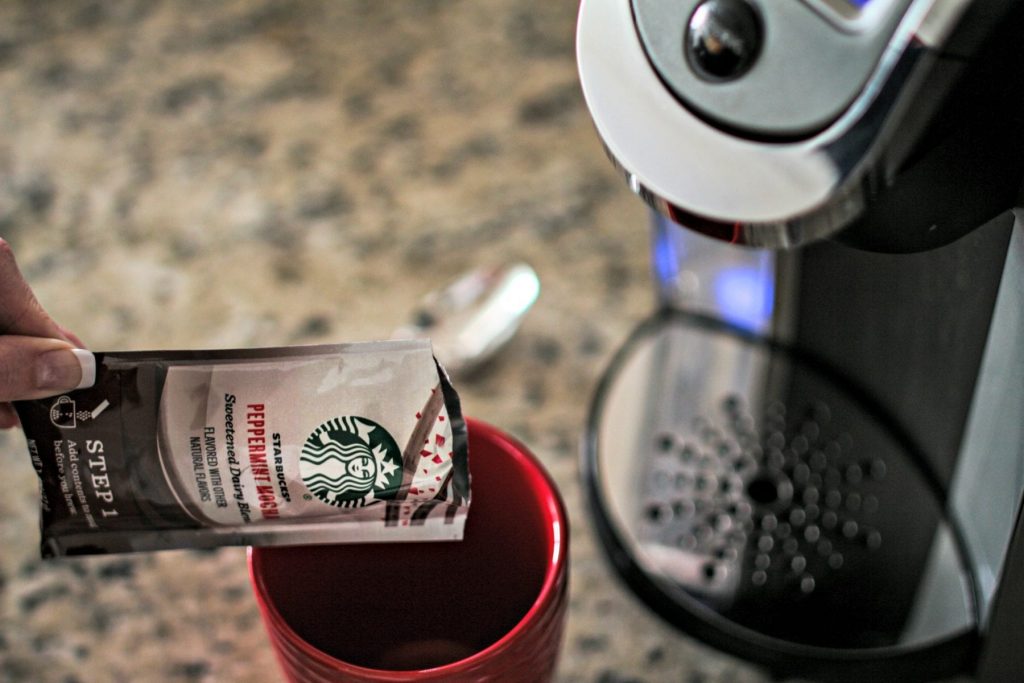 Step two: Brew the K-cup over the dairy blend into your mug. Stir and enjoy!
It's pepperminty chocolatey goodness at its best. And when paired with the Lindt LINDOR Peppermint Truffles, it makes for one luxurious evening.
The Jingle Bells our way is a mad lib style fill in the blank song. It'll help put a little laughter and fun into your evening (if you even need it!). Print out the copy below, place one at each guest's seat and have them fill it out. Be sure to have them sing their version before the night is over. 😉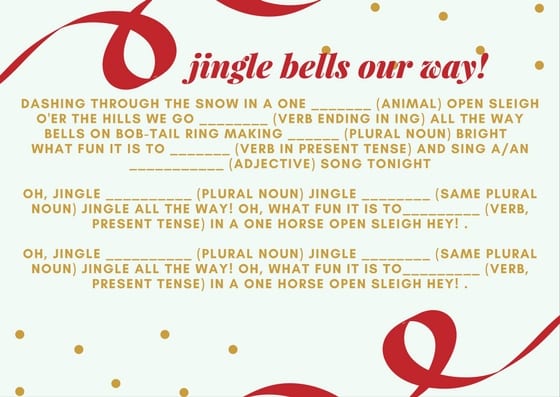 Starbucks & Lindt are the Perfect Pairings! Here's how to save on these two for the Holidays:
Buy 3 Starbucks (VIA, Roast and Ground Coffee & K-Cups), Save $6, until December 31st
Buy 2 Lindt Lindor items for $8, until December 24th
Do you get together with friends for the Holidays? This is the time of year to kick back and catch up with those you haven't talked with in far too long.
Happy Holidays my friends!