*Thank you to Tum-E Yummies for sponsoring this post.
Finding ways to keep your little ones entertained at home can feel like a daunting task, especially when you live in a very cold climate and have energetic kids. This challenging situation is often enough to make mom and dad want to go curl up in a corner, rock back and forth and quietly sing Gloria Gaynor's "I Will Survive" while munching on leftover goldfish crackers from lunch. I remember thinking to myself, if I can just make it to nap time I will survive and then a few hours later…If I can just make it to bedtime, I will survive.
When my oldest was not even two years old, we moved to Alaska and then eight months later I had my second child. We made it through several brutal winters! Five years and one more child later, we moved to Colorado where the winters were much more bearable, but we definitely had our days when everyone just needed to stay indoors.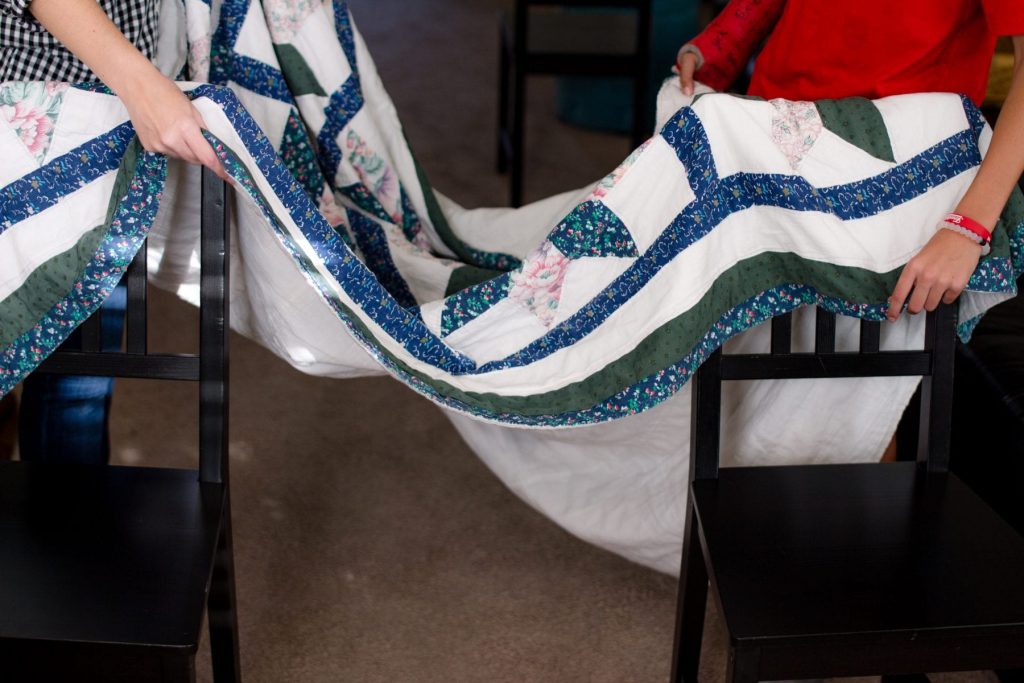 Through all of these winters, I learned a thing or two about keeping active kids busy indoors and one of those was to just let kids be kids — let them mess the house up and build a fort. If that meant getting out every pillow, blanket, chair and couch cushion we owned, then so be it. They often took much more time building the fort and cleaning it up than they did enjoying the fort, but that was all part of the process of keeping them active and busy.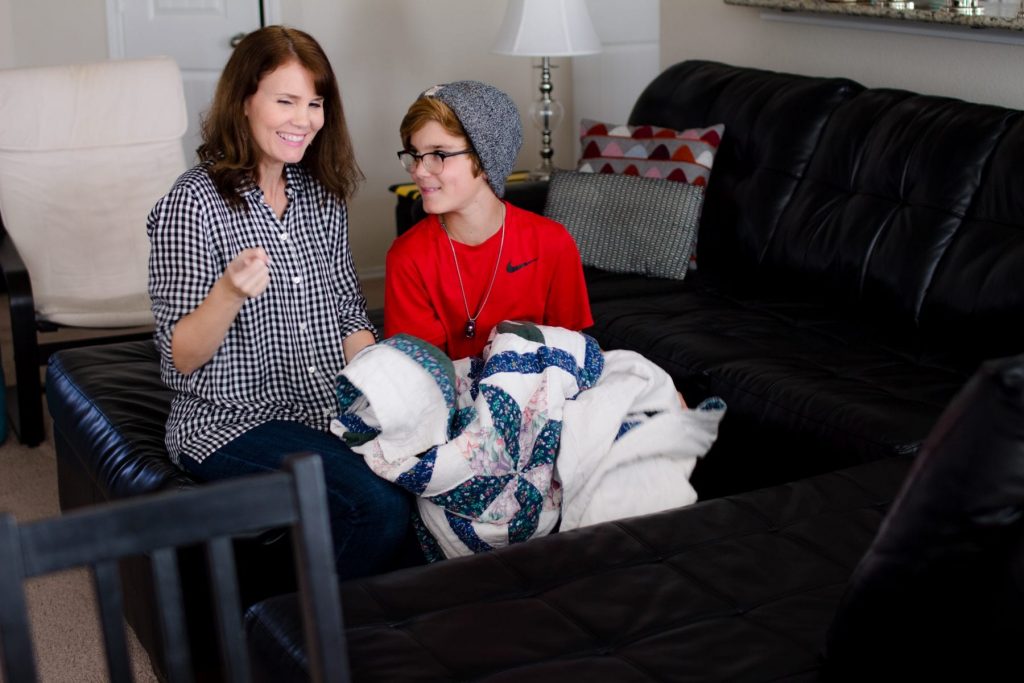 Over the years, my 12-year-old has become quite the fort building master. Although we live in Texas now and really the only weather issues we have to deal with are 100+ temperatures and some rain here and there, I'll often come downstairs to our living room overtaken by some massive fort creation he and a friend built.
Here are his Fort Building 101 tips:
Don't try to build a fort by yourself; you'll just get frustrated. It's more fun with a friend, sibling or parent anyway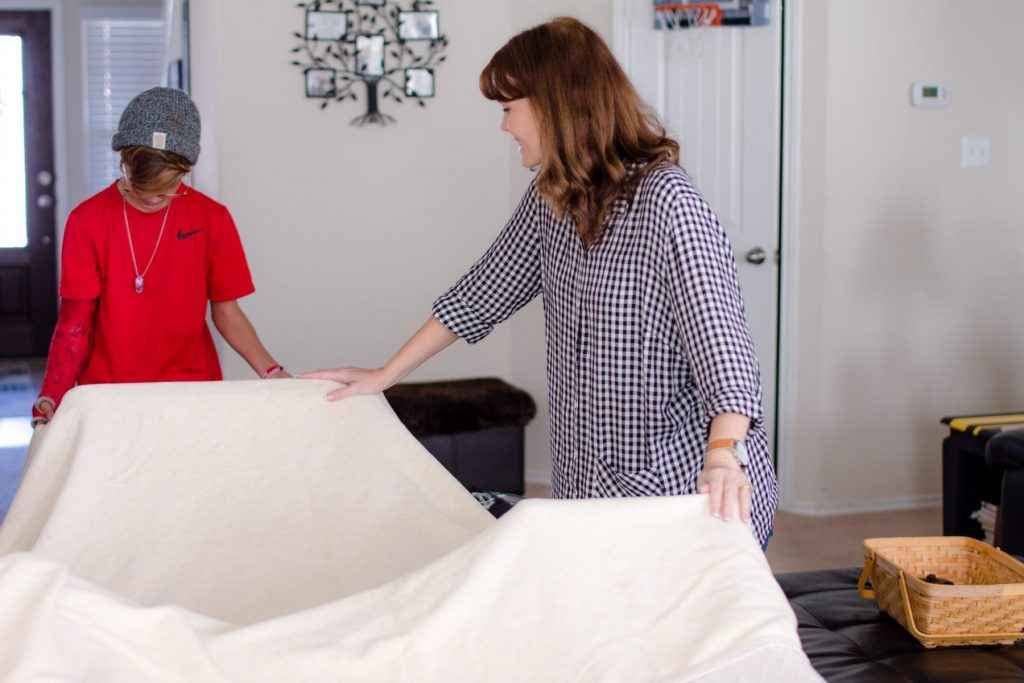 Use a combination of chairs and your couch for a larger and sturdier fort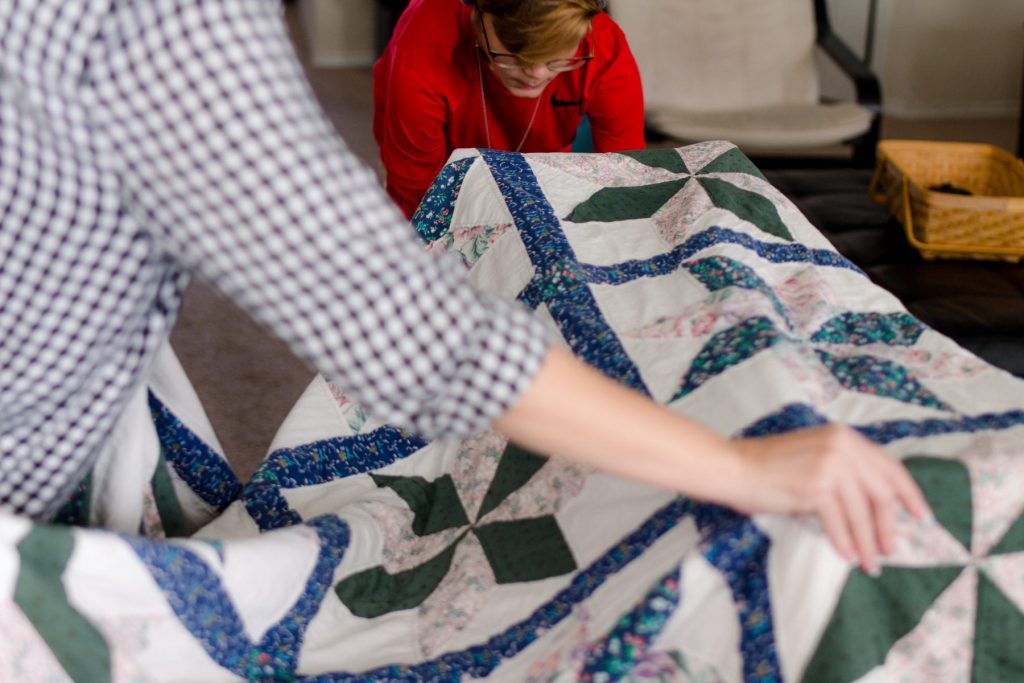 Start with the largest blanket as the main 'roof' of your fort
Use smaller blankets to close off the openings to make it dark
Use clamps to secure the blankets to chairs if you can (I've used clothes pins and chip clips before)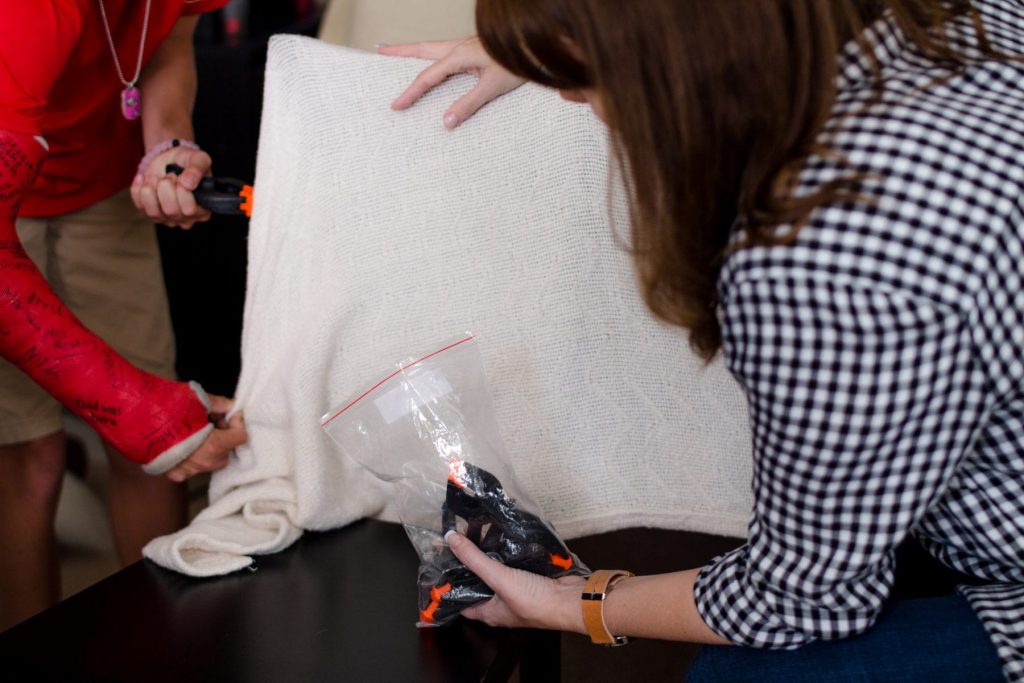 Aren't these tips great? I love it! I helped him build a fort in our living room and learned a thing or two. One thing I've always tried to do for the kids in order to keep them in that fort just a little bit longer is to prepare a tray of snacks for them and load up some movies on the tablet. And if I remember correctly, I've had a kiddo fall asleep a time or two in their fort.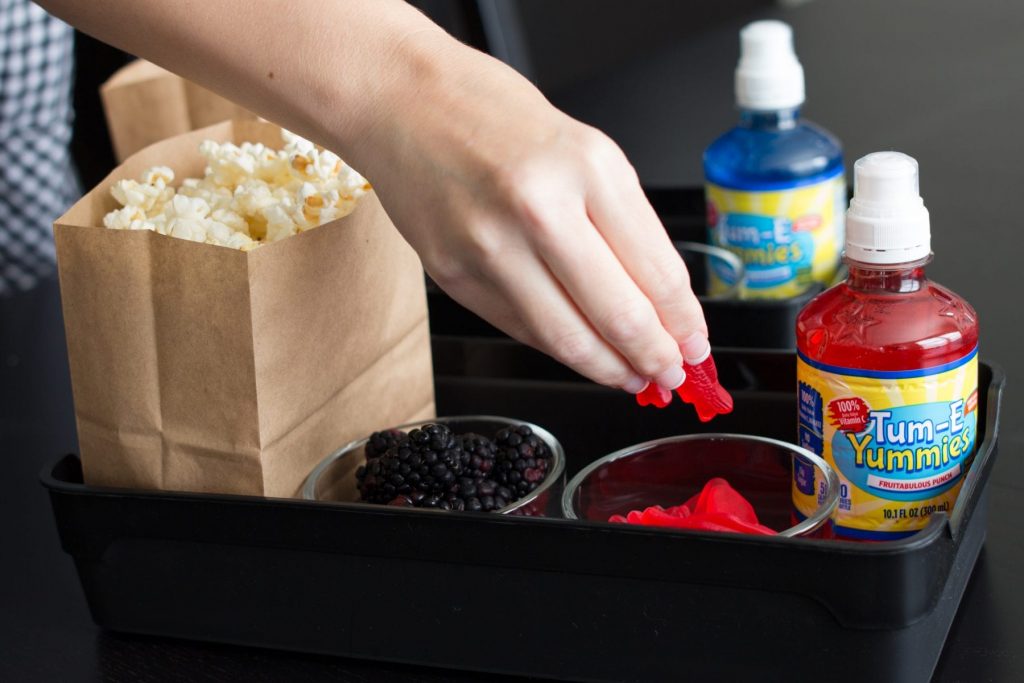 For our snack tray, I popped some popcorn and put it into brown paper bags. I also included some fruit and candy fish (some of our favorites).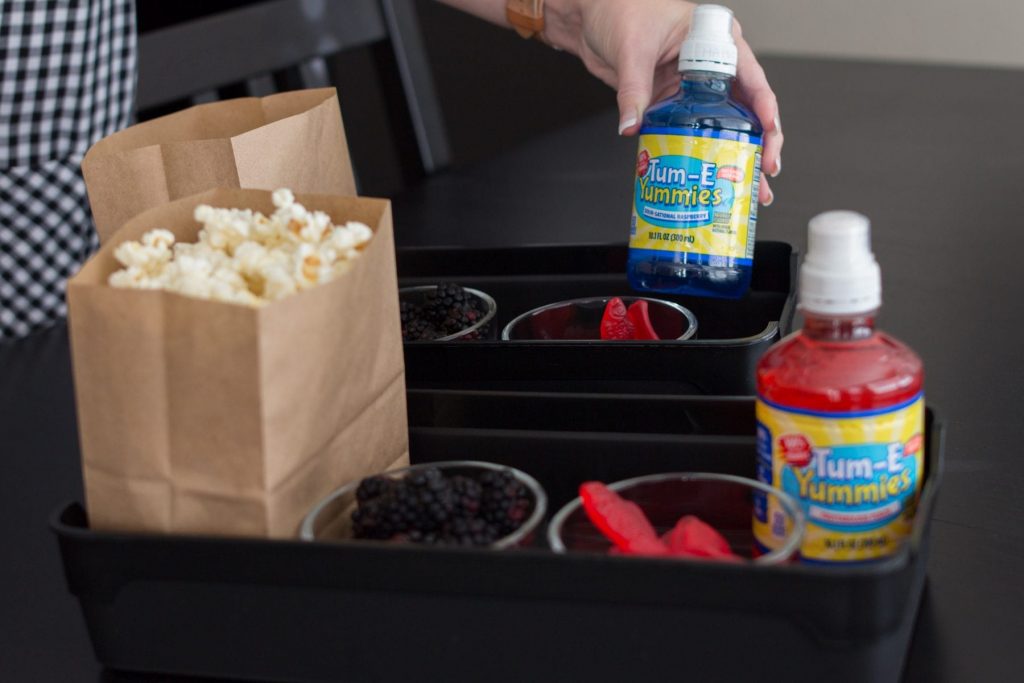 Keeping the kiddos hydrated is also important, so I added Tum-E Yummies beverages, which I like for a number of reasons. The container is perfect for sipping on in the fort since it's a spill-proof sports cap. They come in flavors kids love which include: Very Berry Blue, Greentastic Apple, Fruitabulous Punch, Orange-arific, and Sour-sational Raspberry. Plus, the flavors have 100% daily value vitamin C, B6, B12 and only 50 calories and 13g of sugar and no sodium. It's a drink parents can feel good about giving their kids and a drink kids enjoy. Win-win.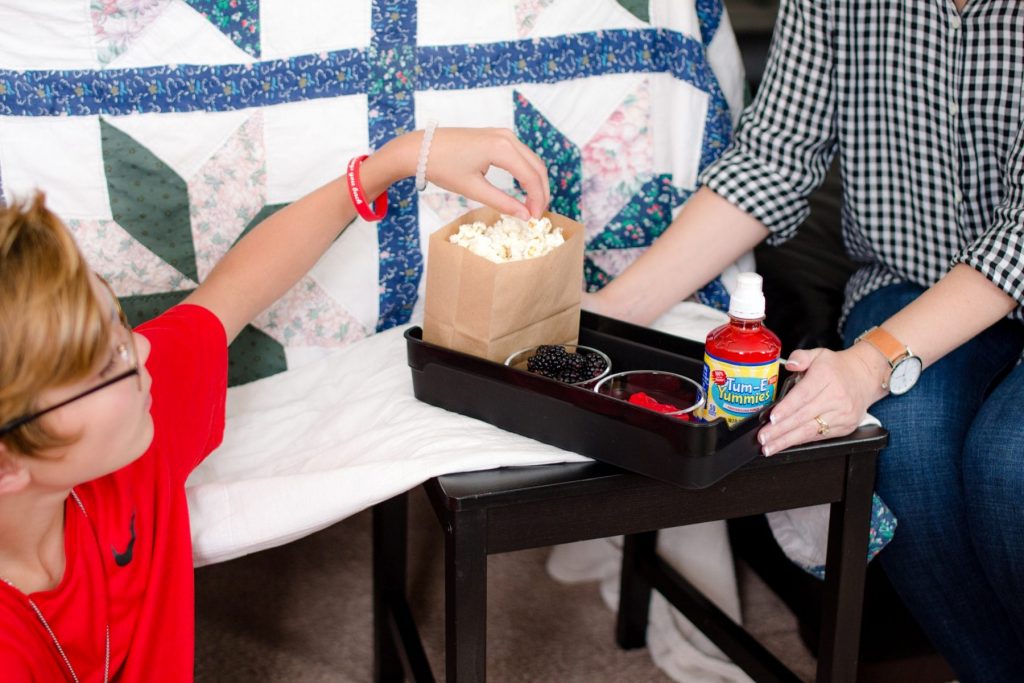 I crawled in the fort with my son and let me tell you, I could get used to a cozy space like this. If there are snacks, a movie, and my pillow included of course.
How do you help keep your little ones active and busy during bad weather?