As I mentioned, we are already so busy with college preparations for our daughter who's a senior. I've been purchasing items I'll know she'll need to take with her, like extra razors and other toiletry items they run out of. We bought new bedding she says she's bringing with her for her dorm. We're scheduling college visits and talking scholarships, grants and whether she'll work her freshman year. There's so much to do and so much to talk about, it's a little overwhelming for both her and us at times.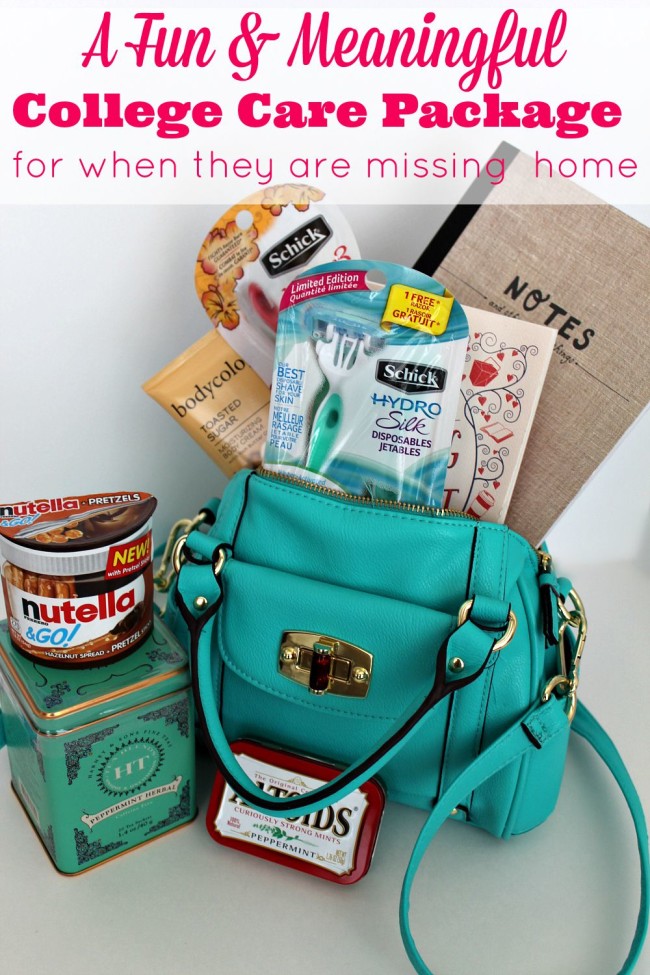 One thing I look forward to while she's away, is sending her care packages. I moved off to Europe when I was only 18, and there were times my parents' care packages are what got me through the week. Don't get me wrong, I loved it there and would do it all again, but home is home and I missed the people and the comforts of what I was used to.
I was thinking about what I would send my daughter while she was at college and actually sat down with her to make a list. Here's what she came up with:
Toiletries – like her favorite Schick razors (that I've already stocked up on!)
Snacks
New release books
Notebooks
Lotion
Mints
Tea
A cute purse to hold it all in
I think this makes a fun care package, don't you? I wanted to make it a little more meaningful, so I thought about sending a note with it, giving each item a meaning.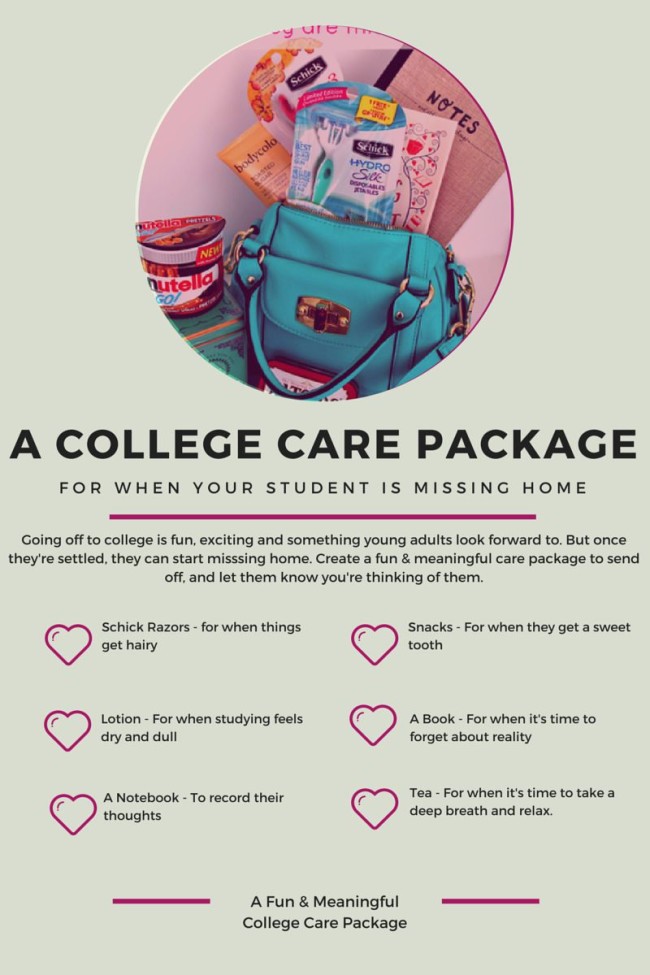 Schick Razors – For when things get hairy
Lotion – For when studying becomes dry and dull
Notebook – To record their thoughts
Snacks – For when they get a sweet tooth
Books – For when it's time to escape reality
Tea – For when it's time to take a deep breath and relax
Just include a note, giving each thing you sent special meaning and end it by letting them know you love them and miss them.
Is anyone else feeling a wee bit emotional right now? Because I sure am!
In talking to other moms who have sent their kids off to college, they've told me that toiletries are one of the top items asked for in a care package. It's something they use everyday. It's something that seems to run out quickly. It's something they need to feel confident.
I actually remember receiving a care package with razors, toothpaste, underwear, floss and a number of other toiletry items. It was the best.day.ever. Why? Because things like my favorite shaving products were important to me. It helps you feel confident and not to mention clean.
Do you have a student who has headed off to college this year? If so, be sure to enter the #SchickSummerSelfie Sweeps by snapping a selfie on  Instagram or Twitter and tagging it with the #SchickSummerSelfie hashtag. Head over here to see what other steps to take and be entered to win 1 of 4 grand prizes, which is $10,000 towards college tuition and more exciting prizes.
Now, where are my tissues…
This is a sponsored conversation written by me on behalf of Schick®. The opinions and text are all mine.
N/A