If you're heading out to see some Christmas lights, walking around to do some shopping at an outdoor mall or attending a casual outdoor Holiday gathering with some friends, I have just the Holiday outfit idea for you.
*This post contains some affiliate links for your convenience. Click here to read my full disclosure policy.
It doesn't get much better to me than a cozy green sweater, a puffer vest and a red festive scarf to get me ready to head out into the cold air and celebrate the season with family and friends.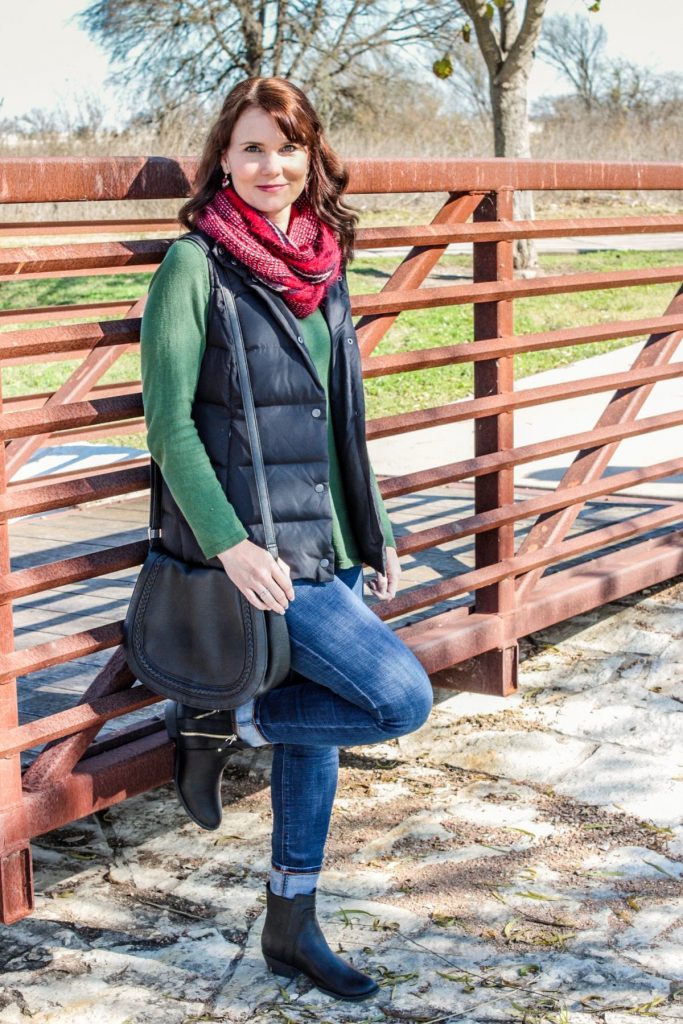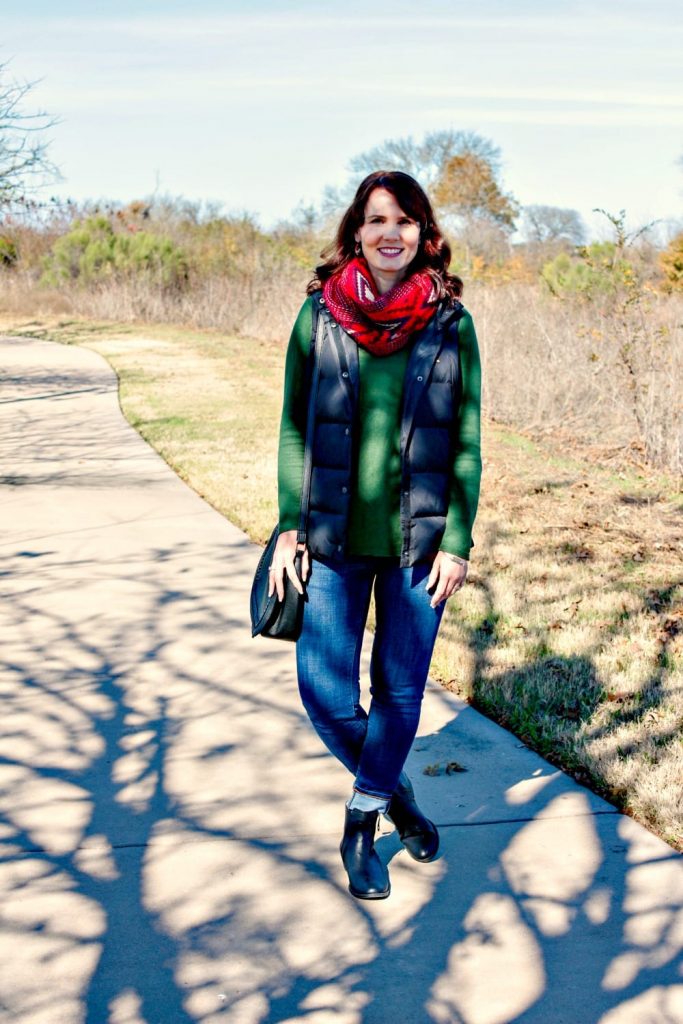 I'm so excited to have teamed up with Take Time for Style on their Moms Do Holiday Style series series, where they also happen to be giving away a $250 Nordstrom gift card to one lucky winner. So be sure to enter! They've been sharing their own ideas for some fantastic outfit ideas this Holiday season and have linked up with other fashionable moms.
SHOP THIS POST
[show_shopthepost_widget id="2241764″]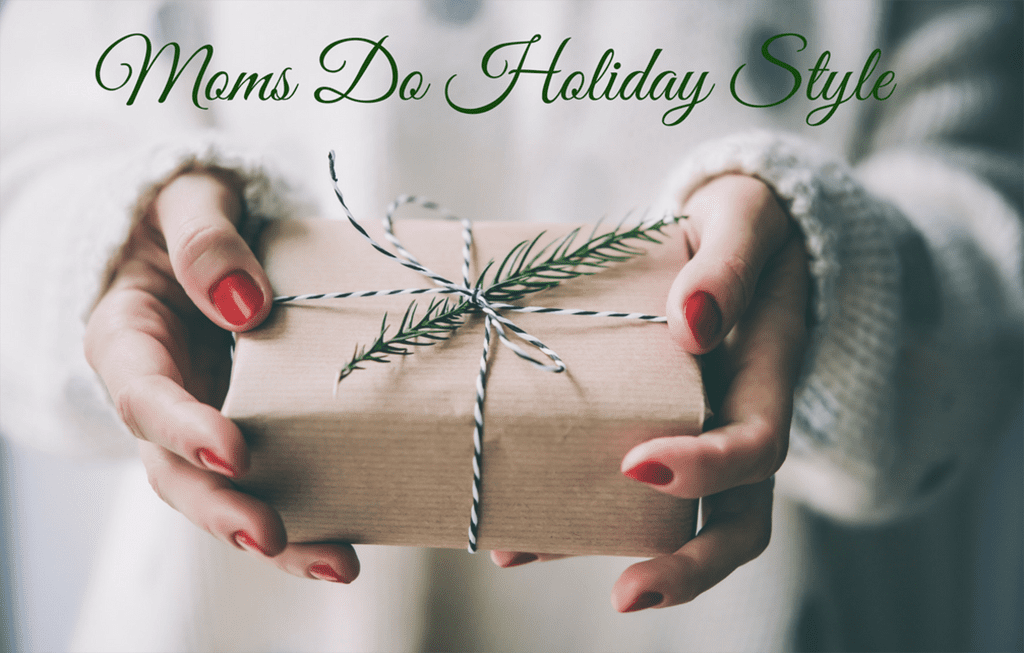 This is the first week I've pulled this puffer vest out of my closet because it's been so warm here. It felt so good to slip it on and that extra layer really does help when the temperatures drop.
(Do you see the lady bug on my leg? 🙂 )
One of my all-time favorite looks with these vests, and it doesn't matter what color the vest is – white, cream or blue – is over a plaid shirt. I've been on the hunt for one that's a little bit fitted like this one or this flannel one. Until I find just the right one, it works over this green sweater just fine.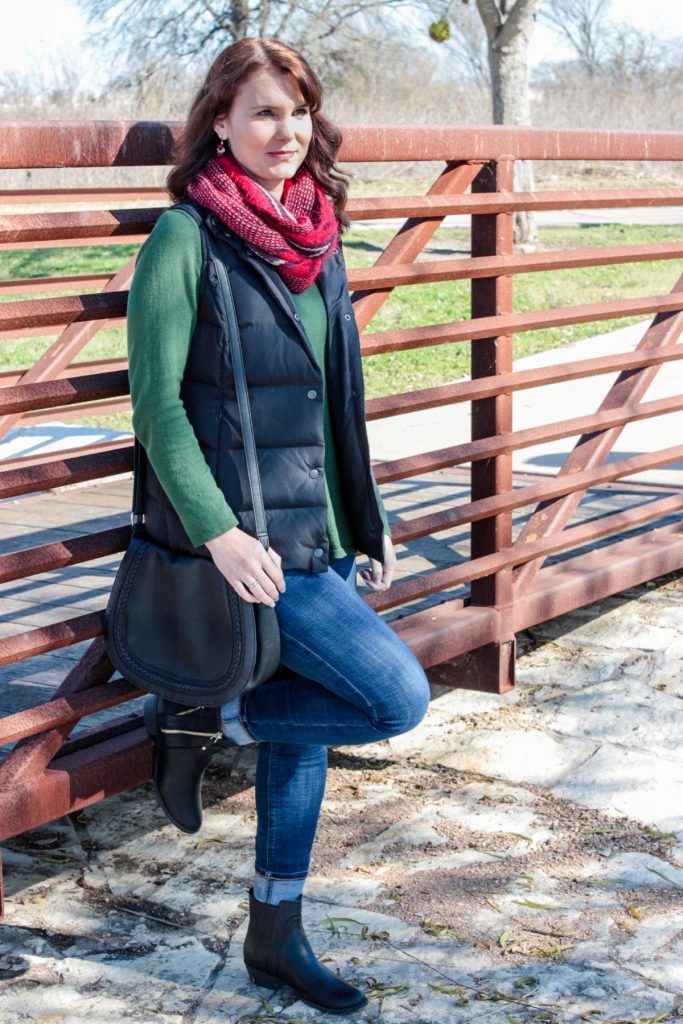 Everything I'm wearing is from last season, except for my boots and jewelry. The boots have made a couple of appearances here and I have come to love them more and more each time I wear them. They land somewhere in the middle between dressy and casual and they have an edge to them I love. They're the Soft Comfort Heartbreaker Bootie and they come in black, brown and taupe.
My earrings are from Kohl's and my bracelet was my first Instagram purchase. I saw it as I was scrolling through and I couldn't resist. I bought one for my daughter and her friend too because I just love the message. "She believed she could so she did."' There are a bunch of bracelet choices as you can see here.
Happy Holidays everyone and stay warm!