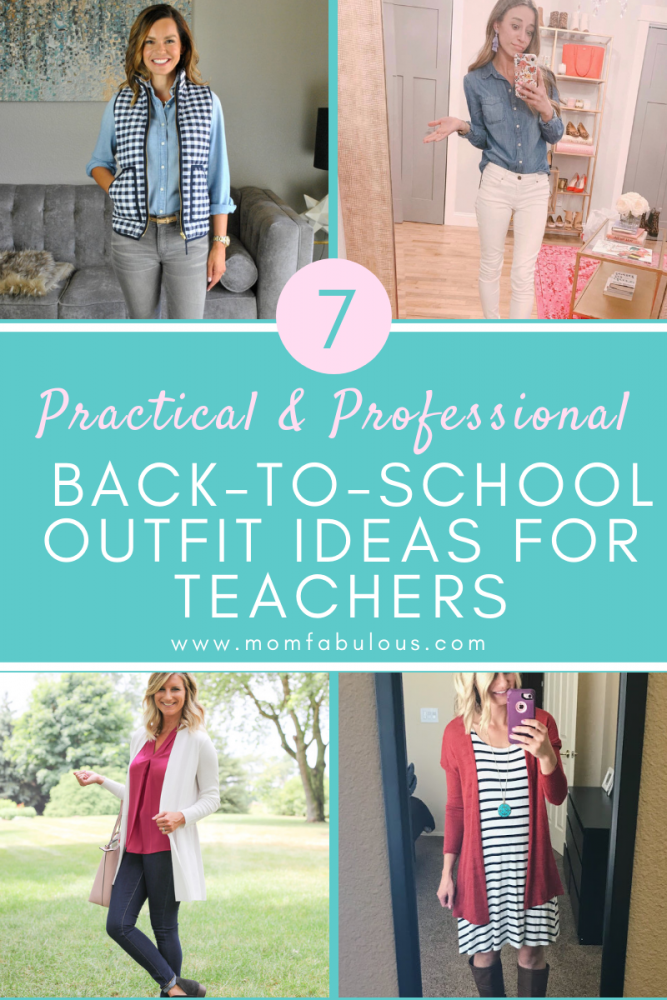 Teachers work long hours in the back-to-school season setting up their room, attending training sessions, meeting parents, getting to know students, and doing what they love – teaching! 
During the first month of school, it's important to look professional yet have a practical wardrobe. Plus, the days are still warm yet the cool mornings and late evenings are beginning to feel like Fall. 
Here are 7 practical and professional back-to-school outfit ideas for teachers!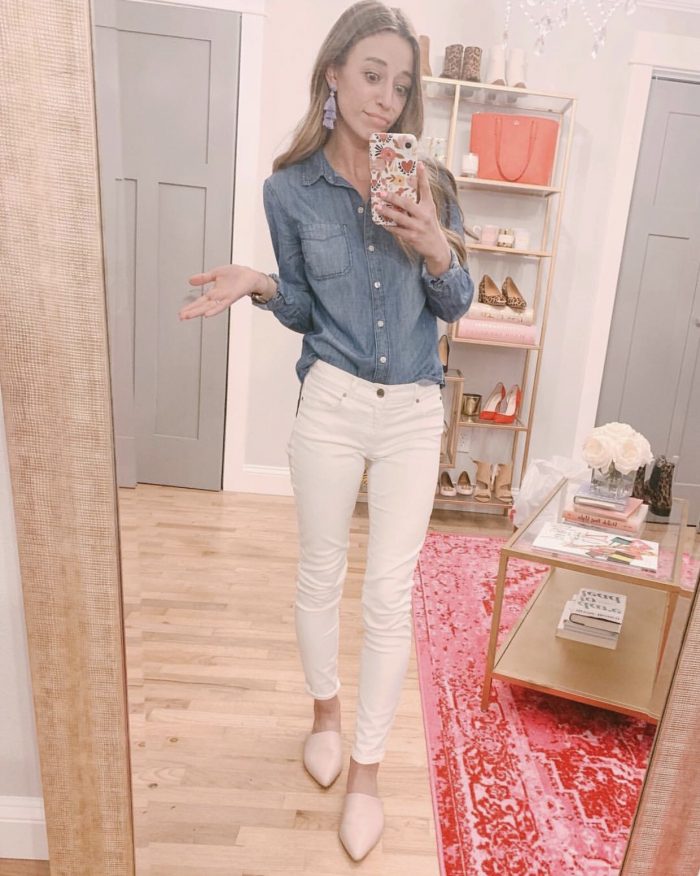 You'll be stylish and comfortable in this go-to outfit! Pick a pair of skinny pants in any color that you like! Peach and pink are perfect for the end of summer, while orange or burgundy say, "Hello Fall!" 
Pair it with a fitted blue jean shirt. This is perfect for the cold air conditioning or cool weather. Top it off with your favorite pair of comfy flats. A chunky necklace or statement earrings look great with this as well!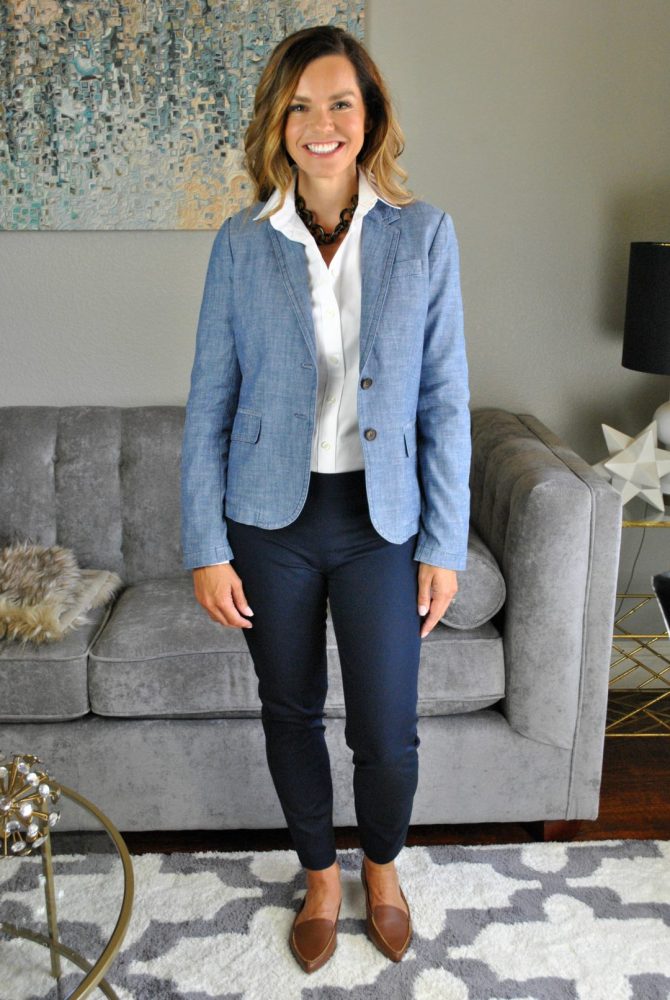 If you really want to look like an executive professor, opt for this combination. Dark pants (either skinny jeans, slim trousers, or dress pants) combined with a basic tee, layered with a blazer. 
Don't be afraid to pick out a funky pattern or textured jacket. It will look fabulous next to the simple mix of plain pants and a generic t-shirt.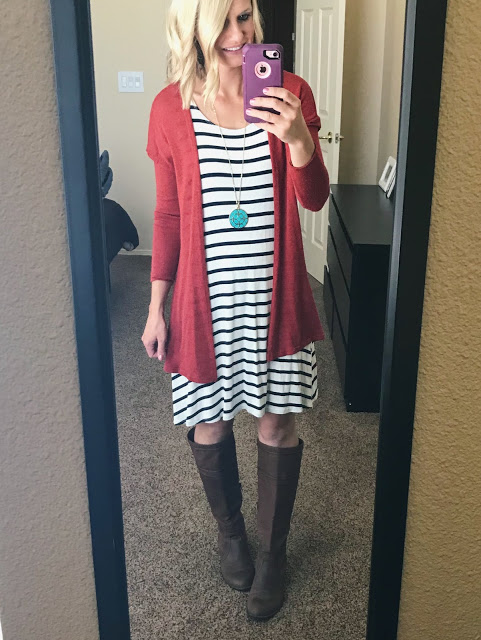 Do you prefer teaching in a dress? Then you need a classic striped dress! Wear it alone, or with a cardigan, or layered under a jacket. Look good with or without leggings. Style your striped dress with flats, booties or (my favorite) tall boots. Don't hesitate to put on a large cuff bracelet or a fun bandana in your hair either.
This striped dress works in every season and will soon become the most multifunctional piece of your teaching wardrobe!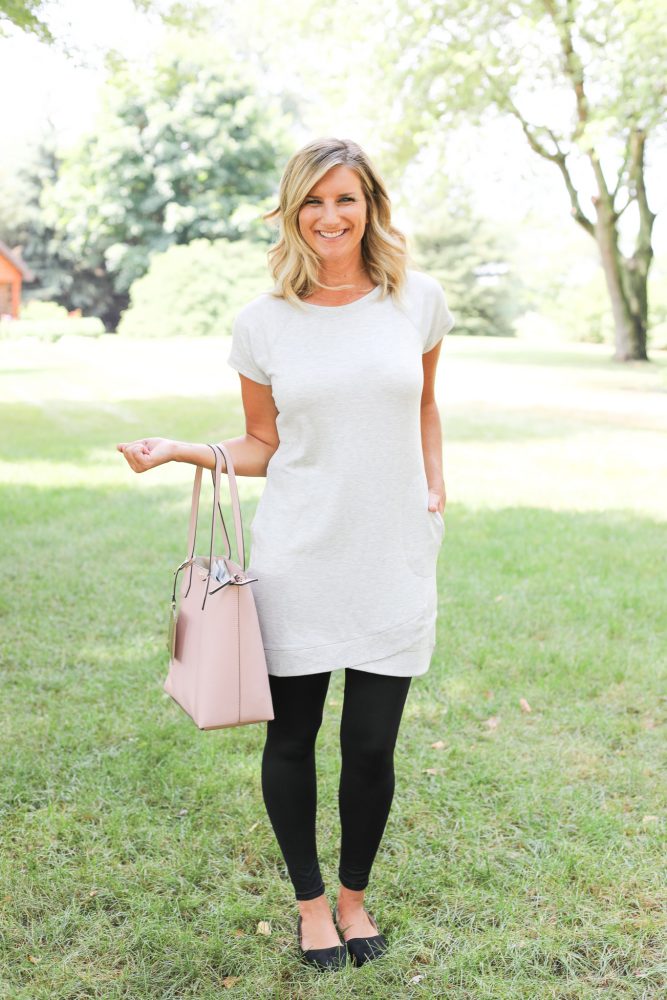 In addition to a striped dress, every teacher needs a sweater dress. These keep you toasty on a cool day, feel soft and similar to sweatpants, yet looks like a professional outfit. Pick a sweater dress in a neutral color that can match the rainbow of leggings. As always, match with your favorite flats or a casual pair of booties.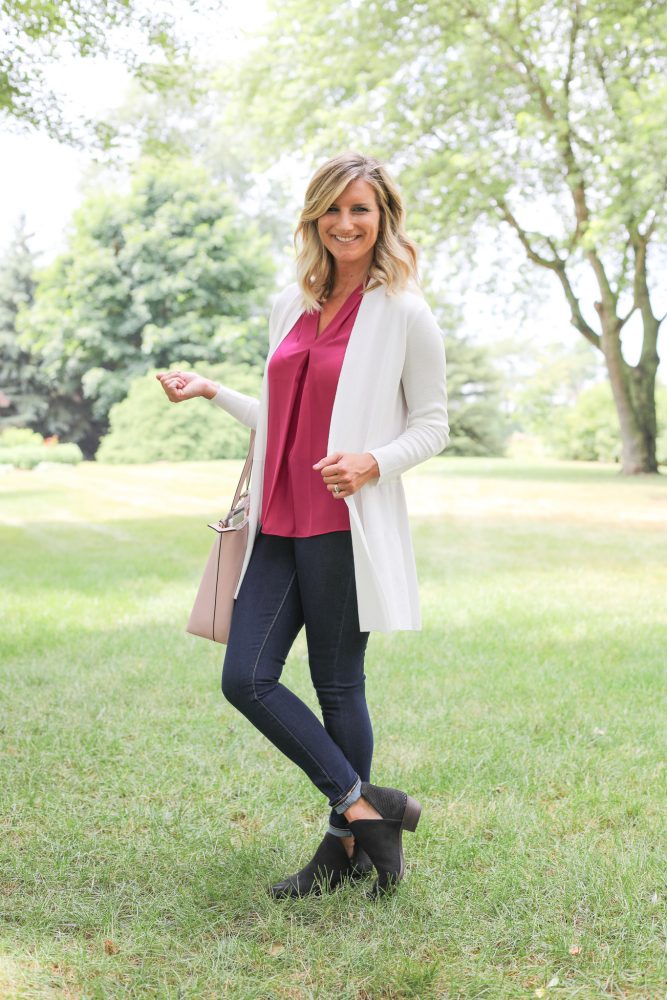 Do you get casual Friday? Can you wear jeans one day per week? Here is your go-to back-to-school teacher outfit with blue jeans! 
Pull on your favorite pair of blue jeans, match with a basic tee (in any fit), pair with a classic cardigan, and throw on some booties. The simplicity and layers of this outfit will keep you trendy and comfy.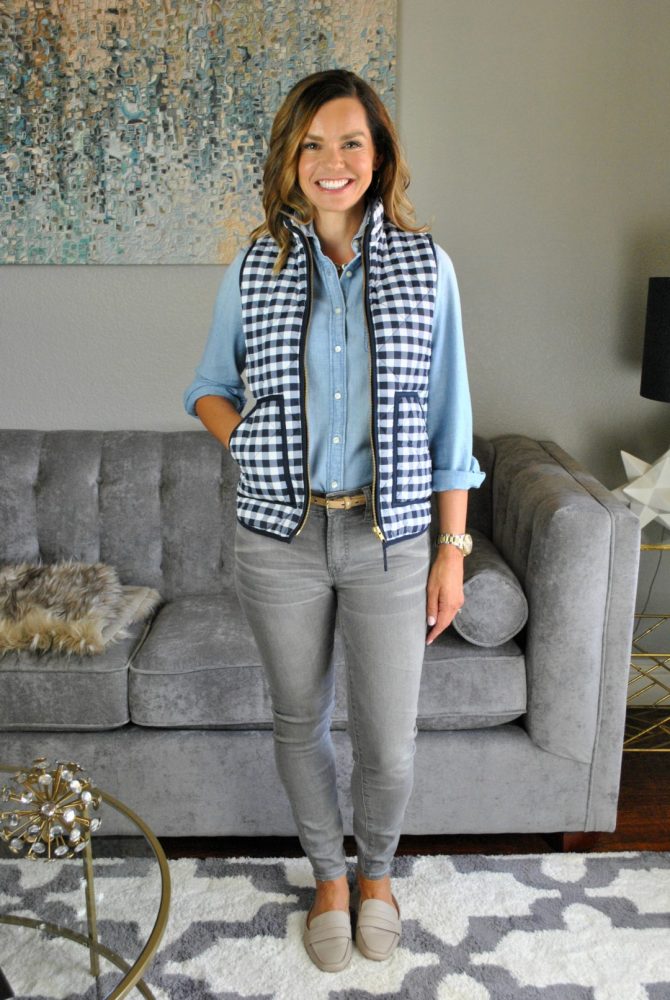 If you don't get a casual day for blue jeans, try this outfit. It feels relaxed yet looks semi-professional. 
Add a jean shirt to slim pants in any color. Then throw on a vest! It can be patterned or plain, trim or puffy, neutral or a statement piece! You'll stay warm, look nice, and feel like you're wrapped in a blanket all day.
7 – Printed Teacher Shirts
Kids love those fun teachers…become a cool teacher by wearing a teacher-appropriate and student-friendly printed shirt! Wear them around your students, grab some for your entire team, or pick a certain day for all of your co-teachers to style similar outfits! Your students will be beside themselves with giggles and joy.
Here are a few inspiring phrases!
Elementary school:
Middle and high school:
All ages:
Get comfy and professional!
Teachers, you can blend the best of both worlds: style and comfort. Browse your closet to see what existing pieces already exist in your wardrobe so you can compile a few of these teacher-approved outfits!
Don't forget to buy new wardrobe pieces from our MomFabulous shop!
Are you reading this during the winter semester? You may also like: January, February, March, April, or Mid-Winter outfit ideas. Plus what to wear any day of the month!