Get the Look Celebrity Edition — When it comes to new celebrity moms, America Ferrera is obviously one of our favorites. Between her bubbly personality, her amazing on-screen personas and her must-have style, we are always following what she's doing and what she's wearing.
America first stole our hearts in her iconic role in The Sisterhood of the Traveling Pants, and we haven't been able to get enough of her since. From Ugly Betty to How to Train Your Dragon, America can truly do it all! And on top of her acting career, America has also managed to maintain an active political life, fighting for women's rights and for support in ending sexual harassment around the world. In addition, she is also an investor in women's sports, helping found a Los Angeles-based franchise in the National Women's Soccer League.
To top it all off, America has done all of this while raising two beautiful children, too! This amazing woman can truly do it all. If you're like us and obsessed with America and looking for the perfect inspired outfits to emulate her iconic style, we're here to help. Here are some of our favorite outfits of hers and how to get them for yourself. Happy shopping!
OUTFIT #1 – THE CASUAL YET PROFESSIONAL LOOK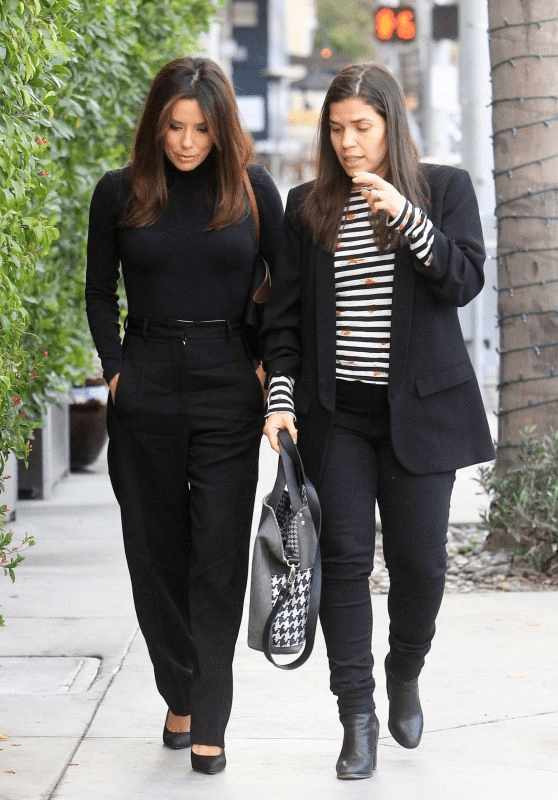 If there's one thing that America Ferrera does well, it's pulling off the 'all dressed up yet still casual' look. This outfit is the perfect example of this idea – we love how she's paired a tailored blazer with fitted pants and a bold striped shirt. And that cute subtle floral pattern on her top? To die for.
GET THE LOOK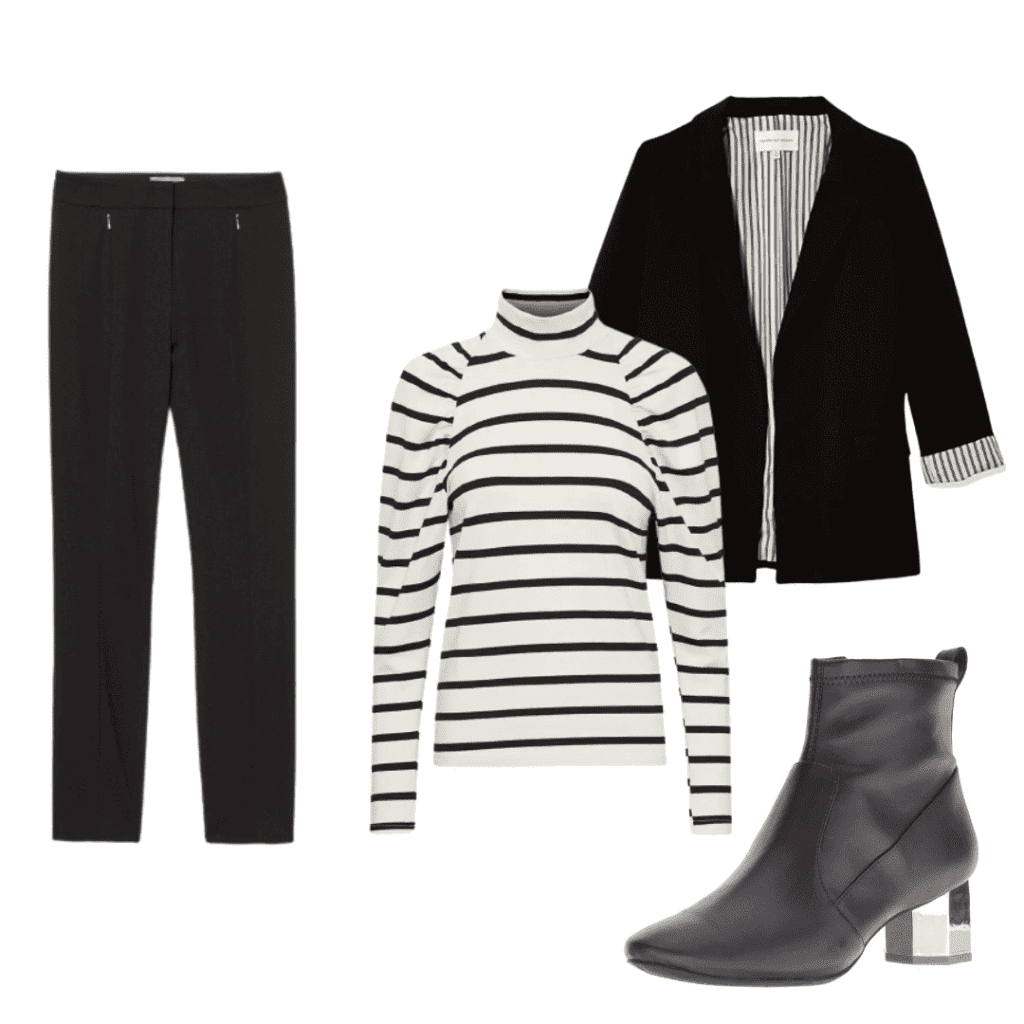 Grab this look for your own closet by finding the perfect Striped Turtleneck Top, adding a flattering Tailored Blazer and slipping on some Skinny Work Pants. Don't forget your favorite Heeled Ankle Boots!
OUTFIT #2 – THE ALL DRESSED UP AND EVERYWHERE TO GO LOOK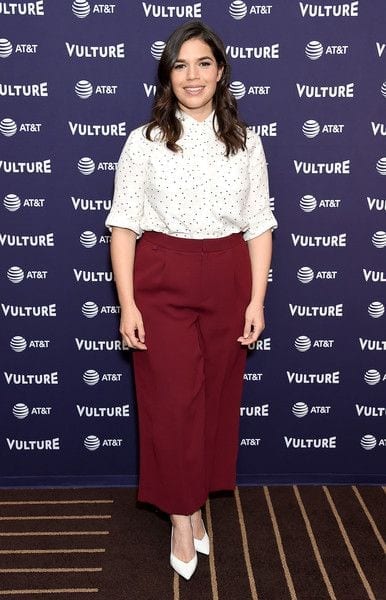 If there's one thing that America does well, it's that she can create amazingly versatile looks that will work for any situation. Take this gorgeous outfit for example – with a pair of heels, you're ready for everything from an award show to a night out at a high-end restaurant. Swap out the heels for some flats or sneakers and you can easily wear this look to work or to a parent-teacher conference.

GET THE LOOK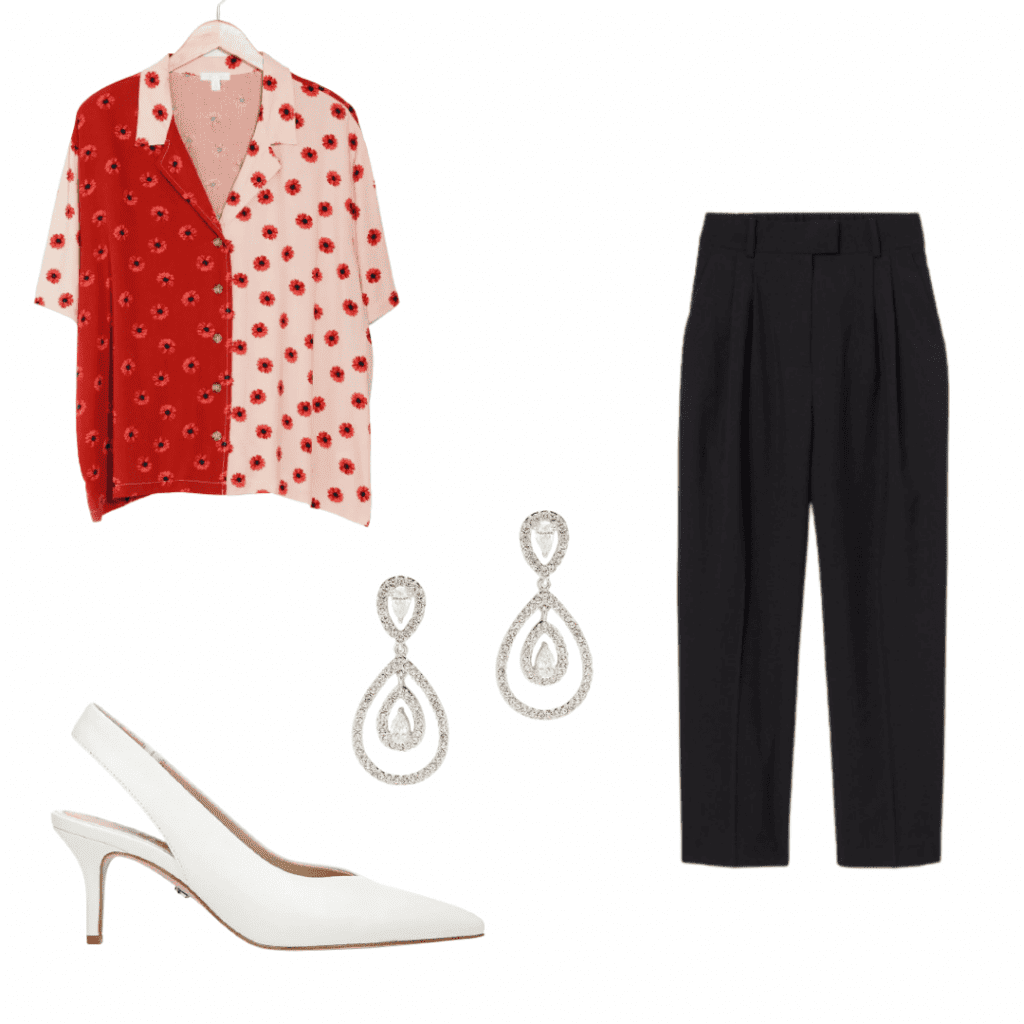 Create this versatile look for yourself by pairing a cute Printed Button-Up Shirt with a pair of Cropped High-Waist Trousers and some Simple Heels. Add a pair of Statement Earrings and you're ready for anything!
OUTFIT #3 – THE BOHEMIAN GLAM LOOK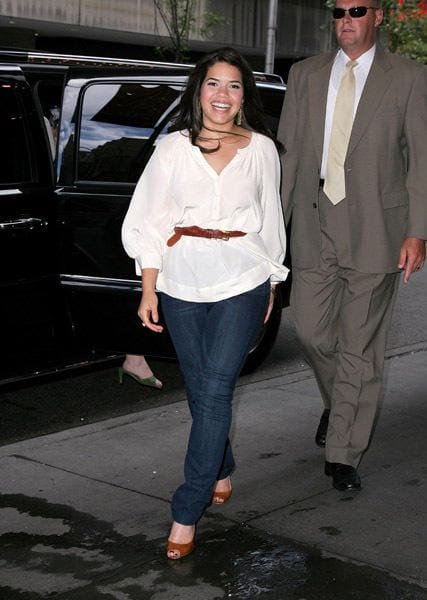 America is simply glowing in this amazing look! We all know – when you look good, you feel good – and this outfit is absolutely proof of that. Between the super chic flowy sleeves and amazingly flattering belt on that gorgeous top, we're totally sold. Paired with relaxed jeans and a pair of flirty heels? We need to add this look to our wardrobe ASAP.

GET THE LOOK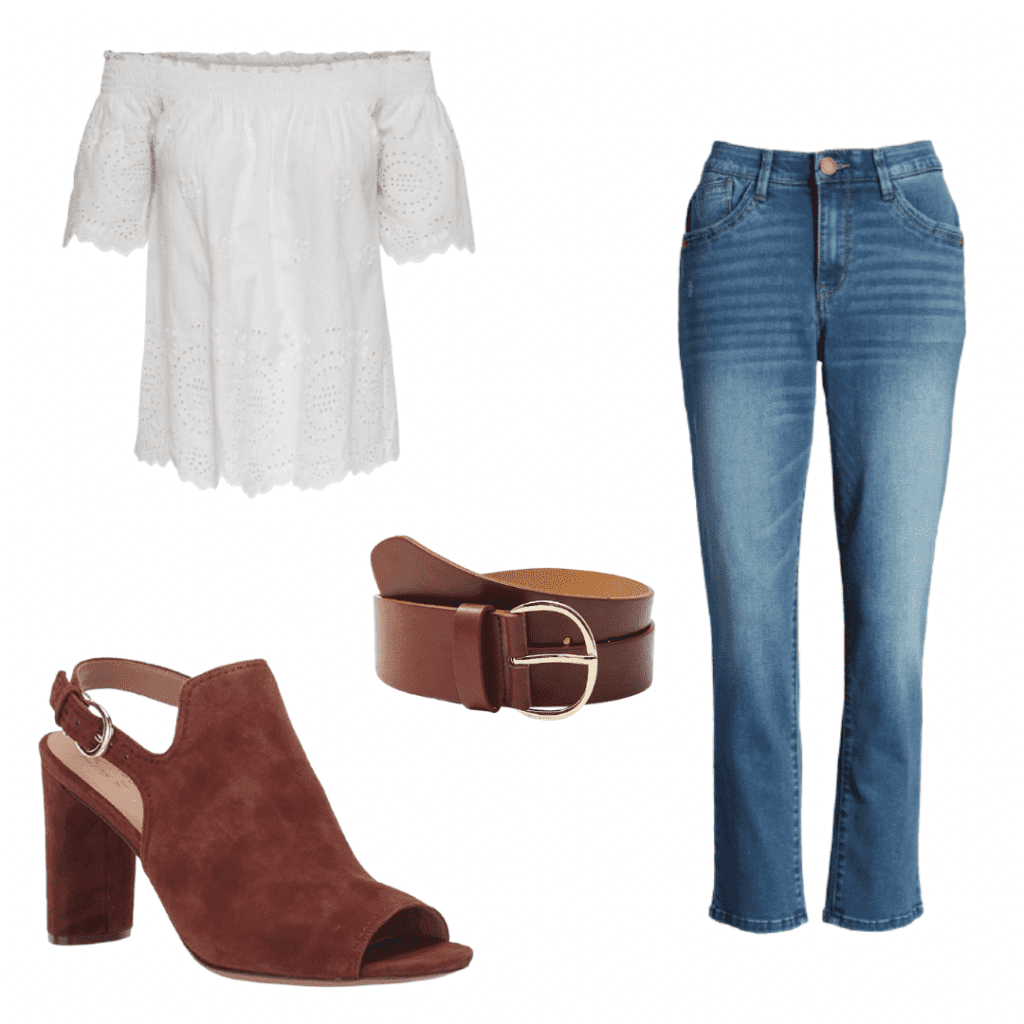 Steal America's boho look by slipping on a Flowy White Top, adding a pair of Relaxed Denim Jeans and a flattering Waist Belt to cinch it all in. Don't forget to put on a pair of Peep-Toe Pumps for the perfect finishing touch!

OUTFIT #4 – THE ON-THE-GO ERRANDS OUTFIT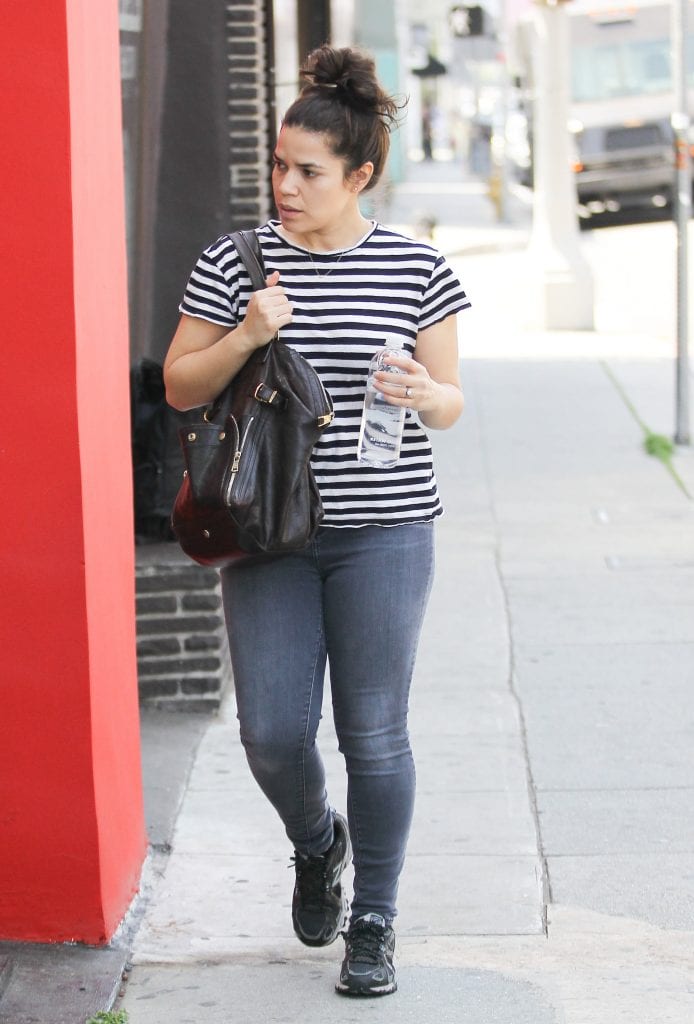 Seriously – how does America make running errands look so cool? We are absolutely head over heels for this 'cool girl on the go' look – it's so wearable and we can see ourselves rocking it for everything from getting groceries to grabbing the kids at school. There's just something about the perfect pair of fitted jeans and a striped top – we're all in for this look.
GET THE LOOK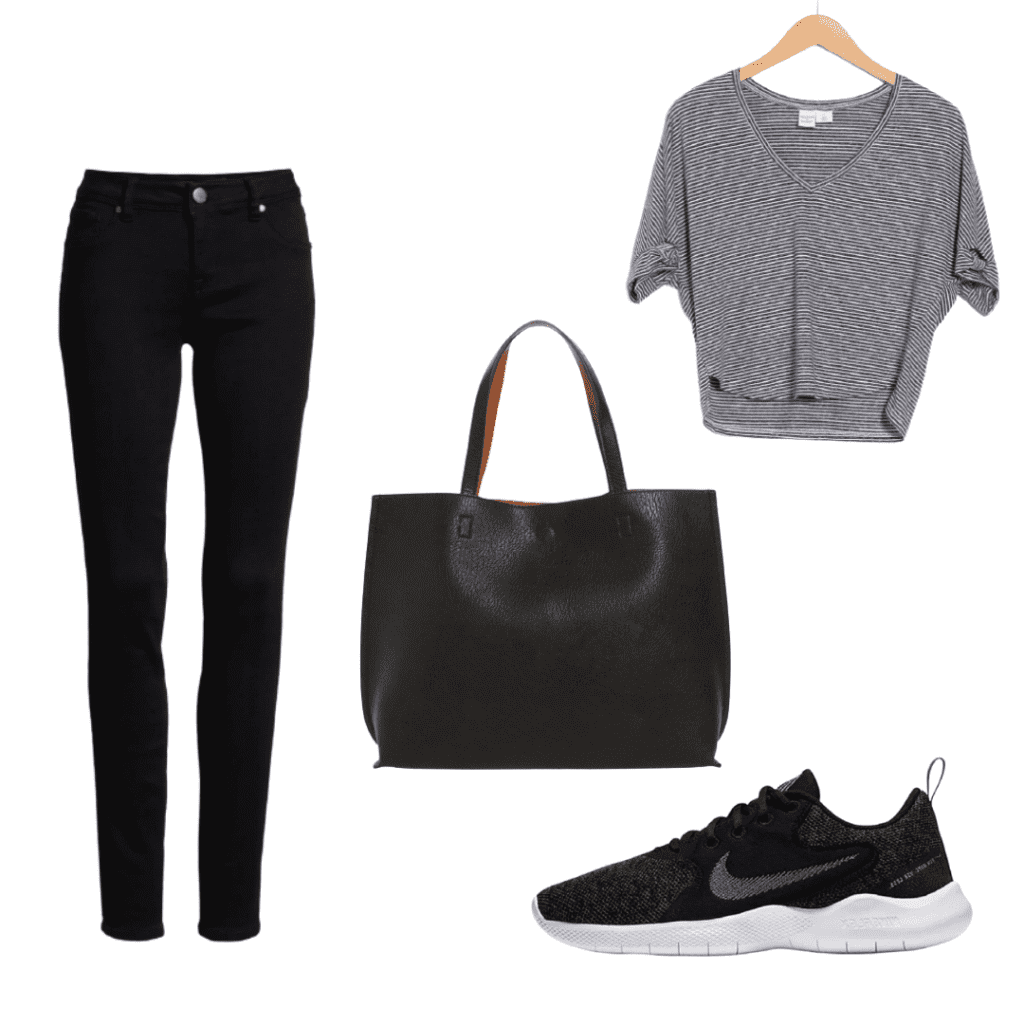 Get in on this amazing errand-running look by starting with a simple Striped T-Shirt, adding your favorite pair of Fitted Skinny Jeans, slipping on some Easy Trainers and grabbing an Oversized Tote Bag.

OUTFIT #5 – THE UNEXPECTED FORMAL LOOK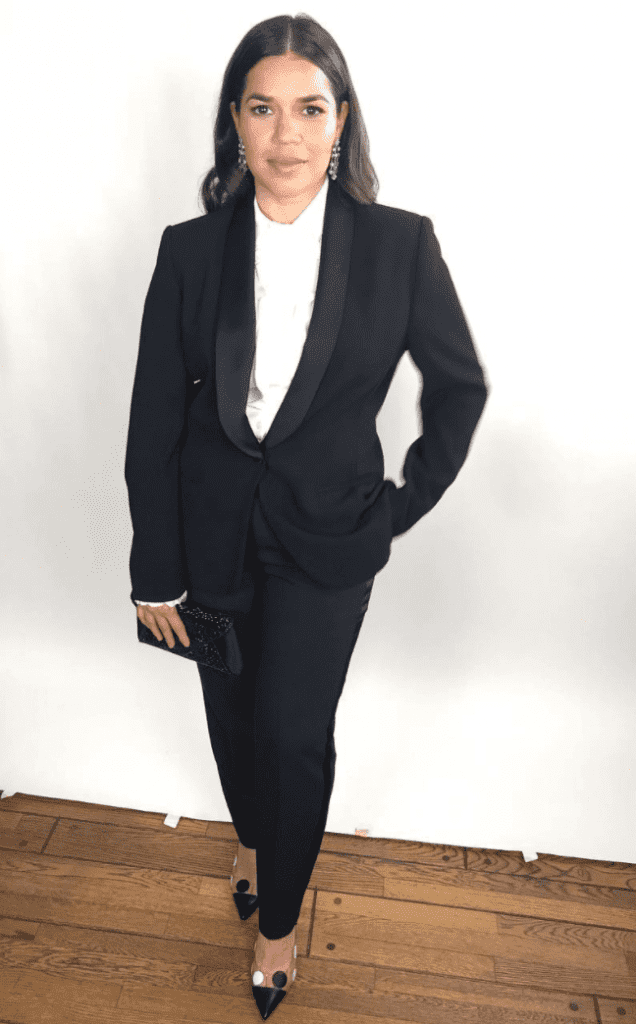 This amazing look by America is proof that you don't need a fancy dress to look amazing at your next formal event. Rather than going with the expected black-tie attire, America flipped it on its head and went for the perfect tailored tuxedo suit, complete with playful heels and gorgeous statement earrings. We'll be copying this look for our next big occasion!
GET THE LOOK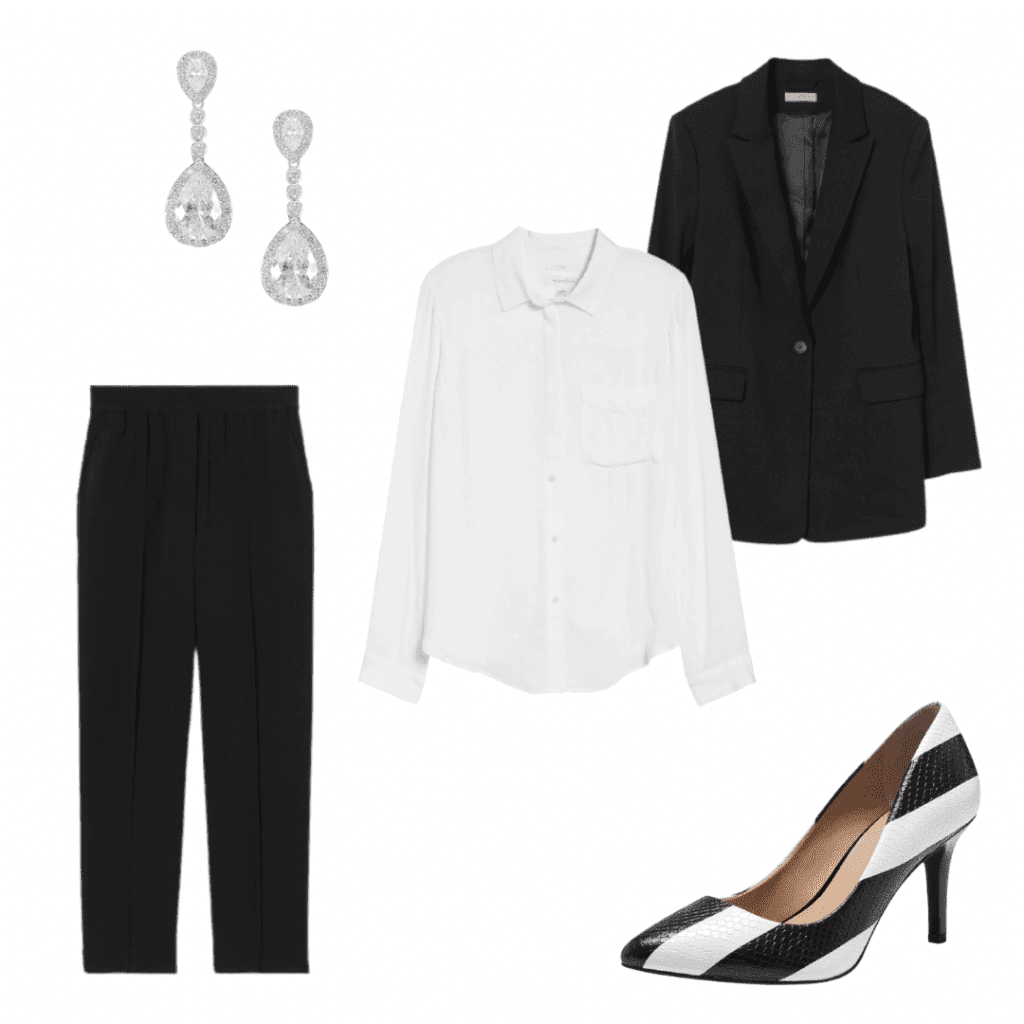 Snag this amazing unexpected formal look by finding the perfect Button-Up Shirt and Tailored Blazer, pairing it with some Slim Fit Pants and adding Playful Heels. Don't forget to slip on some Statement Earrings to finish out your look!