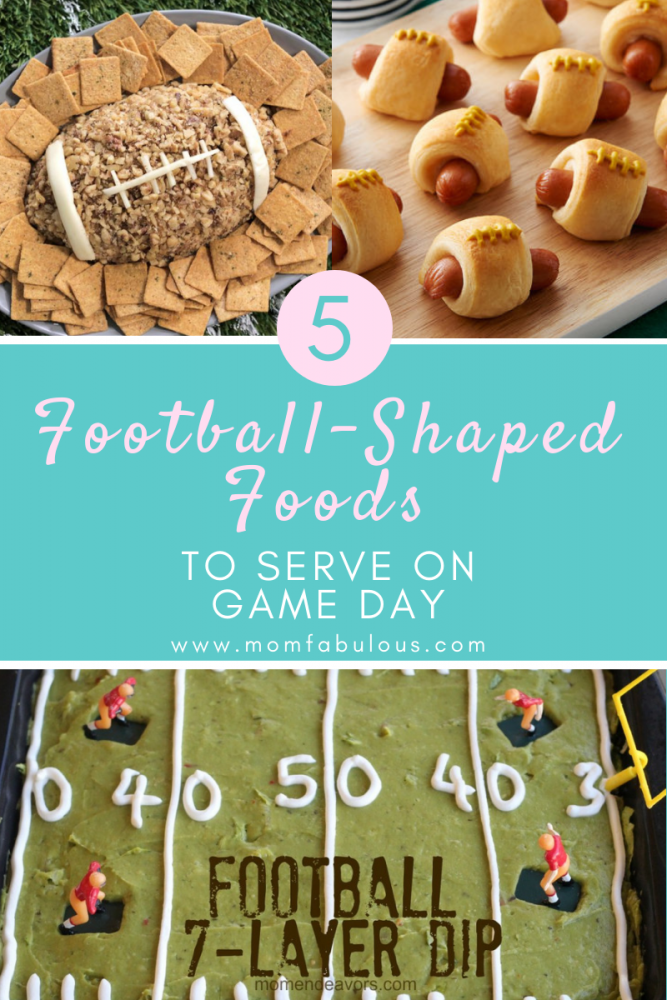 Watching an exciting football game with friends and family may be one of the best ways to spend a fall afternoon. Everyone's spirits are high as the root for their favorite team and celebrate epic victories. Oh, and it's the perfect time to munch on tasty food!
It takes too much time to grill out or prepare a real meal while you're trying to watch football. Which is why most families offer an assortment of heavy appetizers to enjoy throughout the entire game.
Take your snacks to the next level! The next time you host a football watch party, prepare these five football shaped snacks that root for your team to win!
#1: 7 layer dip designed like a football field
Who doesn't like a hearty dip? This classic 7 layer dip boasts beans and guacamole to keep bellies full, plus salsa, sour cream, cheese, tomatoes, and olives or green onions. But this isn't a typical 7-layer dip…this one is shaped like a football field! Serve it with salty tortilla chips for a satisfying dip that the whole crowd will enjoy!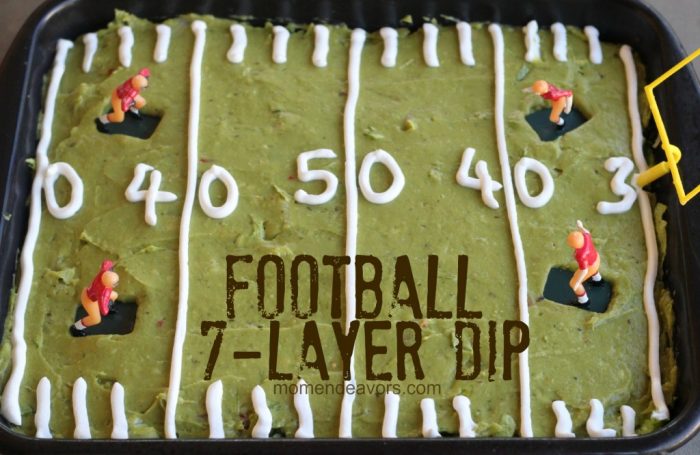 In a rectangular dish, layer the beans (refried, pinto, or black), then sour cream, then salsa, then tomatoes, then cheese, then the olives or green onions, and lastly the guacamole.

Decorate the green "football field" with field lines and end zones using the sour cream

. Tip: place a spoonful of sour cream into the corner of a sandwich sized zippered bag. Snip off the edge to pipe the sour cream as lines and numbers on the field. 
#2: Football shaped cheese ball
Football games are the perfect situation for finger foods worth munching on all afternoon – like a cheese ball! But this isn't your typical cheese ball. Shape this one into an oblong oval, just like a football. Top with pulverized brown nuts to resemble the brown leather, and add a few slices of mozzarella cheese for the laces. Enjoy with crackers, tortilla chips, or pretzels – and a football game on television!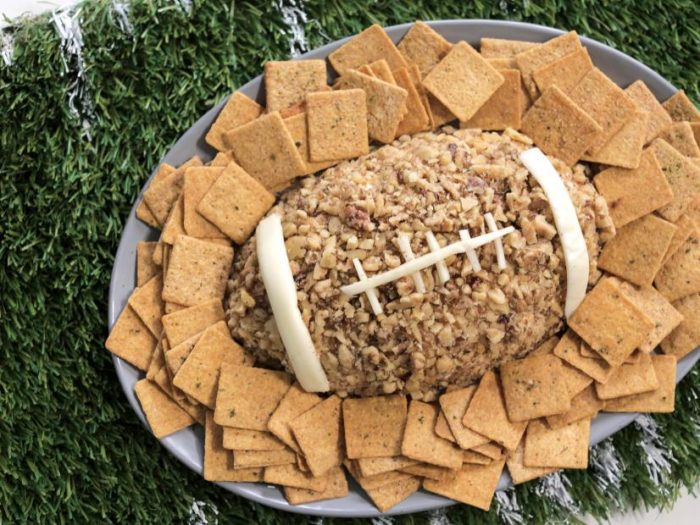 Using an electric mixer, combine 18oz of room temperature cream cheese with 12oz cheddar cheese, 2 tsp grated onion, 2 tsp chopped garlic, and 4 tsp worcestershire.

Refrigerate until firm, and then shape into a football.

Roll the football in chopped pecans (or nut of your choice).

Wrap in plastic wrap and refrigerate for at least 24 hours. 

Remove from the fridge 1-2 hours before serving to soften.
#3: Pigs-in-a-blanket footballs
Have you caught onto the theme of football shaped foods? If so, you will love these adorable mini football pigs-in-a-blanket! Follow the standard recipe of wrapping mini sausages into crescent rolls. After they are baked, top each one with stripes of mustard to depict the laces on a football. 
Wrap mini sausages (fully cooked) into crescent rolls. Place into the pan seam-side down.

Bake according to the crescent roll package directions.

Once baked, top each pig-in-a-blanket with mustard to resemble football laces. Draw a line down the center, and 4 perpendicular lines across the center line.
#4: Cracker with cheese and sausage (and a football flag on top!)
When in doubt, crackers and cheese and sausage are a foolproof snack to serve. Top a buttery cracker with freshly sliced cheese and a round of sausage. To stay in the football festive mood, top each one with a toothpick flag of your favorite team!
Layer cheese and sausage on top of a cracker.

Place a flag toothpick through the sausage and cheese.

To make a personalized flag toothpick, attach washi tape to the flat end of a toothpick and draw your team's logo. Alternative option: print of mini logos for your favorite football team, and tape around a toothpick as a flag.
#5: Hot dogs with ketchup/mustard stripes 
Hosting a football watch party with other families? Want something that you know all of the kiddos will eat? Try these hot dogs. Prep hot dogs and place them into a bun, then draw football laces on each using ketchup or mustard!
Cook hot dog according to the package instructions.

Lay a hot dog in each bun.

Top each hot dog with a strip of ketchup or mustard, and perpendicular stripes to look like football laces.
Which football-shaped foods will you try first?
Which game day recipe will you try first on your game day menu? The hot dogs and cheese dip are the easiest to make, but the 7-layer dip and pigs in a blanket are sure to make your guests smile. And the football flag craft is the cutest way to support your favorite team!
P.S. You may also like these 8 winning super bowl appetizers, or these Game Day party bags and decor!