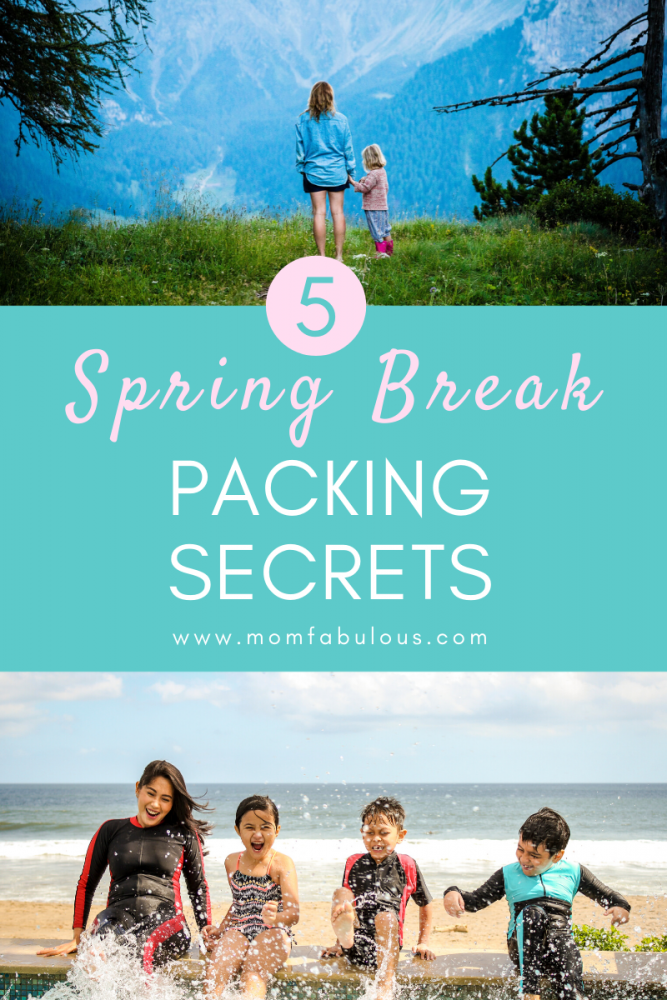 Spring break is just around the corner! Are you dreaming of afternoons on the beach? Morning hikes in the mountains? Evenings spent playing games with your kids?
Before you jet set off for your trip, Mama needs to pack up all of the supplies. 
That's an overwhelming task, but these 5 spring break packing secrets will help you get the job done efficiently–allowing for a much smoother trip!
1 – Don't bring the whole bottle
You probably know this one, but you still doubt it's validity. Isn't it easier to just bring one giant bottle of shampoo for the whole family to share? Wrong! For a few reasons:
You can purchase a giant bottle once you arrive, saving you space in your luggage to bring other items. You can even leave it there after your trip.

You can each bring one small bottle and that should be sufficient for the week.
Head to WalMart or Target or The Dollar Store to snag travel-sized bottles. Or save ones from a recent stay in a hotel. Or use contact lens cases.
Pack one bottle of shampoo and one bottle of body wash per person for the week.

Don't forget about a mini bottle of conditioner, shaving cream, hair spray, or contact solution!

Bring your liquid makeup in contact cases (they won't spill and it's the perfect size to dip your finger or makeup brush in).

Have the family-sized bottles of toothpaste? Give each person a contact case of toothpaste for the week.

Plan to purchase sunscreen once you arrive, or bring one mini bottle of sunscreen per person.

Vitamins, pills, and other liquids can also be stored in mini bottles or contact cases.
Hint: Use a Sharpie marker to label your bottles and contact cases!
2 – Bring layers.
The wind can get chilly on the beach at night. The mountain air has a crispness to it once the sun sets. And the AC is blasting inside every restaurant that doesn't have an open-air patio. So layers are a good option.
This probably equates to one pair of pants and one light jacket per person, and perhaps an extra undershirt as well. Sandals may be fine, but a closed shoe, like sneakers, could provide extra warmth.
Scarves are a cute fashion statement but can also double as a head scarf (to keep your ears warm and your hair out of your face) or a mock shawl. And yes, your kiddos can wrap themselves up in it like a blanket if they need some warm snuggles.
3 – Pack a color palette.
Every Mama who has scanned Pinterest for travel ideas has heard about color palettes. Essentially, don't bring everything in different colors. By packing according to a palette, all of your pieces can easily mix-and-match. 
The same applies to your kiddos. If your daughter loves pink, bring all the pink options for shirts and dresses, but opt for darker colors on the bottom (think jean shorts and black skirts). The same is true for boys; your son will look fantastic in his arrays of red and orange shirts, so khaki, jean, or black bottoms will always coordinate.
By keeping a minimalistic color pallet in your wardrobe, you can add accents of color with your jewelry, shoes, bags, and other accessories. 
4 – Don't pack for "just in case"
There are plenty of shops at your tourist destination. The grocery stores and pharmacies will have what you need. The only exception: emergency medication. A smart Mama always has ibuprofen and Benadryl packed.
Otherwise, you can do laundry, buy another pair of flip flops, grab another towel, or pick up a few more beach toys once you're there. Same is true for sunscreen, hats, and games. In fact, some tourist shops have the best family games and activities!
No need to pack an extra outfit just in case (except for potty-training toddlers). You can do laundry or purchase anything you'll need once you arrive. Save your hubby some extra weight in the luggage…since we all know the men carry the heavy bags. He will thank you!
5 – Give each person their own bag
Having one bag per person may take up a bit more space, and even hassle of transporting luggage, but there is a gratifying simplicity in knowing that everyone has their own bag. Your clothes can be packed according to your standards, and your husband can toss what he wants into his bag.
Kid's clothes are small, so you can even pack their toys, books, and other essentials in with their clothing. This even eliminates fighting over who brought which toys!
Bonus tip: Packing cubes
If you've never heard of packing cubes, now is the time. They will transform your life!
Meet your suitcase's best friend: packing cubes!
Enjoy your Spring Break!
Spring Break is the perfect time to get away with your family, to rest, create memories, and to relationally engage with your kids. Keep your packing simple so you have more time to be with the ones you love!
Want more Spring Break tips? We've got you covered!