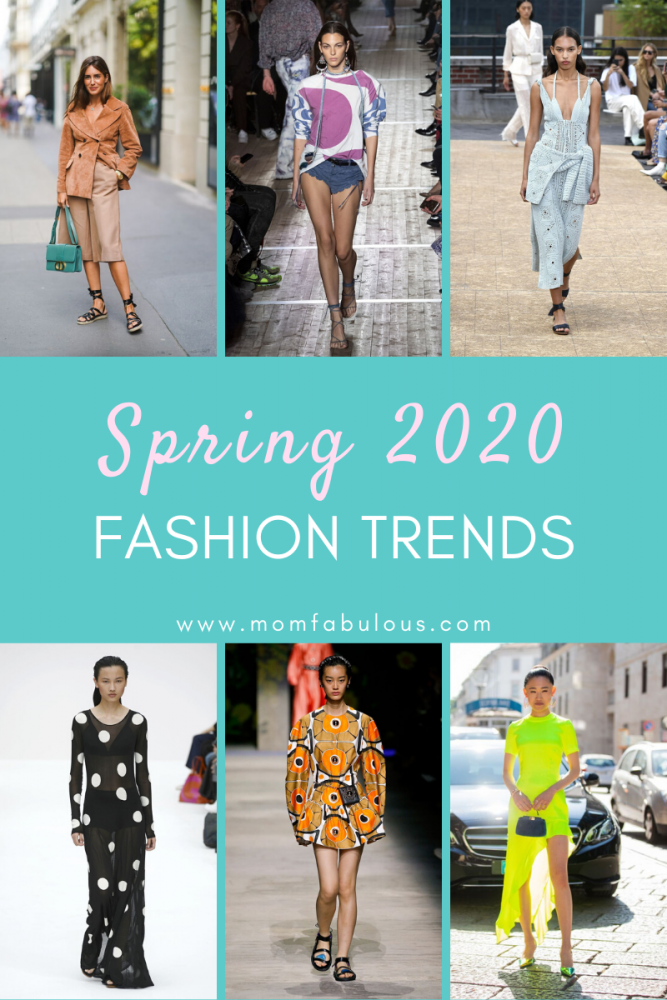 Spring is here, and so is a new round of fashion trends! This season is slightly anti-typical. You won't see floral prints anywhere, but you will see retro patterns everywhere. Pastel hues aren't common, so neon colors will pop up instead. Modest Easter attire will be tough to find because short shorts, bralettes, and sheer fabrics are what's popular. Except for the rising trend of Bermuda shorts, which is a huge win for Moms!
Try something new this season, like a feathered shirt or leather jacket. Relive your past with a 90s style polka dot dress or crochet top. Borrow something vintage from your Grandma's closet reminiscent of the 60s or 70s.
Keep reading to discover the colors, patterns, fabrics, and styles that will be rampant the 2020 Spring fashion trends.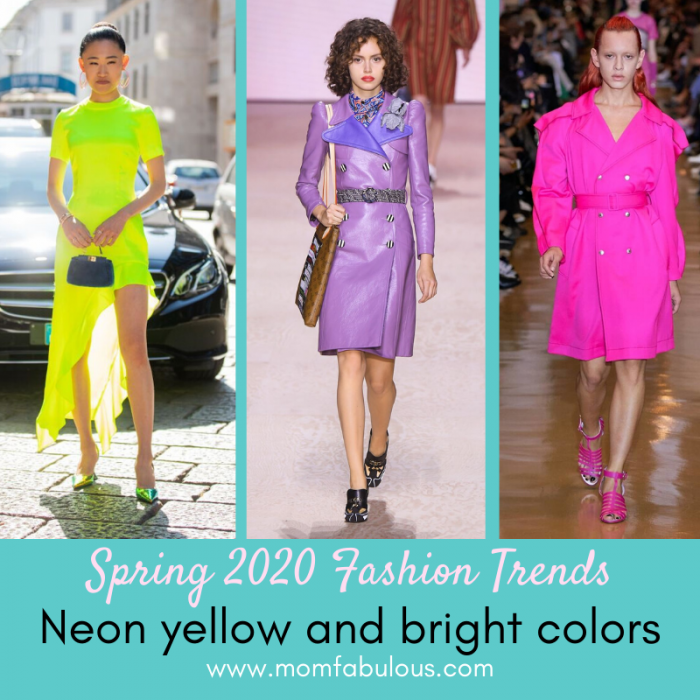 Colors: Neon Yellow and Bright Colors
Neon yellow

. Pull a highlighter out of your desk and sample it on a piece of white paper. That's the exact shade of yellow that you're searching for in fashion trends this season. You'll see a plethora of neon dresses and casual shirts this season.

Bright colors

. Along with neon yellow, upgrade the traditional pastel Spring colors into a more vibrant shade to stay with the latest fashion trends, especially green, pink, and purple. These colors are relevant for everything from shoes and jackets to shirts and skirts.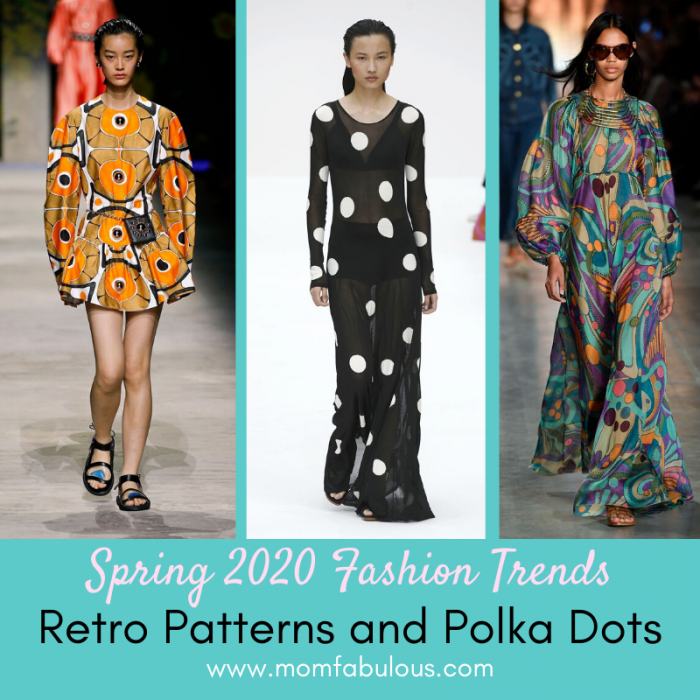 Patterns: retro and polka dots
Retro patterns

. Bye-bye florals, hello retro. Channel your abstract 60s prints and psychedelic 70s patterns into your Spring wardrobe. Send your grandma into a time capsule back to her youth and gain inspiration from her wallpaper and vintage dresses.

Mom Fabulous tip: Sit with Grandma over Easter break and look through old photo albums with her. She will enjoy your company and you can scope out the patterns that are back in style.

 

Polka dots

. The bigger the dots, the better. But any kind of polka dot will do because top designers can't get enough of this trend. So yes, it's acceptable to wear that old polka dot dress that's been hiding in the back of your closet.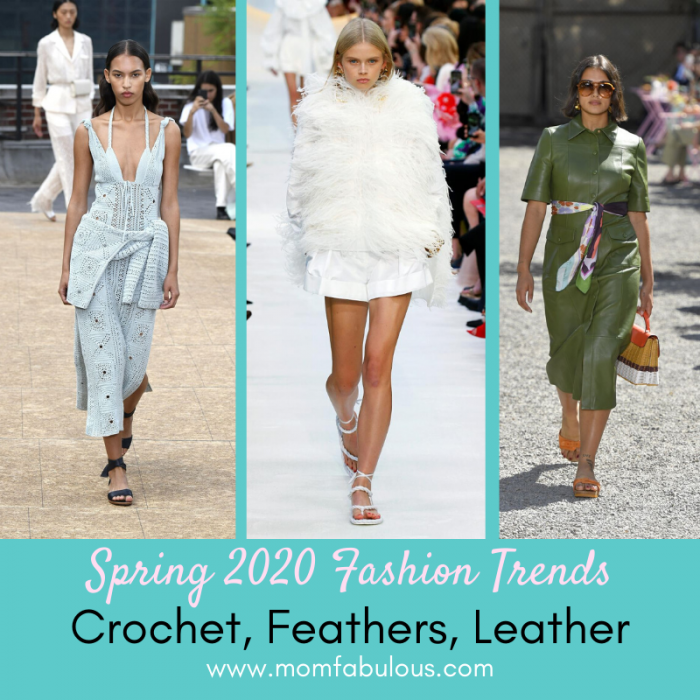 Fabrics: Crochet, Feathers, Leather
Crochet.

Crochet is for more than the beach. This easy and effortless look can apply to shirts, cardigans, and even dresses. Don't hesitate to dress it up or down, and definitely look for flowers knitted into the pattern to emphasize Mother Nature's burst

in Spring.

Feathers

. Transform a simple top into one that's flirty, fun, and fabulous by adding feathers. A small ruffle is a nice touch, but an entire blouse is fitting for Spring as well. Of course, the longer the feathers the better. But shorter pile feathers are also in right now.

Mom Fabulous tip: Are you too self-conscious to wear a fluffy, feathery shirt? Find one in a neutral white or cream, then pair it with classic blue jeans and a simple pair of flats.

Leather

. Nothing else this season screams Spring more than colorful leather. Leather jackets in traditional pastel hues are a must-have staple for your outerwear this year. Waist-length is the most popular right now, but so are business style suit jackets and trench coats.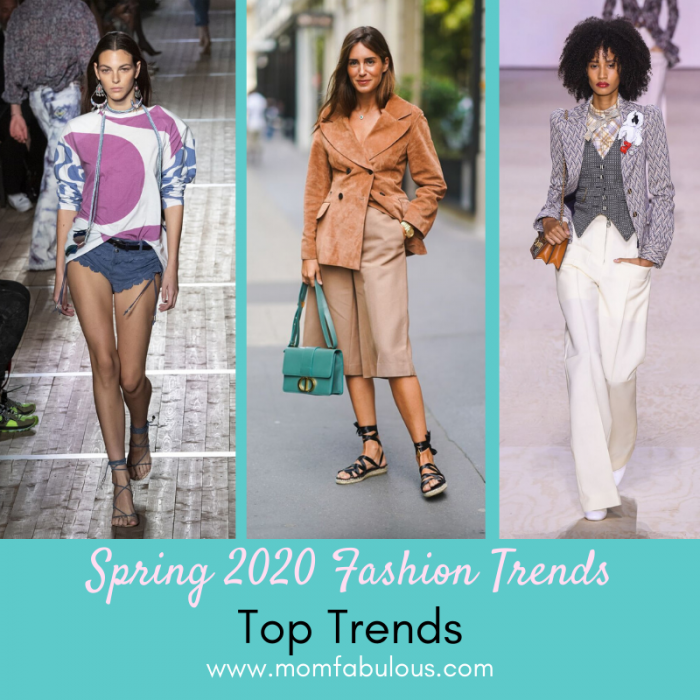 Top trends: Short Shorts, Bermuda Shorts, Suit and Waist Jackets
Short shorts

. "Who wears short shorts? We wear short shorts!" Hot pants are back in action–and the shorter the better. They can be tight or baggy, as long as you reveal some leg. Bonus if you can add a scalloped hem or a patterned fabric like satin or leather.

Mom Fabulous tip: Don't feel comfortable in short shorts? Try wearing tights or leggings underneath. Or skip the trend altogether, because Bermuda shorts are also popular!

Bermuda shorts.

Short and long shorts are ironically all the rage this season. Bermuda shorts are a Mom's best friend. Find a pair in your favorite color, or go with the classic blue jean look. In fact, dark fabrics and business style plaid patterns are how most women will be wearing Bermuda shorts this Spring.

Mom Fabulous tip

:

Bermuda shorts naturally make you appear shorter. Only wear these with flats to combat that. And minimal sandals or slim shoes pair better than chunky flats.

Suit and waist jackets

. Although Spring brings sunshine and warmer weather, a light jacket is still needed. Which is why suit jackets and waist jackets are all the rage. Opt for ones that hit below your hip bone and include a belt. Extra fashion points if you can also wear a vest with your jacket, which is another popular style this season.
Hello Spring!
Are you glad this season is a break from the ordinary florals and pastels, or are you excited to bounce along with the new trends? Are you ready for a flash from the past or hopeful for the new feathery styles? Are you grateful for Bermuda shorts or all over the hot short trend?
No matter your preference, this Spring fashion has something for every Mama. Branch out and wear a new piece, like a top with feathers shirt or bright colored leather jacket. Revive your favorite trends from the past like a classy polka dot dress or an airy crochet tank. Make your Grandma proud in your vintage patterns or modest shorts.