If you think glitter, glitz and glam are great for the Christmas tree, but not so much for your makeup, you might just change your mind when you have a look at these five Holiday makeup looks. They actually seem quite doable!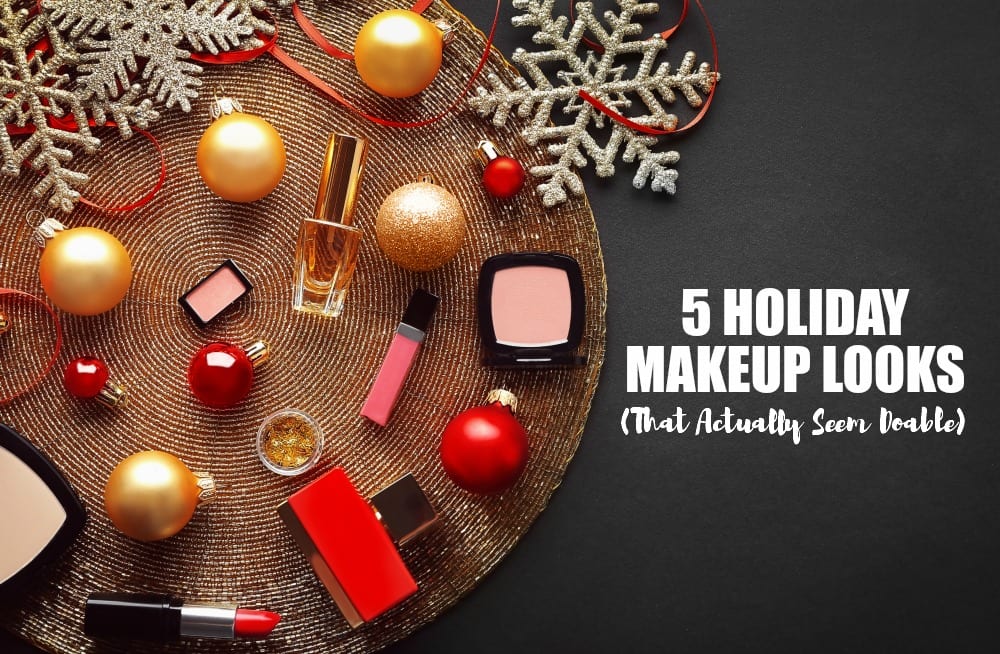 I don't know about you, but in the past when I've been invited to a Holiday party, I've spent way too long deciding what I'm going to wear and never thought about my makeup or hair until it was actually time to do it. I remember all too well one time trying a new smokey eye look and failing miserably, which resulted in having to start over completely on my makeup. That was the first and the last time I tried a smokey eye.
Now, I aim for simplicity and looks I've tried before – with maybe a tad bit of glitter here or some glam there. I feel pretty and dressed up more than normal, plus I'm not stressed out. What's the moral of this story? Practice before the party and go with what you feel comfortable with. Also, simple is usually best!
Here are five holiday makeup looks I found that actually seem doable, as well as product recommendations.
This post contains some affiliate links for your convenience. Click here to read my full disclosure policy.
5 Holiday Makeup Looks
Beauty Products mentioned below:
I love this idea because I immediately thought 'I smudge my makeup on accident all the time – I can so do this!'.  She recommends using a long wear eyeliner. Two of my favorites are Laura Mercier or Nars.  Next, you'll want a sparkle eyeshadow you love. I've used L'Oreal Paris Infallible in several colors and love the shimmer and pigment. You can see all of the colors they have here. The step is two coats of your favorite volumizing mascara and you're ready!
Don't let the seven step process of this eye tutorial scare you away! It's just a little bit of layering with some gorgeous colors; ending with eyeliner and mascara. We can handle that, am I right?
The best way to get this look is to use an eyeshadow palette with complimenting colors. Here are a few I found that would work perfectly:
Rose Gold Eye Makeup and a Red/Pink Matte Lip
In this video tutorial, she shares several makeup techniques, but the gist of it is the gorgeous eye makeup tutorial with the rose gold eye makeup and the red/pink matte lips. When you're headed to a Holiday party, this is your chance to step it up a notch! Adding some rose gold elements to your eyes is a fun way to do just that.
For her eyes, she's using the Natasha Denona Star Eyeshadow Palette, which is…wait for it…$169 at Sephora. Eeek! If you'd like something a little less expensive, buy Wet n Wild Color Icon Eyeshadow Collection 738 Comfort Zone shadow palette and the Anastasia Beverly Hills Modern Renaissance Eye Shadow Palette. Cost? $48 total.
For her red/pink matte lips, she uses Charlotte Tilbury Matte Revolution Lipstick – The Queen which is $32.
Nude Smokey Eye How-To
Have you seen Cover Girl's Eye Shadow Quads in store and online? I have and I've been tempted to try them, because as I said above, I have had dismal luck with the smokey eye look. But they make it look so easy and their quads have all you need to achieve the look!
I'm definitely tempted to try this Notice Me Nudes Palette and follow their step by step process.
Holiday Party Makeup + Outfit Ideas
Ingrid Nilsen is just the cutest and I love her simple yet festive makeup idea in this video tutorial. Personally, I would skip the winged liner and go for the simple lined eyes, but the rest of it is beautiful. I also love her outfit ideas. The white sweater, black pants and red heels are such a classic!
I hope these tutorials have given you some Holiday makeup inspiration! If you have any favorite tutorials or products, please share in the comments below. Happy Holidays!