Happy Wednesday! If you're looking for a wrap pullover sweater that comes in gorgeous colors, I have just the one for you. The Julia Wrap Pullover from J. Jill's collection is a perfect item to add to your work wardrobe. Use code DEC16 to get 25% off at checkout!
It comes in burgundy, red, black, grey and prussian blue – the color I'm wearing. The front softly drapes over and as you can see from the photos, you will have to wear a camisole underneath or pin it closed, as the front does not stay together.
One of my favorite features of this pullover is the ribbed trim at the waist and cuffs. It lays perfectly over my slacks and gives my outfit a nice feel. I have a pencil skirt I'd like to try this sweater with next; also from J. Jill.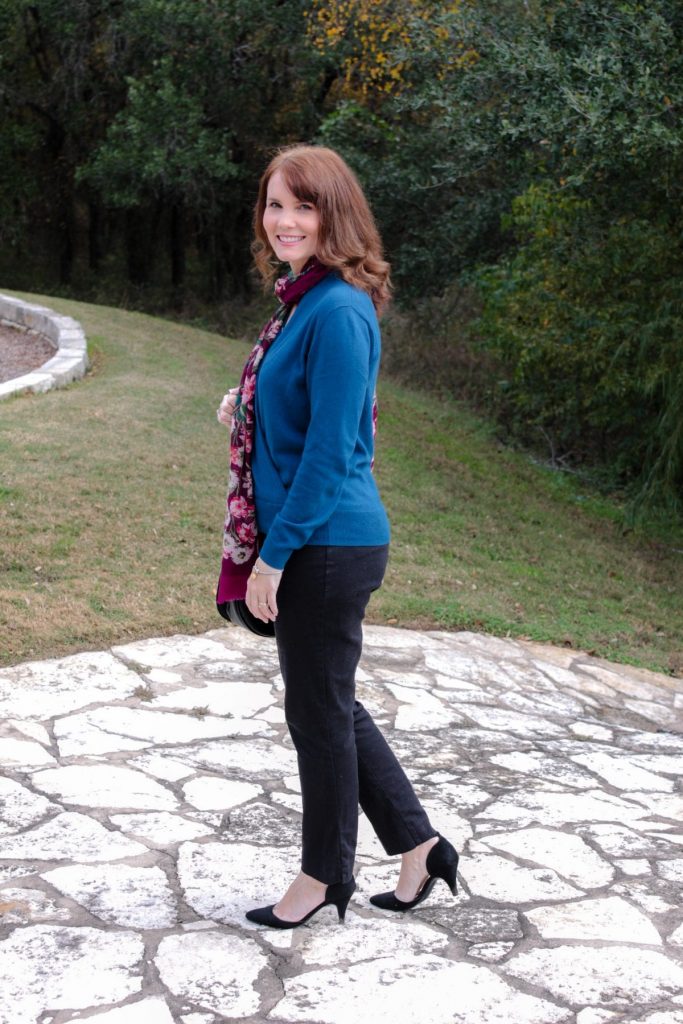 The scarf I'm wearing is J. Jill's Compassion Fund Floral Scarf. 100% of the net proceeds from their exclusive Compassion Fund scarf will provide support to community-based organizations that help disadvantaged and homeless women become more self-sufficient. Not only is the scarf beautiful, but it supports a beautiful cause.
You can purchase a scarf here.
Outfit details: Wrap Pullover Sweater | Black Slacks | Scarf | Heels (similar)