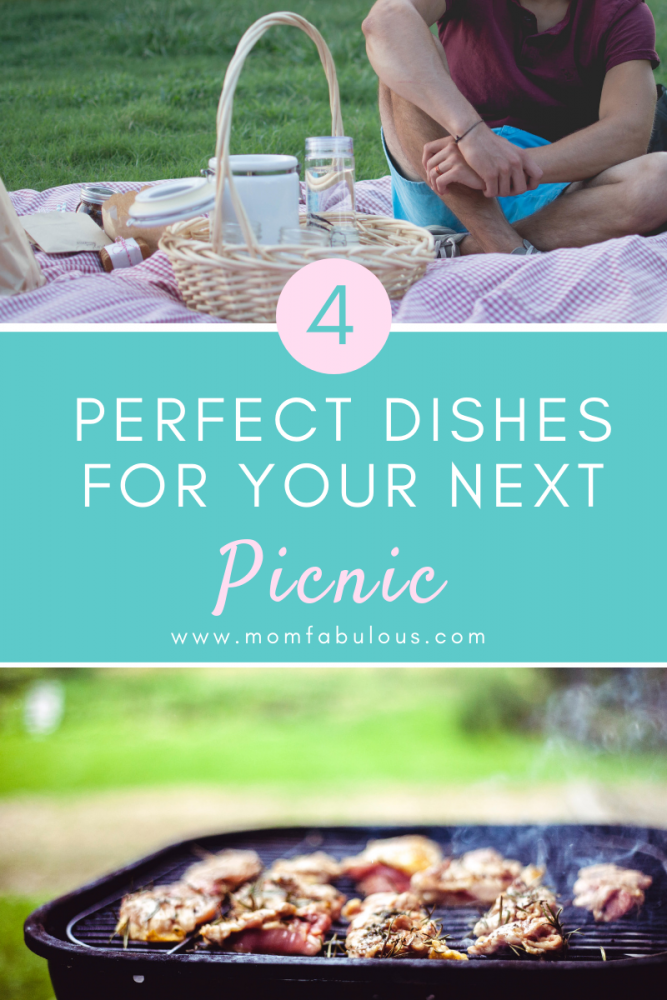 It's always a dilemma of "What do I cook?" – whether your summer includes family cookouts, neighborhood block parties, church potlucks, company barbecues, pool parties, or a family dinner at the park.
These simple ideas will resolve that resounding questions of "What do I bring?" Try one idea, or experiment with all of them! The results will be the same: no more guessing what to prepare, how to pack it up, or if it's good picnic food.
1 – Foil-wrapped Pork Tenderloin
This main dish is bullet proof! You can make an herbed pork tenderloin for a fancier event, like a company barbecue. Try this one marinated in Dale's steak seasoning for your neighborhood block party. You can't go wrong with pork tenderloin combined with apples and onions either. 
Why pork tenderloin? Because you can cook the meat to be just slightly pink inside, and then wrap it up in the foil pouch to steam, trap the juices, and absorb even more flavor. Instead of sitting it on the kitchen counter to steam, you can bring that foil pouch in the car while you drive to your picnic.
Prepare a pork tenderloin on the grill, in your oven, in a crockpot, or in an instapot. 

While the pork tenderloin is cooking, line 3 layers of heavy duty aluminum foil in a baking dish.

Once the pork tenderloin is finished cooking, transfer it to the foil. Add a few spoonfuls of the juice to the foil as well.

Tent the foil over the pork tenderloin, and tightly roll the edges together to form a seal.

Travel to your picnic with the meat wrapped in foil. When it's time to serve, carefully open the foil pouch and slice into 1-2 inch thick slices.
2 – Towel-covered Potato Wedges
Kids of all ages love french fries, so these homemade potato wedges are a crowd pleaser for birthday bashes and pool parties. Plus, you can season these a million different ways.
If you're making more than one batch of potatoes, slice them in different ways to keep them separated. For example, the plain salt and pepper ones can be sliced like wedges, Provencal ones can look like round discs, while the cajun potatoes could be sliced like thin fries.
3 – Hot or Cold Skinny Spinach Dip
Not sure if you'll be inside or outside at this event? Wondering if you were supposed to bring a main plate or a side dish (or anything at all)? Concerned that people have food allergies? Then this is the best picnic food to make!
It's fast to prepare (win for a busy Mama). It can be served hot or cold (and taste delicious either way). It's mostly allergy-friendly (no gluten, eggs, soy, or food dyes).
Skinny Spinach Dip
12 oz bag of frozen spinach, thawed
¾ cup Greek yogurt, plain
2 cloves garlic, minced
? cup mozzarella cheese, shredded or roughly chopped
½ cup Parmesan cheese, shredded
Salt to taste
Optional: pinch of red pepper flakes
Preheat oven to 350 and grease an 8×8 baking dish.

Using a towel or paper towels, ring out all excess water from the spinach.

Combine all ingredients in a bowl until fully mixed, then evenly spread out the mixture in the baking dish.

Bake for 30 minutes until bubbling and slightly brown.

Serve hot or cold with chips, crackers, or sliced veggies.
4 – Frozen Watermelon
When the weather is hot, nothing could be more refreshing than watermelon…although an alcoholic beverage or ice cream cone come close! But watermelon is the perfect thing for a family picnic or pool party or a simple dinner in the backyard.
The key is that the watermelon must be ice cold. And to make that happen, you can slice the watermelon and then freeze it. Yep, you can freeze watermelon! 
It's a tasty frozen treat if you enjoy it fresh out of the freezer, but it will still be quite cold even if it's thawed (like while you're driving to the company party or waiting for the meal to be served at your neighborhood block party).
Slice the watermelon with the rind attached for easier eating. Classic triangles work, but so do sticks.
No more questioning "What do I bring?"
Now you have 4 go-to picnic options, which means you never have to show up empty handed or spend the brain power considering what to bring and how to safely transport it there!