These 10 anti-aging beauty products will not only give you a mini spa-like experience, but they will also help with those lines and wrinkles you've earned.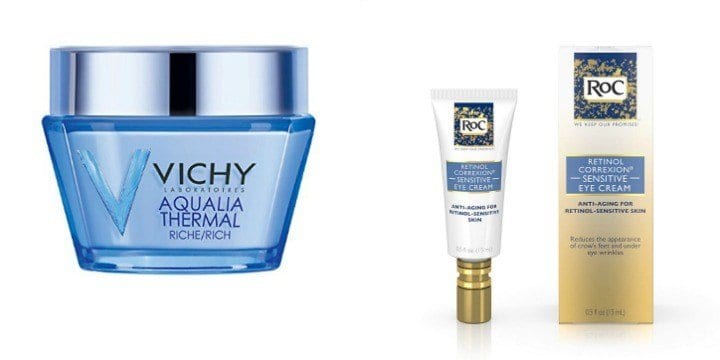 Now that my kids are older (one in college, one about to graduate high school and one about to enter 8th grade), I have a little more time to focus on myself. And while I look back at their younger years and smile, I must say I am truly enjoying this new season of life. Can you relate?
One of my favorite things to do in the evenings is to get out my container of beauty products and decide what I'm going to treat myself to. Will I do a mask? Maybe try a new eye cream? Or how about some much-needed exfoliation?
Do you do the same thing?
These mini spa moments in the comfort of your own home are not only fantastic for your skin, but for your self-care as well. Let's treat those lines, wrinkles and other fun skin aging issues with the care they deserve, shall we?
If you're interested in anti-aging beauty products, you might also like these related posts on Mom Fabulous:
10 Anti-Aging Beauty Products That Are Perfect for Your Alone Time
These 10 anti-aging beauty products are all different price points. Some are ones you can find at Target or Walmart, while others are luxury products and cost a bit more.
Best Anti Aging Eye Cream
1.RoC Retinol Correxion Sensitive Eye Cream, .5 Oz ($11.60)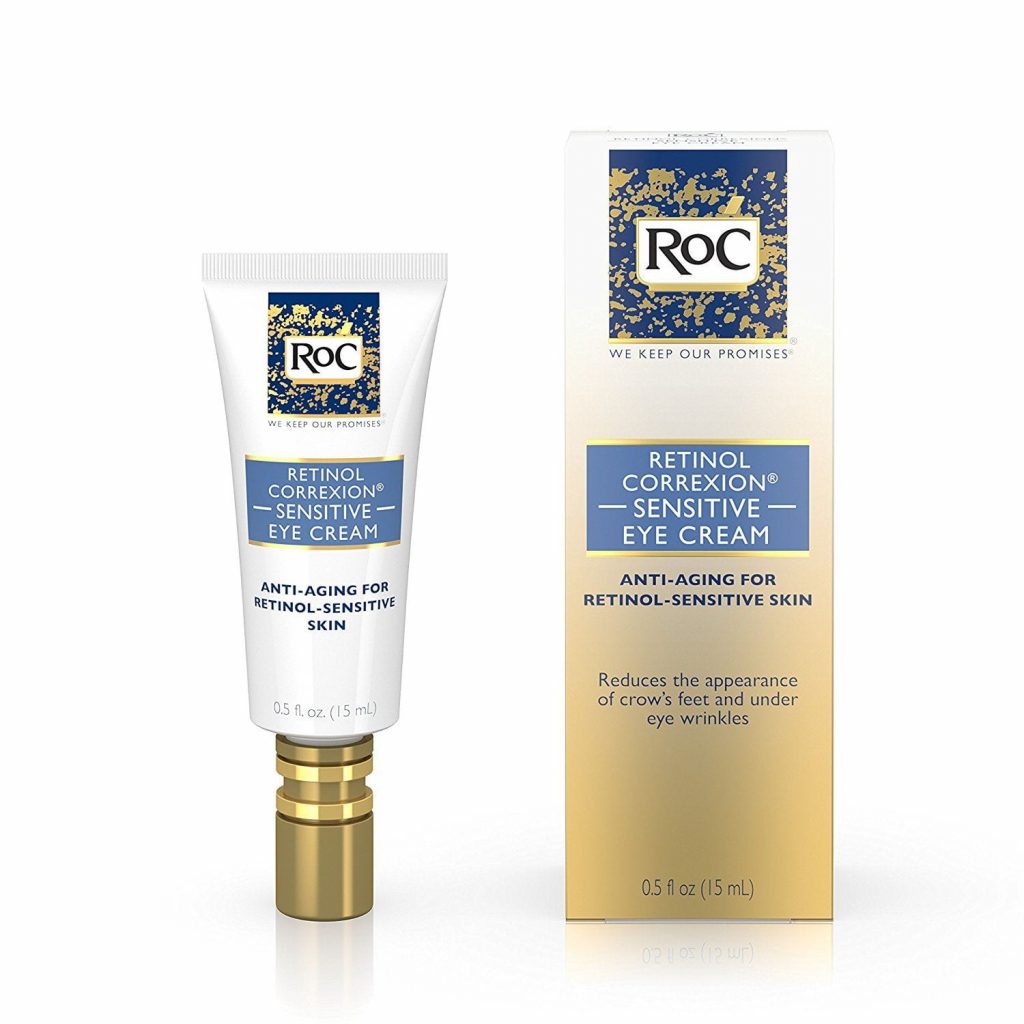 I am a firm believer in retinol products for anti-aging and skin health in general. I started using a retinol cream several years ago and it changed the tone and texture of my skin dramatically. So the next step was to add an eye cream with retinoids. This brand is my favorite so far.
If your skin is not used to retinol, this is a great eye cream to start with. It's specifically designed for skin sensitive to retinol or for someone who has never tried it before.
Description: "RoC Retinol Correxion Sensitive Eye Cream for Anti-Aging is a milder retinol formula that helps condition skin to retinoids. Specially designed for people whose skin is sensitive to retinol or who have never tried retinol, this milder anti-aging formula helps reduce the look of lines and wrinkles around the delicate areas of the eye."
If you've never used a retinol cream around the eye area before, start by applying a small amount every other day for two weeks. If you notice no sensitivity, then you can start applying it every night.
2. Olay Professional Pro-X Eye Restoration Complex Anti Aging 15 mL ($37.47)

Olay knows a thing or two about anti-aging products and they are a company at the forefront of science. This product contains Caffeine and Niacinamide (Vitamin B3) and is designed to help treat the delicate eye area by improving the look of crow's feet. Massaging it in reduces excess fluids to diminish dark circles and puffiness.
I haven't personally used this product, but have heard good things about it. I've used their Hydra Firming Cream which I LOVE and will talk about in a minute.
Best Anti Aging Serum
3. Pure Hyaluronic Acid Serum ($10.40)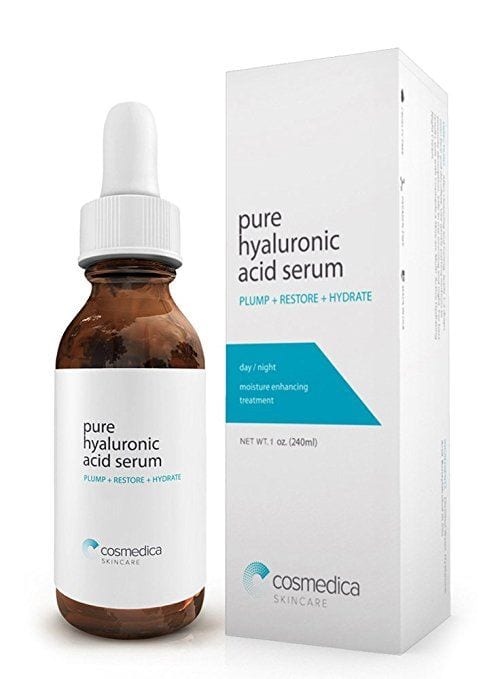 Around the same time I started using a retinol cream at night, I also started using a hyaluronic acid serum in the morning. I like how the serum soaks in and doesn't leave my face greasy. It also has a plumping effect which I noticed almost immediately.
Description: "Pure Hyaluronic Acid Serum Offers Effective Hydration and Anti-Aging Benefits. for a Youthful Appearance to Skin. Fix uneven skin tone. Heal dryness on face with intense hydration. Skin plumping properties help reduce fine lines and wrinkles. Instantly brighter complexion."
After I'd been using both the retinol cream and the hyaluronic acid, I went to get a facial someone had given me as a gift. The esthetician commented on what great skin I had and let me tell you, no one has ever said that to me! I was thrilled that a professional noticed how great my skin had become. It was proof the products were working, which made me very happy.
Best Anti Aging Cream
4. Olay Professional ProX Hydra Firming Cream Anti Aging 1.7 Oz ($29.97)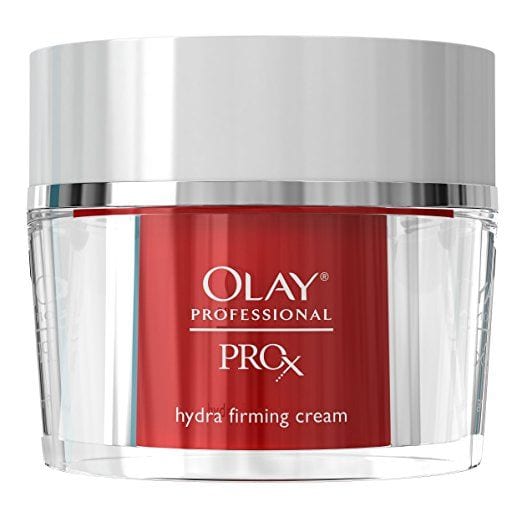 As I mentioned above, this is one of my favorite anti-aging creams. I like to use a cream in the winter months when my skin gets ultra dry. I use this one at night only and let it soak in while I sleep and work its magic.
Description: "Pro-X Hydra Firming Cream is professionally designed as a primary solution that helps optimize elasticity and firmness by plumping and locking in moisture. And as with all Pro-X products, it has been designed and tested to resignal skin to perform more like it did when it was younger. And younger-acting skin means younger-looking skin."
5. Vichy Aqualia Thermal Rich Cream 48 Hour Facial Moisturizer with Hyaluronic Acid ($31.00)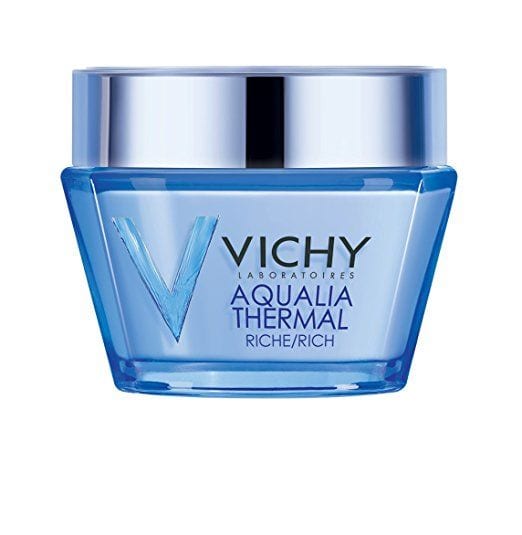 I was first introduced to the Vichy brand last year when I started using their Gel Moisturizer. I used it in the summer and loved how cool it felt on my skin and the immediate comfort it gave me after being in the sun. I was recently sent another one of their products from Amazon to try out – this time is was their rich cream.
This cream is exactly what my dry/sensitive skin needed and I really like that it has hyaluronic acid in it. French beauty products have become quite popular here in America and this company was founded in France in 1931. It's the #1 Anti-Aging Brand in European pharmacies.
Description: "Reinvented with advanced Dynamic Hydration technology to help distribute and lock water in all facial zones, preserving the freshness of beauty. Formulated with Hyaluronic Acid and Aquabioryl known to replenish the skin with hydration and form a protective film. Contains fortifying and soothing Vichy Thermal Spa Water. Paraben-free."
Best Cleansers
6. La Roche-Posay Toleriane Purifying Foaming Face Wash Cleanser ($14.99)

I'm still a firm believer in the double cleansing method because of the changes I've seen in my skin. One of the best things we can do for our skin when it comes to taking care of it as we age is to cleanse it well at night. Removing all traces of makeup and impurities from the day, allows your skin to breathe and to soak in the anti-aging products you put on. A good cleansing preps the skin for all the love you're about to give it.
I've been experimenting with all different types of cleansers and trying to find ones that are gentle for my sensitive skin but do a good job. Amazon sent me La Roche-Posay Toleriane Purifying Foaming Face Wash Cleanser to try out and I really like it. For me, a cleanser with a good foam is important.
I still start my nightly skin routine with coconut oil and next use a foaming cleanser.
Description: "Toleriane Purifying Foaming Cleanser is a new generation of daily cleansing. This refreshing foaming cleanser leaves skin feeling clean, fresh, and comfortable with no pore-clogging residue. Its infused with:
– Ceramide-3: an essential ceramide naturally found in skin.
– La Roche-Posay Prebiotic Thermal Water: with hydrating, soothing, and antoxidant properties.
– Glycerin: a moisturizing agent that naturally attracts water to skin.
– Niacinamide: a form of vitamin B3 with soothing properties."
Best Anti Aging Face Masks
7. [TONYMOLY] I'm Real Mask Sheet Pack of 11 ($11.07)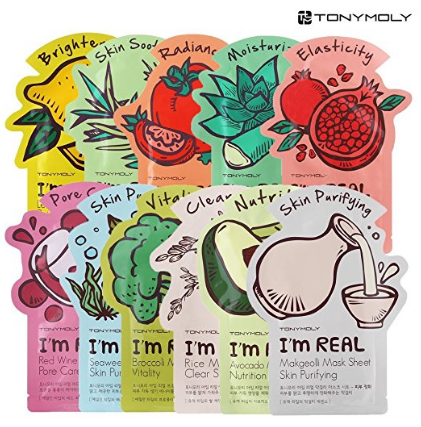 Ever since I started doing the 10 step Korean skin care routine, I have come to absolutely love sheet masks. I've noticed a difference in the texture, tone, and firmness of my skin within a couple of treatments. Because I have naturally dry skin, I need all the help I can get in the moisture department. These sheet masks infuse my skin with moisture, giving my skin a nice glow. As I get older, my skin only gets dryer, so making sure I incorporate a mask into my weekly routine is a must.
TONYMOLY has become a favorite brand of Korean sheet masks here in the U.S. Their I'm Real line features a nice variety of masks that help with skin purifying, clear skin, vitality and more.
How to use: After cleansing and toning apply the sheet mask for 20-30 minutes, then remove mask and pat remaining product into the skin.
8. Vichy Double Glow Facial Peel Mask ($20.00)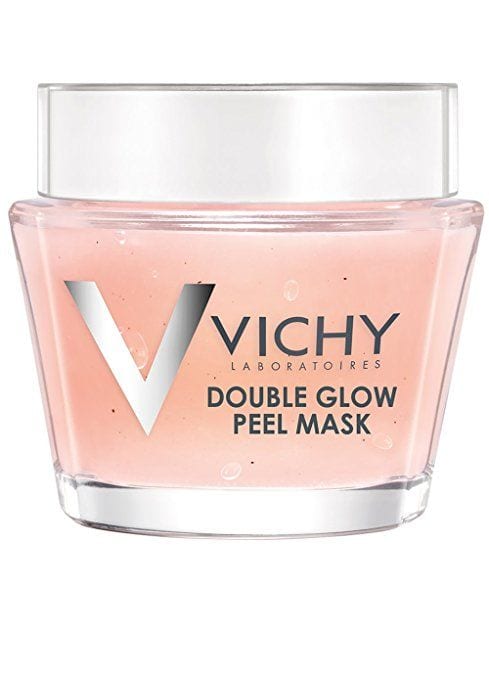 This face mask from Vichy has recently become one of my favorites. As skin ages, it becomes duller and it needs a little help to bring out its radiance. I like this mask because it's lightweight, you only have to leave it on for 5 minutes and it has exfoliation built right in. The exfoliation is actually volcanic rock crushed into ultra-fine powder.
Description: "Formulated to brighten dull skin through a double-peel action. First, the chemical action of AHA [fruit acids] helps remove dead cells. Then, the mechanical action of volcanic rock crushed into ultra-fine powder gently exfoliates skin. Combined with vitamin CG and Vichy Mineralizing Thermal Water to help smooth and strengthen skin."
If you like a mask that doesn't take very long and focuses on helping unveil your skin's natural glow, this is a perfect choice.
Best Skin Care Tools
9. Clarisonic Mia FIT, 2 Speed Sonic Facial Cleansing Brush System ($189.00)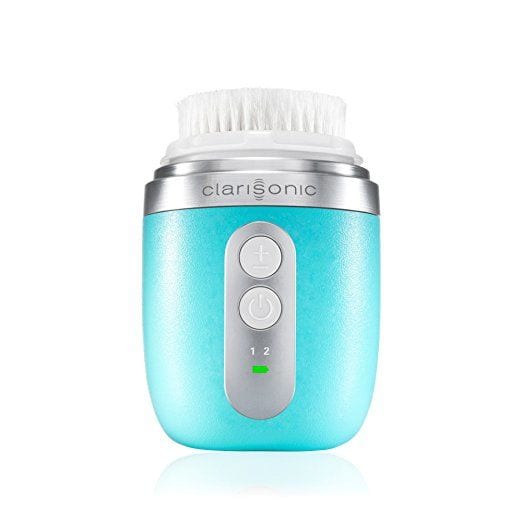 The MIA Fit has become my favorite skin care tool, although I've been warned to use it very carefully. There is such a thing as scrubbing too hard and the skin on our face needs to be taken care of gently. Having said that, I notice a difference when I use this as opposed to when I go without using it. It definitely brings out a glow in my skin, plus my skin care lotions soak into my skin better.
But what I notice more than anything is how much more even my foundation glides on and it stays fresh longer. I've tried a couple of other skin care brushes and this is by far my favorite. It is pricey, so think of it as an investment item or ask for it for your Birthday. 🙂
Description: "Remove makeup, dirt, sweat, and oil 6x better than hands alone with this gentle two speed face brush. Travel-sized face brush to take with you for after a workout. Extra speed for sensitive skin days. Includes 2 yr warranty."
10. Olay ProX Advanced Cleansing System with Facial Brush ($24.14)
If you've been wanting to try a skin care brush, but you don't want to pay the high price of the MIA Fit, this is a fantastic option and one that focuses on anti-aging. I haven't personally used this product, but it's a best seller on Amazon with an almost 5-star rating.
Description: "Take your facial cleansing routine to a whole new level. ProX by Olay Advanced Cleansing System delivers superior cleansing on hard-to-remove makeup. The 2-speed rotating facial cleansing brush massages the ProX by Olay Exfoliating Renewal Cleanser onto the skin. The lathering formula thoroughly cleans as it gently exfoliates. The system was professionally designed to deliver proven results."
They also have a microdermabrasion kit I'm anxious to try out. It features a Microdermabrasion Foam Head and self-warming Thermal Crystal Polisher for amazing exfoliation.
Do you have any tried and true anti-aging beauty products you swear by?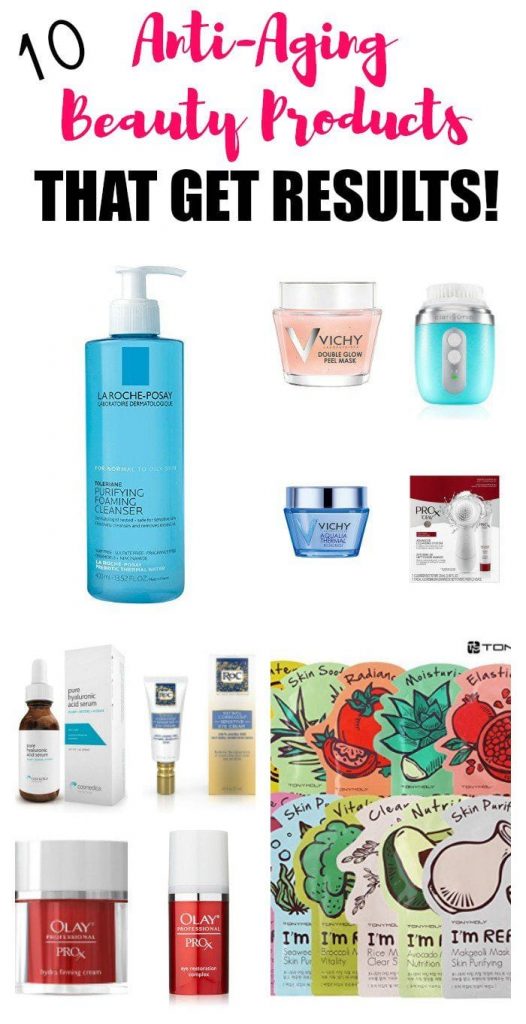 Disclaimer: Mom Fabulous received products in order to facilitate this post.