This is a sponsored post written by me on behalf of Sonoma-Cutrer Vineyards. All opinions are 100% mine.
Does the idea of hosting a wine party intimidate you a little? Let me tell you right now, it's easy! It's probably one of the easiest parties to have and you, the host, will look like you've got it going on.
I love wine. I love cheese. I love kicking back with friends and relaxing. That's what a no-fuss wine party is all about. Plus, it's about easy prep. Here's how to put together a girls' night wine party, the easy way.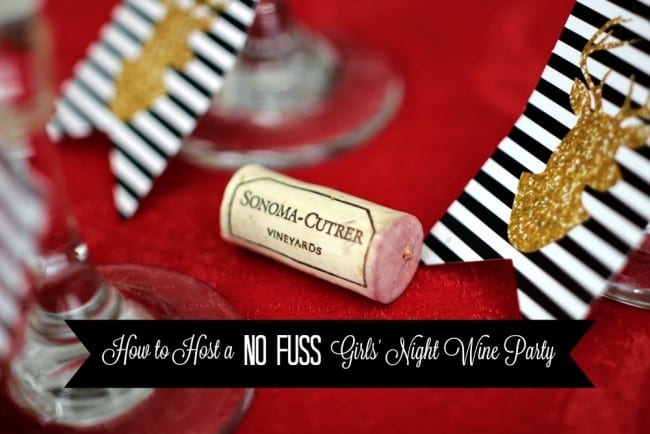 Start with a great wine
You don't need to know a lot about wine to choose a great one. You can either ask for help at your local store, or follow my advice and go with Sonoma-Cutrer Wines. I purchased their Pinot Noir and Chardonnay and am so incredibly pleased with the smooth taste of both. Have you ever had a red wine that bites you back? I like a red to go down smooth.
When in doubt, go with a Pinot Noir. It's a wine that is pleasing to the majority of people and it pairs well with numerous foods. I prefer it with salty foods; so for a wine party it goes great with salami or prosciutto. It also goes well with a number of hard cheeses.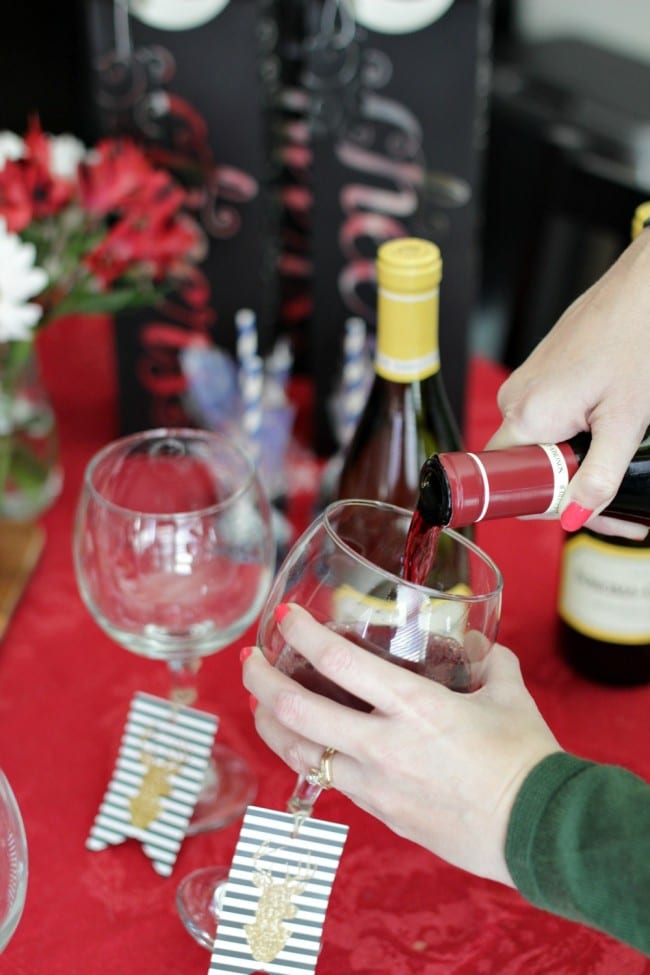 The Sonoma-Cutrer Pinot Noir has aromas of blackberry, dark raspberries and dark cherries. You'll also notice hints of cola, tobacco, licorice and baking spices. It's one of those wines that feels elegant going down your throat. I imagine you'll fall in love with it as much as I did.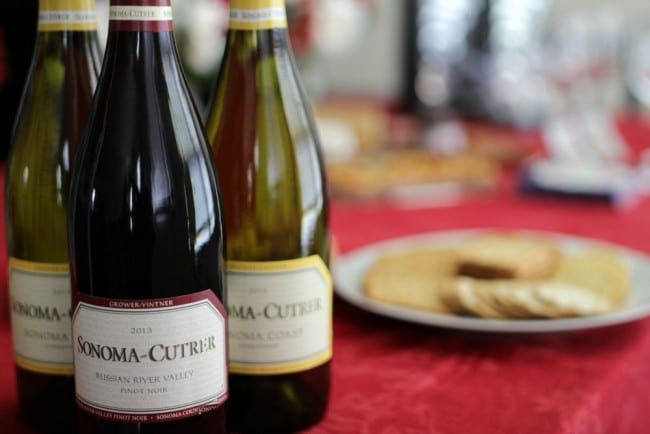 The Sonoma-Cutrer Chardonnay features fruit aromas of Golden Delicious apples, Bosc pears and white peach and is accented with oak spice, a hint of vanilla and has a light floral note to it. A Chardonnay goes really well with a soft Brie cheese, as well as mini quiches.
Serve easy prep food
When it comes to hosting a large meal in my home, I don't mind doing a lot of cooking. But when it comes to a wine party with girlfriends, I would prefer to be relaxed and not frazzled when they arrive.
For a simple cheese board, go with two hard cheeses and one soft. I had someone from the deli at our local store help me and within a matter of a few minutes, we had some amazing cheeses picked out. I went with a Brie, Asiago and a Raspberry cheese. I had some chalkboard labels and a chalk paint pen, so I use that to label the cheese. Everyone always wants to know what type of cheese you're serving, so make it easy on them.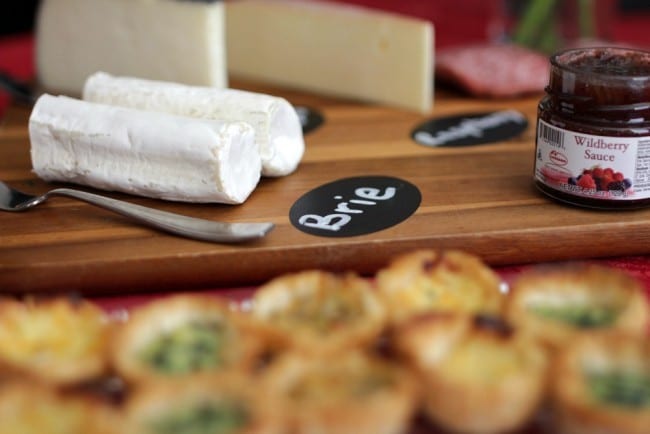 I served the cheeses with a selection of different crackers, a hearty bread and a wildberry sauce to top the cheeses. This sauce was the perfect addition. The mixture of the sweet sauce with the soft cheese and salty crackers was just wow. I also had a selection of three different salamis and mini quiches. Perfection!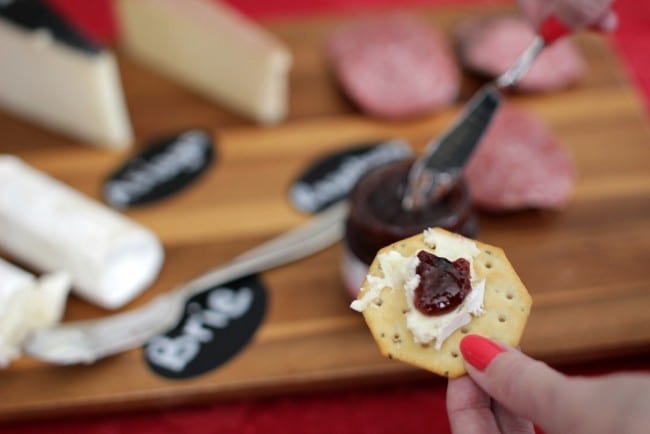 Fill in with simple decor
To me, when it comes to a wine party, it's all about the wine and food taking center stage. So I knew I wanted very minimal decor. I purchased fresh cut flowers and put them in mason jars. I made sure to choose one color that really popped. Red and white together are just gorgeous.
I already had my red table cloth out since it's the Holidays. That added such a bright punch of color. Last but not least, a chalkboard with some fun notes about the wine experience, some napkins I've been waiting for months to use and cute little tags on the glasses so everyone knows whose is whose.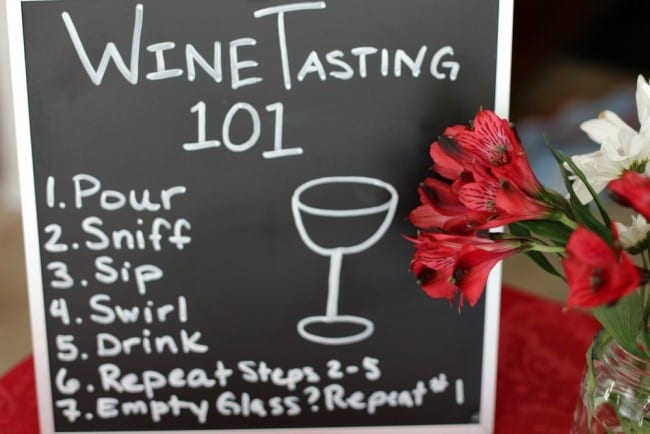 Send the girls home with a gift
Gift giving is my love language, which means I love to get gifts as well as receive them. I really like sending guests home with a little something, so I purchased extra bottles of Sonoma-Cutrer wine, plus some cake pops. Yum! The cake pops were already wrapped up nicely and I put the wine in gift bags. For ease of gift-giving, you can Shop Online for Sonoma-Cutrer Wines. Easy peasy.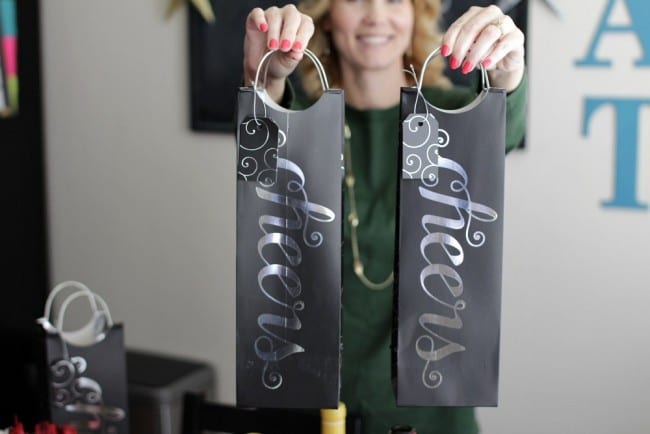 Did you like these wine party ideas? Are you ready to host your own? The Holidays are the perfect time to get together with friends and catch up on each other's lives. Doing it over a glass of wine and some delicious food sounds like perfection.
Cheers and Happy Holidays from my family to yours!