It's Wednesday, which means those weekend plans are already on your brain. Who am I kidding? Those weekend plans have been on your mind since Monday! With the warmer weather here, so are weekends away by the beach or pool. Packing a bag can be tricky for some girls and you do not want to be 'that girl' who brings 3 bags for 2 nights away. It is possible to pack all of the essentials in one gorgeous weekender bag. All you need are a few key pieces from your wardrobe, such as day to night sandals and easy breezy dresses. What about beauty items you ask? You're a beach babe now! So think minimal when it comes to your beauty routine. Maybe it's time to embrace your waves!
From the beaches to the pool, these items have you covered from head to toe – and they can all fit in one, yes one, bag.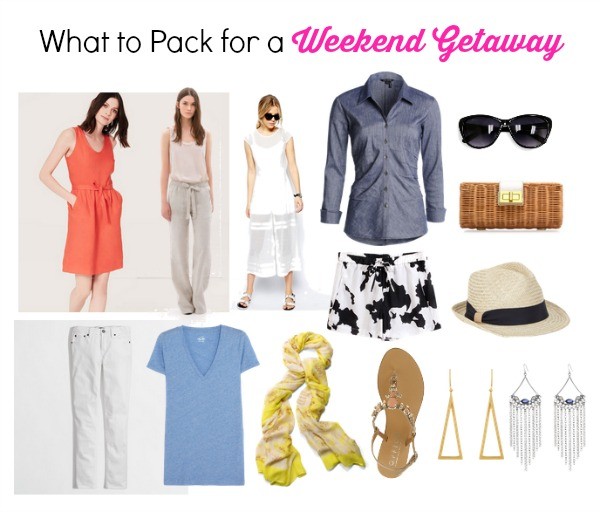 Pack items that can be worn alone or mixed and matched with separates. A linen dress can be worn all by itself or paired with a chambray shirt. Linen pants can be super casual by day with a cotton jersey tee or dressed up by night with the right top and jewelry. A nude pair of sandals with some embellishments goes with anything and can easily take you from day to night.
Left to right: LOFT Cutout Back Linen Dress
\\ Zara Linen Trousers \\ ASOS Jumpsuit \\ Nic + Zoe Chambray Shirt \\ ROMWE Shorts \\ Black Cat Eye Sunglasses \\ J. Crew Havana Clutch \\ J. Crew White Jeans \\ J. Crew Vintage Tee \\ Stella & Dot Scarf \\ Panama Fedora \\ Island Hopper Sandals \\ Gold Triangular Drop Earrings \\ GUESS Fringe Earrings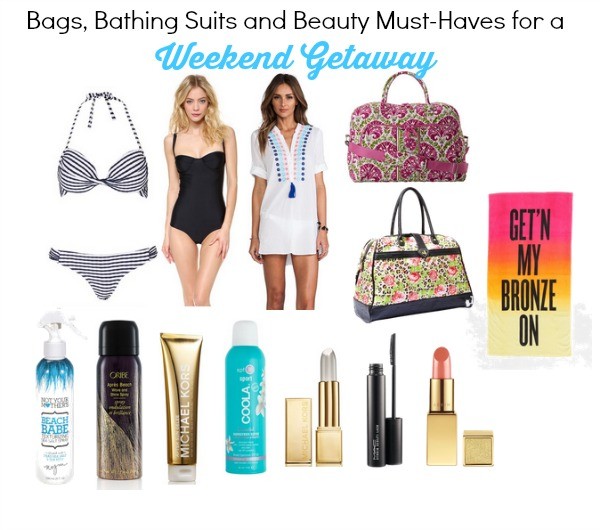 A weekend trip away isn't complete without a great weekender bag to pack it all in, a couple of swim suits depending on your mood and bare minimum beauty essentials to help with that beach babe look.
Left to right: Topshop Bikini \\ Tori Praver One Piece \\ Mykonos Tunic \\ Vera Bradley Weekender Bag \\ Betsey Johnson Weekender Bag \\ Beach Towel \\ Not Your Mother's Beach Babe \\ Mini Apres Beach Spray \\ Michael Kors Sunless Tanning \\ J. Crew Coola Sunscreen \\ Michael Kors After Sun Lip Balm \\ MAC Studio Sculpt Lash \\ AERIN Rose Balm