This post brought to you by Buca di Beppo®. The content and opinions expressed below are that of Mom Fabulous.
October isn't just about pumpkin drinks and pumpkin patches and pumpkin…everything. It's also World Pasta Month! How does one celebrate world pasta month you ask? We celebrated with pasta (of course) at our local Buca di Beppo Italian restaurant and ordered from their create your own pasta menu. Just imagine the 'pastabilities' (cute huh?) you can create from the options below. Even the Mona Lisa knows how to enjoy her pasta.
(Psst. keep scrolling down for a Buca di Peppo gift card giveaway!!)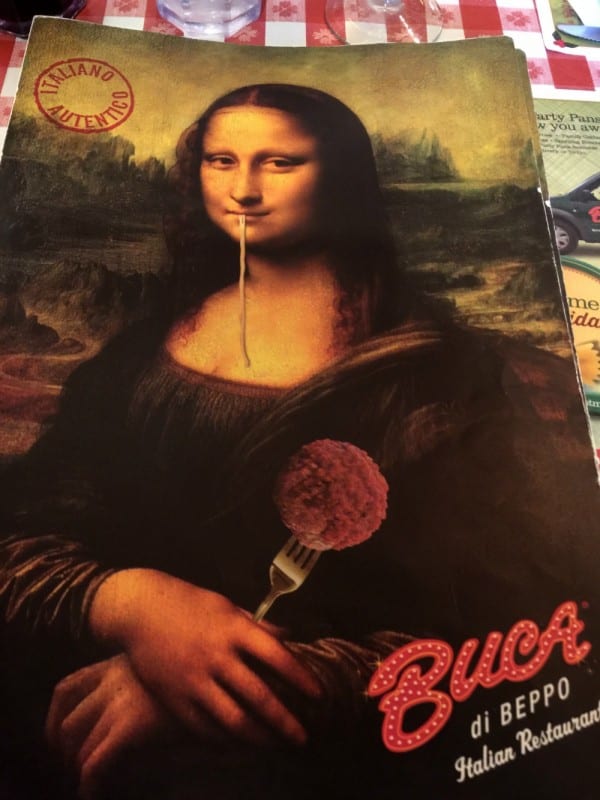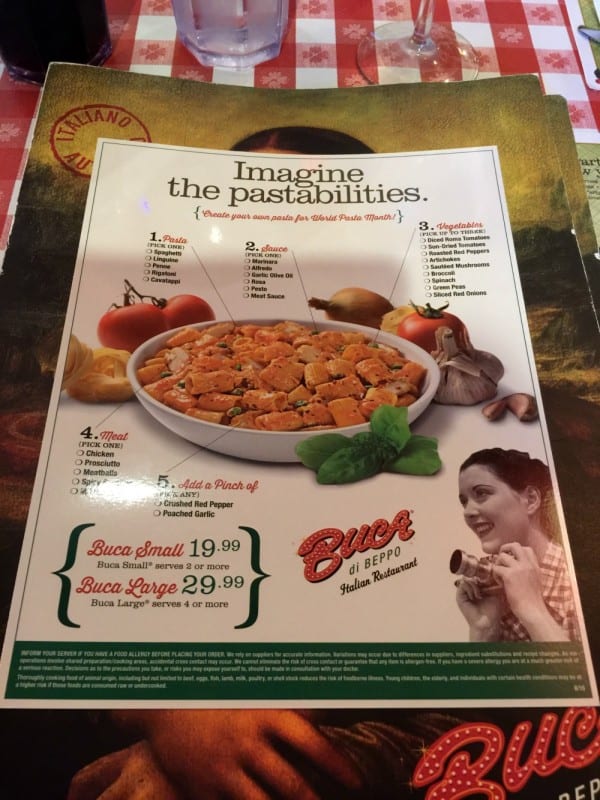 My husband, two sons and I headed over to Buca di Peppo for a family meal. My daughter was occupied that night being a busy senior teenage girl, so she missed out! Did you know that pasta is so popular in the United States  that 24% of the global consumption of pasta is by Americans? This is the largest of any country in the world. We love our pasta! I'm fairly certain my 11 year old son and I, who split a pasta bowl, consumed 5% of that 24%.
Buca di Peppo is perfect for a weeknight dinner with your family, because all of their menu items  are shareable. Meaning they're made for 2 or 4. My daughter's boyfriend told us it's a hot spot for prom night because all the kids can chip in equally and share everything. What a great idea! The atmosphere is fun and eclectic. I was excited about getting to enjoy my meal while staring at Leonardo DiCaprio. How you doin' Leo?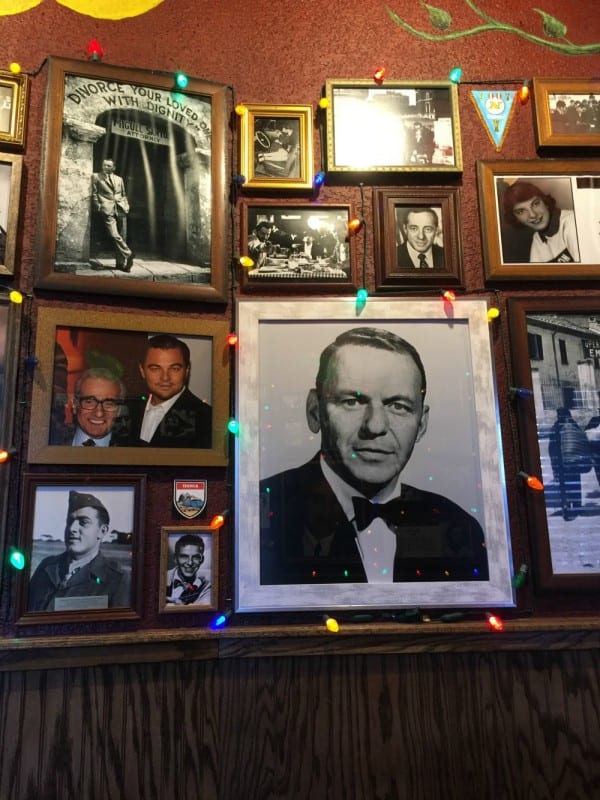 The restaurant is covered with all kinds of pictures of celebrities. It was fun to try to name them and see who we recognized. It also features lights and red and white checkered table cloths. Alright, back to the food.
We started off the night with an appetizer of fried cheese. Unfortunately we dug into before I snapped a pictures, but here are a few morsels left for you to drool over. In the words of my 11 year old "this is the BEST friend cheese I've ever tasted". Our waitress also brought us some bread and olive oil. Which, I'm fairly certain I could live off of.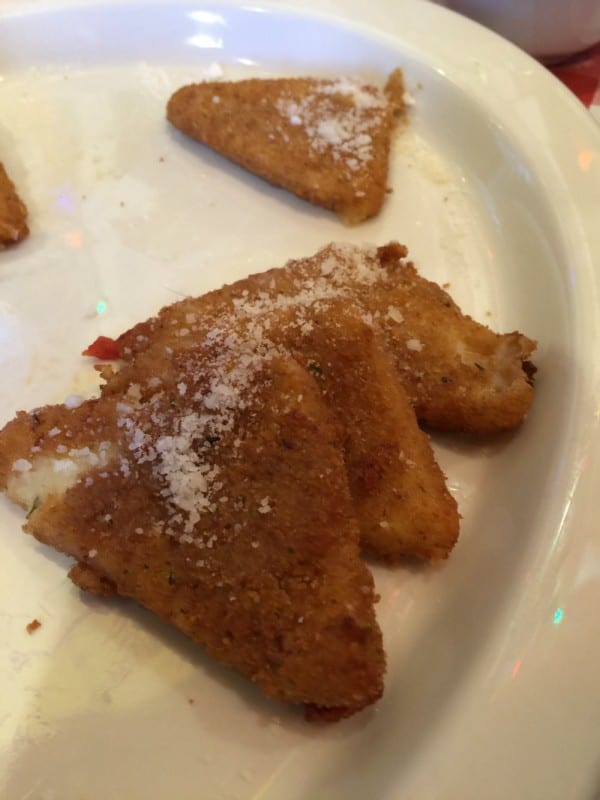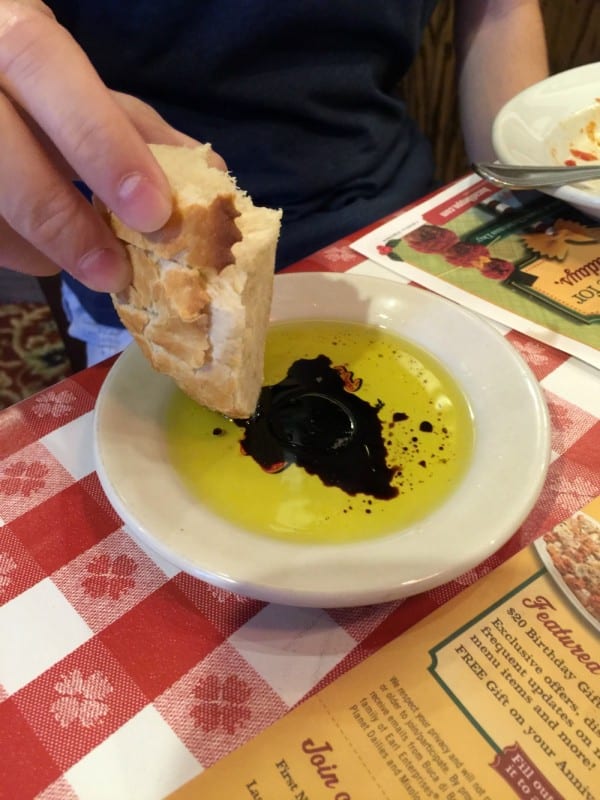 My husband ordered their Chicken Parmigiana and wow, just wow. Needless to say, he took some of this home with him.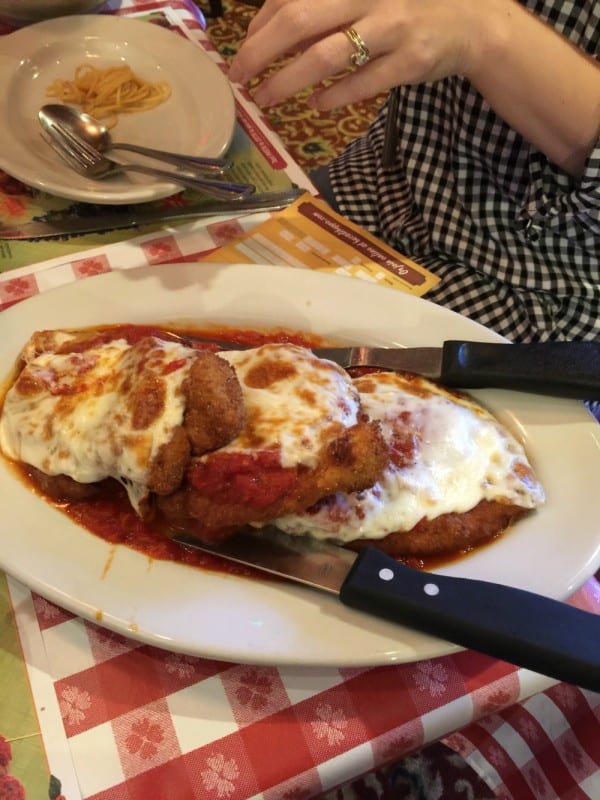 My youngest son and I split their Create Your Own Pasta Bowl. He's a vegetarian (well, he has been for a month anyway) and so I let him choose what he wanted. He chose spaghetti, marinara, broccoli, roasted red peppers and a pinch of crushed red pepper. Everyone loves pasta and when you add in the personalization aspect, it kicks the enjoyment factor up a notch.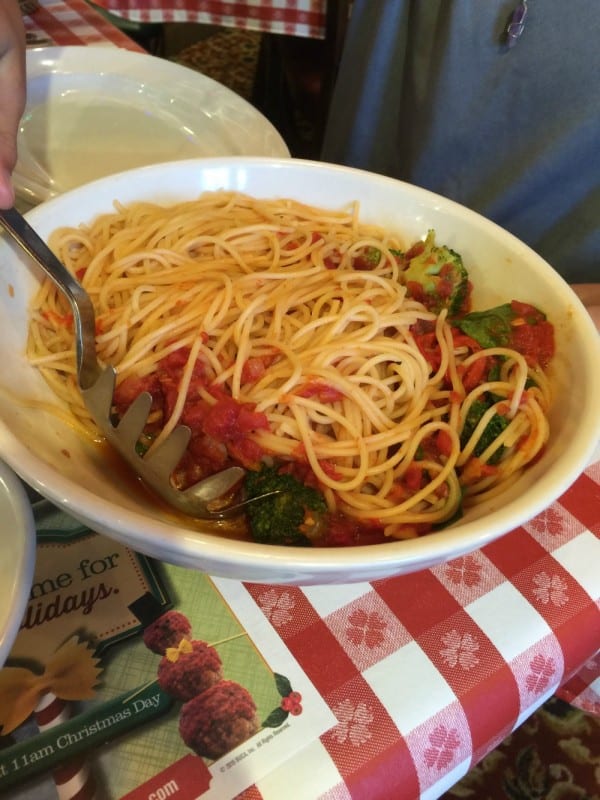 Since I'm a little over 21, ahem, I ordered a glass of wine because wine and pasta go together like coffee and donuts. Am I right? I usually order a nice red to go with my meal, but I've been suffering from headaches lately and well, red wine and headaches don't pair well for me. So our waitresses recommended a light pinot grigio.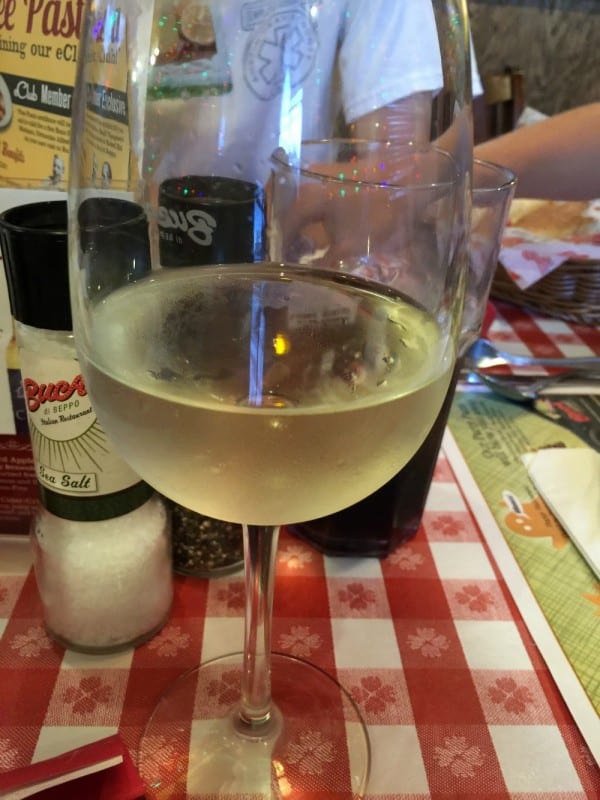 How did Aaron feel about our pasta bowl when it arrived? I'll let the picture speak for itself.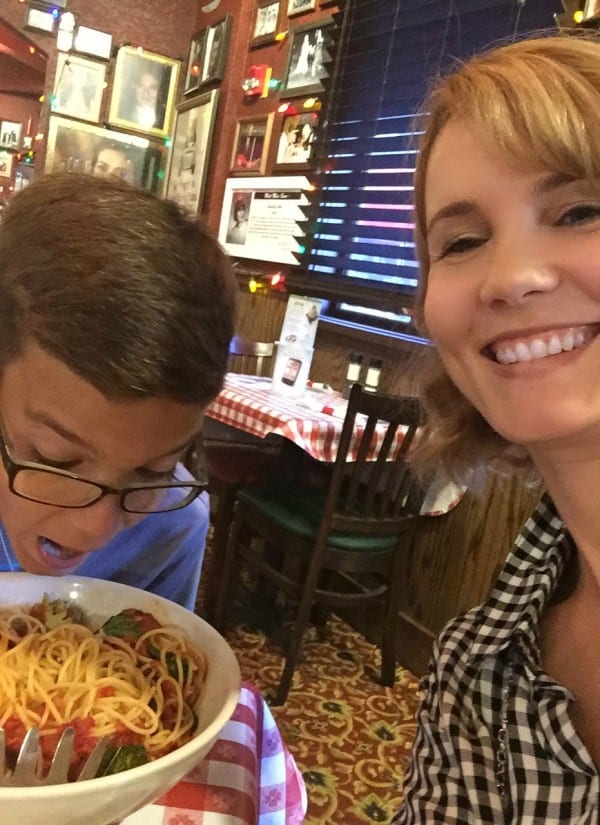 After teaching him how to properly eat pasta (pick a little up with your fork and twirl it in your spoon – it's more fun that way) we dug in. The combination of the marinara, broccoli and roasted red peppers was so good, I may try to recreate it at home. Since both of my sons are trying out the vegetarian way of living, I need all of the meal ideas I can get!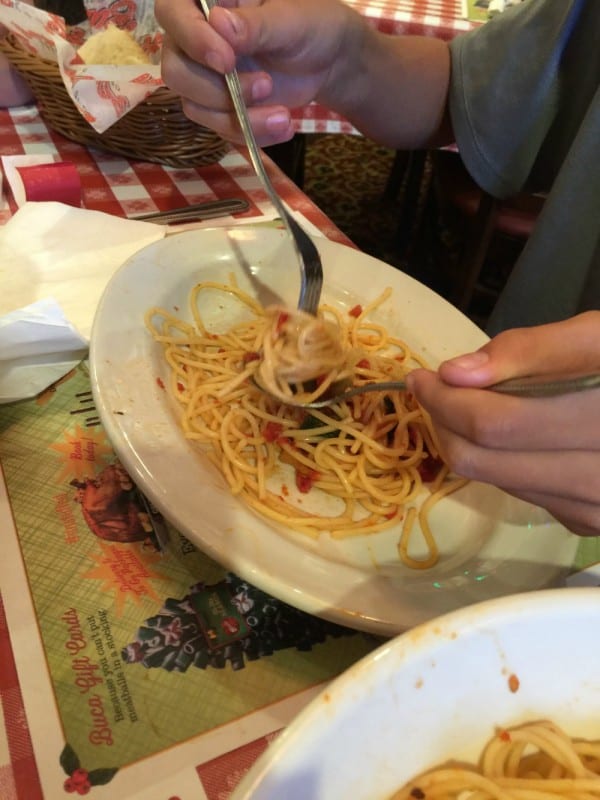 Have you ever taken a #PastaSelfie? No?! What? Well it's time. A pasta selfie could be your beautiful bowl of Buca di Beppo pasta all on its own or, as we did, snap one of you AND your beloved pasta bowl. Share it on Instagram using #pastaselfie #sweepstakes and tag @bucadibeppo to be entered to win a $100 Buca di Beppo gift card. Say cheese!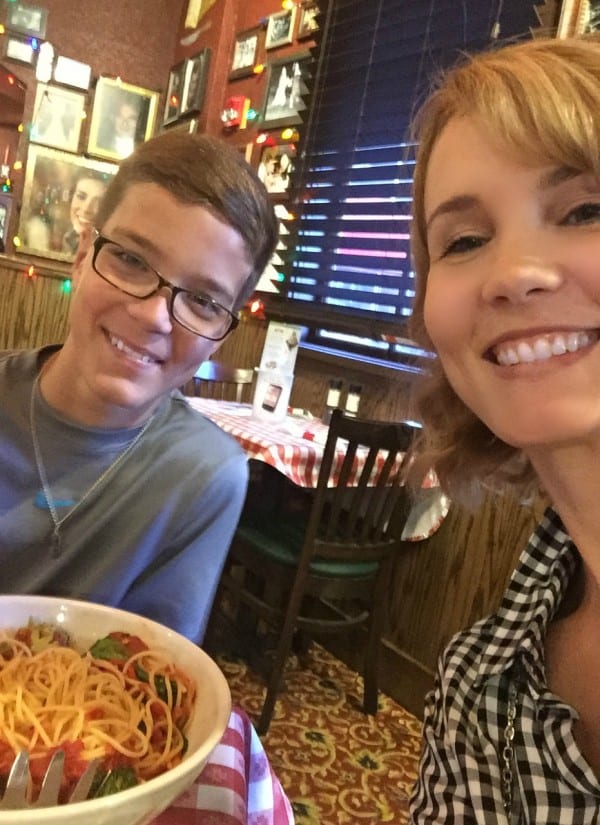 Before I leave you, there were a few things I noticed that are worth pointing out. One, Buca di Beppo is open during the holidays and they do catering. One year for Thanksgiving I had so much going on that just the idea of cooking was about to send me over the edge. So, we went out to eat and it's one of the most memorable and relaxing holidays we've had. Two, they have an eClub and receive free pasta. Yes please! And three, keep reading…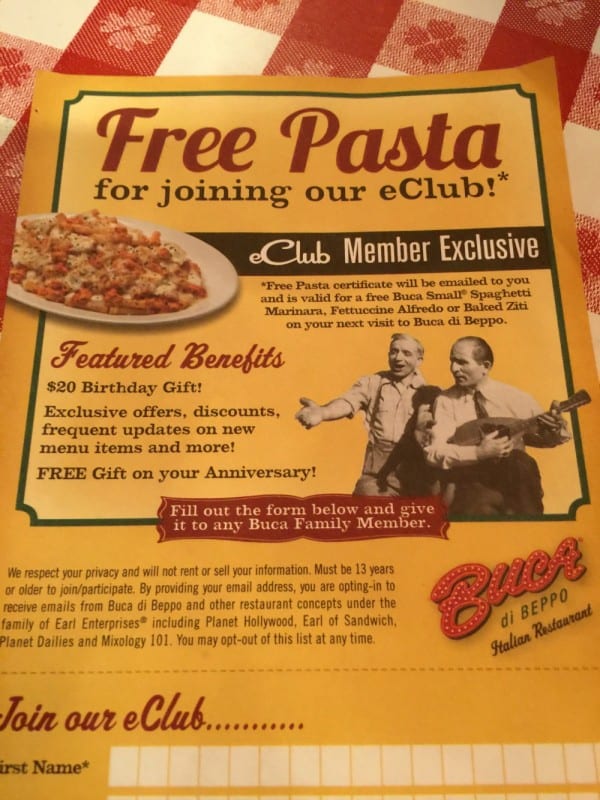 Here's the giveaway I mentioned you can enter to receive a free Buca di Beppo gift card. To enter:
Leave a comment on this post with your favorite pasta dish or recipe
Must be 18 or older
Open to U.S. residents only
Good luck!!
Buca di Beppo Create Your Own Pasta Bowl Giveaway