Welcome to Day 10 of 31 Days of Fashion – Tips, Tricks & Outfit Ideas
Whether you've been invited to a casual holiday party or a really dressy one, it can be hard to decide or know what to wear.  Here are some tips, plus a few outfit ideas for how to dress for any holiday party.
What to Wear to a Holiday Party | Outfit Ideas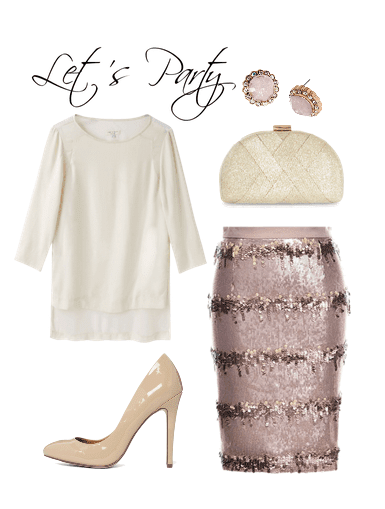 Outfit details: Champagne Drip Skirt | Rag & Bone Jade Blouse | ASOS Nude Heels | Glitter Hard Clutch (similar) | Pink Ruffle Earrings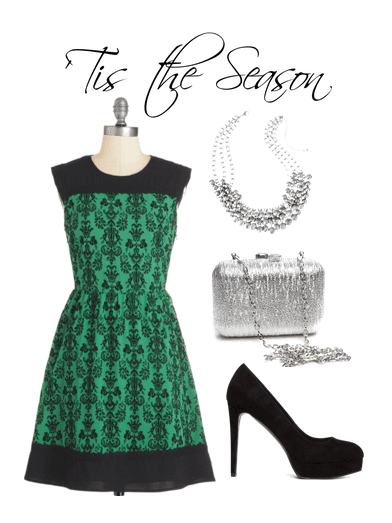 Outfit details: Delight Damask Dress | Forever 21 Heels | Silver Clutch |Silver Necklace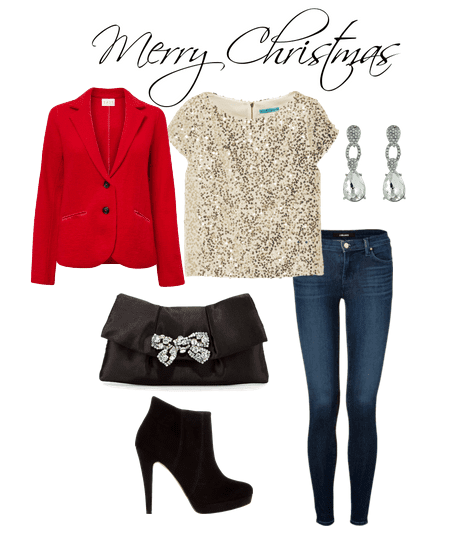 Outfit details: Alice + Olivia Sequined Top | East Boiled Wool Blazer (similar) |  J Brand jeans | Suede Heeled Booties (similar) | Bow Clutch | Crystal Tear Drop Earrings (similar)
Attending your office holiday party:
Even though it's the holidays, you want to remain office-appropriate, but still show off your personal style. Steer away from low-cut tops and short skirts—don't wear anything that you would never wear to the office, but have fun and get a little more dressed up than you normally would! Don't be afraid of a little sparkle—show off that sequined dress that's been hiding in your closet!
Hosting your family's holiday party:
If you're hosting a party, it's especially important to be comfortable. Luxury and comfort should go hand-in-hand. You don't need to be uncomfortable to look great. Wear something you can move around in- you want to feel like a more confident version of yourself to entertain, and you definitely don't want to be tugging and pulling at your clothes all night while you're preparing dinner or catching up with your relatives.
Accompanying your significant other to their office party:
Dressing for your significant other's office party should be similar to dressing for your own, except a little caution can go a long way. Make sure you know what their office environment is like. Will people be wearing jeans or will everyone wear suits and gowns? Nothing is wrong with jeans for every day wear, but not to go to a holiday party. When in doubt, it's always better to be overdressed.
Meeting your significant other's family at their holiday party:
For your first time meeting your significant other's family, it's important to make a good first impression by looking as polished as possible.  While you still want to feel like yourself, you don't want to go for the shock-factor by wearing crazy jewelry and makeup. Keep it simple and chic with a sleek black dress, understated makeup, and a few pieces of your favorite jewelry to show off your personality.
Going out with your closest friends:
This would be the time to really show off your personal style. Just be sure to not go overboard—let one feature stand out. This goes for your clothes as well as your makeup and hair. If you want to show off your legs, cover up a bit on top. For makeup, go for a bold lip and keep the rest simple.