This white tunic shirt from Chadwicks is so beautiful and versatile, allowing me to wear it in a number of different ways!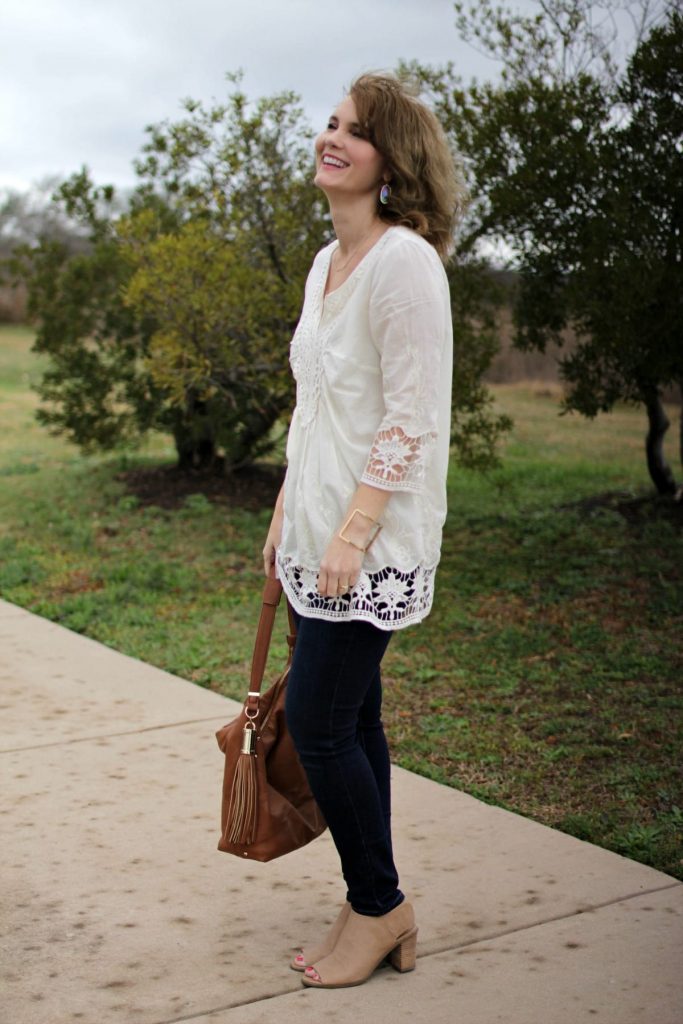 Don't you hate it when you buy a shirt, you love everything about it from the way it fits the way it looks on you, and then…you can't figure out what to wear it with? Or, you feel like you can only create one outfit out of it. What a waste right?!
A few months ago I did a major cleanout of my closet and got rid of items like that. If I hadn't worn it or I liked it but just couldn't figure out what to wear it with — out it went. I do have a few special occasion outfits that I don't wear very often and they're not versatile whatsoever, but I held on to them for obvious reasons.
So now, before I add anything to my wardrobe I ask myself if I can wear it multiple ways. I'll check through Pinterest for outfit ideas, or if I'm in a fitting room, I'll grab different articles of clothing to try on. My goal is to have a well-rounded wardrobe, where almost everything mixes and matches together.
I knew I wanted to add a white tunic shirt to my wardrobe for spring because I've seen so many cute outfit ideas featuring them. I also knew it's a pretty versatile article of clothing. So when I saw this lace one from Chadwicks, I knew it was the one I wanted.
Here are 3 ways to wear one white tunic shirt:
Casual and Fun
I think out of the three outfits I put together, this is my favorite. It's something I would wear a lot. I paired it with a favorite pair of skinny jeans, peep toe booties, and that tassel handbag I love so much. If you're going to wear a tunic shirt, it's best to wear it with fitted bottoms, like skinny jeans or leggings.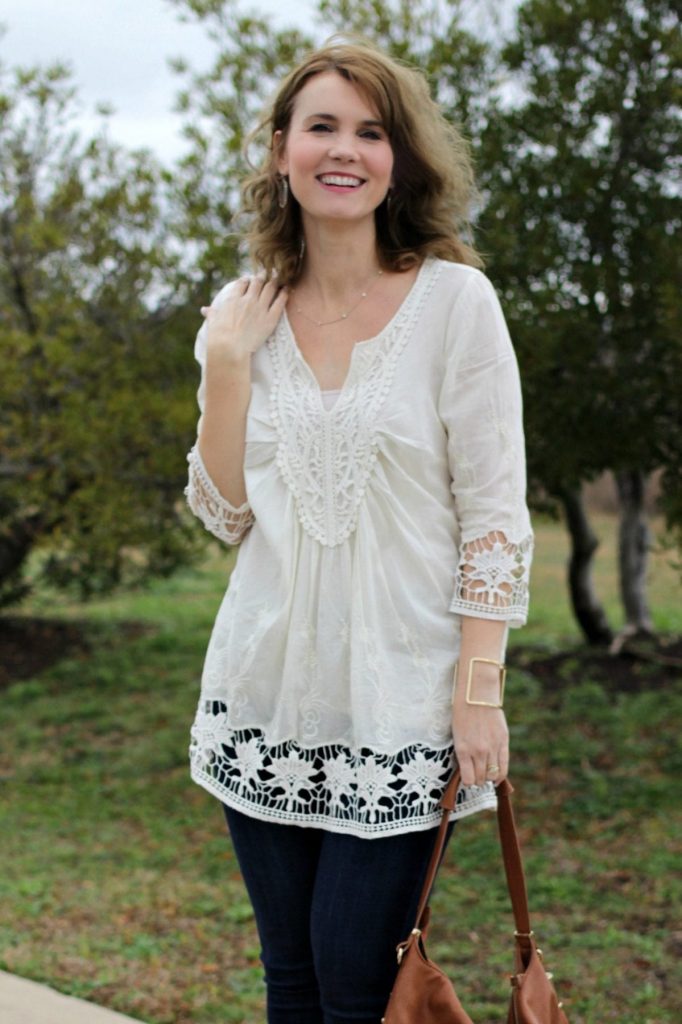 Speaking of leggings…
With an Edge
I don't break out the cowboy boots or leggings very much, but I just might have to now! I love how this outfit feels and looks. It's incredibly comfortable. I could see myself wearing this on a date or a girl's night. Or maybe line dancing. Just kidding…no one wants to see me try to line dance. It's not pretty.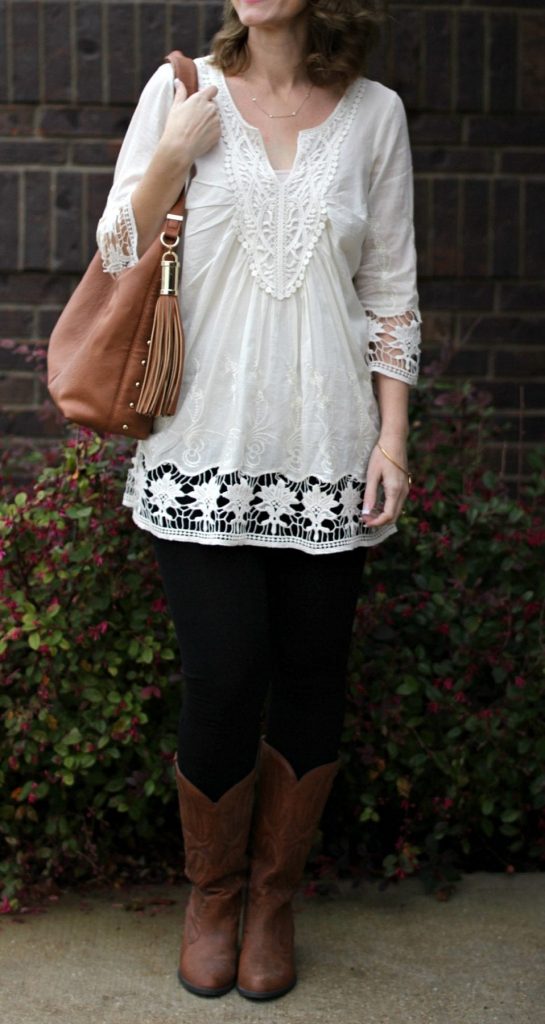 Dressy Enough for Work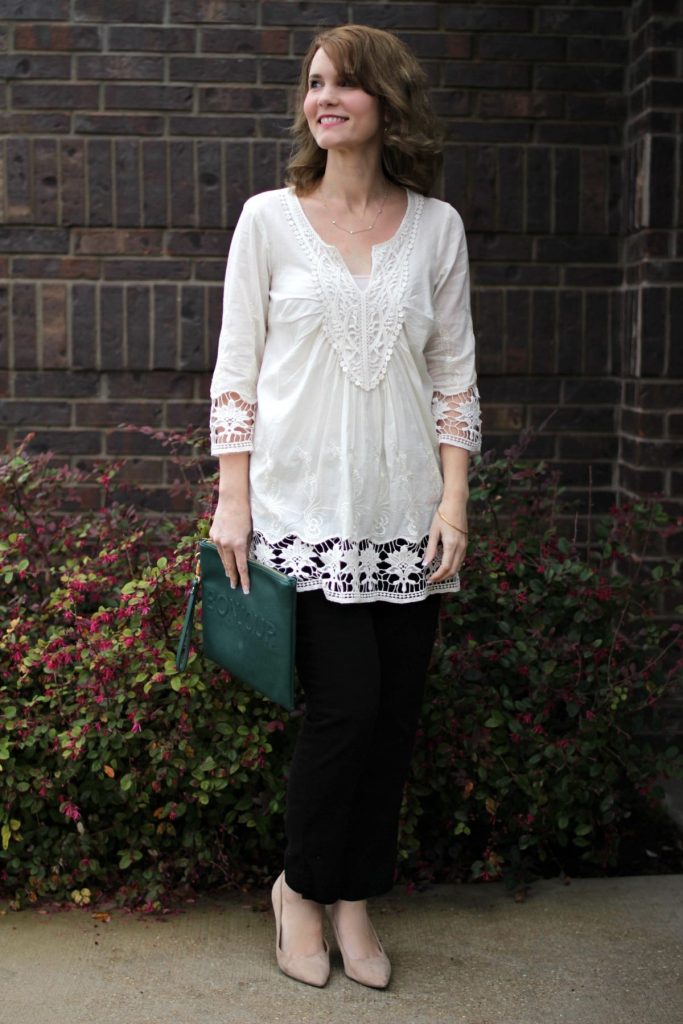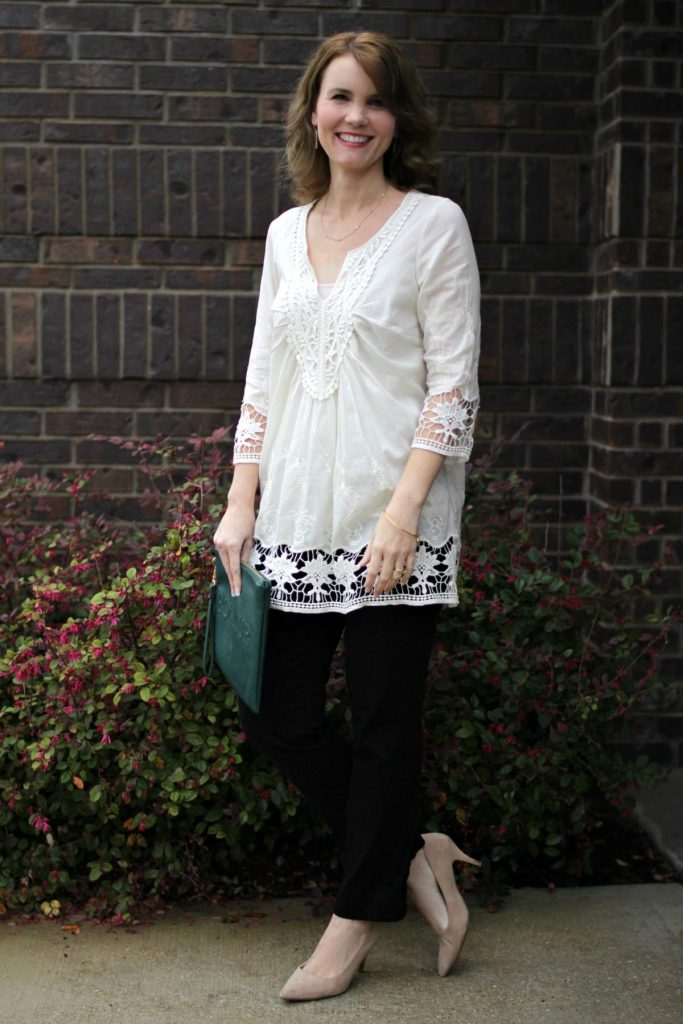 Switch out the jeans or leggings for a pair of black pants (like my favorite pair of black ankle slacks), add a pair of heels and you have a nice dressy outfit for work. You could switch out the heels for a cute pair of flats as well. I initially had on a pair of leopard print flats for this outfit and then changed my mind. But, they looked as equally as cute.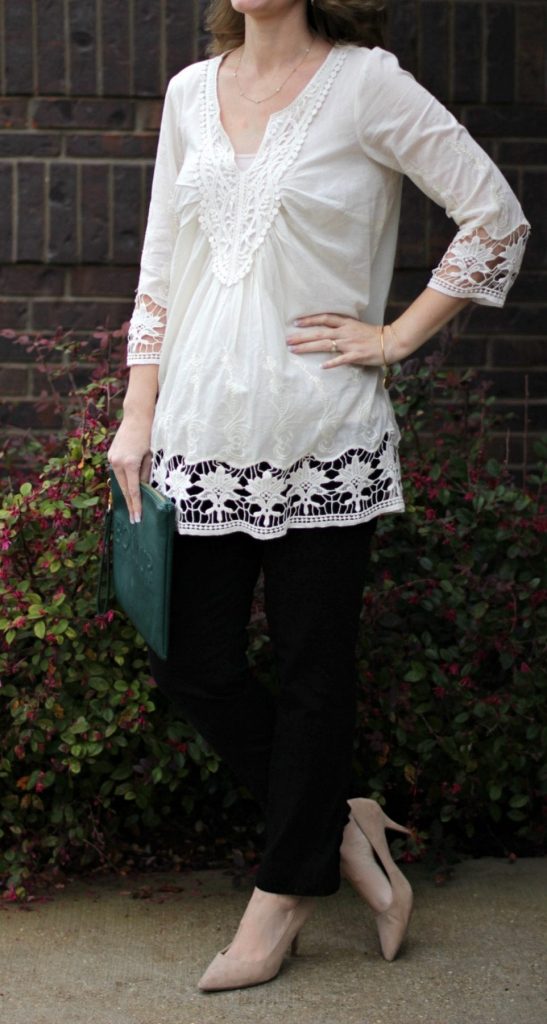 To find out more details about this lace white tunic shirt or to purchase one, head over to Chadwicks.com. They've added some beautiful pieces to their new arrivals, plus they have some really nice staple pieces for your wardrobe.
Before you go, check out Carly from Thirty Something Fashion in one of the cutest floral dresses perfect for spring and it's from Chadwicks and Ellen from That Chic Mom in a layered look sweater I'm pretty certain I need (want).