I was recently sent three bottles of Chateau Ste. Michelle Riesling to try and was given the challenge of pairing them with a recipe. I love a good wine and am always trying something new. The wines we received were the Dry Riesling, Columbia Valley Riesling and Harvest Select Sweet Riesling. You can read more about their Rieslings here.
Given the fact that I live in Texas, we eat a lot of barbecue. A lot of barbecue. My question was, 'Can you pair one of these Rieslings with a good old fashion barbecue meal?' The answer? You bet.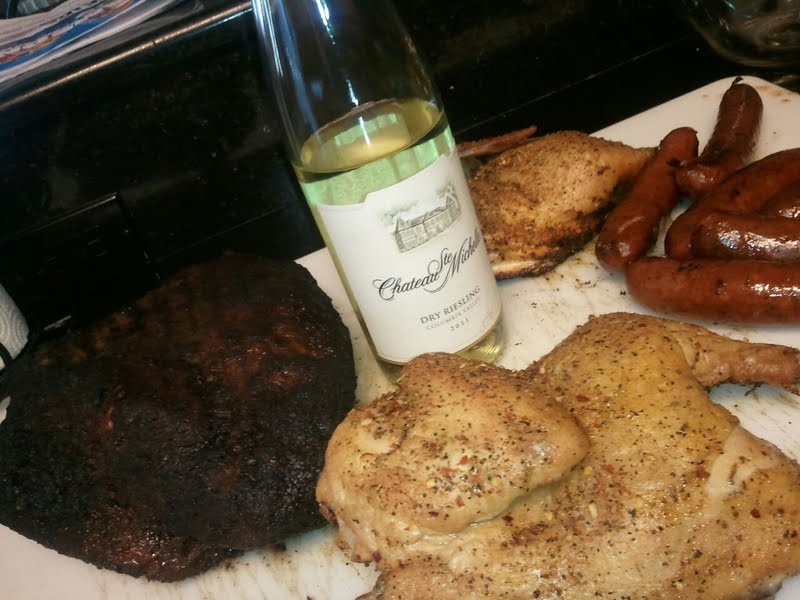 Dry Riesling
We had some friends invite us over for dinner and I said 'I'll bring the wine!'. I chose the Dry Riesling since it was noted that it goes with poultry dishes. I knew we were having chicken, so I gave it a shot. I don't drink beer. I can't stand beer, but I like a glass of wine with my meals. Even if it's Texas barbecue.
The pairing ended up being delicious and it did not disappoint! The Dry Riesling was light in flavor and very smooth. It also goes well with seafood and your favorite small plates, such as charcuterie, endive stuffed with lemon goat cheese, or a chilled summer soup full of cilantro.
Try their Dry Riesling with Avocado and Pink Grapefruit Salad. Recipe here.
The Other Rieslings
The Columbia Valley Riesling is the perfect wine to try with almost any food. Sample with a rich raspberry baked brie appetizer or even tangy barbecue. I read this after I made my wine decision for our dinner! But no worries, we tried this wine with barbecue another night and it pairs very well. Try this wine with Certified Angus NY Strip Steak.
The Harvest Select Sweet Riesling is a delicious way to tone down the heat in the spiciest of meals. They recommend pairing it with a zesty chicken masala or Thai curry. Try this wine with  Mango Stuffed Sole. Yum.
Reasons for Riesling
Chateau Ste. Michelle gave us some 'Reasons for Riesling' and I have to share a few:
Riesling enhances almost every food including spicy, hot, intense and salty flavors because of its light sweetness/acid balance.
Rieslings are unoaked allowing them to retain elegant fruity character and refreshing acidity.
Riesling is made in different styles from bone dry to honey sweet. Choose your style and fall in love.
Okay, I'm Sold
I have been a Pinot grigio and Moscato fan for years. I've also been known to sip on White Zinfandel after the kids go to bed. It's like a bubble bath to me.
But I have to say, after testing out these three Rieslings, I'm sold! I have found a new favorite wine. The Chateau Ste. Michelle Riesling did not disappoint. Have you ever tried a wine that seemed to bite you back? These Rieslings won't bite. I promise. They have a smooth and very clean flavor and I highly recommend you give them a try.
Disclosure: MomFabulous was sent product to review. No other compensation was received. All opinions are my own.