Spring break is next week for us! My older kids are spending some time at the beach (lucky ducks) but the rest of us are staying here. We have a super, super busy summer so we decided sticking around was probably best. We'll do a few local things and I'll do some things around the house that have been on my mind, but that's about it.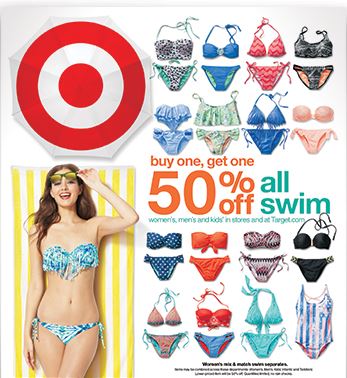 Since the older two are headed to the beach and you may be as well (or the pool!), you just might be in the market for some new swimwear for the entire family. Target has you covered!
They have swimwear for everyone on sale: buy one get one 50% off to be exact. You can also get Free Shipping when you spend $50 or more. They have some gorgeous swimwear choices for us ladies, some stylish choices for the men in your life and some super cute ones for your kiddos.
Head on over to Target and see what they have! Maybe, just maybe some warmer weather will head our way if we all shop for swimwear at the same time. Right?! 😉