It's time for another Cute Outfit Ideas of the Week! Today's feature (number #66) is focused on breezy summer tops, a summer packing must-have.
I used to get so stressed out when packing for a trip. Thoughts like…What do I bring? How many do I bring? What if I under pack? What if I over pack?…would fill my head as I was trying to choose outfits. But now I've simplified things and packing isn't stressful. My secret weapon to outfits I love while traveling are packing the right tops. If I have cute tops, my favorite jeans and shorts, and comfortable shoes, I feel prepared.
Here are a few cute outfit ideas for summer featuring breezy tops. I've also featured some that caught my eye and that I think you'll love as well.
Cute Outfit Ideas of the Week #66 – Breezy Summer Tops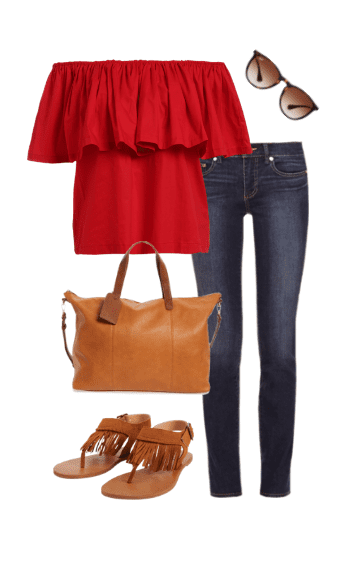 Outfit details: Ruffled Off-the-Shoulder Blouse | Dark Skinny Jeans | Tassled Sandals | Candace Oversize Tote | Ray Ban Sunglasses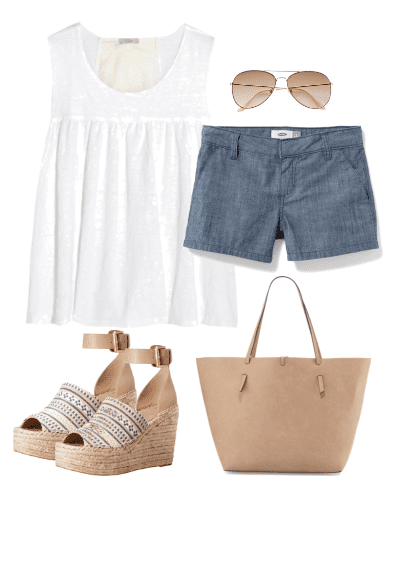 Outfit details: White top (similar) | Chambray Chino Shorts | Espadrille Sandals | Reversible Tote | Aviator Sunglasses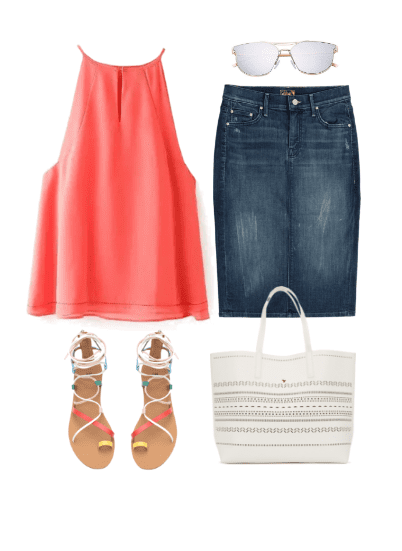 Outfit details: Lined Coral Halter Top (sold out here) (similar) | Denim Skirt (similar and more affordable) | Multi-colored Sandals |  White Tote (similar) | Colored Lens Sunglasses (similar)
SHOP MORE BREEZY TOPS
What's one of your summer packing must-have items?