This is a sponsored post written by me on behalf of Famous Footwear. All opinions are 100% mine.
My husband and I are celebrating 20 years of marriage this month. Twenty years!! It's crazy to think about, because at times we feel like we're still just a couple of kids trying to figure this thing called life out. On top of celebrating 20 years of marriage, we're getting ready to send off our first child to college. Needless to say, 2016 is a big year for us.
Last week, we dropped our daughter off at her college orientation and then went down the road about 10 miles to stay at the cutest cottage for a few days. It was our chance to get away, relax and celebrate an anniversary that meant a great deal to us. Since we would be doing a lot of walking and exploring the town, comfortable shoes were a must. I knew my white Chuck Taylor Converse that I ordered from Famous Footwear were the perfect shoe to bring and plan my outfits around.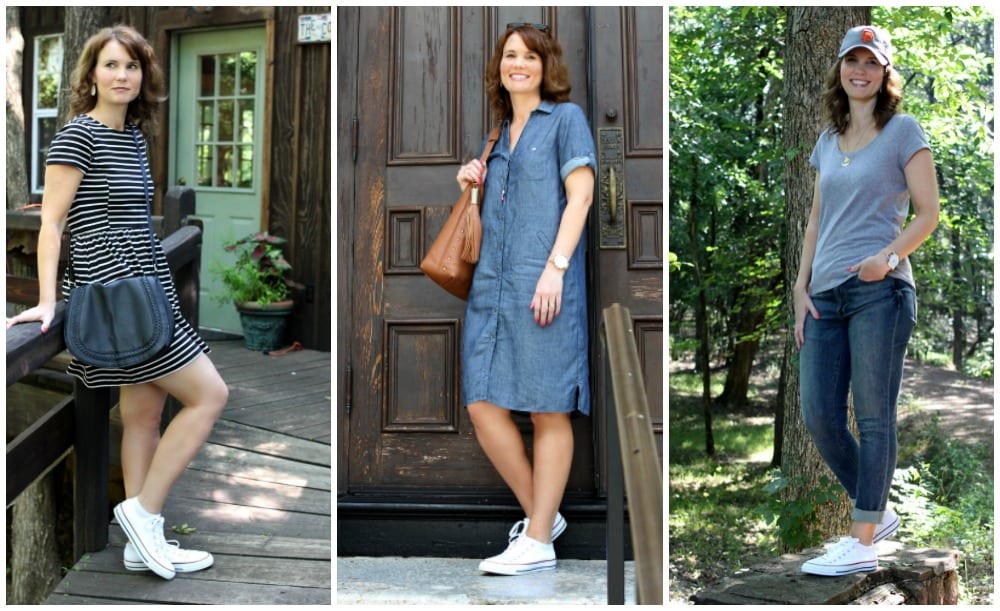 Wearing: Chuck Taylor All Star Low Top Sneaker
Converse Outfit Ideas for Traveling
This was our first trip this summer and we're planning on exploring our own city of Austin, TX for the rest. We may take a spur of the moment trip out of state, but who knows! I do know that when I travel, I like to feel both stylish and comfortable. Knowing I have a good shoe and outfits that make me feel confident, are a great way to help me put my best foot forward when out and about exploring a city with the family. It also allows me to pack less when I create several outfits from one pair of shoes, which is always a good thing!
Here are my 3 converse outfit ideas:
Outfit #1 – Black and white striped dress + Converse + Black crossover handbag
The cottage was perfect and relaxing and so was my outfit. I love a simple black and white striped dress and I actually have several of them in different styles. They are great for traveling and the hot temperatures of summer. Not to mention they all look fantastic with white Converse! Does wearing sneakers with a dress freak you out a little? Don't let it! Try it and you just might find they are your perfect traveling companions.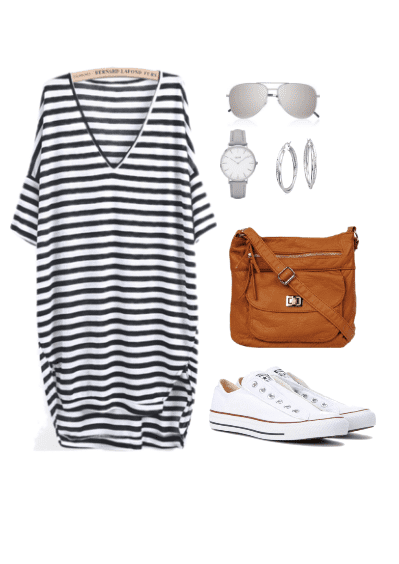 Outfit #2 – Boyfriend jeans + Gray t-shirt + Converse + Baseball cap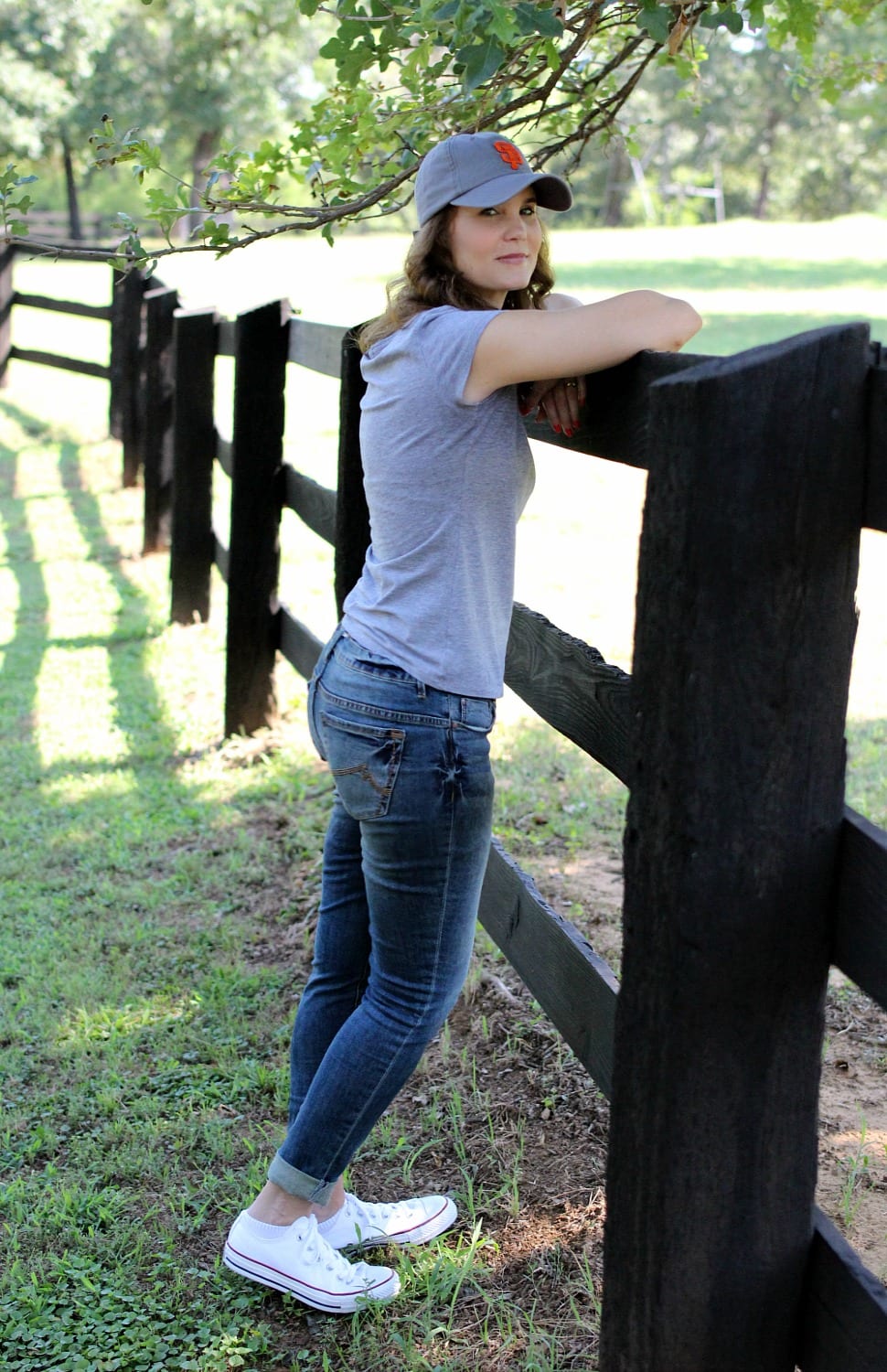 The cottage we stayed at was located on a horse farm, so I knew I needed some appropriate attire to walk around and explore the land. It was such a gorgeous setting, with a barn and some horses that were quite shy – meaning they didn't show up for my photo shoot. 😉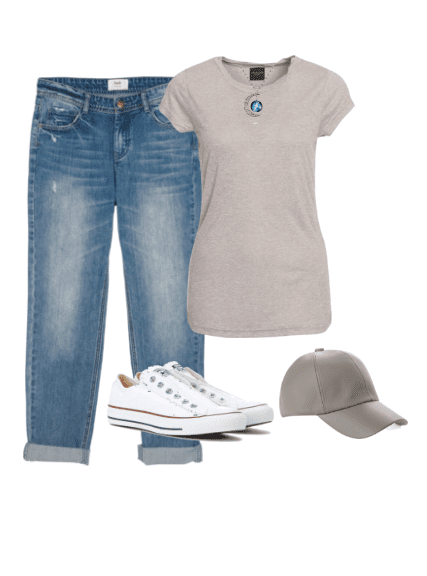 Outfit #3: Chambray dress + Converse + Fringe handbag
You know how I mentioned I have several black and white striped dresses? Well, I have even more chambray dresses. My daughter thinks I have a problem. Ha! My problem is that I just love chambray dresses because they are so versatile. I can wear them all year round here in Texas, only needing to switch out my footwear and for the colder months, throw on a cardigan. I thought this dress was a great match with my Converse and it ended up being the perfect outfit for exploring the city we were in.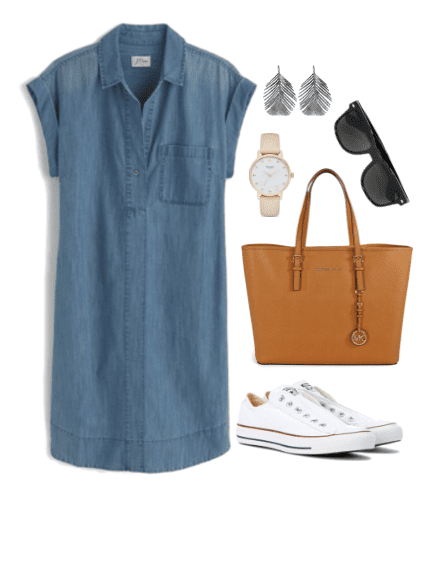 Do you feel confident when it comes to packing for a trip? I recommend starting with the footwear you know you'll need and then create your outfits around those. What are your top shoe picks for travel that help you put your best foot forward? Let me know in the comment section below!
Also, be sure to follow Famous Footwear on Instagram to stay in the loop on the season's shoe trends.