This is a sponsored post written by me on behalf of ConAgra. All opinions are 100% mine.
These Strawberry and Hazelnut No-Bake S'mores are so incredibly easy to make and even easier to devour.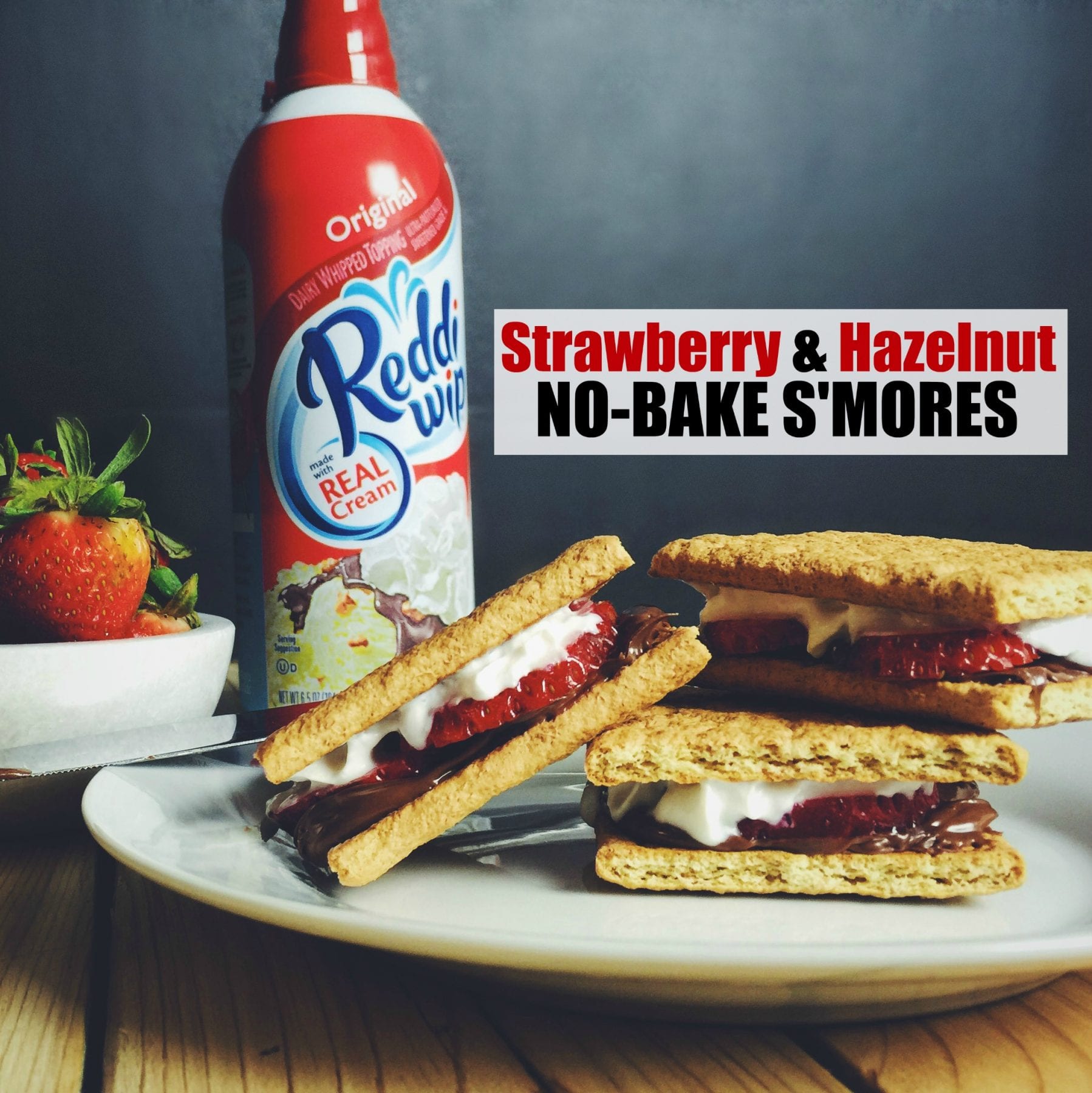 'Tis the season for s'mores and the great thing about this summer-time snack, is you can make them by the camp fire or not! Let me introduce you to one of my new favorite things to eat ever in the entire universe (sorry, got carried away there!) — Strawberry & Hazelnut No-Bake S'mores.
When you combine strawberries, hazelnut spread, whipped cream and graham crackers, you just can't go wrong. No camp fire for s'mores? No problem!
Who needs to go out for dessert when you can whip up something like this in a matter of 5 minutes? You can make and enjoy a very satisfying dessert from the comfort of your own home.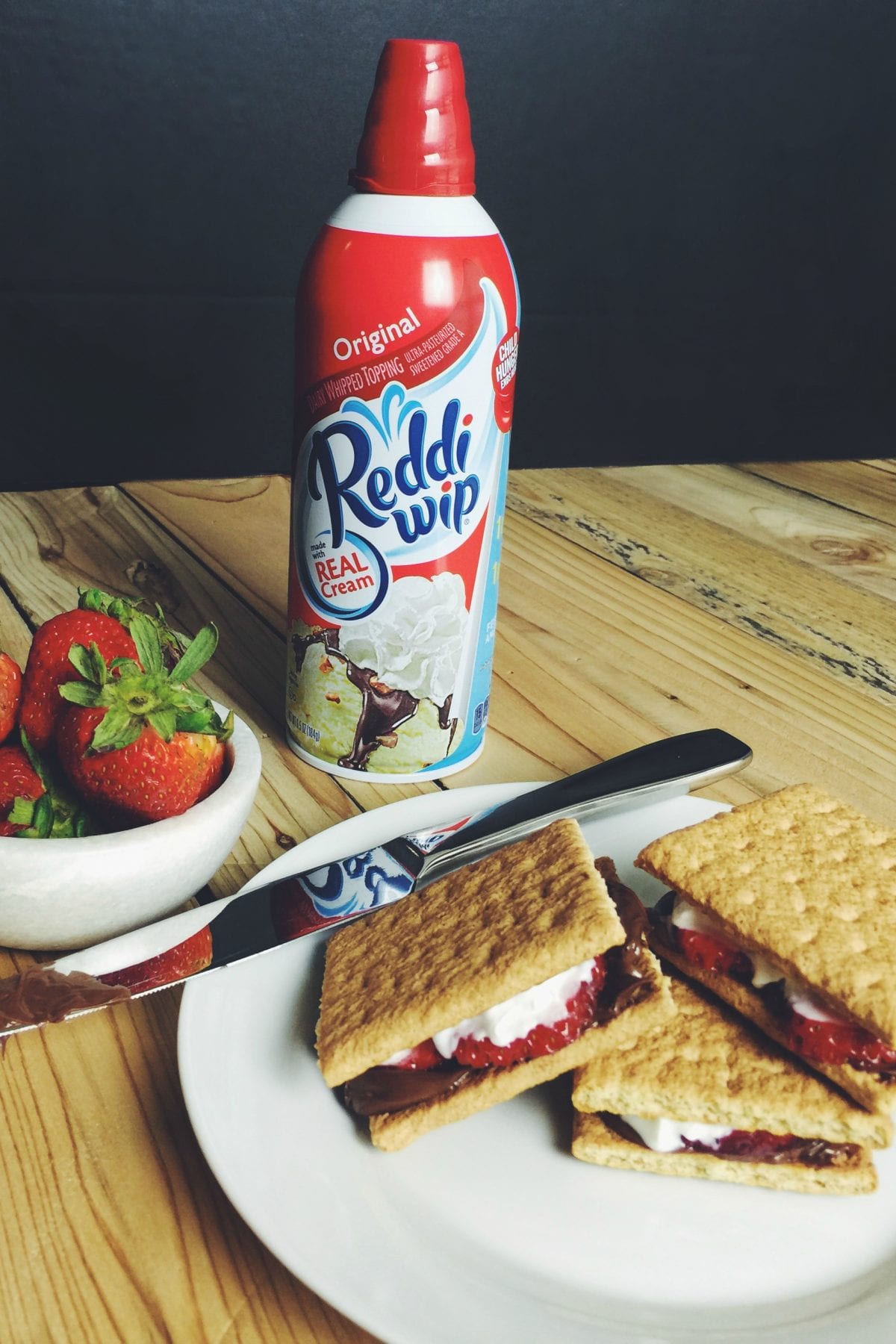 I got this idea and recipe from Chef Catherine's "Cook In" recipes featured on the #GreatAmericanCookIn website. Here's what you need:
Graham Crackers
Hazelnut spread (or chocolate spread would work too)
Sliced fresh strawberries
Reddi-wip
To make, break one graham cracker in half. Spread hazelnut spread on one half, layer with strawberries, add a spray of whipped cream, top with the other half and squish. Then…devour!
(I may or may not have eaten these for breakfast the morning of this shoot. Ahem.)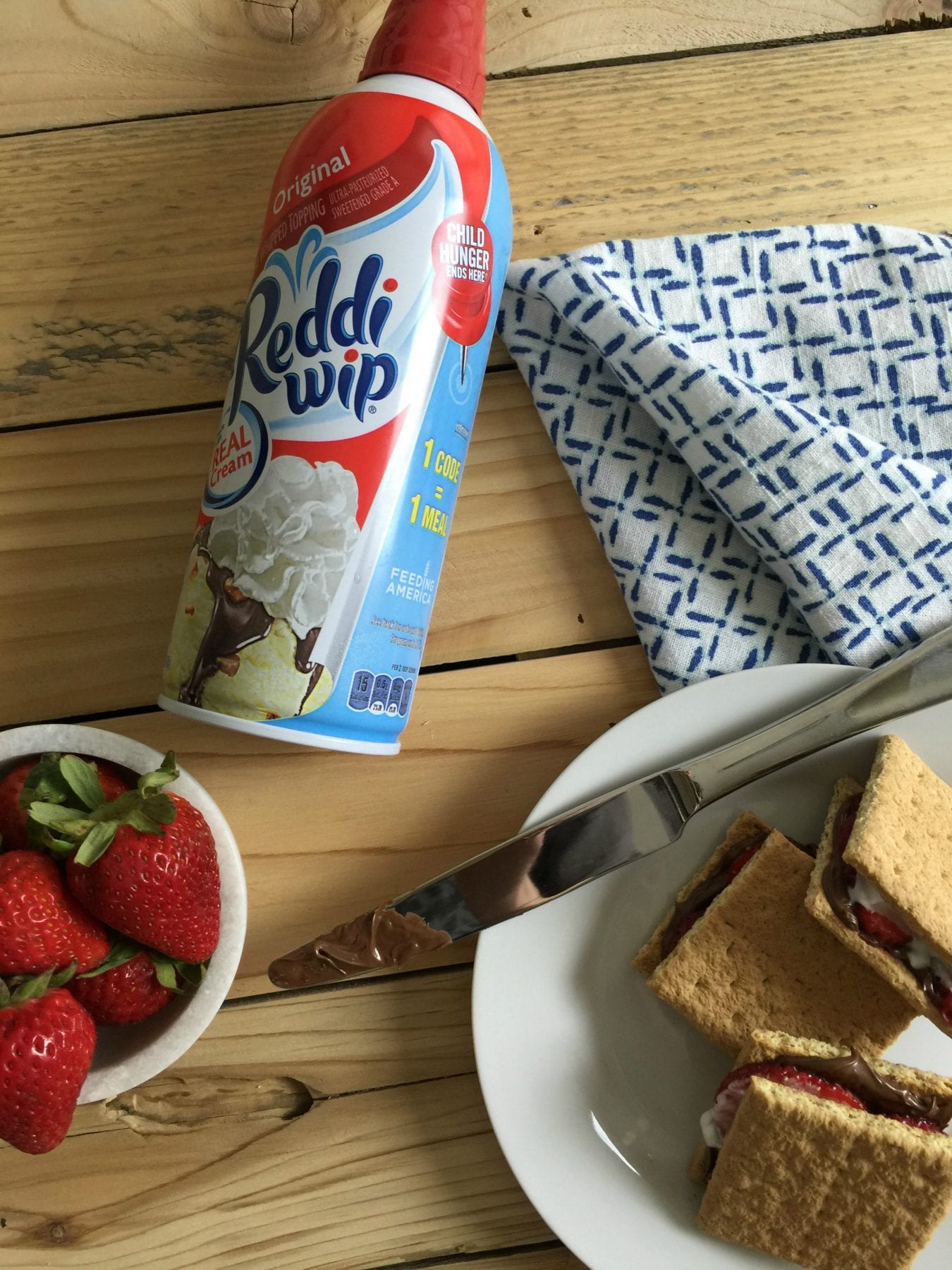 There are so many more recipes like this one, as well as fantastic ideas for dinner on Forkful's #GreatAmericanCookIn website. One of the ways our family saves money, saves time and catches up with each other is by eating dinner (and dessert) at home. It is one of my favorite times of the day. Sometimes everyone has a lot to say. Sometimes we're all so exhausted we just sit and eat, enjoying the quiet. And sometimes we get through dinner as fast as possible so we can get to dessert!
ConAgra's #GreatAmericanCookIn Challenge
ConAgra is hosting the #GreatAmericanCookIn Challenge, which is encouraging all of us to "cook in" for one week during the month of May. Are you up for the challenge? I know we are! They've partnered with Chicago chef and television host Catherine De Orio with meal ideas and tips and tricks to help us all sharpen our skills in the kitchen. All we need is a little confidence, creativity and some fantastic recipes.
Here's how you can participate:
Pledge to "cook in" every night for one week (be sure to tell your family so they're all in the know)
Use the #GreatAmericanCookIn hashtag and share food photos on Twitter or Instagram from the one-week challenge
Visit Forkful.com for delicious new recipes crafted by Chef Catherine, plus get great tips and ways to plan ahead for meals
Participate in the May 11th Twitter party (more on that in a minute)
Participate in ConAgra's LIVE Cook-A-Long on May 25th
Are you up for the challenge? I think you are. I started cooking at home more after two of my kids became vegetarians. Can you imagine finding a place to eat for two vegetarians, one gluten-free and a partridge in a pear tree? Yep, it's hard! So, we started eating in more, which has caused me to get creative with our meals and learn some new cooking skills.
Last night I whipped up a homemade Alfredo sauce, blanched some fresh broccoli florets and threw it all together with some gluten-free pasta. The results? A very happy family who absolutely loved the meal! It was cheap. It took only 30 minutes. It was a nice time around the table as a family.
Okay, so why do I want you to consider participating in the Twitter party? Because 1) they're fun and 2) there will be a giveaway of five (5) $100 VISA Gift Cards. Here are all the details you need:
The Twitter Party is on May 11th at 3:00PM -4:00PM EST
The host is @MommyMusings and co-Host is @MomSpark
Get it on your calendars and maybe I'll see you there!