Here are my January Stitch Fix outfits! I thought my stylist did a great job with my December box, but my oh my she nailed it with this month's pieces. If only I wasn't on a little bit of a savings spree (ya know, the opposite of a spending spree) after the Holidays and preparing for spring break and summer trips. I absolutely wanted to keep everything she sent.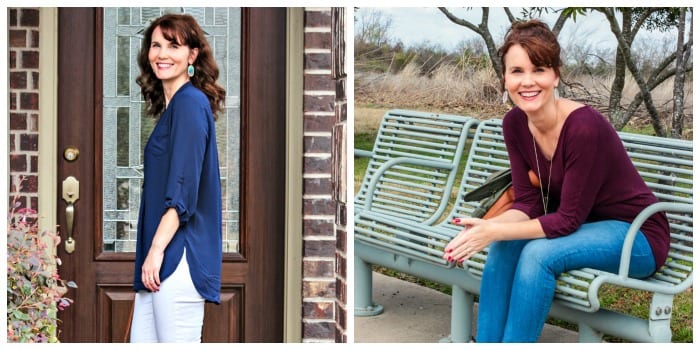 Have you tried Stitch Fix? If you're not familiar with it, it's a completely new way to shop and I love it. Basically, it's an online subscription and personal shopping service. You keep what you like and send back what you don't. Imagine being assigned a personal stylist who gets to know you and your style + what fits your needs. Find out more here.
I knew I was only keeping one thing out of this box, so I was super picky this time around. I'm working on building my spring wardrobe, so I kept that in mind when choosing what to keep and what to send back.
Stitch Fix Outfits – My January Box
Laila Jayde Bowie Solid Dolman Sleeve Top in Burgundy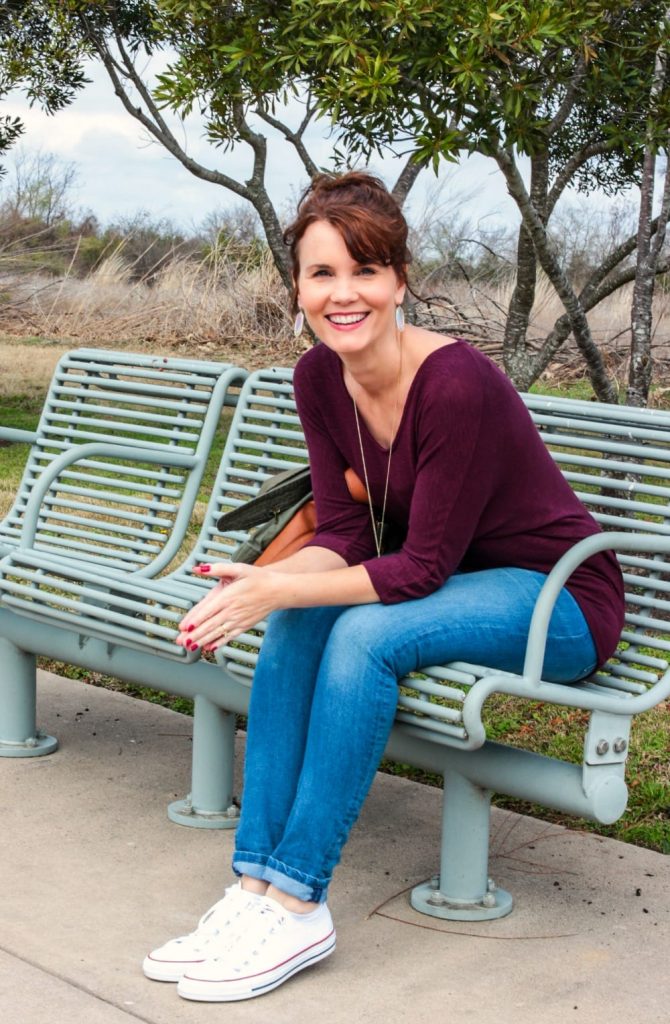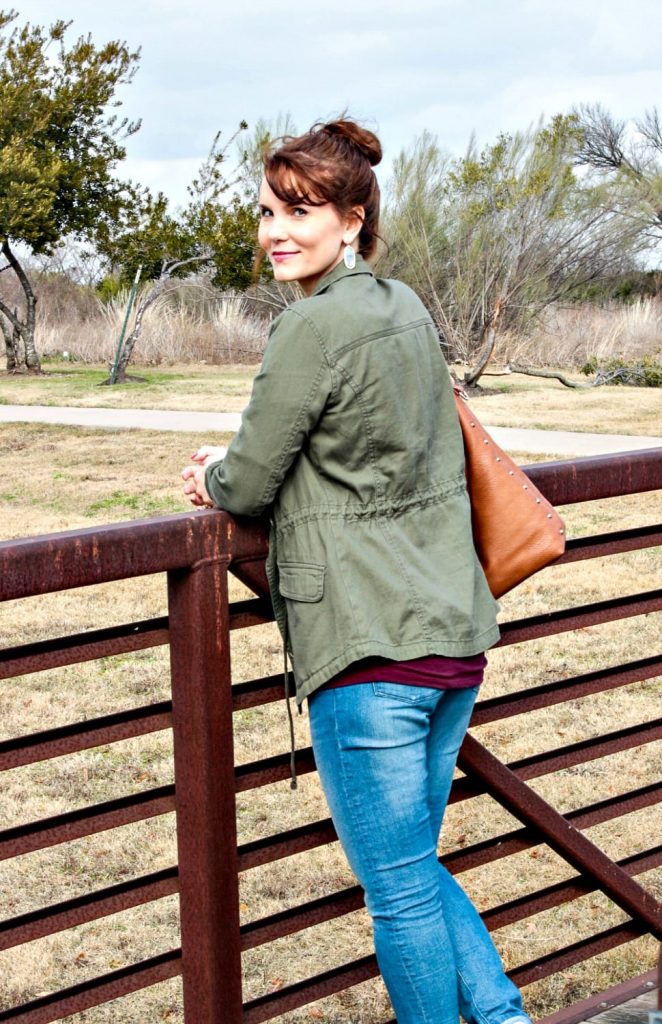 Outfit Details: Dolman Sleeve Top | Denim (old; similar) | Olive Jacket (old; similar) | Converse
Kept or sent back: Sent Back
Reason: The only reason I sent this back is because I own quite a few burgundy shirts and like I mentioned, I'm working on building my spring wardrobe right now. Other than that, I absolutely loved this shirt. It's perfect to wear alone with your favorite denim and converse. Or you could dress it up with a cardigan and flats. It's a lightweight shirt and is perfect for layering under a jacket.
41Hawthorn Caulfield Textured V-Neck Pullover &
Liverpool Elizabeth Super Skinny Jean
Outfit details: Sweater | Denim | Boots, old (similar) | Handbag | Earrings
Pullover – Kept or Sent Back: Sent back
Reason: I really (really) wanted to keep this pullover but since I live in Texas and most likely we only have maybe one more cold spell left, I just couldn't justify spending the money on it right now. But let me tell you, this pullover fit me perfectly. I loved the color, the texture, and the length and it's a good basic sweater to have in your wardrobe.
Skinny jeans – Kept or sent back: Sent back
Reason: These jeans fit great everywhere but the length. I have short legs and they were too long. Unrolled, there was quite a bit of fabric bunched up and I had to roll them quite a bit to work with my ankle boots. I think I need to try a pair of ankle jeans next to see how those work for me.
41Hawthorn Renesme Geo Cube Jersey Faux Wrap Dress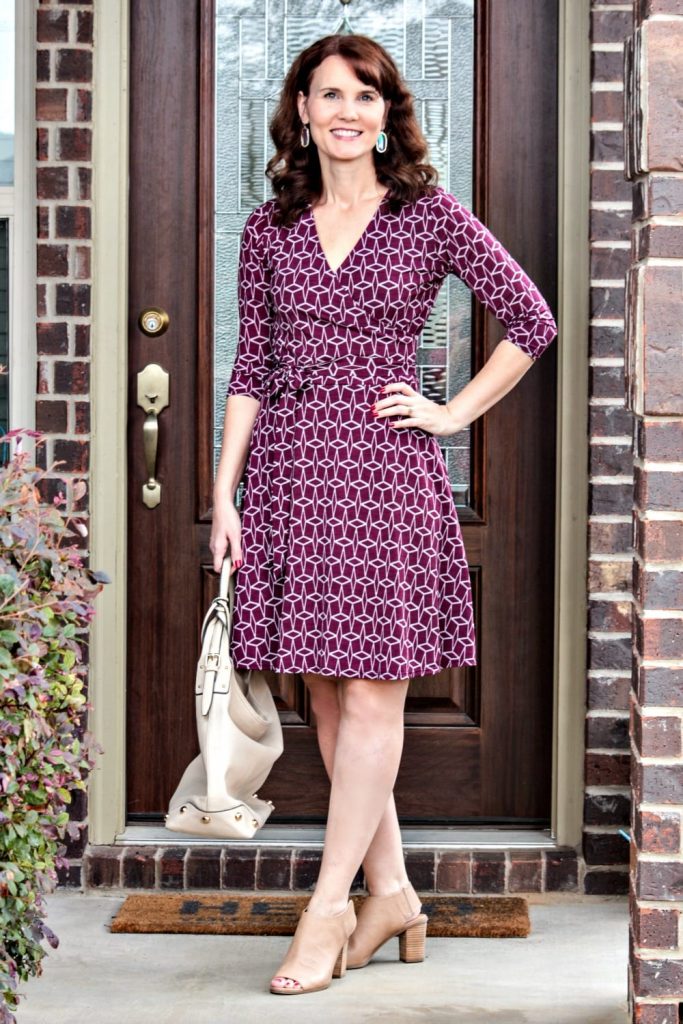 Outfit details: Dress | Wedges; old (similar) | Handbag
Kept or sent back: Sent back
Reason: I'm a big fan or wrap dresses and really liked the style of this one. The only issue I had was it was a little tight in the arms, making it a little restrictive when I tried to move. Maybe moving up one size would have solved that issue, but other than that, this dress was perfection!
41Hawthorn Colibri Solid Tab Sleeve Blouse
Outfit details: Blouse | Denim | Sandals; old (similar) | Handbag
Kept or sent back: Kept!
Reason: Not only am I working on my spring wardrobe, but I'm working on adding a little more color into my wardrobe as well. I tend to gravitate toward neutrals and while there's nothing wrong with that, I'd like to add in a few more pops of color and florals this year. Also, I had a sleeveless shirt this exact color and loved it, but had to get rid of it after realizing the fit just wasn't right for me. It sat in my closet for a couple of years and didn't get worn. I hung on to it because I loved the color!
I really like how this top fits, plus it's so versatile. I can wear it with jeans or shorts and even tuck it in and wear it with a pencil skirt.
There you have it – my Stitch Fix Outfits and January box. Have you tried Stitch Fix yet? Just remember that each Fix gets better over time as your stylist gets to know you. Check back with me next month as I share my February box with you.