This bell sleeve top might just become one of my new favorite pieces when it's time to leave winter behind and head into spring. It's lightweight, extremely comfortable and goes well with just about any shoe I choose.
I've been pushing myself to step out of my comfort zone a little when it comes to fashion, which means to try some trends I might normally snub and also play around a little more with different looks. This would be one of those outfits where I did both.
*This post contains some affiliate links for your convenience. Click here to read my full disclosure policy.
Bell sleeve tops were a big trend last season and it looks like they're not going anywhere. Some say bell sleeves are replacing those cold-shoulder tops we saw everywhere and I say, wear what you like! Am I right? You could go really crazy and wear a cold shoulder bell sleeve top and confuse all those fashion gurus. 😉
Tops are one item of clothing where I like to play around with trends. I purchased the one I'm wearing at Target on sale. It was normally $22.99 and I snagged it for almost half of that.
When I was first putting together this outfit, I had on my trusty go-to black ankle boots. And then I put on a pair of black flats. And then I saw my daughter's black combat boots she left behind in my closet because she inherited my love of shoes and couldn't take them all to college with her. So I thought, what they heck and why not?!
I'm a child of the 90s and slipping those boots on felt like coming home. Okay, that was the cheesiest sentence ever in the history of this blog, but in all seriousness…it felt fun wearing those boots and I'll probably do it again.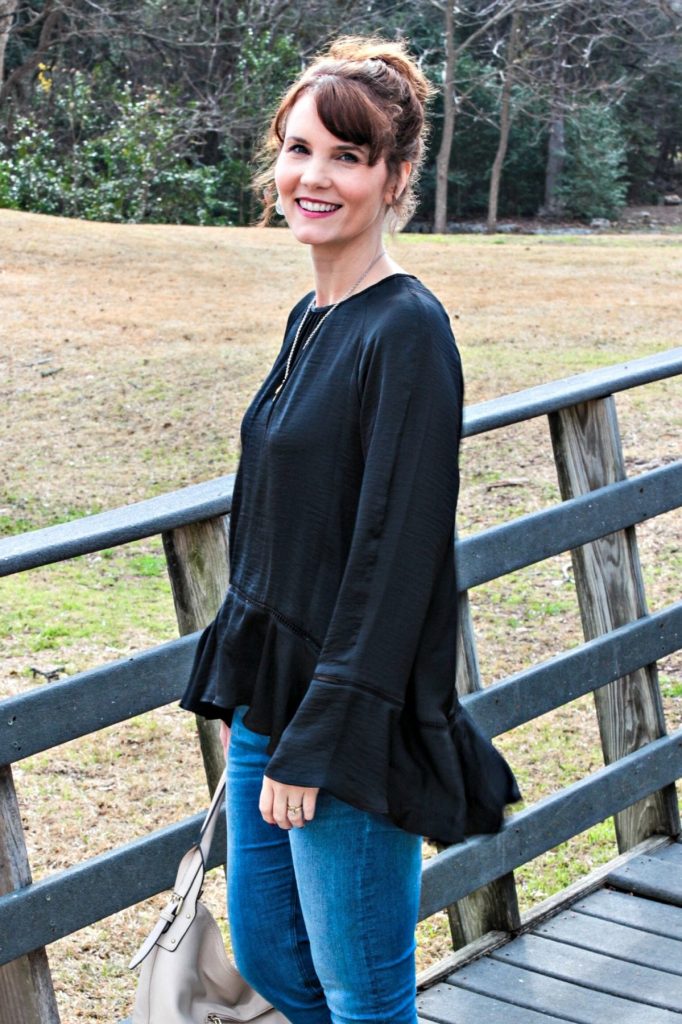 In my newsletter yesterday, I talked about your power outfit. (If you're not on my list, you're missing out on some exclusive content, but no worries, it's super easy to sign up. Just Click Here and you're good to go!) You can definitely have more than one power outfit and these combat boots might fit into power outfit position number two.
Because this outfit was a little harsh with the black top and the black combat boots, I toned it down a bit with a soft pink handbag.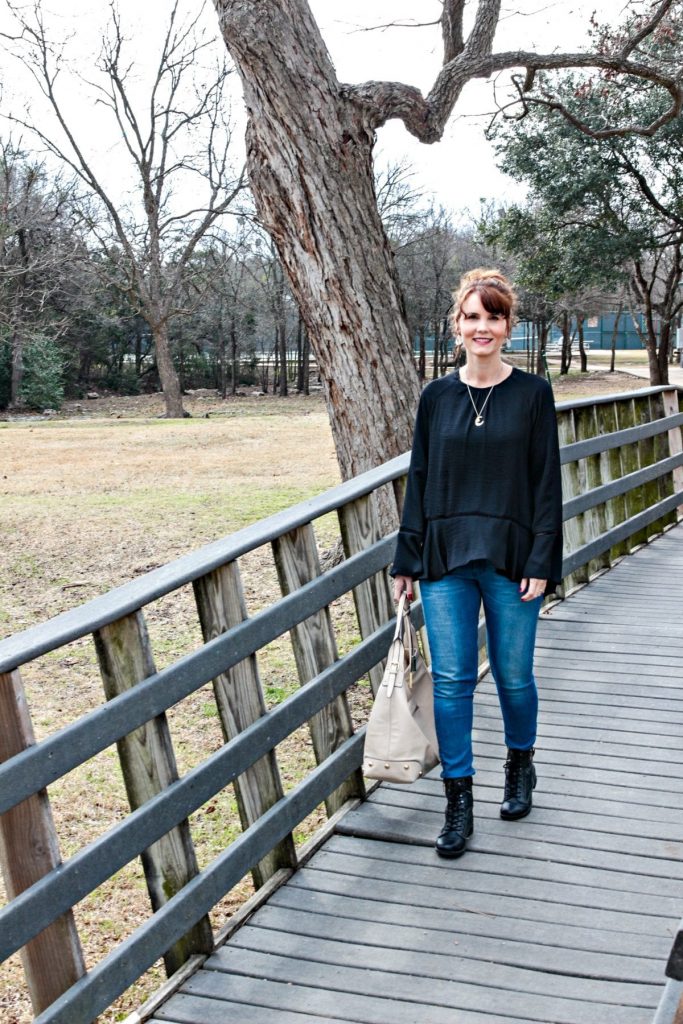 So what do you think, would you try the bell sleeve top trend? I've rounded up a few of my favorites below. Give it a whirl! You just might fall in love with this style.
SHOP BELL SLEEVE TOPS
[show_shopthepost_widget id="2327344″]