I'm loving my December Stitch Fix outfits! I was sent a striped sweater (which I've been wanting) and I paired it with an olive military inspired jacket, light denim, and brown ankle boots.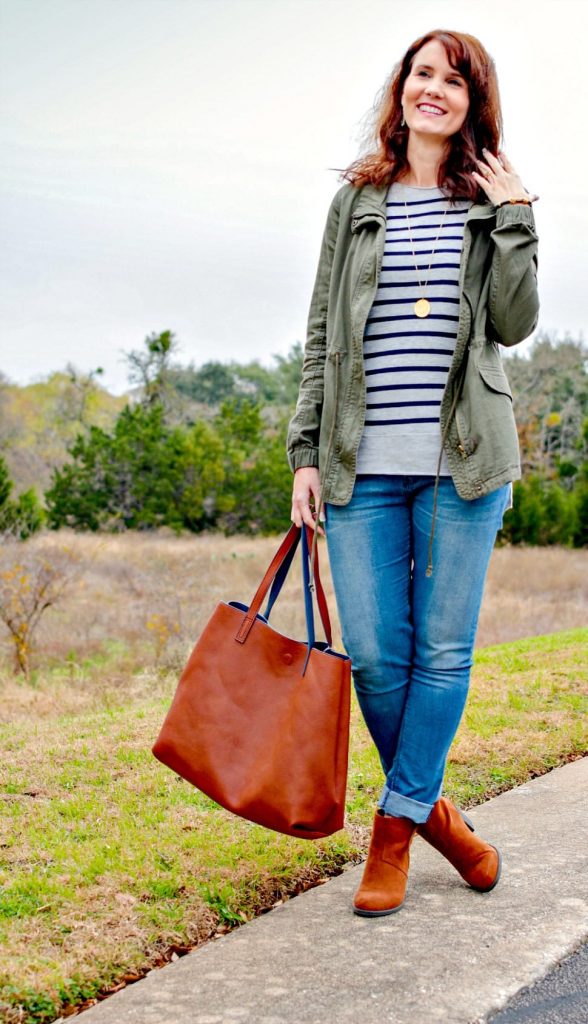 *This post contains some affiliate links for your convenience. Click here to read my full disclosure policy.
Have you tried Stitch Fix? If you're not familiar with it, it's a completely new way to shop and I love it. Basically, it's an online subscription and personal shopping service. You keep what you like and send back what you don't. Imagine being assigned a personal stylist who gets to know you and your style + what fits your needs. Find out more here.
I've been using another clothing service and I decided to try Stitch Fix again. So far, so good. Here's what was in my December Stitch Fox box, what I kept, what I didn't and why. (Pardon my hair in these pictures. The wind was blowing at least a thousand miles per hour. 😉 )
Howardson Striped Lightweight Sweater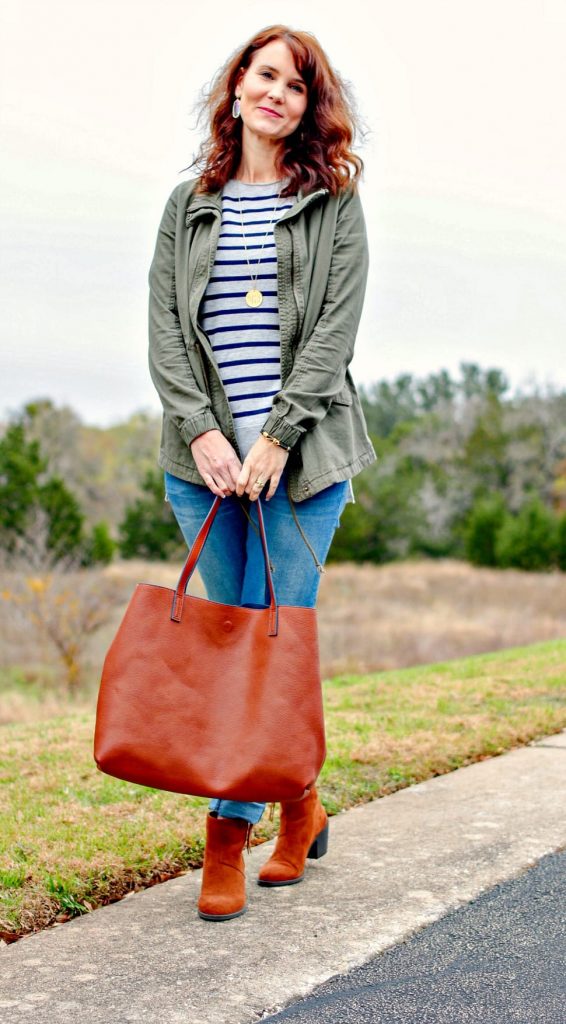 Outfit details: Striped Sweater | Olive Jacket (old; similar) | Denim (old; similar) | Boots | Tote (New!)
Kept or sent back: Kept
Reason: It's the perfect weight to wear under a jacket, cardigan or blazer. It's also lightweight enough to carry me into the warmer days of spring. Plus, I recently had to get rid of a striped shirt I loved because it was so worn and beyond repair.
Brenyn Split Neck Blouse & Mustard Tote
Kept or sent back: Sent back both top and tote
Reason: I loved the top but it was mainly a timing issue since I received the box so close to Christmas. I was trying to be super careful with my spending. But the top fit perfectly!
I also loved the tote, but the number of handbags I own is kind of ridiculous. I recently donated quite a few.
Liza Colored Skinny Jean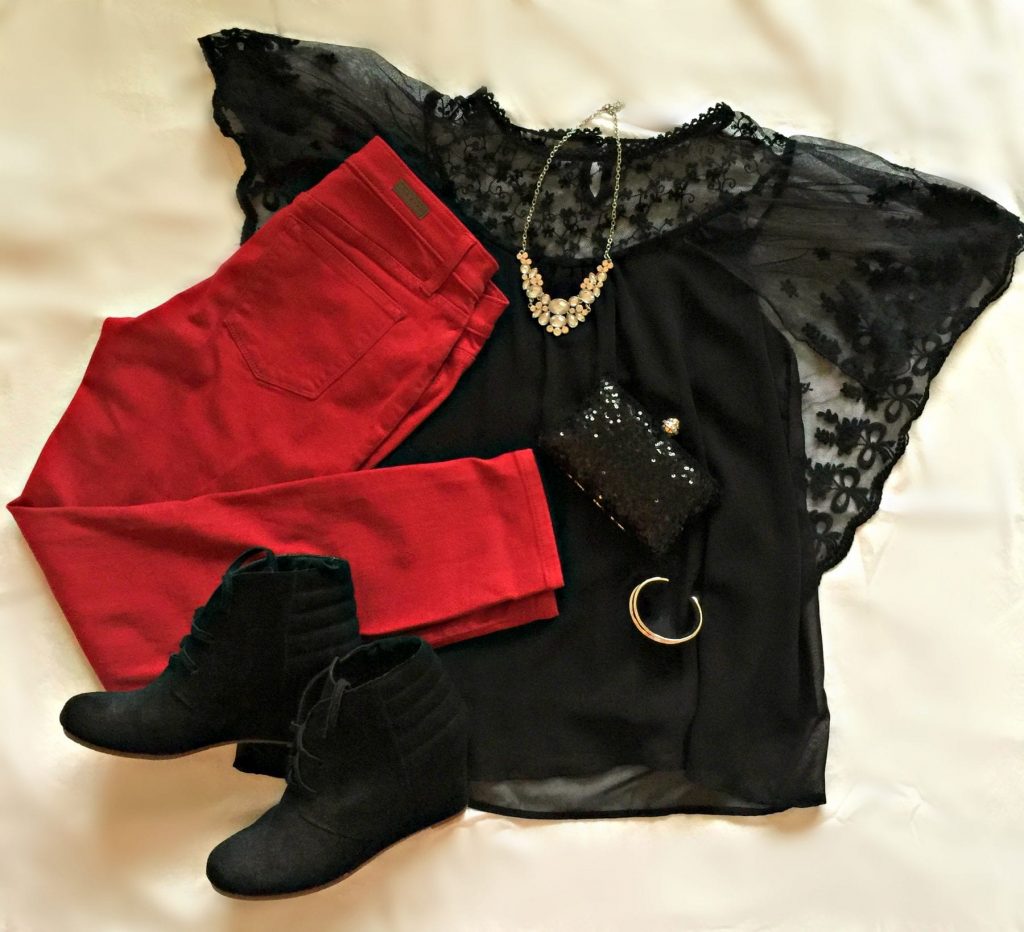 Kept or sent back: Sent back
Reason: The jeans fit my waist but not my thighs. Story of my life. 😉 I did love the red, but I'm still undecided if this is something I would get a lot of wear out of.
Abrianna Longsleeve Knit Cardigan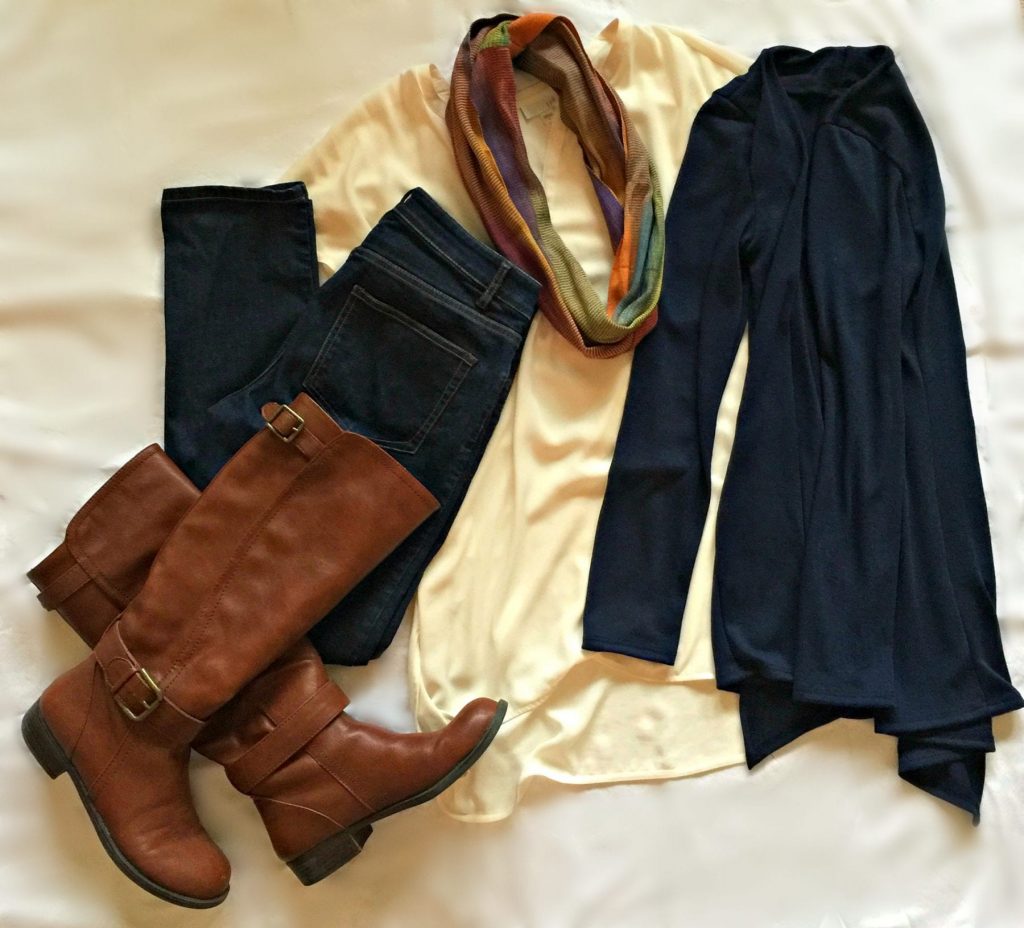 Kept or sent back: Sent back
Reason: I own quite a few cardigans and I wasn't ready to invest in another one. Although the fit was perfect.
Although I only kept one item from my Stitch Fix December box, I was really happy with the items my stylist sent me. She did a really great job with the fit and getting to know me and my style (she even sent a personal note mentioning she perused my Pinterest boards and blog – which I thought was so sweet!), while also encouraging me to stretch my comfort when it comes to my wardrobe.
If you're new to Stitch Fix or are thinking about trying it, just remember it's a process. Your stylist needs to get to know you and sometimes the stylist might not be a good fit for you and that's okay. They'll set you up with a new one. Having someone help you with your wardrobe is a very personal process and one that takes time. If you're not happy with your first box, let them know why. Be detailed and let them know what you want and need and why. Just like with any new relationship, communication is key.
Have you tried Stitch Fix? Are you curious about their service? If so, ask me any questions you have and I'll do my best to answer them.