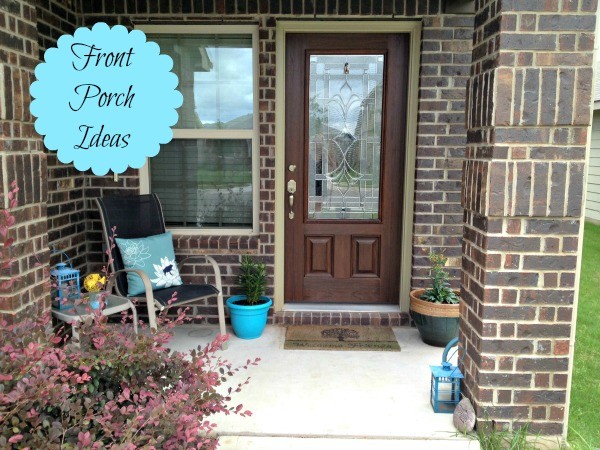 Do you need some front porch ideas? For Mother's Day I was spoiled rotten and one of the gifts I received was some money to spruce up our front porch. We're not able to put that deck I want in our back yard quite yet (it's still a blank slate, but at least we have pretty green grass!), but my husband wanted me to at least be able to do something with the front. Cue the awwwwww's. He's a keeper.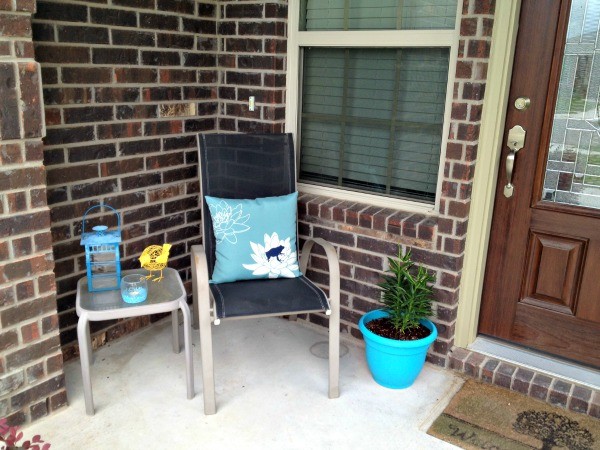 I tend to lean to the minimal and simple when it comes to decorating. At least I think I do! So all I added was a new pillow, a blue pot, pink & yellow flowers (there used to be yellow flowers – see picture below), a yellow bird, lanterns and a candle. It added some pops of color and it's a nice place to sit.
Here's what the flowers used to look like before we went on vacation and someone (ahem, me) forgot to ask a neighbor to water them. This is from my Instagram feed.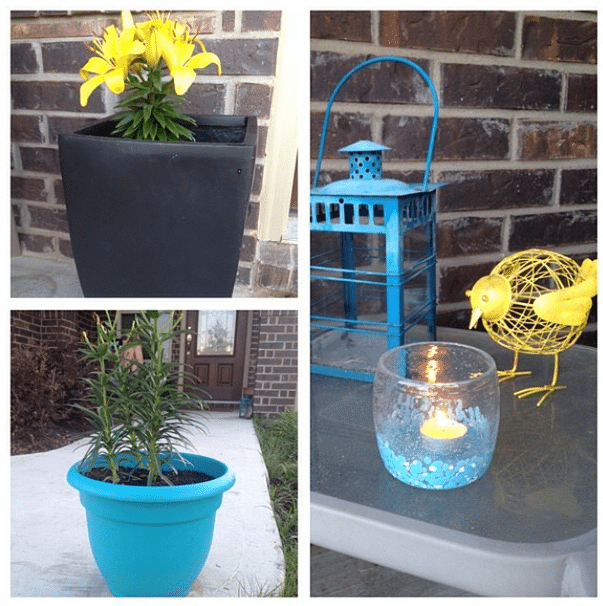 I purchased the flower pot and flowers from Lowes and the lanterns and bird from Pier 1 Imports. I still plan on replacing the chair, table and welcome mat soon. Our cement also needs a good scrubbing with some Oxy Clean to get rid of a few stains. But overall I'm pleased with the transformation that took minimal effort, time and money. It's nice to have these pretty colors greet me every time I arrive home.
Here are a few tips on sprucing up your front porch:
Start by removing everything from your porch – a clean slate equals a clean mind 😉
Sweep and remove all dirt
Spray down the porch with a hose; scrub any spots you wish to remove with a cleanser
If your porch is large enough for a hangout spot, place furniture for optimal conversation. If not, place furniture where it fits! I had just enough space for a chair and table. Play around with different positions and angles of the furniture until it works just right for the space.
Add colorful pots and flowers to the space. Make sure the flowers you buy are the proper ones for the area. If your porch received tons of sun, make sure the flowers you purchase can withstand that.
Add in accessories such as pillows, lanterns, candles and fun ones (like my yellow bird – I love that yellow bird!)
Place a welcome mat in front of the door to welcome in family and friends!
Welcome home!