It's time for another Cute Outfit Ideas of the Week! Today we're talking swimsuit cover-ups.
From an early summer Colorado vacation to expected 90s all week here in Austin, I definitely have summer on the brain. On top of that, this is our last week of school and then we go straight into summer camp next week. It really feels like I was just telling you all about our first day of school. Sigh.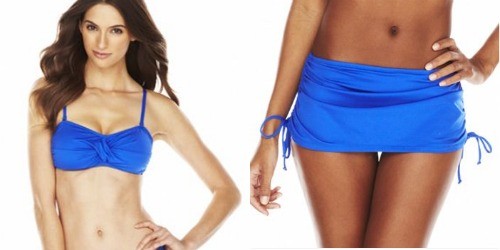 I purchased my swim suit right before we left on vacation. I knew we would be visiting a water park while away, so I wanted to have the perfect suit. I love the swim suit I picked out from Kohl's. I chose a Blue Bandeau Twist Front Bikini top and paired it with Blue Skirtini Bottoms (pictured above). I love the color and the fit and am so pleased with it!
Now I'm on the hunt for the perfect swim suit cover up. I believe choosing a cover-up is almost as important as choosing the right suit. When I'm at the beach, I like to wear a cover-up I can throw on for dinner or shopping. When I'm at a water park, I choose one I feel comfortable walking around in and that covers me in all the right places, but is also lightweight. If I'm going from our house to the pool, I choose a very casual one I can easily throw on and off.
When it comes to your Swim Suit Cover-Up Style, let's think outside the box and take a look at tunics, babydoll dresses and maxi dresses. These are all from eShakti, which means with their customizable options, you can choose to lengthen or shorten the hemline.
Get $25 OFF your first order! Register today at www.eShakti.com
Cute Outfit Ideas || What's Your Swim Suit Cover-Up Style?
Mediterranean Style: Crepe Tunic from eShakti
| Express Gladiator Sandals | Natural Straw Tote from Kohl's | Sunglasses | Chandelier Earrings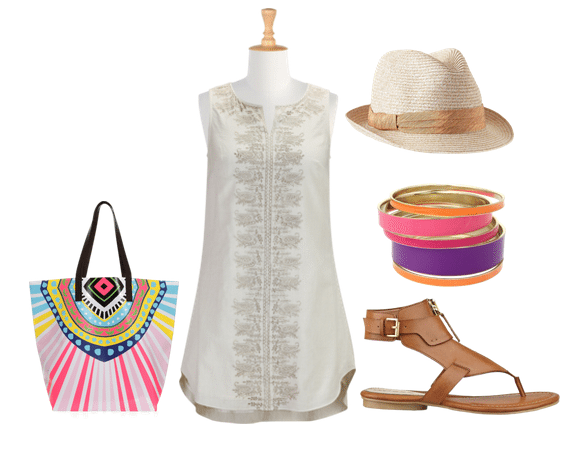 Free Spirit: Seersucker Stripe Tunic from eShakti
| Mara Hoffman Bag | Straw Fedora from Gap | Guess Sandals | Lipsy Bangles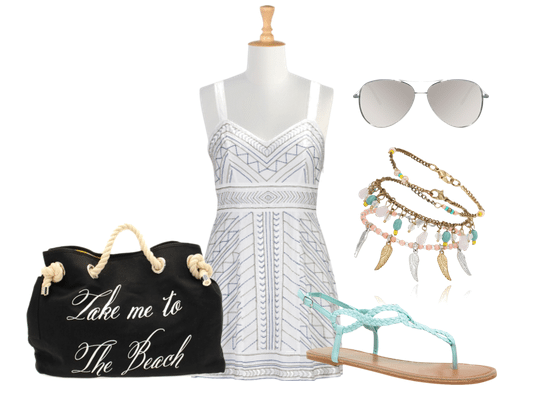 Beach Babe: Babydoll Dress from eShakti
| Take Me to the Beach Bag | ASOS Aviators |  Sandals in Mint from Wet Seal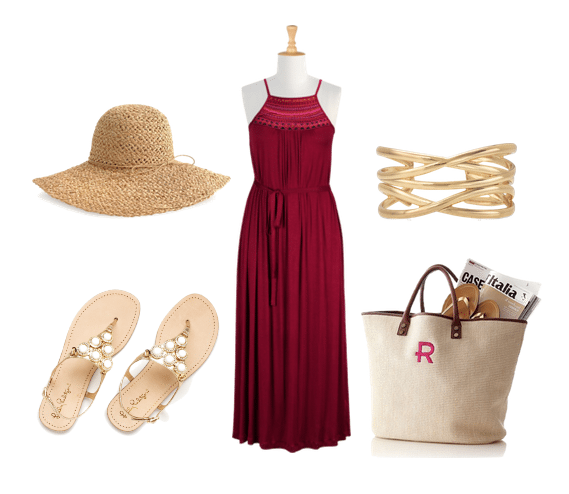 Maxi Goddess: Knit Maxi Dress from eShakti
| Beach Club Sandal | Rafia Floppy Hat | Stella & Dot Cuff | Via Resort Tote
—
Which Swim Suit Cover-Up Style do you think is yours? I would absolutely wear all four depending on where I'm going. But I think my most favorite is the Mediterranean Style one. I hope you enjoyed these Cute Outfit Ideas and as you can see, these dresses can go from cover-up to an outfit for dinner or a day out with the girls, with just a few added accessories.
See more at eShakit –> Affordable, Adorable Dresses. Your size, your style, your choice! Only at www.eShakti.com