"I participated in a campaign on behalf of Mom Central Consulting for Cascade. I received a product sample to facilitate my review and a promotional item as a thank you for participating."
We are just a few days away from moving into our new house. You know what that means? Yes, I'm surrounded by boxes and absolute chaos as I type this. For the last two years we have been living in a rental house while we waited to get our ducks in a row to purchase our own house. We ended up buying a new house which means new appliances. I am thrilled about that!
When you live in a rental house, it usually means dealing with the appliances you have. In our current rental, the dishwasher was okay but it didn't clean quite as good as I would like. It also recently started smelling funny. Our glass dishes were always spotted and there were many times the dishes didn't come out as clean as I would like them too. Meaning stuck on food, streaks and coffee rings…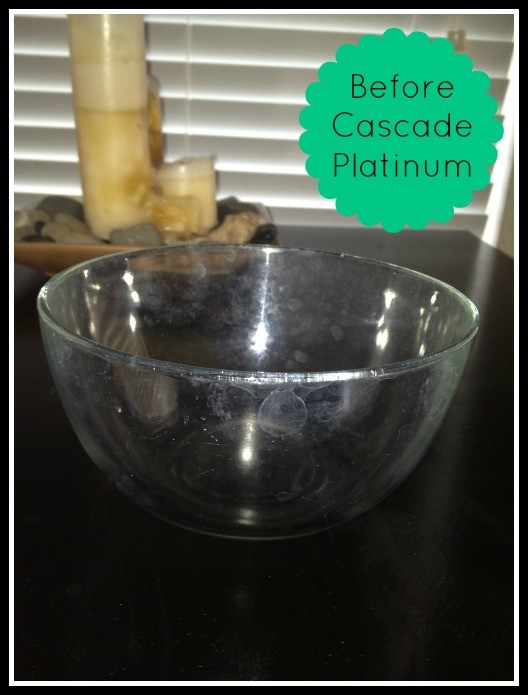 I'm one of those people that likes to try all kinds of brands. Usually if it's on sale, I'll try it. I no longer use powder or liquid detergents. They just didn't do it for me when it came to getting the dishes clean. I've been using the little packs for probably a year or more now. I like the convenience of popping a pack in and they seemed to clean better. And the crazy organizing part of my personality loved the fact I could store the packs in a container under the sink. Yep, I'm one of those storage container people. 🙂
Does Cascade Platinum Really Work?
When I was asked to test out the new Cascade Platinum packs, I was on board. I've seen them advertised, but hadn't purchased them yet. What do I think? See the photo below of how the same bowl pictured above came out after a wash with the Cascade Platinum.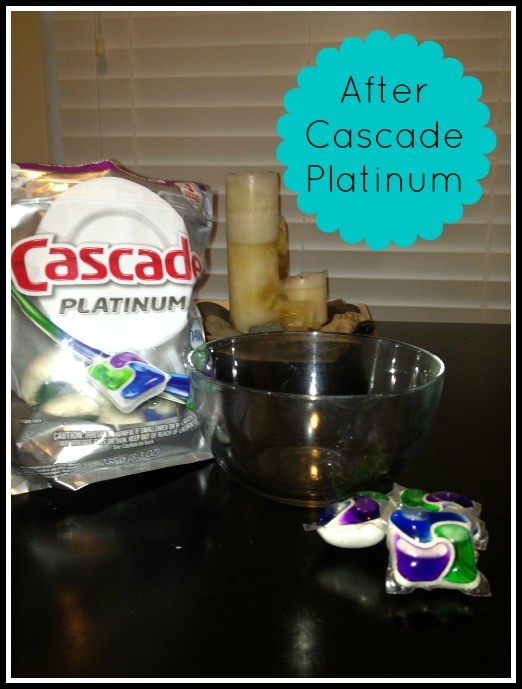 A glass bowl with less spots. Perfect! I've used the Cascade Platinum packs for 4 washes now and we've noticed the dishwasher doesn't smell funny anymore. That's one of the great benefits of using these. Here are a few more features:
Powers away tough, 24 hour stuck-on food
Eliminates the need to pre-wash dishes
Helps maintain the look of new machines and helps prevent additional hard-water build-up*
Delivers exceptional dishware shine
How it works: Cascade© Platinum Pacs feature an advanced triple action recipe that is specially designed to leave dishware virtually spot-free and help prevent the build-up of hard-water ?lm on dishwasher walls.
*Use a dishwasher cleaner to remove existing build-up on wall interiors.
Given the fact we're moving into a new home, with new appliances – you can bet I'll be using Cascade Platinum packs. We have an issue with hard water where I live and I'll do whatever I can to help prevent that build up on my new machine.
Are You a Food Blogger?
For those of you who are food bloggers, you know the importance of plating your food just right for a great picture. Part of the plating is the fact that the dishes look clean. Who wants to look at a bowl of homemade ice cream scooped into a spotted glass bowl? No one. We eat with our eyes right?
Top Chef judge and editor of Food+Wine magazine, Gail Simmons, has partnered with Cascade to discuss why presentation is just as important as preparation. Gail recommends plating your food with a Platinum presentation. She says "The easiest recipes pop with unexpected, gourmet presentations. Drizzle bright sauces on sparkling white plates or layer desserts in crystal-­?clean glassware. Keep your presentation sparkling with Cascade Platinum, which keeps dishes perfect for anytime entertaining and impromptu guests."
Check out the Cascade YouTube page which features tips from Gail, as well as things like how to load your dishwasher.
The Cascade "My Platinum" Instagram Contest
Now about that contest…
The Cascade "My Platinum" contest is a four week Instagram contest encouraging fans to upload photos related to the weekly contest themes. Show off how sparkly Cascade makes all your pots, pan and plates! Each week, two contestants will be selected to receive a brand new Whirlpool dishwasher. Additionally, one lucky grand prize winner will receive a Platinum kitchen.
NICE!
To win, users have to both register and upload a photo with the #MyPlatinum hashtag and tag @MyCascade. Participants that have not registered will be disqualified from winning. Each week will have a 6-?day entry period where Instagram users can enter the contest with their #MyPlatinum Photo. Cascade will choose two weekly winners and one final grand prize winner after the entry period has ended. Please be sure to include both the #MyPlatinum hashtag and tag @MyCascade in your entries to the contest!
The contest began on June 3rd, but you still have time to enter! Here are the different theme days:
Week 1: My Platinum Plate (Entry Period: 6/3-­ 6/9) – Show us your best dish styled from the sparkling plate up!

Week 2: My Platinum Bite (Entry Period: 6/10-­ 6/16) – Show us your best bite and most creative use of sparkling silverware!

Week 3: My Platinum Clink (Entry: 6/17-­ 6/23) – Show us how you serve up creative concoctions in sparkling glasses. Cheers!

Week 4: My Platinum Table (Entry Period: 6/24-­ 6/30) – Show us your sparkling tablescape for your most special celebrations!

Grand Prize Winner (Entry: 6/3-­ 6/30)
Good luck!!