This shop has been compensated by Collective Bias, Inc. and its advertiser. All opinions are mine alone. #showmetheshine #CollectiveBias
We've all heard that the heart of the home is your kitchen and for my family, it truly is. The kitchen is where meals are made, food is eaten, conversations happen and life is shared. My kitchen, as I'm sure yours is too, is one very busy place. So when it's disorganized, disheveled and a downright mess…so am I. I like my glassware to sparkle, my cabinets to not be bursting at the seams and for the contents under my kitchen sink to be accessible. I like to set up my kitchen for success. How do I do that? With a few basic rules and tools.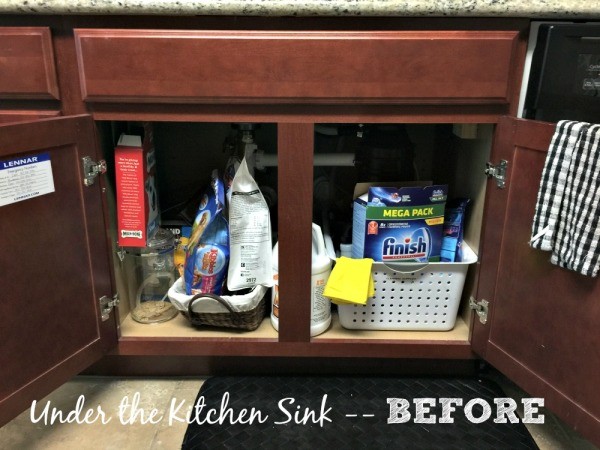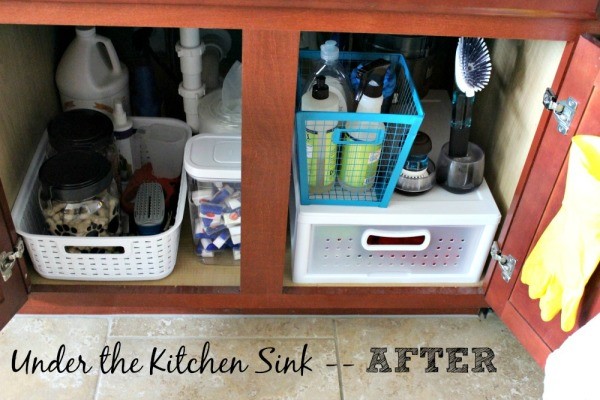 Let's talk about a deep, dark, sometimes scary place in your kitchen — under the kitchen sink. It's so easy to forget about what's hiding under there and just focus on those few items in the front. Back in the day I owned a professional organizing business and could tell you all kinds of neat stories about the things I found under people's kitchen sinks. But I won't. Let's just say it wasn't only dish detergent, sponges and rags.
Here's the system I use before I organize any room in my home. I ask myself these questions:
What's this space for?
What items are absolute musts for this space?
What's not working?
What's working?
What would make this space more enjoyable?
Let's use under the kitchen sink as an example.
Answer to Q1: To store kitchen cleaners/tools and items for our dog
Answer to Q2: Dish detergent, rags, sponges, dish soap, dish towels, rubber gloves, dog food, dog leash, dog collar
Answer to Q3: Storing too many half-used cleaners, items that don't belong in the kitchen (i.e. bathroom cleaner), broken items, half empty bags of dog food, containers aren't serving their purpose
Answer to Q4: Dish detergent is easy to get to and there's one container corralling everything – kind of.
Answer to Q5: A drawer to store towel, sponges, rags. A container for dishwashing detergent. Containers for dog treats/food.
Now I have a fantastic list to get started with. After you've answered the questions, it's time to pull everything out and get ready to create an organized space you'll enjoy using and looking out. Here's what I ask myself as I'm going through the decluttering process:
Is it trash? If yes, throw it away.
Does it belong in another room? If yes, set it aside to take to another room. (But don't do it now because once you enter another room, you'll get distracted!)
Does it stay? If yes, set it aside.
Do I need to purchase anything to make this space work? If yes, measure for containers, make a list and go shopping! (That's my favorite part.)
I went through the organizing process for under my kitchen sink and here's the result. First, I knew I wanted a container for my Finish® Quantum Max™ dishwasher detergent. I love looking at a clear container with the product in it, rather than the box or bag. It also makes it really easy to get to. I purchased the container and the Finish® Quantum Max™ tablets at my local Target.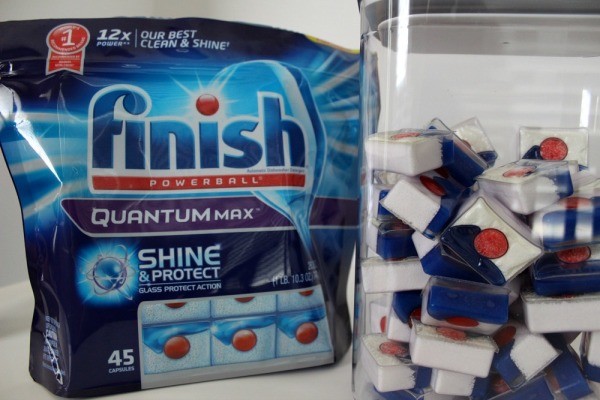 I also purchased:
A drawer to store rags, sponges and dish towels
A wire basket to hold cleaners
Two cute containers to store dog treats and food
A container to store our dog's brush, collar, leash and clippers
Clips to hang a dish towel and rubber gloves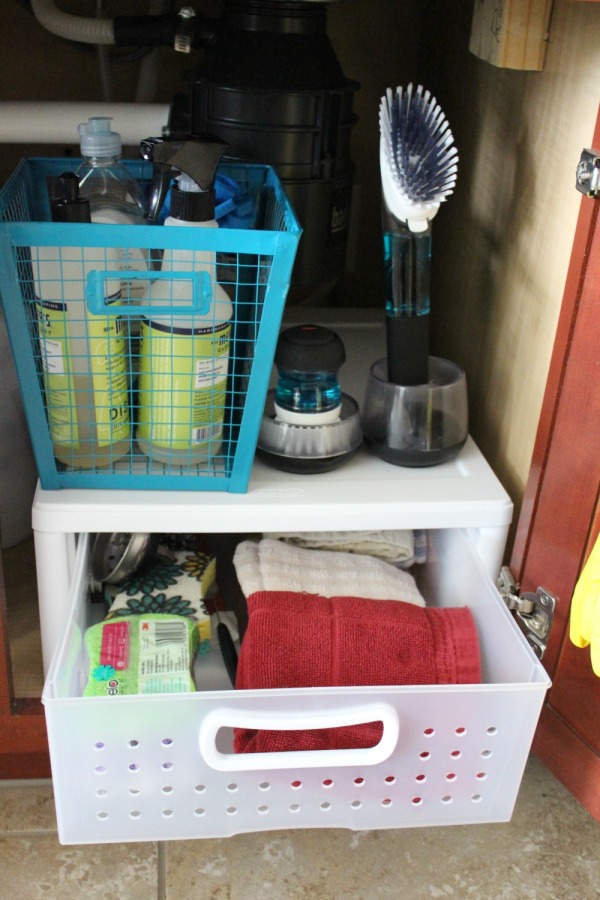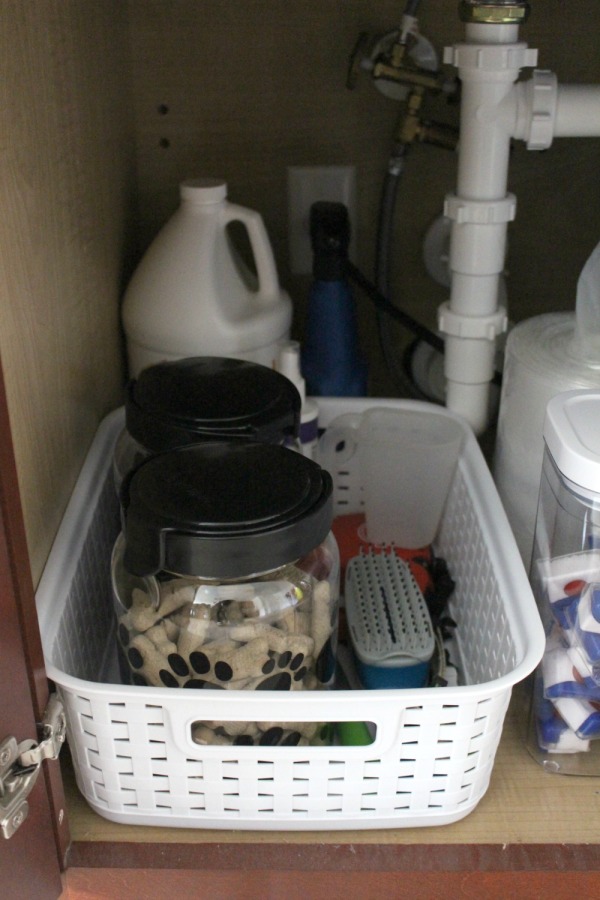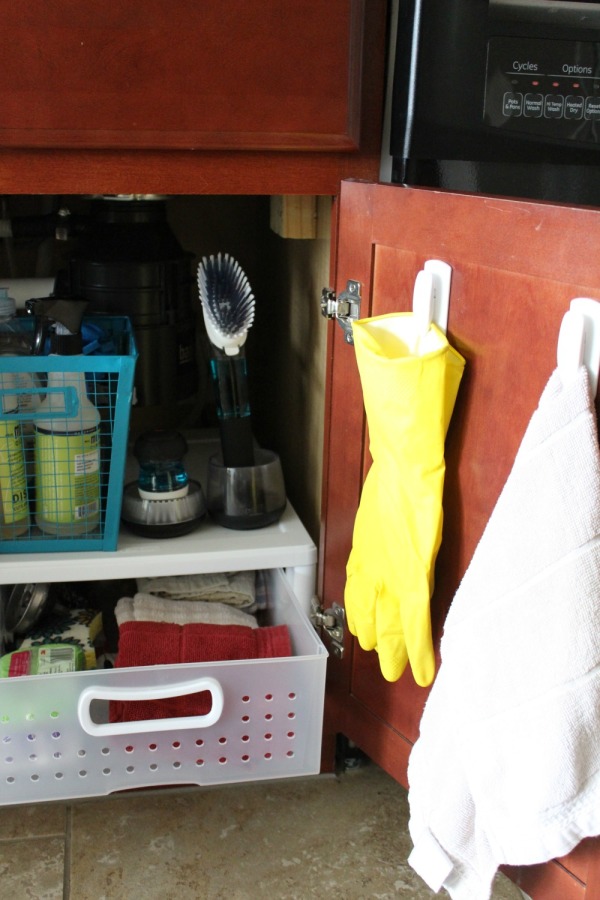 I love the final result.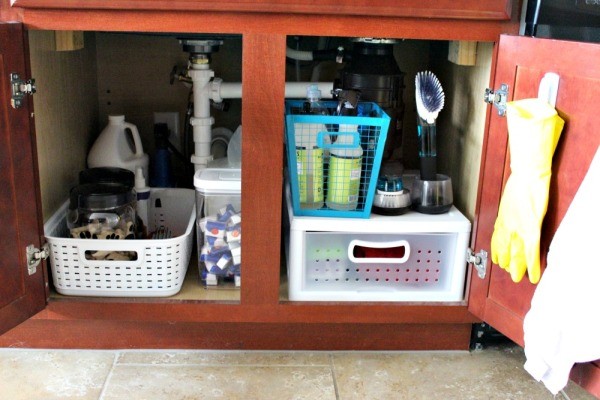 Now I know exactly what's under my sink and everything is easy to reach. It's little changes like this that make a big impact on my efficiency in the kitchen.
Kitchen Organizing Basics: Setting Up Stations
About 10 years ago I completely changed the way I organized my kitchen. I realized one day as I was baking something, how I had to move all over the kitchen to round up my supplies. Then it hit me! Why not set up stations in my kitchen? That's when I created a baking station, cooking station, lunch making station and food prep station. It cut my time in the kitchen almost in half. Here are a few examples of what would go in each station:
Baking Station: Baking supplies (such as flour, sugar, baking powder), mixer, spatulas, whisks, mixing bowls, wooden spoons, measuring cups and spoons
Cooking Station: Pots & Pans, Skillets, Cooking Spray, Oils, Spices, wooden spoons. pot holders, salt & pepper
Lunch Making Station: Storage baggies, lunch boxes, plastic containers, plastic utensils
Food Prep Station: Knives, peelers, graters, colanders, cutting boards
I could go on and on, but I'll save more details for a later feature.
When it comes to setting up your kitchen for success, think about how often you're in the kitchen and take note of ways you can cut your time down.
Sparkling Dishes with Finish® Quantum Max™, A Coupon & A Giveaway
I recently went through a little experimenting phase with my dishwasher detergent. I tried quite a few brands and even made my own, which turned out horrible by the way. I ended up going back to the brand I've used for years –  Finish®. The Finish® Quantum Max™ tablets are easy to use, no unwrapping required, which I love! You just drop them in your detergent compartment and you're good to go.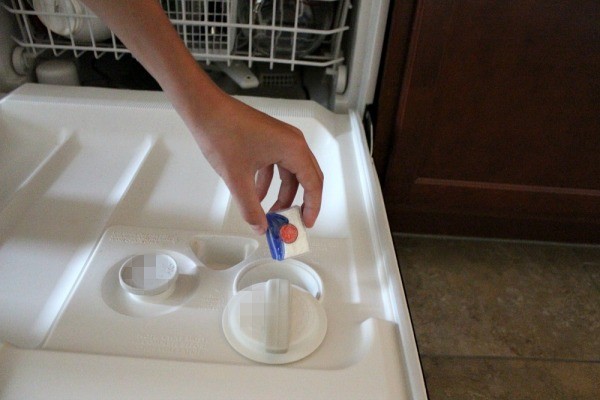 Beginning March 29th until April 25th, you can save 5% on NEW! Finish® Max in 1™ & Finish® Quantum Max™ Small Size with Target's Cartwheel Offer. If you've never used the Cartwheel app before, you are missing out! I always check my app for offers. The offers can start at 5% and I've seen offers as high as 40%. I love the bar code scanner option. You just scan the bar code through the Cartwheel app and it shows you if there are any offers on that product. It's super simple to use.
How would you like the chance to win some goodies, as well as a Target gift card to purchase Finish® products for yourself? You can enter to win prizes and Target gift cards starting at $25 and going up to the grand prize of a $100. Winners must be 18 or older.
Here's the giveaway link, as well as more details:
Finish #ShineAndProtect Giveaway!
Grand Prize: Riedel Swirl Decanter and Wine Glasses ($51.99 value) + $100 Target gift card
Prize 2: Libbey Bar In a Box ($39.99 value) + $75 Target gift card
Prize 3: Riedel Champagne Flutes ($39.99 value) + $50 Target gift card
Prize 4: Libbey Frosted Glass 20 Piece Dinnerware Set ($29.99 value) + $25 Target gift card
Good luck!!
Do you have any tricks up your sleeve when it comes to setting up your kitchen for success? Let me know!