It's time for another Cute Outfit Ideas of the Week! Today is number 53 and I'm featuring summer dresses. I don't know about you, but I definitely have summer on the brain. You guys loved my 37 Cute Outfit Ideas for Summer from last week, so I'm guessing summer fashion is something you're thinking about as well!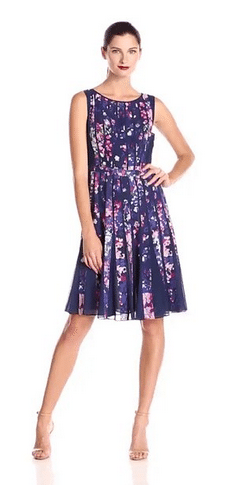 I've been browsing through Pinterest, Amazon (I NEED/WANT this dress in my life) and a few of my other favorite shops, looking for summer dresses to add to my wardrobe. How many did I find? 576,491,908 Sigh. I narrowed it down to four and paired them with a few accessories. I went very minimal on the accessories and focused on the star of the show – SUMMER DRESSES. Enjoy these cute outfit ideas!
There are some great sales going on right now on summer dresses, so look for a few towards the end.
Cute Outfit Ideas of the Week Featuring Summer Dresses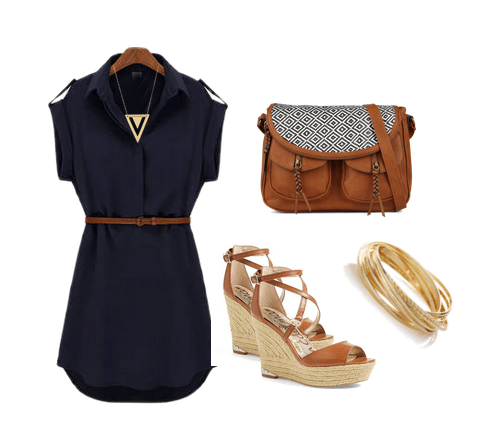 Outfit details: Navy Blue Chiffon Dress (this is only $13!!) | Handbag | Wedge Sandals | Gold Stacking Bracelets | Pendant Necklace
This Navy Blue Dress caught my attention because one, it's only $13 right now and two, I love navy and brown together. It's one of my favorite classic looks.
Outfit details: Fit and Flare Skater Dress (It's only $19.50!) | Metallic Sandal | Bucket Leather Shoulder Bag | Bangle Set | Round Stud Earrings | Sunglasses
I've seen a similar dress all over Pinterest and I knew I had too find one like it and I did! Plus, this one is only $19.50. Sweet! The pattern is stunning isn't it?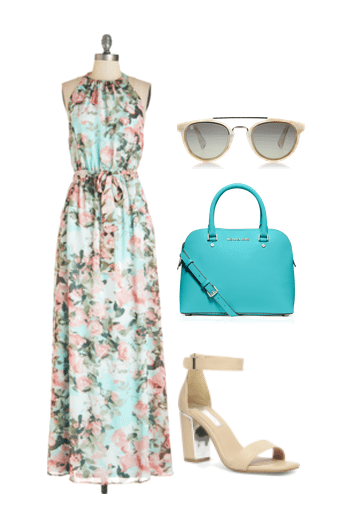 Outfit details: Nature's Song Dress | Nude Block Sandals | Michael Kors Bag
I love maxi dresses and I love florals – so this dress is a win-win for me. Have you shopped at ModCloth before? Hop on over there and browse around. I love everything about this online shop, from the way they display positive body image to their collection of well, everything. They have some of THE best dresses on the internet. Hands down.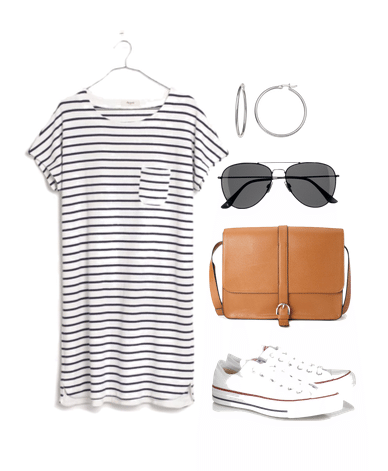 Outfit details: Madewell Pocket Tee Dress | Chuck Taylors | Faux leather handbag | H&M Aviators | Hoop Earrings
Have you ever worn or tried on a tee dress? I am absolutely head over heels in love with this one from Madewell. This is one of those outfits you can throw on at the last minute and look like you really thought out what you were going to wear. Pair this dress with Chuck Taylors or cute sandals and you're ready for day of running errands, shopping or a casual date.
As I mentioned, here are those sale summer dresses. They are anywhere from 30% to 60% off and they're all just gorgeous.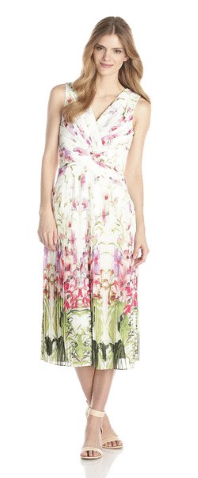 Ted Baker Women's Risha Mirrored Tropics Pleated Dress
 — Tropical floral print with a neutral base, marked down 40%

London Times Sear Sucker Shift Dress — Marked down 37%

London Times Women's Sleevesless Print Shift Dress Cream Navy Dress 8
— Only $57.99

Sandra Darren Women's Cap Sleeve Printed Floral Dress
— Marked down 40%

Polka-dotted Faux Wrap Dress — Such a cute dress for work or play!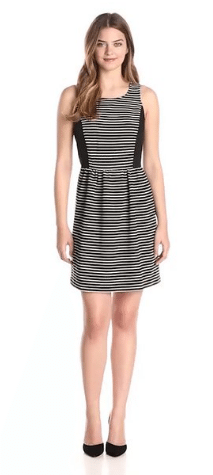 Ribbed Stripe Dress — Trendy, horizontal, ribbed stripe dress with its fit and flair silhouette will keep you in style for any occasion this spring.
See more dresses on sale HERE.
Did you enjoy today's cute outfit ideas feature? What would you like to see next? Let me know!